Small business marketing strategies are a little different from what they have always been.
Budgets are tight
, event marketing is not an option, and expensive paid ads are not ideal. This leaves SMBs wondering how they'll navigate through this pandemic and how they'll recover following the lockdown.
But there are ways to help your company stay afloat, and shift your small business marketing strategy on a limited budget. Here are some small business marketing tips you can apply quite quickly.
Focus on Your Brand Messaging
It's extremely important for your brand and brand messaging to be on point. You need to be empathetic, authentic, and sincere all the time, but even more so during a pandemic.
Remember don't go for a hard sales pitch, or come off as desperate. And be very careful about presenting any messaging or promotions that may be perceived as opportunistic. Instead, you want to listen to those who are most important to your success and check in on their well being. Don't offer a sale, but check-in. Is there anything you can do to help your current customers?
Offer free or discounted services if you are able to and use this as an opportunity to build brand affinity. Or, simply recognize what your audience needs during a time of uncertainty. With working parents at home with their children, Disney took this opportunity to release their wildly popular animated film Frozen 2, and parents everywhere rejoiced. If you can help people now during their time of need, they will remember it.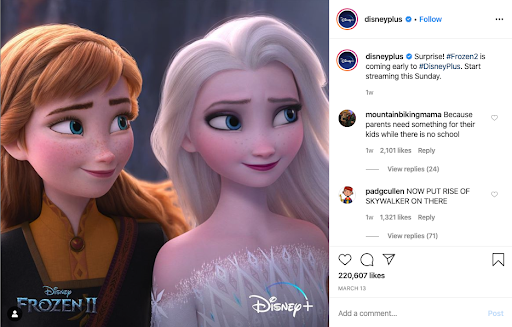 There are still ways to support small businesses that are important to you, and it'll mean a great deal in the long-term. It's also important during times like this to pivot how you typically operate to make your business adaptable.
For example, food services offer local contactless deliveries to customers in the surrounding area or provide gift cards for your services once the lockdown is over. Service providers that traditionally meet clients in person now do so over video chat. By finding ways to maintain contact with your customer base, you'll be able to quickly get back to business as normal once the distancing guidelines are removed.
Have a Flexible Plan and Open Communication
So much remains unknown about the pandemic, which means that businesses should be prepared to pivot quickly. While it's likely that most business plans will remain the same, having a strategy in place to cover you in the event of a severe problem will protect your business from disaster and prepare you to move forward.
It's a good idea to work with specialists to create an effective business plan that encompasses all aspects of your operations, from speaking to critical suppliers to identifying the key employee skills needed to continue running the business.
Your marketing teams and colleagues should meet frequently (over video of course) and talk about what they're seeing, what's changed, and what they can do next. Is the plan you put in place still relevant? Has anything changed that would impact your messaging? Keep tabs on what your colleagues see and be ready to pivot your strategies quickly.
Embrace Traditional Small Business Marketing Tactics
This is the perfect time to switch up your small business marketing techniques. any small and medium-size businesses might be surprised to learn that opting for traditional tactics can be more effective during this time.
One tactic some local businesses use is traditional paper marketing. You can hang flyers, mail brochures, and include business cards for people to reach you. You can create materials on sites like YouLovePrint, and promote your brand locally or to targeted mailing addresses.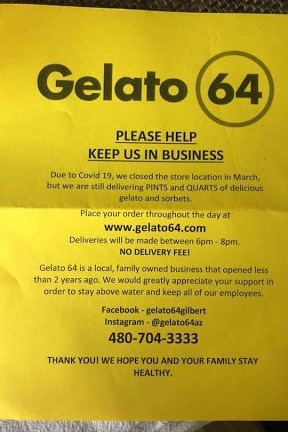 You should still utilize email marketing by reaching out to your current customers to check-in, but it's still ok to reach out to prospective clients. Just be sure to use the right messaging, and not do a hard sales pitch. See how they're doing, what their individual challenges are, and if you're able to offer anything short-term to help.
Now is a good time to try tactics you don't normally do. Do you see more people posting videos on social media? That's because more people are on social media more frequently. There's a lot more engagement taking place right now. Douglas Spencer, President of Spencer Brenneman, posts weekly virtual check-in videos where he talks about the latest trends, what you can do, and the importance of positivity during this time.
If you don't think your focus has fragmented, think back to the first time you put on a pair of glasses. @SB_Branding pic.twitter.com/v1dnkq8EMF

— Douglas Spencer (@DouglasWSpencer) May 5, 2020
Another tactic you could try is hosting online events. This doesn't need to be elaborate. You don't need to post a virtual conference or a webinar -– although those do work – but it could be something as simple as a virtual happy hour or network meeting. For instance, GaggleAMP proudly hosts AMPlify Virtual, our employee advocacy training course, right from the comfort of your own home.
People are pent up at home and they'd like to meet other people. If you host digital networking events over Zoom or other video chat platforms, people will show up, and they'll appreciate you for it.
Improve Your Social Media Presence
There's never been a better time to look towards organic reach.
You might have counted on events to be a big part of your marketing strategy this year, but now have to look for other areas with a smaller budget. Webinars work, and so do other types of digital events, but you have to look in multiple areas to replace your conference.
Strengthening your social media presence and your organic reach on social media has a slew of benefits. You can increase your brand awareness, promote your initiatives and campaigns, increase web traffic, build new connections, nurture relationships, and convert leads.
Employee advocacy tools like GaggleAMP can be used to amplify your message on social media, support your business goals, develop authentic engagement with your customers, and help you track ROI. Investing in social media and employee advocacy allows you to make the most of your social media reach, often at a lower cost than paid ads.
Preparing For a Return to Normality
Just because we're in lockdown doesn't mean that you can rest on your laurels – it's important, now more than ever to maintain your relationships with suppliers and pivot your business to adapt to these times. You want to maintain a strong relationship with the people most important to your success.
This might mean being more flexible about the opening times of your business to accommodate the needs of your customers or suppliers, and rethinking the ways that you can work around their needs. Costco is one example of many retailers that took to hosting limited hours for both seniors and first responders, allowing them to shop before the rush
During the lockdown, it was vital that small businesses begin to prepare for a 'new normal' by adapting to the current guidelines as they evolve. This will ensure that they're better equipped to hit the ground running once the guidelines are removed.
This also means that your small business marketing strategy needs to be flexible and able to adapt quickly to new regulations as they're implemented, whether it's restrictions or openings.
Be Consistent
With so much uncertainty, maintaining consistency in any way you can is beneficial. Try to keep things as normal as possible, both through your services and how you liaise with customers and suppliers. People appreciate reliability and being able to trust the businesses they deal with, particularly when everything else is in doubt, so aim to continue working as you normally do as much as possible during the lockdown.
This is a challenging time for businesses of all sizes, but especially for small businesses who may be struggling right now. By maintaining relationships, providing great customer service, and utilizing online tools, small businesses can make great use of this time to set themselves up for success once the lockdown has been lifted.