For many marketers, social media campaigns are not easy.
Sometimes you need a little inspiration to get the creative juices flowing to come up with a campaign that'll drive interest towards your brand. Without a strong
social media campaign
, it can be hard to gain the traction you want organically, while paid ads continue to grow more and more expensive.
But you can't ignore social media. According to GlobalWebIndex, 54% of people on social media use it to review products. So what can you do?
It's important that your brand messaging stays consistent. It's also important to come up with a campaign that is right for you and to set realistic goals for yourself.
But there are a number of ways you can build a social media campaign to amplify your message.
Here are five tips that will help you come up with your own social media campaigns.
Think drip campaigns.
Incorporate numbered lists.
Share value-add information from others.
Use controversial statements.
Re-use messages.
Social Media Drip Campaigns
Drip campaigns are incredibly common and helpful for email marketing but it's not exactly apples-to-apples when applying the same strategy to social media. Email is a direct send to specific people, while social media is a post to the general public.
In a drip campaign, you want to send the right message to the right person at the right time.
It's much easier to do that over email because you can segment your audience based on where they are in the funnel.
On social media, your message can be seen by everyone.
But you can still apply the mindset of a drip campaign on social media. For example, if you have an event date, a premiere date, or a product launch, you could share messages to nurture your audience down the funnel leading up to the big day.
You could start with high-level messaging, and then send out more detailed messaging as the date gets closer.
A social media campaign example is the Game of Thrones final season premiere. Debate all you want about the ending, but the marketing leading up to the season was great.
First, the show teased in January of last year that it was returning in the month of April.
This drew interest and excitement, but it left people clamoring for more details.
A week later, the show tweeted out the actual premiere date along with a very vague teaser video that got the conversation ramped up.
In early February, the show collaborated with Bud Light for a Super Bowl commercial that got over 3M views on Twitter and 7 million views on YouTube. This drew more attention to the show, but it didn't give any more details on what fans can expect.
At the end of February, about six weeks before the premiere date, Game of Thrones shared a series of images of characters from the show sitting on the throne. This revved-up debates, and even bets, about who would end up sitting on the throne at the end of the season.
Five weeks before the premiere date, Game of Thrones released the trailer, drawing in over 34 million views on Twitter and 65 million views on YouTube.
This gave its audience a deeper look at what to expect and built a great amount of anticipation for the premiere.
You do not need to have a highly anticipated final season of an all-time TV series as your product to execute this social media campaign drip. The blueprint of this campaign is giving the audience some very high-level information about what's ahead and slowly giving more information as interest builds, then the big reveal of what they can expect. There are some great ways to leverage video marketing in this and other social media campaigns.
Numbered Lists
Numbered lists are so commonly used that people make fun of them. Before you do the same, remember that you are reading a numbered list right now.
Whether it's in your content or in social media campaigns, numbered lists are a great way to break down complicated topics. It tells people step-by-step information so they can easily digest the overall subject.
One way you could use a numbered list is to post a blog post of a list on social media, and tease it with one or two of the numbered topics. This does not have to be a ranking, but it can be more effective if it is and stir up debate and conversation.
List posts work because they're intriguing. People want to know what made the list. They get curious. Even if it's someone who feels they know the topic very well, they'll read the list to see what made the cut.
There is no exact number that you should have your list reach, and honestly, you shouldn't approach writing that way. If you want to make the post a list of ten, but only have six good ideas, then the last four will be fluff. Your readers won't like that.
Share Value-add Information From Others
Your social media campaigns shouldn't all be about you. Get some voices from outside of your brand to contribute.
Some easy ways you can do that is by sharing news about your industry and relaying it back to what you do as an organization, sharing studies from industry analysts, and sharing customer voices.
Using information from other sources in your social media campaigns does two things.
First, it validates your messaging. This post isn't just you propping up yourself and talking about what you do and why you're so important. It's a message from someone else who is credible and respected talking about how what you do is important, whether it's directly or indirectly.
Second, it gives you the opportunity to tag that person and their organization in your social media post when citing the information you got from them. They will appreciate that, and they'll have a reason to reshare your post to a larger audience.
Use Controversial Statements
This is a tricky one because any controversial ad will offend some people. Otherwise, it's not really controversial, is it? You have to know whether the good outweighs the bad.
By conducting a social media campaign that's controversial, you will get more attention.
For example, look at the Nike ad featuring Colin Kaepernick in 2018.
Some people were upset about it, but others loved it. Nike had to make a choice as to whether the praise it knew it would get would outweigh the backlash it also knew it would get. You have to be sure of what your target audience likes, and sure of your message.
Some companies try to avoid controversy and that can impact their campaigns, too. In 2015, Starbucks really pushed away from the Christmas-themed cup to just a plain red cup because they wanted to keep people in mind who don't celebrate the holiday.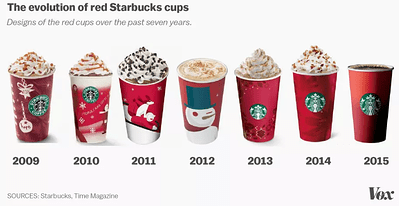 But it doesn't always have to be about social justice, current events, or holidays. Controversy in your social media campaigns could be your stance on an industry trend or topic. Maybe you think organic social posts are more valuable than ads.
Or maybe you think the true value of an influencer is the engagement they get rather than their follower counts. Voicing those opinions could be controversial too. It's up to you to decide what's worth pursuing and what isn't.
Re-use Messages
Each social media post you write doesn't have to be the last time you use it. You can use the same message on other social networks or use a variation of the same message, just be sure it's evergreen and still makes sense.
You know that most people who follow you did not see the original message, so it's safe to use it again. Some people will see it twice, but that's not a terrible thing as long as it's spaced out. If your social media feed is the same message over and over again, that's a bad look.
Be smart about it and use variations over a long period of time. If you have many different social posts in the chamber with different variations to them, people are less likely to notice.
Bonus Social Media Campaign example: User-Generated Content
Companies tend to share a lot of their own content, but what's more powerful is content from other users about your brand.
User-generated content could be anything from a post on a review site, a social post, a blog post describing their experience with a product or service, or a video of your product or service in action. Sharing user-generated content is impactful because it lets your audience know that people use and vouch for your product or service.
From your employees, user-generated content often comes from those around you or within your organization. It could be in the form of thought leadership or even photos from events and meetups your employees attend. Other times, it's simply giving insight or expertise that can help your marketing efforts. An employee advocacy platform like GaggleAMP makes it easy to collect, curate, and distribute employee and user-generated content from both marketing campaigns and employees alike.
With customers or advocates of your brand that are not employees, you can run a simple but effective user-generated content campaign by having people post a picture or video of them using your product or service with the promise of your brand account resharing their post.
There are many good examples of this. Apple runs a continuous #ShotOnIPhone campaign where users post pictures and videos on Instagram with content they made with their iPhone cameras along with that hashtag. Every month, Apple picks one post to reshare on their brand account.
There are many different types of social media campaign examples out there, and many different ways you can run each of your own.