In the 1990s, a new management concept hit the best journals in the industry: employee engagement.
By the time the early 2000s rolled around, this was a concept being used far and wide by business managers and owners everywhere. This internal communications and human resource strategy has been serving to boost morale and create team spirit ever since then.
Since it's so widespread, it's clear employee engagement is crucial to conducting your business in the most effective and efficient manner possible. But what is employee engagement, exactly? What is it not?
Here we aim to tackle these two questions on a deeper level. For now, just know that employee engagement refers to the nature of the relationship between your employees and the business that they work for. When employees feel as though they are contributing to the company and have a level of loyalty to it, those employees are engaged.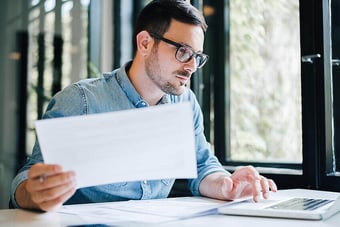 Because companies with engaged employees outperform their disengaged counterparts by 202%, your business is sure to see great benefits if you understand this concept more fully. Not only that, but 90% of company leaders like yourself believe that engaging employees is crucial to running a productive business, so you need to grasp this concept to remain competitive in your industry. Let's dive into what employee engagement is and how you can implement strategies to promote it.
What is Employee Engagement?: A Definition
What is employee engagement?
Employee engagement is the act of people who work for your organization taking pride in their place of business, their job, and going above and beyond their daily responsibilities.
In the most general sense, employee engagement is about the level of emotional commitment that an employee has to the organization that they work for and its goals.
While being paid is important to anyone in the workplace, employee engagement means that the people at a company are working not only for their paycheck, but to do what is best for the company and its vision. An engaged employee believes that what's best for the company is what's best for them, too, because they share the values that the workplace holds dear.
While employee engagement does not refer to how happy an employee is in the workplace or how satisfied they are in their careers, engaged employees are more likely to be happy with their jobs because they are on the same page as their employers in working towards a company mission.
Each Company Definition Varies
What is employee engagement? While the definition of employee engagement is generally consistent, what constitutes 'good' employee engagement varies from organization to organization. Since businesses are led by different people, different leaders have different definitions as to what constitutes an engaged employee.
Consider your employer branding strategy and answer the question, "what is employee engagement to me?" Once you do that, you'll have a good idea of how you can implement strategies that help your employees remain engaged.
What Are the Types of Employee Engagement?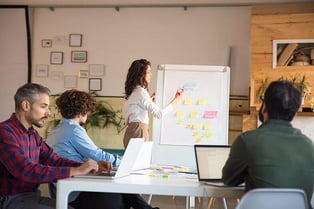 There are different ways to establish a culture that helps with employee engagement, including acknowledging employees, setting company goals, and stopping yourself from micromanaging. Different employers will define what is employee engagement differently and implement different strategies. However, all businesses have three main levels of employee engagement. Let's dig deeper into workplace engagement levels and how they interact.
Highly Engaged Employees
Engaged employees are those who believe wholeheartedly in the workplace mission and want to do all in their power to fulfill it. Generally, they operate under a strong employee advocacy platform and are communicative, proactive, and emotionally invested in the company. According to a Gallup report, companies with an engaged workforce are 21% more profitable.
Not Engaged Employees
Employees that are not engaged are those that just work for their paychecks and the weekend. They want to fulfill the company values and mission when possible but aren't going to go out of their way to do it. If you don't have strong employee engagement strategies, most of your employees will fall under this category. According to The Muse, 70% of US workers are not engaged at work.
Actively Disengaged Employees
Actively disengaged employees are those that have no commitment whatsoever to the company mission. These people don't care about employee engagement and may have entirely different values and missions to what your business and leadership have. Their workplace engagement is therefore incredibly low- they don't want to be there.
What Are the Benefits of Good Employee Engagement?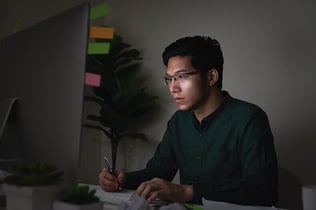 When employees are engaged, your business is more likely to flourish than when they aren't. There will be significantly less job turnaround, higher overall productivity, and more loyalty toward both yourself and the company as a whole. According to a 2016 Gallup Survey, an engaged workforce leads to 17% more productivity. The same survey says that only 33% of US workers felt involved and enthusiastic about their jobs.
High Retention & Lower Turnover
Higher employee engagement leads to a stronger connection to your job. If you feel passionate about the work you're doing at your job, you're less likely to leave your job.
You might like the people you work with, the work you're doing, your company culture, or all three. But the fact is, if you like where you work and you're engaged at work, you're less likely to look for a new opportunity.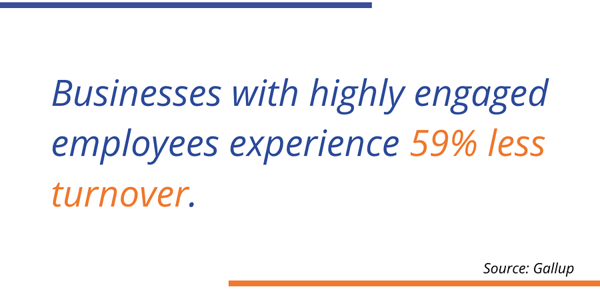 Businesses with highly engaged employees experience 59% less turnover, according to Gallup. Furthermore, Highly engaged employees were 87% less likely to leave their companies than their disengaged counterparts, according to the Corporate Leadership Council.
With higher work engagement, employees aren't going to be quitting their jobs often. Since they'll feel that the company is a good fit, there will be high workplace retention rates and low employee turnover.
Higher Productivity
When there's little turnaround and time wasted with hiring new employees, you'll have more time to focus on what really matters: business. For example, many companies use employee advocacy tools to boost workplace productivity and build work engagement. The added benefit is better brand exposure and an increase in exposure for employees, which boosts their confidence and productivity.
Increased Loyalty
Did you know that personality clashes and value conflicts with bosses constitute the reason that 40% of employees who quit do so? Well, it's true. When you know how to engage employees, you'll build loyalty to yourself and your brand, ensuring that these people like you more than they previously did. This will motivate them to work as hard as possible.
How Do You Get Employee Engagement?
As a manager, employee engagement comes by benefiting your worker's state of mind and making them feel valued within the company. You can do this by focusing on these elements of employee engagement:
Commitment
Motivation
Trust
Loyalty
Using employee advocacy solutions like GaggleAMP help to increase employee engagement through building trust and motivation. When an employee engages by posting content related to their job or industry, they are perceived as a subject matter expert in their industry, which builds trust in their network. This in turn builds motivation from the employee to post content to engage with their community.
What Are the Elements of Employee Engagement?
When you implement employee engagement strategies (and do an employee engagement survey), there are a few benefits you'll see in your workers:
Commitment
An engaged employee will be committed to your workplace agenda. They'll go above and beyond their job description and core responsibilities. They feel a sense of commitment from their organization, so they return the favor through their work.
Motivation
An engaged employee will be motivated to do his or her best work. They show up to do great work and are energized to do so. It's not about collecting a check. They feel a connection to their job and their organization, so they are motivated to do well, not only for themselves, but for the brand as well.
Loyalty
An engaged employee will be loyal to you and your brand. They feel that they are supported by their organization, so they'll return the favor and be loyal to your band.
Trust
An engaged employee will trust that you know what's best for them, and you can trust that they will do great work for your organization. A way to ensure this sense of trust between an employee and employer is consistent communication and acknowledgement.
Get Great Employee Engagement... Request a Live Demo!
Now that you've answered the ultimate question- what is employee engagement?- it's time to see exactly how easy it is to implement strategies that will keep your employees engaged with your business. You can see how GaggleAMP works with a one-on-one demo and learn some ways to make it easy for you to engage employees and their networks on social media
Request a live demo showing ways to create authentic, increased employee engagement with those who work for you!