GaggleAMP is a cloud-based employee advocacy tool that allows marketers to send requests to employees to digitally carry out promotional actions in a variety of ways.
After employees opt into their organization's employee advocacy program, they become members of a Gaggle®️, which is a group of people that promote initiatives on social media. Each organization has a social media manager who oversees their Gaggle. This Gaggle Manager can select from over 50 different types of activities for their members to carry out.
For example, Gaggle Managers can curate content for members to share, like, or comment on for Twitter, LinkedIn, Facebook, and more. They can also request employees to do alternative activities like download an app, or respond to queries on channels like Quora. Because employee advocacy is 100% voluntary, members do not have to carry out any activity the manager requests and can choose which activities they want to fulfill on an individual basis.

How GaggleAMP Helps Your Business
Employee advocacy with GaggleAMP helps organizations increase their reach on social media, garner more engagement on their content and initiatives, increase clicks, website traffic, leads, and more.
So, how does it work?
Employee advocacy allows your brand messaging to be more authentic. Whenever a brand account, or even an executive, share a post that promotes their organization on social media, it's viewed with the same level of skepticism as an advertisement.
You know there is an agenda attached to the post, so you don't trust it the same way you would if it were a friend or family member for example. But when an employee shares a post on social media, their friends, family, former classmates, former colleagues, and others see the post differently than they would a brand posting the same material.
These are people who know and trust the employee, therefore they are more likely to take the post seriously and engage with it. When your employees authentically share a post, it greatly increases in reach and is more likely to get authentic engagement and clicks.
More Than Just Marketing Benefits
Employee advocacy with GaggleAMP is a great way to promote marketing initiatives through your employees on social media, but there are benefits for other departments as well.
Help Human Resources with Retention and Recruiting
When employees are in an employee advocacy program, they gain a better understanding of what their company's mission is and how their role benefits the organizations' bottom line. This builds a stronger connection to the employee and the company which helps with retention.
GaggleAMP doesn't limit your employee advocacy program to social media. You can send requests to employees to rate and review your company on job posting websites, including Indeed and Glassdoor.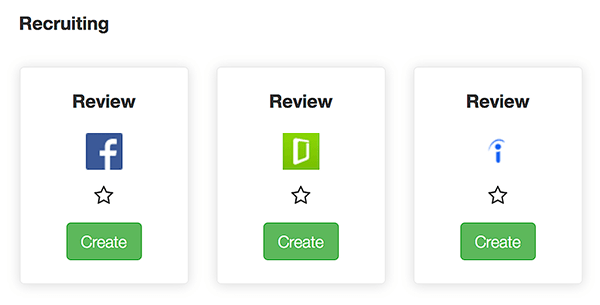 Your employee advocates are the exact people you want to write reviews about your company. They take pride in your organization. They've volunteered to represent your brand and depict it in a positive light when promoting your initiatives. You should absolutely ask them to rate your organization on these sites to give your brand a better digital representation.
Also, employee advocacy with GaggleAMP is a great way to share job postings to draw in top candidates. According to The Marketing Advisory Network, 44.5% of people say they are more likely to apply for a job their friend posted on social media over the same position found on a job board.
This is because you don't have that skepticism towards a friend that you do towards an ad or brand account. Say your friend and their company both post a job opening with the caption, "We're hiring! This is a great place to work!" Which post are you more likely to trust? Are you more likely to engage with one over the other? It's not just the message; it's also the messenger.
Boost Your PR Initiatives
By leveraging your employees to promote press opportunities, your message becomes much more authentic than if your brand promotes the same sentiment. For example, if your employees post that they're proud of their company for winning a "Best Place to Work" award, or they're proud of a donation to a charity the company made, that looks more authentic than the brand account promoting the same achievements.
Furthermore, we've seen companies use GaggleAMP to promote press they received and to capture the attention of journalists. If a journalist interviews someone at your company, have your employees share their post of the article or video. The reporter will notice the boost in engagement and will keep that in mind the next time they work on a story you'd be appropriate to feature in.
Keep Employees Motivated With Gamification
Members of your employee advocacy program need to be motivated to join and to stay active.
With GaggleAMP, you can do that pretty easily. Gaggle Managers can assign points to each activity they request to members. When a member carries out an activity, they'll earn the points associated with that activity.
For privacy reasons, Gaggle Managers can't see which activities an individual member carried out, but they can see how many points that member earned over a certain amount of time. The scoreboard feature in GaggleAMP lets the Gaggle Manager see who has the most points and allows the manager to share that scoreboard to members.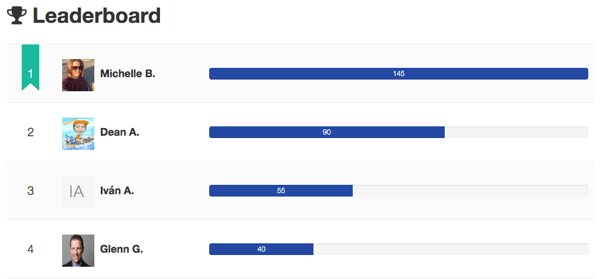 This allows the company to acknowledge members who have earned the most points or reached certain milestones. You can award prizes to your members who earned the most points after each quarter or year. Prizes can include company swag, such as backpacks, shirts, mugs, and more. We've also seen companies give out monetary awards, paid time off, reserved parking spots, and more.
Acknowledgment and awards give employees an extra incentive to stay active while garnering the interest of employees who have not yet volunteered to be in your employee advocacy program.
Using an employee advocacy tool like GaggleAMP is a great way to expand your reach, make your messaging more authentic, hit a variety of goals across your organization, and reach your marketing potential.
See how GaggleAMP works!
Empower your employees to support your business goals by sharing content and creating authentic engagement with prospects, customers and more. See how GaggleAMP works today by watching the video to the left or explore more features by requesting a live demo.