Employee advocacy is a powerful LinkedIn growth hack as it enables you to assemble a group of micro influencers (your employees) to promote your brand.
So whether your goal is to increase brand awareness, drive organic social traffic, or connect with and close new prospects, employee advocacy can help you achieve all of those goals.
However, if you've ever tried to execute an employee advocacy campaign, you know it's challenging to strategically direct employee engagement and track campaign results.
Many give up on employee advocacy altogether simply because it can be a logistical nightmare to organize. So in this post, you'll learn how to create a sustainable employee advocacy campaign that drives consistent growth.
What is Employee Advocacy on LinkedIn?
Employee advocacy is when your employees expose their social networks to your brand's messages by either engaging with content published by the brand or creating their own content that aligns with the brand's initiatives.
Here's an example of employee advocacy where the employee promotes company content with their network by interacting with content posted on the company page: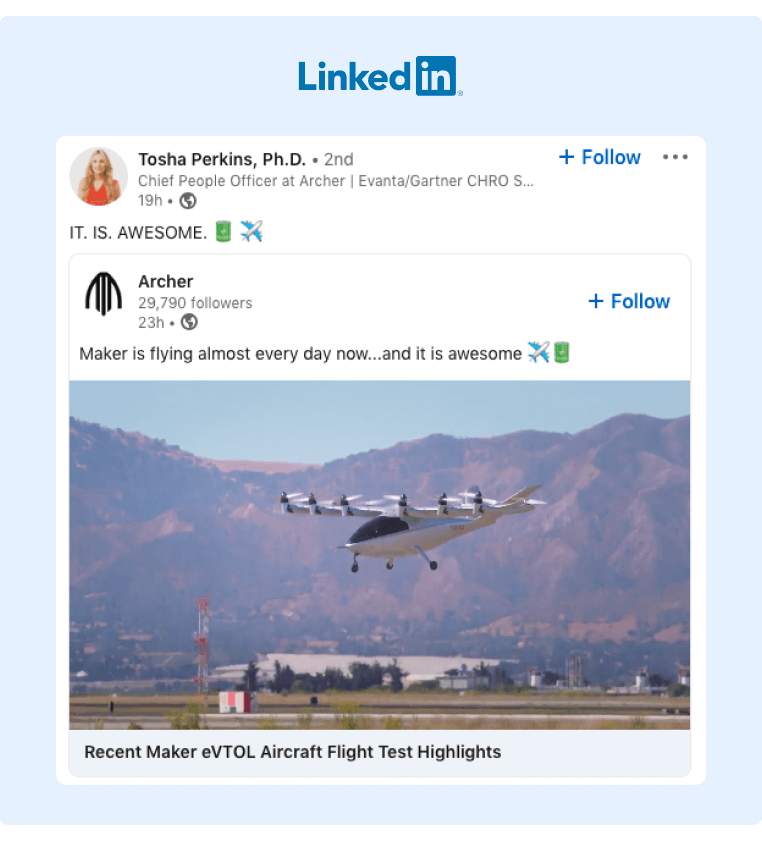 Here's an example of employee advocacy where employees create their own content and weave in the company's initiatives: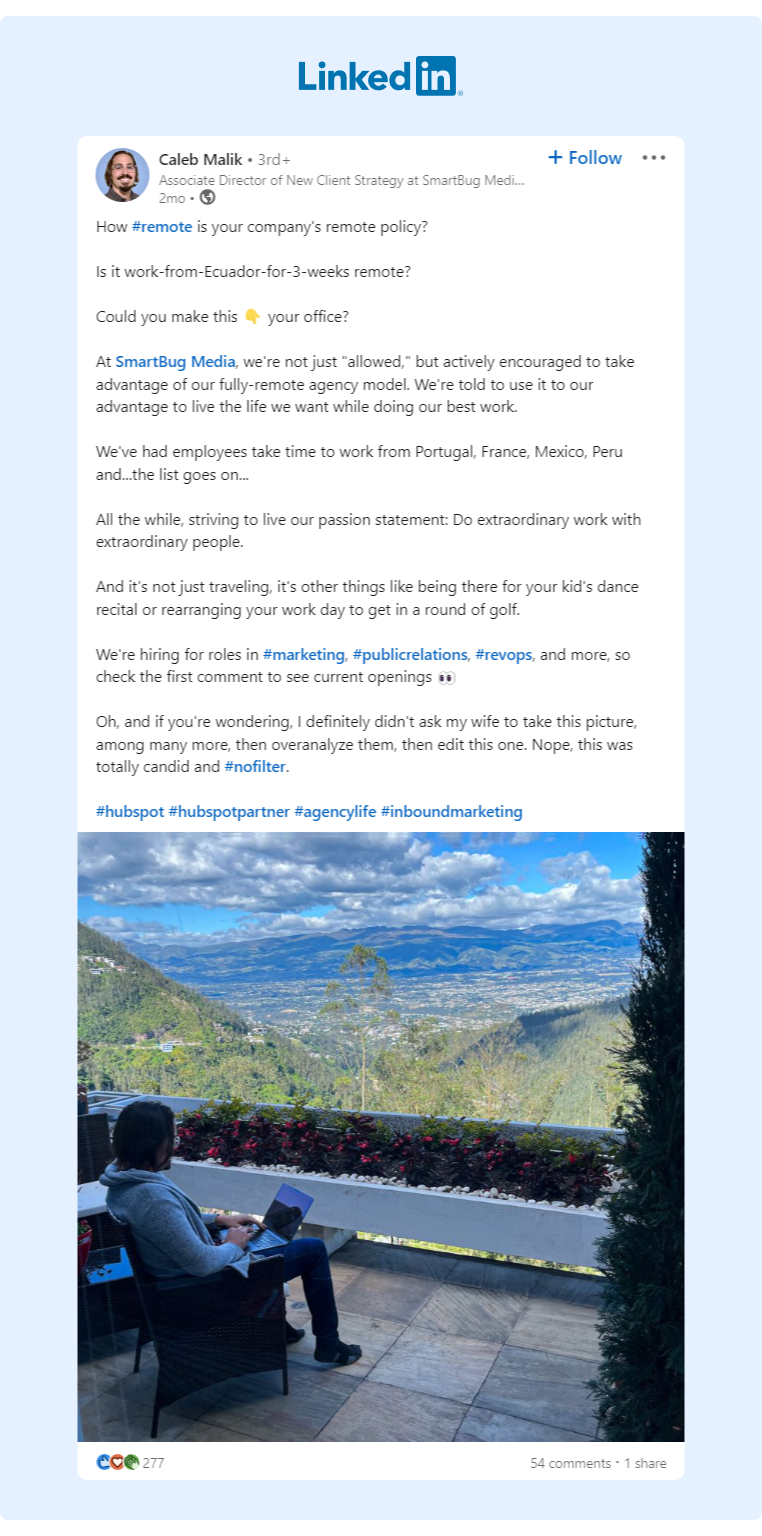 Key Benefits of Employee Advocacy on LinkedIn
There are plenty of different growth hacks to improve brand awareness on LinkedIn, but employee advocacy is arguably more effective than most social media marketing tactics. Here are a few reasons why.
Exponentially Scale Reach
If you publish a post to your company's branded page, you'll earn the organic reach that the LinkedIn algorithm grants that post.
However, if your employees engage with that post (share, like, or comment), you can multiply the organic reach that post receives by the number of employees that engage as their networks will then also see the post.
In addition, as the LinkedIn algorithm sees people engaging with posts, they will assume that it is high-quality content and grant it more reach.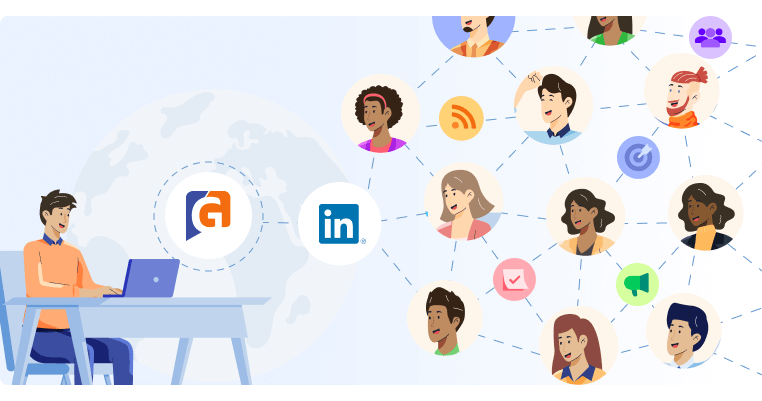 The Attention is Higher Quality
Employee advocacy not only helps you generate more reach, but the reach is often much higher quality than if you pay to boost the posts because your employees' professional networks are warm audiences.
So if a prospect is looking for a solution you offer, they are more likely to select your brand over a competitor's product if they see your brand recommended by a connection (your employee) who they already know and trust.
For this reason, having your employees create and post content to their individual LinkedIn profiles is often even more effective than having them share branded content.
Below is a great example of an employee posting their own content and aligning it with the brand's initiatives. If you're a friend of this person and looking for a creative agency, you're probably much more likely to talk to them about doing a partnership than reaching out to a random brand that showed up in your feed via a sponsored post.

Your Employees Are Viewed as Thought Leaders
Finally, if your employees are consistently creating interesting content on recent industry trends, it's only a matter of time before they become seen as thought leaders.
When your target audience sees your employees as subject matter experts, it builds your credibility as a brand and encourages prospects to select your brand over the competition simply because they trust your employees.
In addition, when your employees are viewed as smart thought leaders, it's easier to attract other top talent and can become a powerful recruiting tool.
Executing an Employee Advocacy Program on LinkedIn
Now that you've seen the benefits of employee advocacy, why doesn't everyone implement an employee advocacy strategy?
Unfortunately, the logistics of running a successful employee advocacy program are challenging. First, ensuring the right employees share and engage with the right content is tricky, as emailing or messaging individuals with specific assignments is not scalable.
In addition, tracking which employees engage on social networks is nearly impossible, so when employees don't even receive recognition for their hard work, it makes sense that their other high-value tasks take priority over engaging on social media.
You also don't have any way to quantify the value of your employee advocacy efforts, as employee posts that incorporate brand messaging don't show up in the company's LinkedIn analytics dashboard.
Fortunately, using an employee advocacy platform can solve all these problems. So below, we'll show you how we help clients execute effective employee advocacy strategies on LinkedIn.
Step 1: Decide on Your Goals
The strategy you implement depends mainly on the company's goals. For example, if your goal is to attract new talent, the employees involved in the program should be from HR and specific departments you're recruiting for. The content strategy should also focus heavily on culture and vision.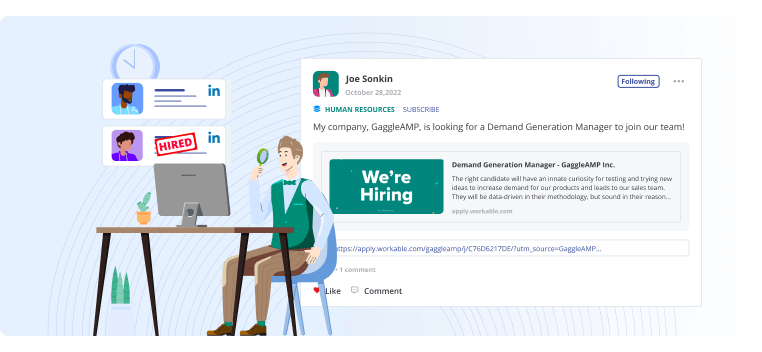 However, if the goal is to sell more, you'll probably want to involve salespeople and create content that highlights case studies and industry thought leadership.
To help you out, here are a few of the common goals that our customers set:
Brand awareness (increase follower count, organic traffic, post engagement, etc.)
Recruiting
Building executive's personal brands
You can have multiple goals, but it's important to map out a strategy for each goal. Otherwise, the strategy won't be as effective as you'll have an assortment of random employees sharing random content.
Step 2: Create a Roadmap and Select Key Employees
Now that you have a clear goal(s), it's time to create a content roadmap and identify the best employees to amplify that content.
We have a resource dedicated to helping you create a content marketing strategy for LinkedIn, but here are a few key tips to help you get started.
LinkedIn Content Creation Tips
As you create your content, consider these four things:
The content idea

: Content ideas that tend to perform well are often social (LinkedIn is still a social media platform). So anything that involves an employee's personal experience or company culture tends to perform well.

The content format

: Many experts debate which kind of content format tends to perform best (video, text, image, etc.), though there are plenty of examples of brands that make each one successful. The key is to test various formats with your audience and find one that your audience likes and that you can produce consistently.

Optimizing the post

: Follow basic optimization best practices like including three to four hashtags, placing links in the comments, responding to comments, etc. It's also important to immediately hook the scroller with an excellent opening line and either draw them into your video or encourage them to click "see more."

The posting schedule

: The lifespan of social media posts is only a matter of hours, so consistency is key to growing your social media presence. We recommend posting at least 3-4 times per week (ideally more). To help you accomplish this volume of posts, schedule some posts in advance and repurpose/repost content.
Selecting Employees to Engage With Your Content
Now that you've created a content plan for each goal, it's important to strategically select the best employees to amplify each piece of content.
Inside our employee advocacy platform, GaggleAMP, you can create groups of employees to make it easier to push relevant content to relevant employees.
For example, if your goal is to sell more, you might create a group of executives, salespeople, and marketers.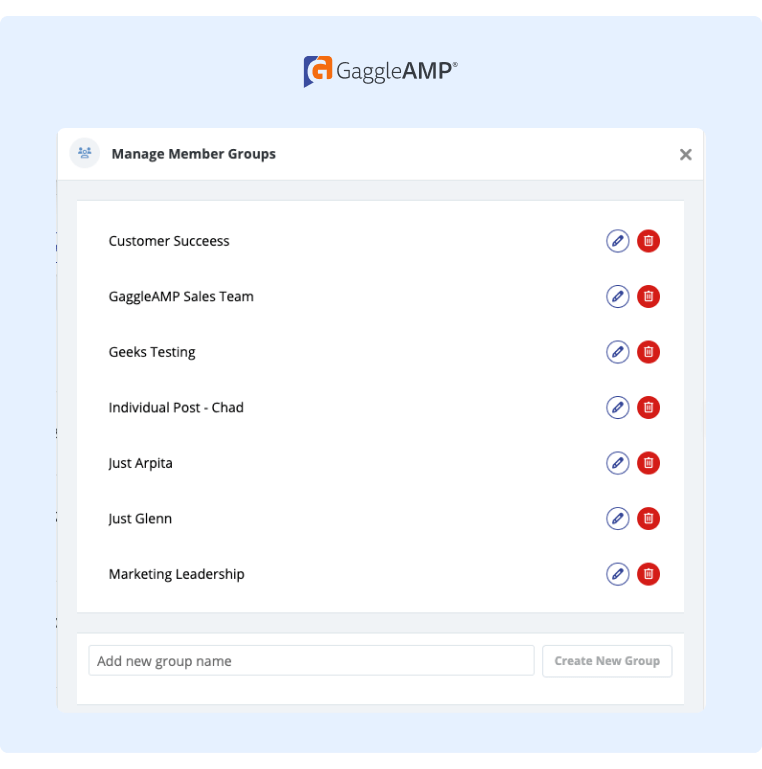 This way, you can have different groups of people share different content so that your employees' networks don't become bored with branded content, yet your company's message is constantly reaching a larger audience than just the organic reach granted by LinkedIn's algorithm.
Step 3: Onboarding Your Employees
There's one key reason why all of the failed employee advocacy programs didn't succeed; employees didn't engage.
While this may seem obvious, it's important because it means that the key to making your employee advocacy program successful is making it as easy as possible for employees to engage and recognize their hard work.
That's why we built GaggleAMP. It cuts down the time it takes for employees to engage daily from 10-20 minutes per day to just 5-15 minutes per week.
It also makes it super easy for you to assign specific posts to specific employees in seconds.
Here's how.
First, you'll select one of our many engagement activities and include specific engagement instructions or even pre-written text for the employee to just approve and publish.
You can also add a due date and then assign it to a group of employees.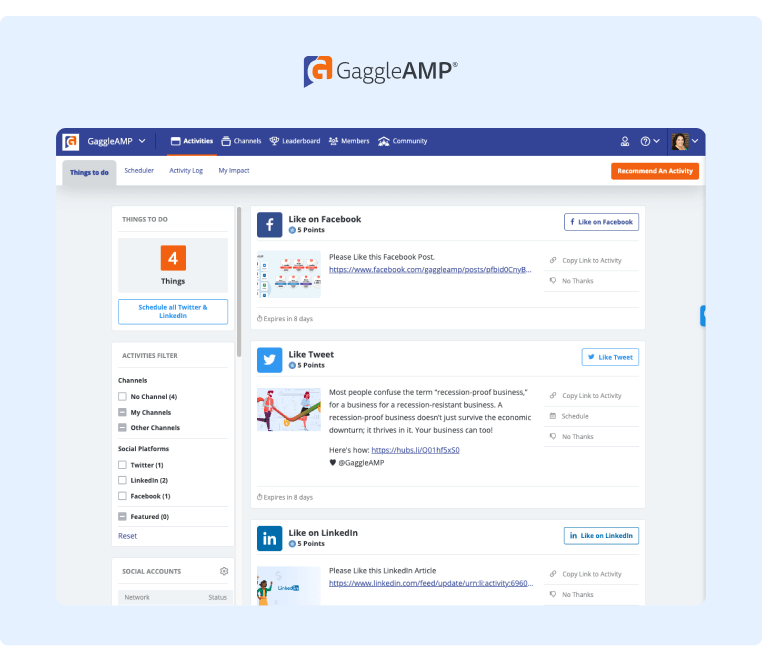 If you haven't yet created a group of employees, GaggleAMP offers a list of all of your employees on the plan, and you can create a group of employees (e.g., executives, HR, sales team, etc.).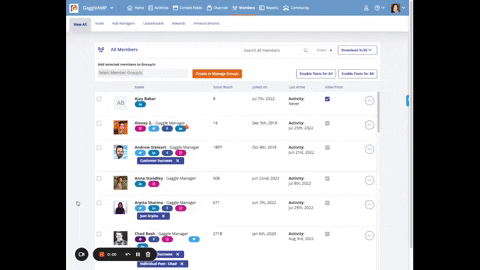 Once you've assigned the post, employees will receive a notification that will take them to the Gaggle with one click.
Inside the Gaggle, employees can complete the engagement activity (like, comment, share, etc.) directly inside the platform, which saves them from having to log into LinkedIn and risk getting sucked into social media and scrolling mindlessly for 20-30 minutes.
In addition, employees can schedule posts to go live at a future date, meaning they only need to spend a few minutes inside the platform at the beginning of each week, and their posts can go live daily throughout the week.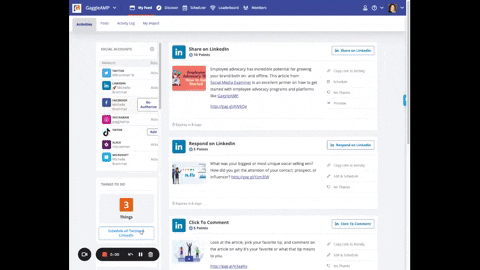 So, in short, the structure looks like this:

You assign a handful of engagement activities to a group of employees or an individual employee (about 10-20 minutes).

The employees complete the engagement activity inside the Gaggle and schedule it to go live during the week (about 5-15 minutes).
From talking to various customers, we've found two major benefits to this structure.
First, employees no longer have the burden of scrolling through endless branded content and deciding which post to engage with as you've already selected a post (or assigned a topic) to them. Selecting a piece of content or thinking of a topic may seem like a small choice, but we've found that many employees become paralyzed when choosing a piece of content, and it ultimately causes them to not engage.
Secondly, many employees worry that what they say might not align with the brand's social media policy. So providing guidelines or even pre-written text makes employees feel comfortable engaging.
If you'd like to see how GaggleAMP works for yourself, feel free to schedule a demo today!
Step 4: Leverage Analytics to Optimize Future Campaigns and Reward Employees
A key issue with most employee advocacy programs is that it's difficult to manually track which employees shared what content and the performance of each campaign.
If you don't know which employees are engaging, you're probably not recognizing them for their hard work, which will likely discourage them from prioritizing employee advocacy.
That's why GaggleAMP offers a public leaderboard so that you can incorporate gamification into your strategy to keep employees motivated. When you assign an engagement activity, you can assign points (on a scale of 1-5) to each activity.
As employees complete the activities, they receive the corresponding points, and the leaderboard shows the employees with the most points. This encourages friendly competition, and you can reward the employees with the most points at the end of the month with a treat (Amazon gift card, charity donation, etc.).
GaggleAMP also offers extensive analytics to help you better understand how your campaigns are performing and optimize future campaigns.
You'll be able to see campaign metrics like:

Total activities created

Number of shares

Total reach

Number of social interactions

Number of clicks

Most active members

Estimated earned media value (EEMV)
This way, you can identify what content resonates with your audience, repost high-performing campaigns, and accurately assess the ROI of your employee advocacy efforts.
You can schedule a demo of GaggleAMP today to see how the analytics dashboard works and how it can help motivate your employees to stay engaged.
Start Your Employee Advocacy Strategy Today
Employee advocacy is a powerful marketing tool that can help you elevate your brand's presence, generate more leads, and even attract top talent.
However, executing an employee advocacy strategy manually is time-consuming and often falls apart as employees become busy with other tasks.
So if you want a tool that helps streamline your employee advocacy strategy and keep employees actively engaged, consider trying GaggleAMP. You can schedule a demo or jump into a 14-day free trial today!