Employee advocacy is a proven method for making deeper impressions with larger audiences, but there are common challenges that get in the way.
Organizations of all sizes want to promote their initiatives, content, and brand, and using employee advocacy tools is a great way to do that. Employees' social media accounts reach larger combined audiences than that of corporate accounts and deliver messages in a more authentic way. People trust posts coming from employees more than the same posts coming from the companies they work for.
Although employee advocacy is a powerful tactic to leverage, there are some common concerns from employees that can prevent an employee advocacy program from taking off.
Here are four of the most common obstacles and how to overcome them.
Employees Who Don't Want to Share Work-Related Content
Let's face it, not every employee shares work-related content on social media.
Roughly 30% of employees who choose not to share information about their company on social media said they don't use social media for business reasons at all, according to a survey by The Marketing Advisory Network. An additional 15% said they don't want to overwhelm their network with posts about their company, and another 15% said they don't want to sound like a company robot.

Research from The Marketing Advisory Network 2017 Employee Advocacy Impact Study.
This is why personalization is so important. Employees need to be able to edit posts before they share them so they can convey a message in their own voice. This will encourage them to share and help eliminate the concern of sounding like "a company robot."
Organizations should also mix in appropriate third-party content for employees to share. This way the employees aren't sharing company content too often, and will instead be viewed as sources of valuable and interesting information about their industry and areas of expertise.
Lastly, giving employees the option of choosing what, when, and how often they post, also alleviates the "company robot" concern and overwhelming their personal feed.
It also doesn't hurt to put incentives in place to give these employees a little extra push. Whether it's monetary awards or something else, incorporating employee advocacy gamification into your program is a great way to motivate employees over the long haul.
Employees Who Don't Use Social Media
It's hard to be an advocate on social media without having a social media account. This won't be a problem for an entire employee population of course, but the more employees you can get in your employee advocacy program, the more successful it'll be.
According to The Marketing Advisory Network, millennials are far more likely to share content on social media than baby boomers, which is good considering millennials make up most of the workforce today. As for the generation Xers in your office, they're typically not far behind millennials in their social media skills.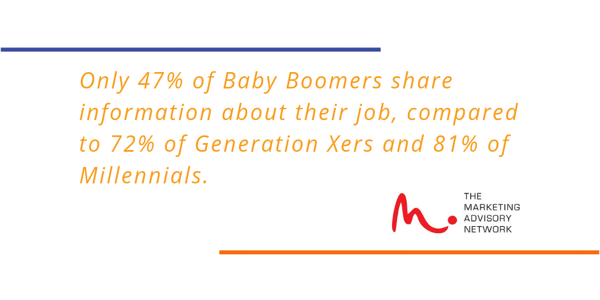 Whether baby boomers don't have social media accounts or they simply don't feel comfortable with social media, they may be hesitant to change. Encourage employees to buy-in to the program by offering training and incentives.
Incentives let people know they are doing something to help their organization, but also offers them something to gain. Training simply makes people more comfortable with what they're doing and teaches them how to do it, which makes them more likely to contribute to the employee advocacy program. Keep in mind, training and incentives still won't push a complete non-user of social media into sudden influencer status.
Employees Who Want Share but Don't Know How
There are employees in your office right now who want to help promote your companies brand but don't know what specifically to promote or how to promote it.
Many of these employees already mention your brand on social media, while some don't say anything at all out of fear of saying the wrong thing. This is the best problem to have because a good employee advocacy platform easily solves this.
Employees need to know what pieces of content to share, what to write in posts, and what social media platforms to share them in. Sending employees content to promote and an appropriate caption for a post makes the job easy for employees. They'll be more likely to contribute and gives the organization the results they want. A great employee advocacy program will also suggest to employees what posts to like, share, who to follow, and what types of people to engage with.
And of course, feedback is always recommended. Typically your organization will want at least one point person feeding the employee advocacy program with solid content.
But a program is only as good as the content employees want to share, which is why feedback and recommendations on content are encouraged. A strong employee advocacy tool such as GaggleAMP can help you solve these and other problems as it relates to your employee advocacy program.
Curating Content for Your Employee Advocacy Program
Once you have people in your employee advocacy program, you need to curate content for them to share on a regular basis.
Of course, you want to promote your own content, but sharing third-party content is important. The same way you don't want to talk to people who only talk about themselves, you don't want to follow people on social media who only promote themselves. If you only share your content or promote your initiatives, you'll have a tougher time gaining followers. Additionally, it wouldn't ease the concerns of your employees that they'll look like company robots by taking part in your program.
Finding your own content is easy, but you need to be able to find quality, relevant, third-party content. You can do that by signing up for newsletters from publications that write about your industry, visiting websites from publications that write about topics you're interested in, and following social accounts of people who share good content on your areas of expertise.
You can also curate content for your employee advocacy program with Scoop.It. Scoop.it is a content curation service that crawls the internet looking for content related to keywords and topics you have said you want to see. This could be topics, publications, key terms, and more that are specific to the interests of your industry. It's also helpful to block content from specific sources, such as a competitor's website. This makes finding content much easier and less manual.
These are the most common hurdles that people face with employee advocacy programs, but they have some very easy solutions. It's important to be strategic in your employee advocacy program, whether you're just rolling it out, trying to expand or curate content for it. These are all common challenges of any program and you can handle them.