With any initiative your organization takes on, you need to have clear results.
Considering all the time, money, and energy you spent on a project, you have to know it was worth it by measuring it properly. When it comes to
employee advocacy
, this is no different. By measuring the right metrics, you'll be able to show that the results you get from your
employee advocacy program
are worth the cost of admission and are the results you are striving for.
So, what numbers do you measure exactly? How do you measure them? And how do you show both the financial and intangible benefits your employee advocacy program produces for your brand?
Know Your Goals
Do you know the exact purpose of your employee advocacy program? Can you clearly articulate your goals?
There are many different benefits and use cases for employee advocacy. Typically, marketers and salespeople want to drive more leads and opportunities, thus additional revenue through social media marketing efforts. But, what about your employee advocacy for human resources? HR may use employee advocacy to promote new job openings, specific events, or other initiatives, thereby pushing workplace culture and tapping into new resources.
Additionally, your public relations department may want to have a broader outreach, make stronger connections with people in your industry, and promote news articles mentioning your brand. For your PR department, the goal here may be increased brand awareness, referrals from industry contacts, or even increased press coverage.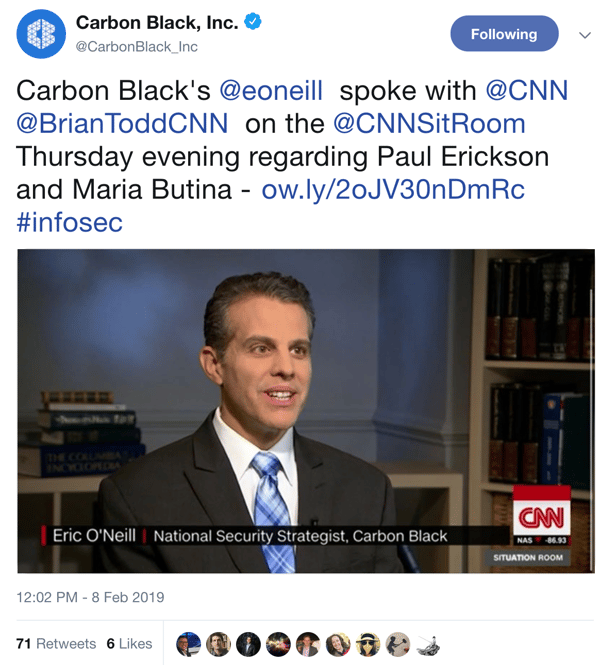 As an organization, all three departments are part of the same company and likely have the same broader goals. But, the goals in the employee advocacy program are far different, which is why it's important to know your goals. It changes the metrics of measurement.
When it comes to your social media marketing initiatives, you might want to boost engagement for your branded accounts, increase your employees' social media presence, or both. There are different advantages to each, but we'll cover how you can measure both and what numbers you should follow.
Measuring Your Social Media Marketing Metrics
In order to gauge the growth of your social media presence, you'll need to measure these metrics:
Reach: how many people have the opportunity to see your posts.
Engagement: how many people reacted to your post (e.g. a 'like', share, or comment on the post).
Clicks: how many times people clicked on a link you shared.
With employee advocacy tools like GaggleAMP, it's very easy to see the reach the employees in your program have. Here, you can see the activities they perform, how much engagement they've received on their posts, and how many times people clicked links they shared.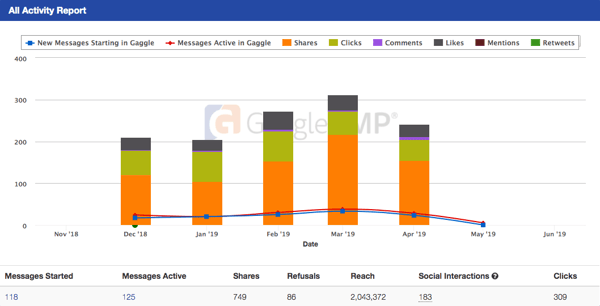 Additionally, you can identify which activities on each social network got the most reach, engagement, clicks, and more. This will help you get more out of your program by knowing where you see the best results.
Pro Tip: To understand the growth and improvement in your program, you'll look at an aggregate view of how all your activities performed historically.
Another area you should focus on is the number of active members in your program. To put it simply, the more employee advocates you have in your program, the better your employee advocacy program will be. There is an exponential growth in results when you have more people participating in your employee advocacy initiatives.
Measuring Leads and Conversions
In order to see the fiscal value of your employee advocacy program, you need to see where your closed deals came from. This is easy to do with rich lead source tracking capabilities in GaggleAMP's employee advocacy platform.
Lead source tracking allows you to see which posts a lead clicked on to visit your site and convert to a lead. Through integrations with marketing automation tools such as Hubspot, Salesforce, Marketo, and others, tracking leads from GaggleAMP is a seamless effort. By attaching a unique tracking code to the links in your social posts, you'll be able to tell which of your leads came from your employee advocacy program, and which of your program's leads closed deals with you.
This allows you to take a granular look at which social posts brought leads to your website, which social network the post was on, and what activities typically garner the most leads for your organization.
Not only does this make it easy for you to show the value in your employee advocacy program, but better optimize it as well.
WGroup, a CIO advisory firm, used lead source tracking to measure its growth in impressions, clicks, and sales pipeline value. Over three and a half years, the small business generated over $2 million in sales pipeline from employee advocacy efforts.
GaggleAMP ROI Calculator
Another great way to measure the ROI of your employee advocacy program is by measuring the money you spend on the program and compare it to how much money you would have to spend on social media advertisements to get your current results.
On the GaggleAMP dashboard, a ROI calculator allows you to see your results so far, compare it to the cost of paid social ads, and see how much money you saved by getting your results through employee advocacy instead.
"Look at what the costs are and what that would have cost you because that's part of the ROI," said Kelly Shelton, former VP of Marketing at Boostability during the AMPlify 2018 conference. "We did one analysis last year. It would have cost us $40,000 to get to the same kind of reach through a paid campaign, and internally it cost us $19,000. We felt that was a really good return on investment. The additional return was happier, engaged employees."
Employee advocacy brings a lot of great results, but it's important to be able to show the value of your time, effort and money. By measuring these metrics and following these steps, you'll be able to show quite clearly the exact monetary value of your employee advocacy program.