Use Case
Brand Awareness and Thought Leadership
Results
7.8M Impressions
7,300+ Clicks
$2M+ in Sales Pipeline From Employee Advocacy
WGroup Builds $2 Million Sales Pipeline Through Employee Advocacy
Domenic Colasante, CMO of WGroup, faced the challenge of getting employees to promote their company's content and initiatives on social media.
The consultants at the peer-to-peer CIO advisory firm of roughly 100 employees help Fortune 1000 companies with digital transformation and IT strategy challenges. The brand value of a management consulting firm is directly connected to thought leadership, and WGroup's consultants must be seen as thought leaders among industry peers. This is why Domenic shifted his company's marketing strategy by implementing an employee advocacy program with GaggleAMP, which resulted in over $2 million in new sales opportunities among many benefits.
"GaggleAMP is one of the most user-friendly and simple tools you can implement to drive a direct impact. There are thousands of marketing technology products out there that will do a lot of really good things, but the amount of effort and brainpower that you need to spend to get value out of those tools is significant. In GaggleAMP's case, it's a very low barrier to entry and a very quick path to impact."

Domenic Colasante

CMO of WGroup
Before getting started with GaggleAMP, WGroup consultants had a limited social media presence. Writing blog posts about industry trends and challenges was infrequent.
"We would encourage our consultants to write blog posts, and when we did get one, we would, unfortunately, have to spend a lot of time posting the articles and sharing through the corporate social channels," Domenic said. "It was really hard for our consultants. It was taxing on marketing, and it sub-optimized the consumption of content."
Getting the Program Started
The firm needed to present its consultants as thought leaders to drive brand value and lead generation, but it didn't have an easy way to do that.
WGroup shifted its strategy by hiring a third-party Marketing as a Service company, 2X, to interview consultants and create content, highlighting the consultant's insight and knowledge regularly. The marketing team promoted this content in GaggleAMP after onboarding employees onto its employee advocacy program.
Domenic presented the premise of employee advocacy and how GaggleAMP works in a company meeting. He explained to consultants that they'll get a notification over email or an integrated platform they already use such as Slack or Google Chrome, and they can act with one click of a button without interrupting their workflow.
With GaggleAMP, there are over 50 activities a marketing team can request of its employees, including retweet a tweet, comment on a LinkedIn post, share a post on Facebook, and like a video on YouTube, for example.
WGroup uses these activities to promote their consultants, the content their consultants are featured in, third-party content about the IT industry, and more.
"The biggest success we've had with GaggleAMP is creating a brand image of thought leaders. When anyone knows of our consultant, they can't help but to be exposed to a wealth of new ideas, concepts, and thinking. GaggleAMP has enables us to make our firm look that way because it is that way. And now it's visible."

Domenic Colasante

CMO of WGroup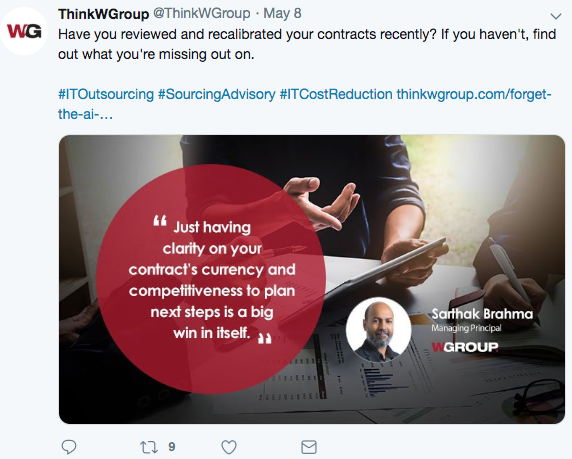 Social Media and Employee Advocacy ROI
By promoting its consultants as thought leaders and micro-influencers in their areas of expertise in the IT industry, WGroup has seen higher social media KPIs across the board and more business opportunities.
Over three and a half years, WGroup has garnered over 7.8 million impressions, 7,300 clicks on content it promotes through their Gaggle, and over $2 million in sales pipeline from its employee advocacy program.
The firm's marketing team can directly attribute these numbers to its employee advocacy program by attaching a unique tracking code to all the links it promotes in its Gaggle. This means that when someone clicks one of these trackable links on social media and registers for anything on their website, whether it's a gated ebook, a webinar, or fills out any other type of form, the marketing team can see that the person came to the site through content promoted in their Gaggle.
Employee advocacy also helps employees learn what the company wants to promote and its direction when they see the content they share.
Any organization can benefit from its employees growing their digital presence and representing their organization. It doesn't matter the size or industry the organization is in. It's about being active on social media, adding valuable insight, strategically using quality content, and using their authenticity to spread a message.
Editor's Note: Following the merger of WGroup and Wavestone, the Wavestone US brand officially superseded the WGroup name.