Gamification is setting a value to an activity so that someone can voluntarily carry out a task on a regular basis, thereby making the task fun and competitive. You do this by incorporating a system of points, rules, and awards to the task. So, how does benefit your employee advocacy program?
One of the big challenges around
employee advocacy
is expanding your program to more people across your organization and keeping them motivated over the long haul.
That's where gamification works incredibly well and leveraging it alongside employee advocacy often leads to both employee and employer growth. Here's how.
Use Gamification to Build New Channels
Not every employee in your employee advocacy program uses the same social networks or leverages social media the same way. That also means that not every potential client or customer will be on the same social networks as you. When breaking into a new social channel or helping to build an existing one, your employee advocacy program can be used to build out your presence on this network.
Through an employee advocacy program, a manager can send requests to employees asking them to perform specific activities on their social media accounts. Some examples of these activities include sharing a blog post, retweeting a specific tweet, posting a video on LinkedIn, and writing a review on Glassdoor. With GaggleAMP, there are over 50 activities you can choose from.
You can couple gamification and employee advocacy by assigning points to each of these activities and can assign higher point values to channels you are looking to grow or nourish For every activity an employee performs, they'll earn points and the brand will gain exposure.
Reward Your Members
There's no point in playing a game if you can't win.
When employees reach certain milestones, acknowledge and reward them. Set milestones for them to try and reach that coincide with your companies initiatives. The rewards may vary based on the initiative but could be most points in a quarter or year, reaching a certain amount of points in a given time, and more. For each of these milestones, assign an award someone is happy to receive. Let employees know what the awards are and what the goal is for each.
There are many different ways you can reward your employees. Many companies use company branded items such as backpacks, handbags, shirts, thermoses, and more. We've seen some companies reward employees with some out of the box ideas including more paid time off, lunch with the CEO, and reserved parking spots.
Of course, many organizations find monetary awards as the best way to go. For example, if users lead the program in points for a quarter, they'll get a gift card or a bonus of a predetermined amount of money.
You also want to acknowledge employees in your program for their contributions and effort. It's important for managers of an employee advocacy program to share the leaderboard and let employees across the organization know who has contributed the most, and what they're doing for the company.
Gamification Motivates Employees Long-Term
Gamification is a great way to keep employees in your program motivated over the long haul. When you have employees in your program, they'll be happy to contribute to your program, but down the road, they might not contribute as consistently as they once did, and might not be as active in the program. In order to keep them motivated, you need a long term approach.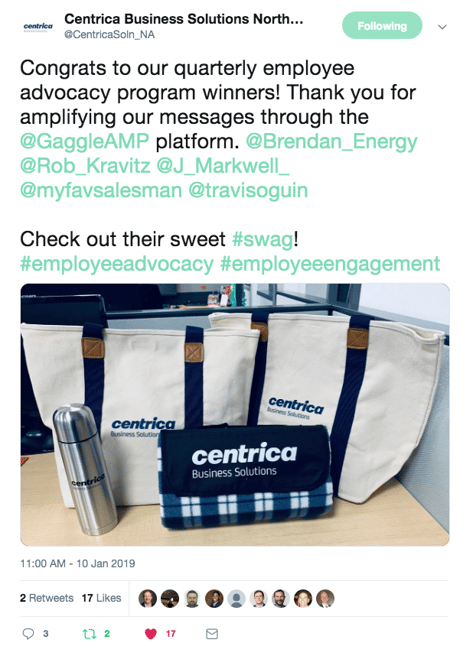 Keep in mind, the manager of the employee advocacy program will be able to see how many points an employee earned, but they won't be able to see which activities an individual employee did or did not perform. This understanding often helps employees understand that their employer does not have access to their social media profiles and that participation in an employee advocacy program is all reported in aggregate.
By acknowledging the contributions of people in your program, and offering different awards and incentives for people who reach specific milestones in your program, they'll stay engaged in your employee advocacy program and won't lose interest.
"It's very easy for anybody to be a strong contributor, " says Jen Spencer, Vice President of Sales and Marketing for SmartBug Media. "You don't need to be a seasoned team member. You could be brand new to the organization and skyrocket up the leaderboard. This is a way for me to encourage the efforts people are making" says Spencer as she was getting her employee advocacy program up and running.
Incorporating gamification into your employee advocacy program will also draw in more people across your organization. When members of your program receive recognition and awards, employees outside of the program will see this and be drawn into the program. Participation keeps employees motivated and acknowledge them for helping to move the company message forward.