It's much easier to be productive and be passionate about a job you enjoy and have fun doing, and that's what gamification is all about.
But what is gamification?
At a basic level, gamification is simply taking a task that is not a game, and adding a system of rules and awards to that task to make it more like a game. The idea behind adding a new mechanism to gamify a task is to make that task more fun for the person carrying it out. This will make them more likely to continue to do it or do it routinely.
When you add a gamification strategy to your employee advocacy program, it keeps the members of your program active and more engaged over a longer period of time. That is what gamification is all about, and it's no different with employee advocacy.
Once you get buy-in for your employee advocacy program, you need to attract new members and keep your current members motivated. What is gamification? It's a great way to solve both of these challenges.
So, how do you gamify an employee advocacy program?
Gamifying Your Employee Advocacy Program
There are two ways to implement gamification for your employee advocacy program. You can either run contests through a leaderboard or give out rewards.
Both of these methods are based on assigning points to activities you want your members to perform. Some examples of these activities include liking a post, commenting on a post, following or connecting with an influencer, watching or liking a YouTube video, or writing a review on Glassdoor. There are many others to explore, too.
In terms of how you want to set up your program, it's up to you. There are benefits to each method, and you can decide which one makes the most sense for your organization.
What is Gamification With Leaderboard Contests?
Using a leaderboard to hold a contest is an exciting way to drive engagement.
With a leaderboard, you can track which members are being the most active, earning the most points through your suggested activities, and you can share the leaderboard with your members.
By sharing the leaderboard, you can let members know how they're performing compared to each other and how close each of them is to winning your contest.
These contests could be scoring a certain amount of points in a given time or scoring the most points in a specified period. It's a great way to drive friendly competition between your colleagues.
"It's very easy for anybody to be a strong contributor, " said Jen Spencer, Vice President of Sales and Marketing for SmartBug Media. "You don't need to be a seasoned team member. You could be brand new to the organization and skyrocket up the leaderboard."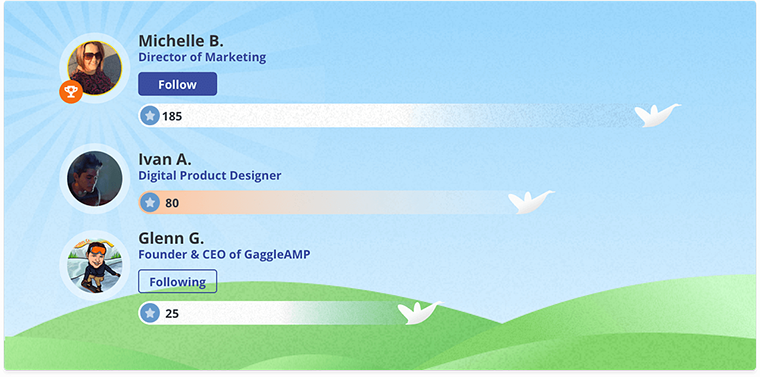 What is Gamification Through Rewards?
Using rewards in your employee advocacy gamification strategy is basically like creating an online store.
When employees carry out activities that you suggest to them in your employee advocacy program, they earn points. Once they accrue enough points, can then use them at an online store, similar to how you might use tickets you won at an arcade. They'll be able to redeem rewards from the points they earn. It's up to you what you want to offer at the online store.
You can either make points redeemable in a certain amount of time – meaning the points expire after a quarter or a year or so – or you can make the points redeemable anytime after a specific date.
Types of Gamification Rewards and Prizes
Many organizations get pretty creative when it comes to their gamification strategy, but what are gamification rewards you can offer?
People tend to think of monetary rewards first, but you don't need to give out money just to get people to be active in your program.
Over 65% of experiences employee advocacy program managers say recognition is the most effective incentive to motivate employees, according to a survey from Social Media Today.
People like rewards and they like earning prizes, but at the end of the day, they love being acknowledged and that shouldn't come as a surprise. A little recognition in the workplace goes a long way.
But prizes and rewards do give a little extra push. Money is a very strong motivator, but you don't need to give out cash if you don't want to. Many organizations see success by giving out Amazon gift cards and company-branded merchandise such as stickers, mugs, shirts, and backpacks. Some even offer a free lunch with the CEO of the company, an extra day of PTO, and more. You can get pretty creative with this.
What is gamification when it comes to employee advocacy? It's a customizable way to motivate employees. You can approach it in a multitude of ways. Just pick a method that works best for you.
Introducing Your Gamification Strategy
There is a step-by-step process you need to take when it comes to gamifying your employee advocacy program.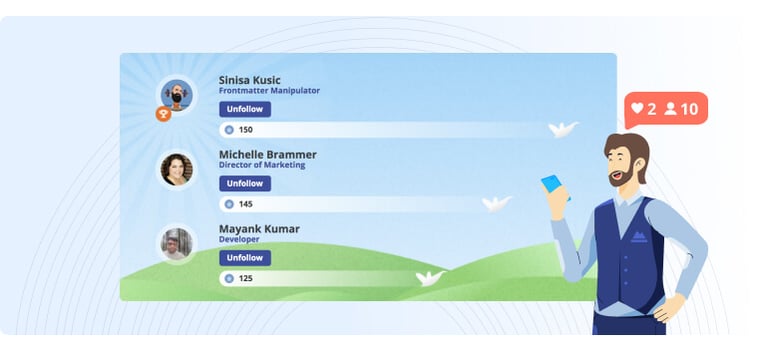 1. Goal and Initial Plan
What is your primary objective for your program in the upcoming quarter? Maybe it's to drive more webinar registrants.
First, decide if you want to invite more members to your program to drive more shares. That way, you will have more people promoting your webinar. Try to engage inactive members of your program, and then see if there are people outside of your program who are interested.
Gamification can motivate current members and can draw in new members. If you send out an email acknowledging your top-performing members, it will get other members active and competitive. It will also motivate employees outside of your program to learn how they can get involved. Of course, this helps when they see colleagues showing off the prizes they won through the program.
2. Contest Announcement
Send out an email and/or Slack message to everyone currently in your program and anyone who showed interest in your program. Explain the rules of your contest and the goal.
Let them know when the contest starts and ends. Tell them what the prizes are, information about the leaderboard, how many winners there will be, and include the invitation link to your program platform.
There should be multiple emails and messages sent out to follow up and remind employees of the contents. The more people you can get to sign up, the better.
3. Contest Creation and Management Steps
The most important part of implementing a gamification strategy is to make sure you can logistically run it before you communicate it to your program members.
Make sure your goals, rewards, points system, and everything in between are all within your reach. You need to know whether your contest is weekly, monthly, or quarter. Know what your prizes are. Are you giving out small prizes such as gift cards and t-shirts? Or big prizes such as iPads or concert tickets? Or are you not giving out prizes at all and acknowledging employees publicly? Any of these could work, but it's important to know what's most impactful and logistically possible for you.
Who is going to win this contest? Is the winner whoever earns the most points? Or are you picking different people in the top ten each month? Again, there is no right or wrong answer. It's all about what makes the most sense for your organization.
Top Program Manager Tip: Many times, I was finding that the same 5 people were always at the top of the leaderboard. To still make it interesting, I would randomly choose someone out of the top 10 or 20 each month rather than selecting just the top users.
Lastly, how will you announce the winners? Some organizations keep it simple and just announce the winners over email or Slack, while others do so as part of a big company meeting.
Gamification works for anyone. No matter what the goal of your employee advocacy program is, how many active members you currently have, what industry you're in, what prizes you have the budget for or the size of your organization, gamification is a strategy that works.
You could implement a gamification strategy in the coming weeks, and quickly see current members be more dedicated, and see more employees ask to join your program.