Whether your employee advocacy program is brand new, or you've been running it for years, you still want to expand it and boost its potential.
Every
employee advocacy
program manager wants to keep drawing in more dedicated employees. The more active members you have, the further your potential reach is. But, program managers say getting employee buy-in is the biggest challenge of running a program. So how do you do that? Do people really want to talk about work on social media? And do you have to convince people who are hesitant?
What's important to remember is that many people in your organization already talk about your brand on social media and others are willing to. They just need you to guide them. But your job is not to convince people who don't want anything to do with employee advocacy. It's to identify those that are willing to volunteer and help them make the most of their social media presence.
Your employee advocacy strategy needs to be concrete. You need to explain to employees what they'll get out of it so they'll buy-in, and you want to continue recruiting employees long-term. Here's how to do it.
Recruiting For Your Employee Advocacy Program
Introducing your employee advocacy program to your organization is a big step. You can't just send out one mass-email and expect everyone to volunteer.
Having executive buy-in before you introduce the program to your company helps in a big way. You can have a teaser email from an executive sent out to employees letting them know what the program is all about, its purpose, but most importantly, what's in it for them.
This can't be emphasized enough. You need to be able to explain what employees get out of employee advocacy. If you can't do that, they won't want to join your program.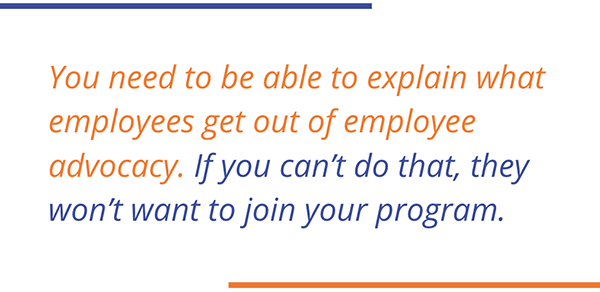 Explain how it helps them:
Do their jobs.
Helps their career.
Grow their social media presence.
Present themselves as thought leaders.
Drive new opportunities, including speaking events.
If you can help them see the benefits to their career and social presence, they will buy-in and help you.
Follow-up Invitation
After your initial invite from either yourself or an executive, you want to continue this messaging through follow-up resources. Invite employees to a live demo where they'll learn their role in an employee advocacy program and what they'll be asked to do. It's a great time to explain how it helps them, how it helps the company, and how easy it is for them to take part in it.
Your second invite should be team-specific. Have the head of each department present the invitation or send out an email, and let the department know how employee advocacy benefits them specifically. For example, if you're inviting your sales team, have the head of your sales department send out the invitation and communicate how employee advocacy helps with social selling, connecting with prospects, helps find leads, and boosts your digital presence.
If you're inviting your human resources department, have the head of HR send out the invite, and communicate how employee advocacy helps with recruiting. People are more likely to apply for a job a person shares, and it will help spread content on company culture and events.
Your invites don't all need to be over email. You can send out invites through other internal communications channels such as Slack, and company intranet. You can even hang up or send out posters and flyers to let people know. Many organizations have had success with this method.
Pro-tip: An employee advocacy platform will allow your advocates to opt-into the program by connecting their social media profiles. It's important for participants to know they have full control over their social media and they choose what they post. Also, their employer has no access to their personal social media accounts, nor can they access it at any time.
A powerful way to present your employee advocacy program is at a large company event, such as a global sales kickoff. You can present how a program can align with the specific goals initiatives of the company and its departments, such as promoting webinars, events, brand campaigns, and more. But it needs to be reemphasized that you have to show your employees what they personally get out of the program.
Segmented Approach
A one size fits all approach does not work. You need to make sure you understand the employees you're recruiting in order to get buy-in.
Think of employee advocacy as a professional development program. If you were doing this solely as a workforce development activity, how would you approach the messaging and onboarding?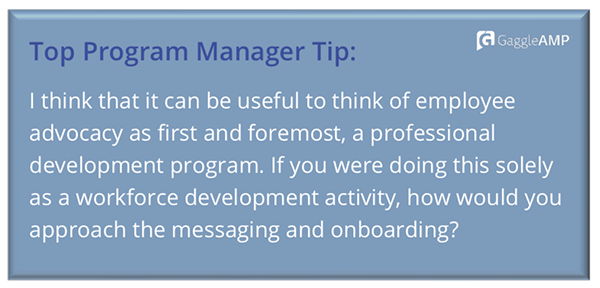 It would be different for each persona. There are a few personas to keep in mind that, depending on a person's knowledge of social media, their willingness to share about your brand, and what their goals are, may approach employee advocacy differently from others.
Examples of Employee Personas
Client-facing employees who aren't very active on social media.
Sell them on why social media is important. Guide them on how to identify and connect with the right people. Optimize their profiles. Once they understand how social media helps them do their jobs, you can show them the easiest way to be active through employee advocacy.
Highly active on social media.
They don't need a lot of help. You can make it easier for them by supporting them with content aligned with the brand's mission and their own goals. Encourage them to engage with brand content and become content creators.
Executives
Your executives have a huge impact on your social media presence as they are industry thought leaders, but they might not dedicate time towards being active on social media. Employee advocacy can support them with handpicked content to help them boost their personal brands. Use the program to promote your executives as well.
HR Team
Employee advocacy is a way for your HR team to share content on company culture, job postings, or building the brand. Oftentimes HR teams have initiatives and content of their own that they'd like the rest of the company to promote.
Furthermore, make sure your employees have some basic social media training and you know who needs it and who doesn't. Do they have a profile? Do they share? Do they share business content? Address each group accordingly.

Make Employee Advocacy Part of Your Company Culture
Onboarding employees is something you'll continue to do. No two employee advocacy programs are exactly the same, so you need a strategy that is customized for your organization.
You should make employee advocacy part of your company culture. Once your current employees know about the program, and you've established a solid group of employee advocates, you need to make it part of your onboarding process for new hires. Introduce them to your program, your initiatives, what your goals are, but most importantly, what the program can do for them.
Onboarding Needs to be Easy
Once you have employees who want to be part of your employee advocacy program, actually onboarding them can't be a challenge.
Make sure you have an easy to administer training process that's simple for employees to understand. It needs to be concise and easy to digest.
Use virtual training sessions to show them the tool, walk them through how to use the platform, and show them how to set up schedules, take advantage of integrations, notifications, and more.
For example, GaggleAMP users typically take advantage of integrations with Slack, the Google Chrome browser, Salesforce, and more to set up notifications. It allows users to receive notifications while using these platforms, so they don't need to leave these apps and switch to GaggleAMP in order to respond to these notifications. They can do it right from these windows.
Furthermore, single sign-on integrations make it easy for employees to join your platform. Leverage that so it's easy for them to authenticate their accounts and use the tool when needed. Offer to help them connect their social media accounts to the platform if they need it, and offer to help them understand strategy and mission.
Your employee advocacy program can help increase many of your social media marketing KPIs. Making it part of your company culture, and communicating benefits to your employees, are key to seeing success.