Consistently emailing or calling prospects and clients is time-consuming and can be annoying.
However, most prospects still need to be nurtured before they'll finally make a purchase, so abandoning communication isn't an option.
That's why many sales professionals turn to social selling, as it enables them to continuously appear in front of their target audience without being intrusive. In addition, prospects that see salespeople actively engaging on social media and posting valuable, industry-related content are more likely to trust and respect them.
Therefore, we'll discuss what social selling is, how to develop a social selling strategy, the most popular social selling platforms and tools, and several examples of social selling.
What is Social Selling?
Social selling is a strategy salespeople use to find, nurture, and deepen relationships with prospects and existing customers through social media.
It's a casual, easy way for any salesperson to consistently get in front of their target audience and provide value without directly calling or emailing them.
What is the Social Selling Index?
The social selling index is a score created by LinkedIn that judges how successful a person or brand is at social selling. It is a 25-point scale (with a score of 25 being perfect) and comprised of these four factors:
Establishing a personal brand
Finding the right people
Engaging with insights
Building relationships
The social selling index is designed to help you improve your social selling skills. So while it is not a ranking factor in LinkedIn's algorithm, a higher score typically correlates with more reach as it means you're engaging effectively (and therefore an asset to LinkedIn).
The social selling strategy outlined below will help you boost your social selling index.
Social Selling Strategy
While it may seem counterintuitive, a great social selling strategy is less about directly selling and more about engaging and creating content.
In other words, you probably won't see positive results if your social selling strategy consists of nothing more than sending cold DMs or private messages to promising prospects. Instead, great social selling is a long-term game of consistently creating valuable content and then sending the occasional personalized messages to warm prospects.
As you build a strong social media following, social selling will become easier and easier, so don't give up in the first month or two.
To help you build a loyal following and generate leads from social media, here's a highly effective yet simple social selling strategy that anyone can execute in just a few minutes per day.
Step 1: Identify The Most Relevant Social Channel
When you first begin building a social media presence, start by growing on just one or two platforms. If you try to grow on too many different platforms at once, you'll spread your resources thin, and it will take a much longer time to see significant results.
So first, learn where most of your audience is hanging out. For B2B companies, it's probably LinkedIn or Twitter, though, for B2C companies, it might be Facebook, Instagram, or TikTok.
If you're not sure, you can:
Look at which channels your competitors are most active on.

View which platforms have the largest, most active industry groups.

Analyze which social platforms consistently send your company the most leads.
Based on the above criteria, choose one platform and set up your profile. As your profile is often the only thing prospects will view when researching you and your company, take some time to write a compelling bio and add a professional headshot.
Once you've completed your profile, ask other members at your company to follow and connect with you. The more prospects can see other people actively engaging with you, the more credible and trustworthy you'll appear.
Step 2: Engage With Your Prospects
Once you have a profile set up, identify where your prospects hang out. Specifically, make a list of these questions:
What hashtags do people in your industry use?

What groups do they join?

What other social accounts do these people follow?

What related interests do they have?
Once you've identified the answers to these questions, follow the key influencers in the space and create a daily habit of checking, and engaging with, the most common hashtags and groups.
In addition, set up a social listening tool. These tools enable you to enter keywords, and then they monitor various social media platforms for anyone that mentions that specific keyword. Once someone mentions a keyword you entered, the social listening tool will send you an alert so that you can engage with them.
You can enter keywords related to:
For example, if I'm executing a social selling strategy for HubSpot, here are some keywords I might enter:
Brand – "HubSpot"

Competitor – "Pardot"

Tool/service you offer – "CRM"

Key customer pain point – "close leads" or "retain customers"
Then, whenever someone mentions these keywords, you can engage with their post and even mention your product or service.
Step 3: Consistently Create Valuable Content
In addition to constantly engaging with your ideal prospects, create your own insightful and original content. Content creation is one of the best ways to establish yourself as a thought leader, earn credibility, and organically attract your target audience.
There are two key components to succeeding with content:
Post consistently rather than sporadically

Post high-quality content (which we'll define below)
Unlike blog content, social media content is typically only seen during the first several hours of posting. So if you post five times one week and once the next week, engagement with your content will likely be high the first week and zero the next week.
To prevent massive engagement swings, schedule your posts ahead of time to ensure you are posting consistently.
Now let's discuss the second element, creating high-quality content.
In general, posts that generate a lot of engagement are humanistic (discuss personal experiences, learning, etc.) and/or offer an insightful or unique perspective.
Here's a great example of a post that offers an insightful/unique perspective: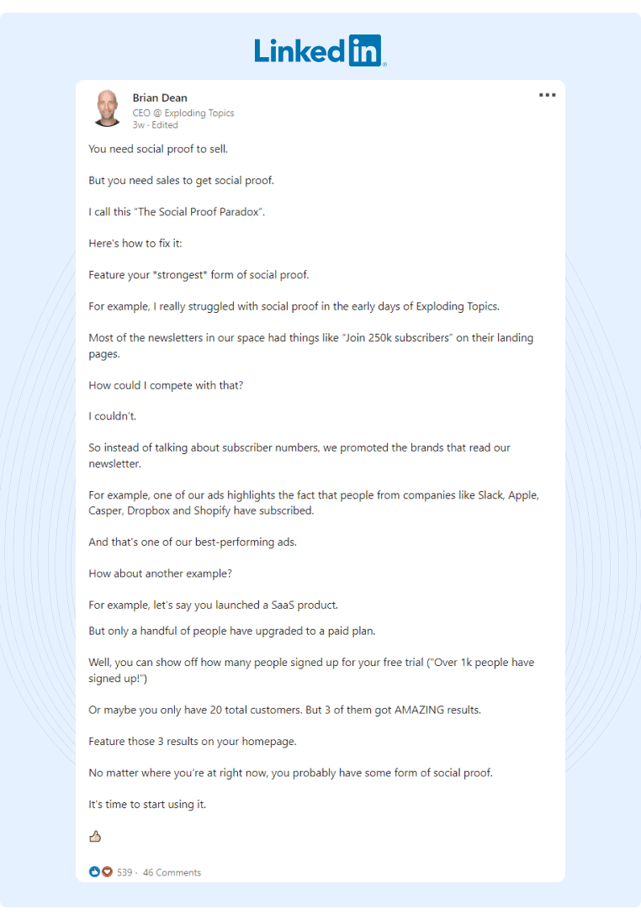 Here's a great example of a humanistic post: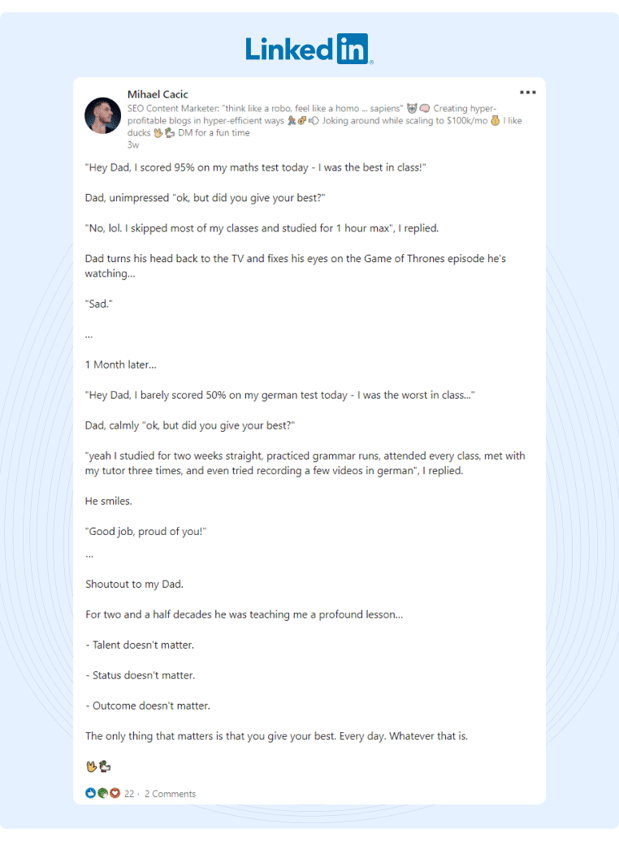 The best post format depends mainly on the platform you choose and the content style you feel most comfortable creating. For example, videos tend to perform really well on LinkedIn, though plenty of people succeed with long-form text-based posts.
So you may want to experiment with several different post styles to find what performs best for you.
Step 4: Promote Your Social Content
If your posts don't generate engagement in the first hour or two of being posted, social algorithms won't show them to as many people. However, if algorithms see that many people are engaging with your posts immediately, they will assume that it's high-quality content more people should see.
So to get some immediate engagement, create an employee advocacy program.
An employee advocacy program leverages your employees by asking them to engage with new posts. When the social media algorithms see people engaging with your posts, they'll be more inclined to give the post more reach. In addition, your post will seem more credible and attractive to prospects scrolling through their feed.
However, the biggest challenge in starting an employee advocacy program is getting employees to engage. After all, other employees are busy with their own tasks. So taking the time to find the post you recently created and think of an insightful way to engage with your posts several times per week is cumbersome.
In addition, there's no way to track who has and has not engaged, so the employee receives no reward for completing the task.
Fortunately, an employee advocacy platform (like our tool, GaggleAMP) can solve these problems. With GaggleAMP, managers can select a social post, create an engagement activity (like, comment, share) and assign it to an employee or a group of employees in seconds.
Then, employees receive a notification that they have an engagement assignment. Once they receive the notification, employees can log into their Gaggle, see a handful of posts with corresponding assignments (comment, like, share), complete the assignment within the Gaggle, and then schedule the posts to go live throughout the week.
This way, employees don't have the headache of choosing which post to engage with and they can schedule all of their engagements for the rest of the week (rather than spending a few minutes per day engaging on social media).
GaggleAMP also gamifies the process with a Leaderboard of the most engaged employees. This makes it possible to reward employees for engaging and you can nudge those that are lagging behind.
If generating more engagement on social is a pain point, consider using GaggleAMP for free for 14 days and see if it improves your engagement.
One example of a customer that has had great success with employee advocacy is TrustRadius. For example, they recently ran a campaign on LinkedIn promoting a new integration, and they used GaggleAMP to maximize engagement. As a result, 56 employees shared the campaign and it had a reach of 900,000.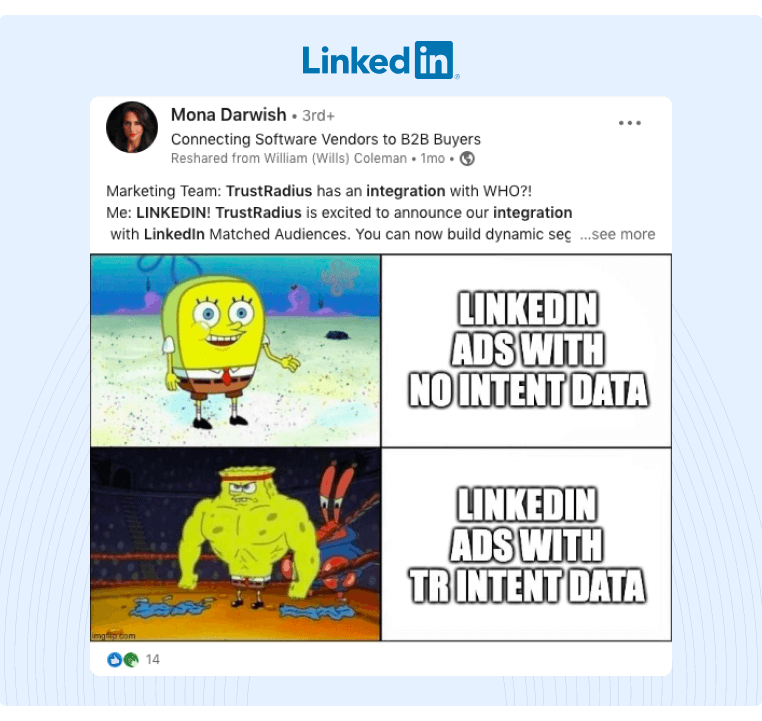 If you want to achieve similar results, try GaggleAMP for free for 14 days, or sign up for a demo.
Step 5: Create a Relevant List of Prospects
Now that you've provided value engaging with your ideal target audience and have several posts with decent engagement, you can create a relevant list of prospects to reach out to.
To create your list of good potential prospects, here are a few ideas:
Write down everyone you've engaged with that demonstrated a pain point your product/solution solves

Identify the right title (i.e., marketing director) at the right company (i.e., B2B SaaS company with X problem)
The key to getting a great response and conversion rate is to find a pain point that your product or service solves. For example, if you're an SEO agency and want to execute social selling, reach out to companies in a specific niche you serve and are experiencing declining traffic.
You can also run pre-targeting ads to these people to improve the likelihood that they will respond.
Step 6: Craft an Irresistible Offer
Once you have a list of people with the pain point your product solves, closing the deal comes down to creating a no-brainer offer.
A no-brainer offer is usually low commitment, low risk, and high perceived value. For example, let's say you offer paid ad services. In that case, an irresistible offer might be "We'll bring you 10 new customers in 30 days, or it's free." Or in this case, "create a week's worth of LinkedIn content in 30 seconds — sign me up!"
As most people are unlikely to read paragraphs of text on social media, keep the offer to less than three or four sentences, or in the example above, hook them with a video that's under a minute.
Step 7: Follow up With Prospects
Once you've reached out to prospects, be sure to follow up with them, as only 2% of sales happen after the outreach.
In general, wait two to three days after the first interaction to follow up with prospects.
When you do follow up, keep the message short and don't be pushy. Ideally, make the follow-up message even shorter than the first one and use this framework:
"Would you like me to (solve their pain point) in X days? If we don't fulfill this, (your guarantee)."
For example, a follow up for a Facebook ads agency might look like this:
"Would you like me to bring 10 more customers in 30 days? If we don't fulfill this, you don't pay."
The offer here is so good that this is all you need in the follow-up.
Popular Social Selling Platforms
While we already discussed how to choose the best platform to operate on, each platform has some nuance. Below, we'll discuss the nuance of each of these platforms to maximize your efforts.
Social Selling on LinkedIn
If you've decided to do social selling on LinkedIn, here are a few pro tips.
Building Your Profile
As you're building out your profile, one pro tip is to ask your colleagues, friends, and clients to endorse you and leave recommendations. It adds credibility to your profile as that is the main place prospects will look when they research you.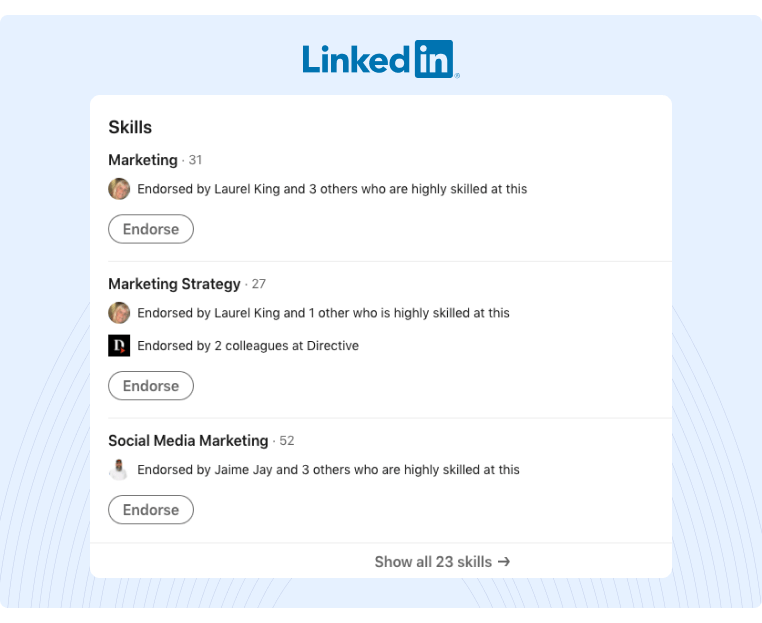 Creating Content
As you create content on LinkedIn, here are a few pro tips.
First, any long-form, text-based posts should have a hook that encourages the reader to click "see more." When LinkedIn sees that people are clicking the "see more" button, it takes it as a positive signal that people like the content and will show it to more people.
In addition, avoid posting links to a blog post without any context. In fact, if you post a link, first write a captivating post and then remove the link preview to make it look more organic.
Here's a great example:
If you're posting videos, consider chopping them up into shorter clips and editing them with attention grabbing titles. As most people won't turn on the sound, be sure to add captions as well. Here's a great example:
Sending DMs
If you plan to send a lot of messages, be sure to upgrade to LinkedIn premium, as you'll otherwise be limited by the number of messages you can send.
Another tip is to send connection requests with a note. Once the person accepts the connection request, you can message them without using one of your InMail credits.
Social Selling on Twitter
Many B2B tech companies find Twitter is a great channel for social selling. While perhaps a little more informal than LinkedIn, there are plenty of great leaders hanging out on Twitter. In fact, many people that are active on Twitter are not active on LinkedIn.
To leverage this audience effectively, here are a few tips.
Building Your Profile
Twitter only offers you one single line to describe yourself, and while some people use this line to describe what they do professionally, you can also be more creative and personable. Here's an example of a popular Twitter profile.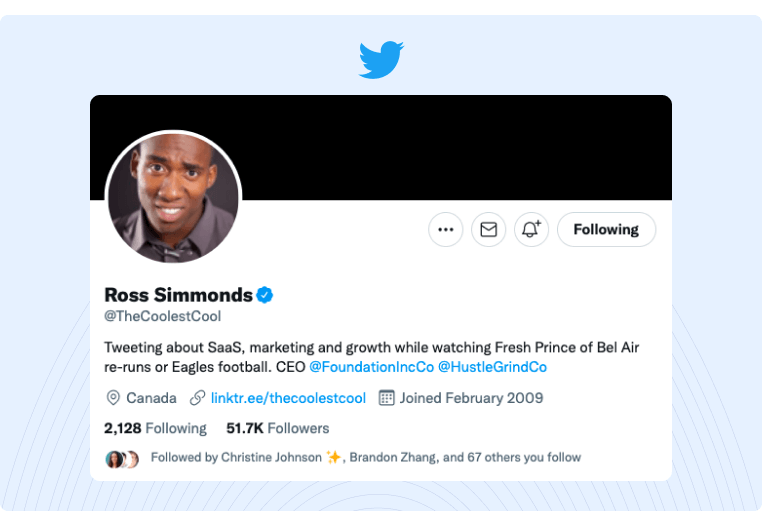 You also have one opportunity to insert a link. You can use this to link to your company's website, a personal blog, or a link tree, which in essence acts as a landing page filled with links to other valuable resources.
Creating Content
Generating a substantial following on Twitter is relatively simple if you create content consistently. The most successful form of content on Twitter tends to be threads.
If you're looking for thread ideas, consider these:
Discuss learnings from a recent failure/success
Discuss an experiment you recently ran
Discuss a process that you use daily
Discuss something you recently learned from another person
The key is to make these Tweets actionable, personable, and insightful.
Here's a great example:
Sending DMs
To send a direct message to an account that isn't following you, you'll have to first verify your phone number. Once you've done that, you'll be limited to 1,000 direct messages per day. Ideally, you should be creating fairly targeted messages and won't need to send that many to get a response.
Social Selling on Instagram
If you're a B2C brand, Instagram might be the best social platform. If so, here are a few pro tips.
Building Your Profile
First, if you use Instagram for your personal use, you might want to create a different profile for professional use. While you could just post from the brand account, personal accounts tend to perform better as it is, after all, a social platform, and people want to connect with other people on social platforms.
Creating Content
Instagram Stories tend to be the most popular and successful type of Instagram content, and you can incorporate things like the ​​Quiz Sticker and Countdown Sticker to leverage more engagement.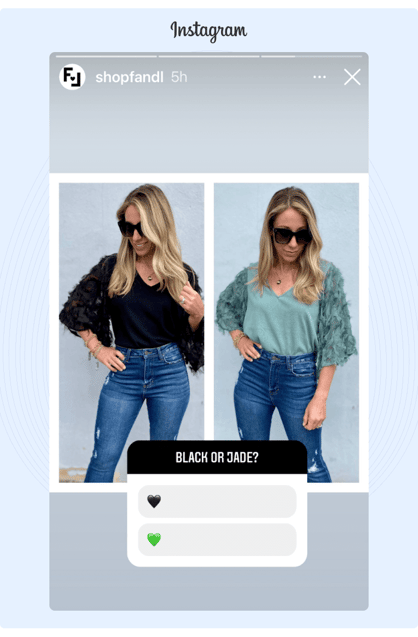 If you're doing B2C content, contests also tend to generate more engagement and lead to sales.
You can also post informal videos of yourself discussing topics that would provide value to your target audience.
Carousel posts are also popular, and you can take it a step further by asking to guest post a carousel on someone else's Instagram feed. For example, if you're a travel agency looking for more customers, you could reach out to an Instagram influencer in the travel space and ask to do a guest post carousel with your top travel hacks.
You can also do direct influencer marketing by paying them to create a post about your company.
Sending DMs
If you're selling to a large audience on Instagram, you can use a chatbot to reach out to anyone who comments on your post automatically. Chatbot builder tools like Appy Pie or Chatfuel are great for this.
Many chatbot platforms enable you to personalize the message based on the post the prospect commented on.
For example, if it was a post about a product, you can send a message that says, "Liked the (product name)? We only have X more in stock. Do you want to purchase now, or do you have some questions?"
If the person doesn't purchase the product, you can follow up in a few days and offer a discount. This is a highly effective way to scale social selling without sacrificing quality.
Social Selling on Facebook
Social selling on Facebook is similar to Instagram, though there are a few differences we'll discuss below.
Building Your Profile
If you're using Facebook for professional selling, consider creating an alternative account from your private account. On the alternative account (that's still your name – not the business name), you can consistently post purely business-related content.
Use this profile to become active in industry Facebook groups and be sure you're consistently helping people in your target audience.
Creating Content
Visual content often performs well on Facebook, and this can be anything from videos to images. Facebook also offers Facebook stories, which are 20 second video clips (or images with animation).
A pro tip is to add a CTA to your stories that involves commenting or interacting. The more Facebook sees people engaging with your content, the more likely the algorithm will give the post more reach.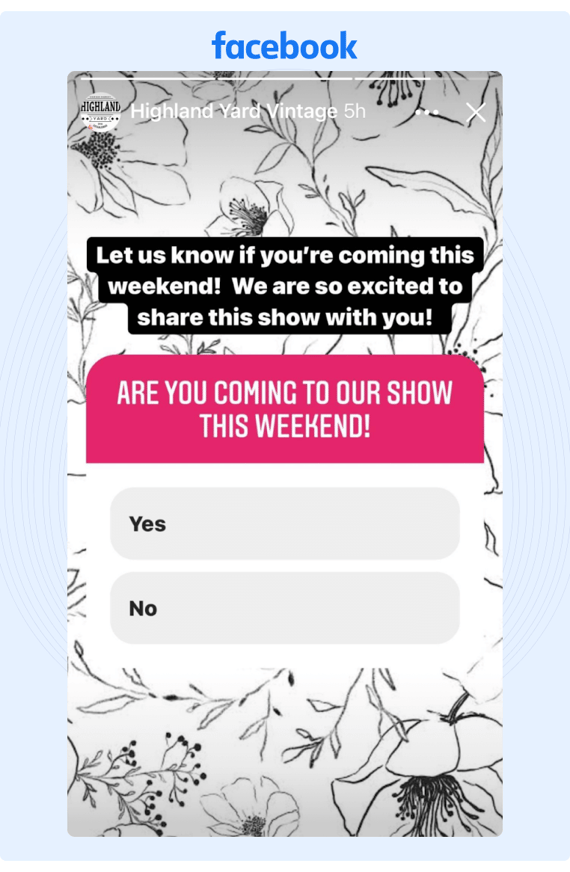 If you want some templates to help you get started, you can use these ones from Adobe.
Sending Messages
Facebook messages are similar to Instagram DMs, as you can use a tool like Chatfuel to automatically message commenters and make them an offer.
If the first message doesn't receive a response, schedule the chatbot to follow up automatically in two to three days.
Social Selling Tools
While the social selling strategy mentioned above can be executed manually, there are employee advocacy tools available that can automate elements of the process and enable you to extend your reach. Below, we'll discuss some of these tools, how they work, and key benefits.
GaggleAMP - Employee Advocacy Tool
It can be exhausting to consistently ask other employees in your organization to share your new posts. In many cases, creating a post in a general "promotion" Slack channel inside your company's workspace is a recipe to be ignored. After all, your employees have other priorities and it's easy to forget.
Some managers combat this by emailing employees individually and asking them to share a post. While this tends to produce a higher success rate, it's also very time consuming.
Fortunately, GaggleAMP solves this dilemma.
With GaggleAMP, you can assign posts to specific people and even assign a particular engagement action (such as like, comment, or share). As you're assigning the post, you can choose the most relevant person (or people) in your organization to carry out the activity.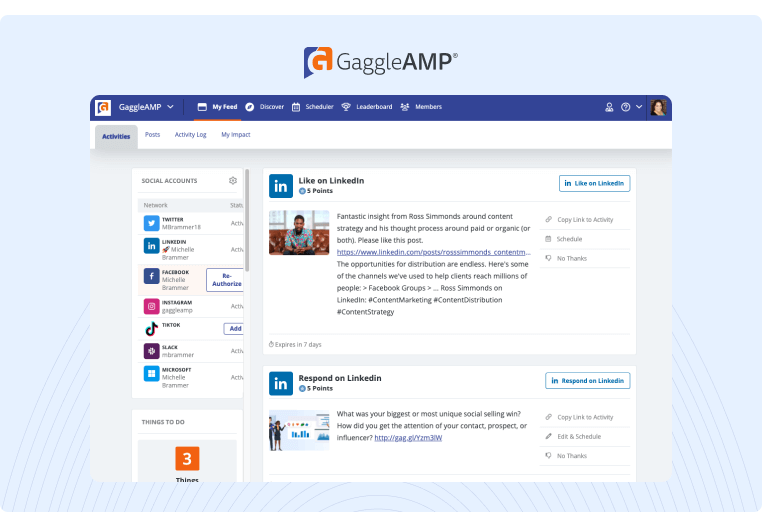 Once the post is assigned to that person, they'll receive a notification that they have a new post to engage with. The employee can then click into the Gaggle, view the engagement activity, and complete it. GaggleAMP also enables employees to schedule posts to go live at a future date. This means employees only need to spend about two minutes once per week in their Gaggle scheduling content, and their posts will publish consistently throughout the week.
We purposefully designed GaggleAMP to eliminate as much friction as possible for employees as we know that the success of your employee advocacy program comes down to getting buy-in from your employees.
If you'd like to see how GaggleAMP can help you generate more reach and engagement on your posts, sign up for a demo today.
Awario

– Social Listening Tool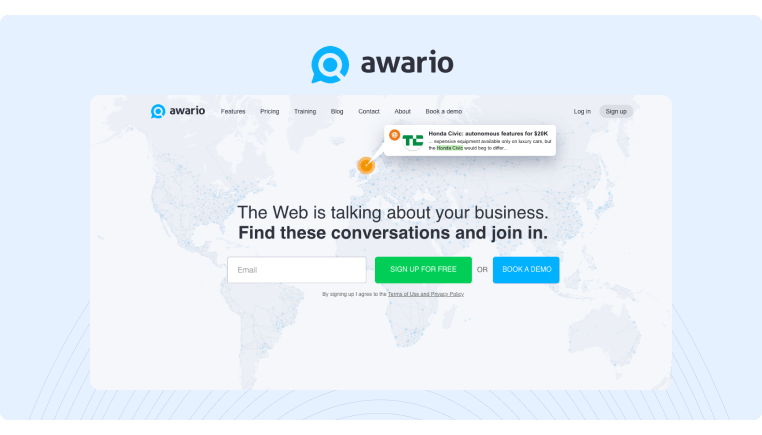 Awario is a social listening tool that enables you to track certain keywords in multiple languages. It also enables you to easily monitor and respond to social media comments. This is particularly useful as responding to comments encourages commenters to continue engaging with your brand, and social algorithms view that as a signal that your content is valuable.
Awario also identifies posts that ask for product recommendations so that you can jump in and join the conversation. You can also track conversations around competitors so that you're positioned to jump in and add value for people that are dissatisfied with competing products.
Chatfuel

– Facebook and Instagram Automatic Messaging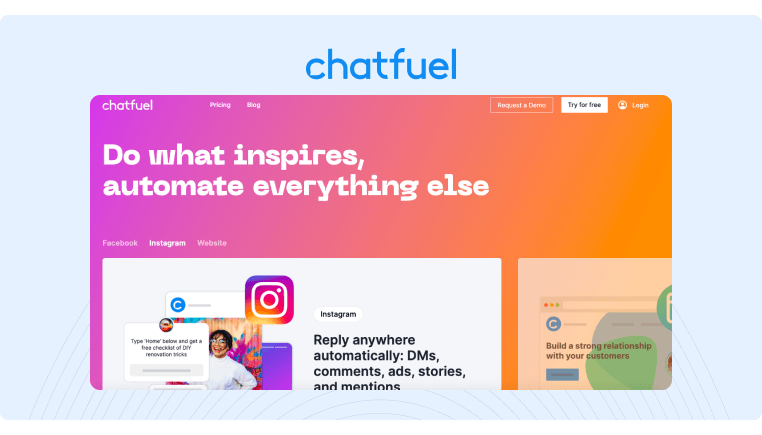 If you're selling across Facebook or Instagram, the ability to automatically message commenters is invaluable. Chatfuel makes it easy to do this.
You can build any chatbot without code and create an automated conversation to lead them to the sale. If prospects have a specific question that the chatbot can't answer, it will pass the conversation to a real sales rep.
Canva

– Social Media Post Creation Tool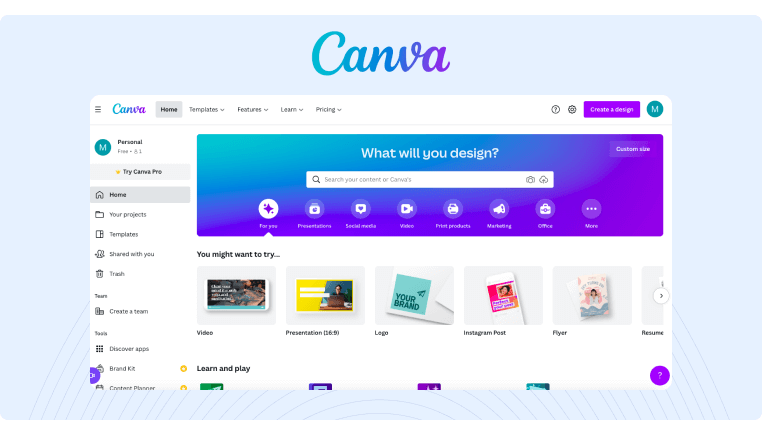 If you're creating any kind of visual content like videos, infographics, stories, or images, Canva offers plenty of templates to help you get the job done.
Here's a link to some of the relevant templates they offer:
Best of all, Canva is mostly free with premium options.
Zopto

– LinkedIn Outreach Automation Tool
Zopto is a LinkedIn outreach automation tool that enables you to filter by your ideal customer and then select the level of engagement you want to execute.
Specifically, you can filter by title, location, company size, tech stack, follower size, and more. From there, Zopto enables you to select whether you'd like to do sequential messaging or send connection invites. You can also analyze Twitter engagement and reach out to only those with a certain level of engagement.
Once you've done that, you can run your LinkedIn outreach on autopilot.
Level Up Your Social Selling Strategy
Social selling is one of the most effective ways to follow up with customers without annoying them. It also gives you a chance to establish yourself as a thought leader and gain your prospect's trust.
If you're struggling to get engagement to your posts, consider implementing an employee advocacy program. To supercharge your employee advocacy strategy and maximize results, consider using a platform like GaggleAMP.
To see how the platform can save you time and improve employee engagement, sign up for a demo or try it for free for 14 days.