First let's answer the question, "what is social selling?"
Social selling is a sales method where you can find prospective buyers, connect with them on social media, and nurture them down the funnel towards a call, meeting, or even a sale.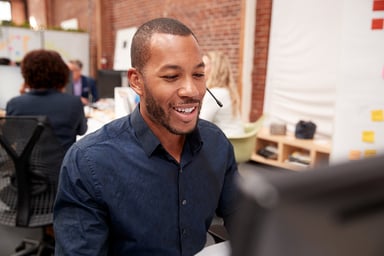 This can be done on any social media platform, and is more effective when the salesperson has built up their social influence and credibility in the industry of the product or service they sell. If you consistently share insight on the trends and challenges of your industry, and engage with relevant experts in your field, people who are interested in your industry will connect and engage with you.
As social media grew in popularity in the early-to-mid 2000s, it spurred a new practice for salespeople in social selling.
Today, salespeople who practice social selling see 45% more opportunities than those who don't, and are 51%more likely to hit their quota, according to LinkedIn.
So, what is social selling? How does it work? And why is it important? We'll walk you through how to sell on social media.
Why is Social Selling Important?
Social selling is important because it leads to more opportunities.
Social media can be a lighter and more casual way to stay in contact with people compared to calls or emails. It's also a great way to find and attract new people who are interested in your products or services. By providing value, addressing needs and answering questions, you can develop relationships and garner interest.
Social media is also incredibly important for building your digital presence.
It's 2020 – people don't sign up for sales calls without doing their own research first. People who heard of your organization will look at your social media presence before they turnover their email address and become a lead. If it appears you know what you're talking about and provide value, people will engage with you. If not, then they'll move on to someone who does.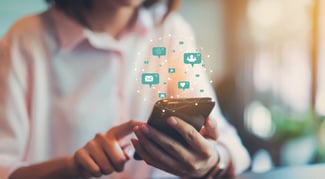 It's important to remember what social selling is and what social selling is not.
Social selling is a long-term commitment. It takes time. It's not just about content. You can't just share a bunch of content to your feed and become an influencer. It's about quality, consistency, and engagement.
When your sales people ask you, "what is social selling?" You need to explain that it's about building relationships with your target audience to draw in more connections.
Social selling is about connecting with people in your industry, engaging with them, and striking up conversations. You need to build relationships, and build trust – both of which take time – but if you do it right, you'll reap the benefits.
According to Optinmonster:
90% of top salespeople already use social selling tools.
78% of salespeople engaged in social selling outperform those who aren't.
Social sellers are 51% more likely to hit their goals.
You can see in the numbers that social selling works, and salespeople can greatly improve their performance if they leverage social media. After you answer the question, "what is social selling?" your salespeople will ask how to sell on social media.
It's about knowing your target market and delivering on its needs.
3 Critical Steps to Social Selling Selling:
Using Precision Targeting on Social Media
You want to attract and engage with people on social media who are interested in your industry and what you have to offer.
Using precision targeting on social media, you can do just that. Know which social media platform your target marketing uses. For example, if your ideal customer isn't a teenager or in their early 20s, Snapchat and TikTok videos might not make sense for you. If you're in B2B sales, then LinkedIn and Twitter make much more sense.
Next, get involved in groups related to your industry, and connect with other influencers and relevant people working in your field. People who engage in those groups and with those people are likely interested in what you have to say and offer.
For example, if you're a travel agent and you see someone engaging with social media accounts about travel destinations, sightseeing, and discount flights, that is someone who might like what you can do for them.
How to Sell on Social Media with Precision Pitching
Before you reach out to someone interested in your industry and area of expertise, you want to get an idea of their level of interest. What questions do they have? What challenges are they trying to solve? Basically, you want to know where they are in the funnel.
You already know how to get a sense of where someone is in their knowledge of a topic and how to gage their level of interest. By asking questions, offering solutions to their problems, and sharing examples when appropriate, you can build your credibility with prospects and build connections.
When you know where people are in the funnel and what problems they want to solve, you'll have a much better idea of how to talk to them and what resources to share.
Apply Quality Content Sharing to Your Social Selling Strategy
Social selling is mostly about engaging with people on social media who are in your industry and in your target market, but content has a big role as well.
You can use content to exemplify points you make, provide people with additional insight on a topic they'd like to learn more about, or use it as an opportunity for people to reach out to you.
By sharing quality content, it builds up your credibility, and gives people a reason to engage with you.
However, many people think that sharing quality content is the majority of social selling, and it'll take less time than it does to build a social presence through sharing content. That is not the case. Sharing content is just a piece of the pie. A majority of social selling is about engaging with the right people, building relationships, being consistent, and building your reputation.
How Does Social Selling Work?
Social selling is all about creating connections and relationships to draw in prospects. You need to know your buyer persona and who your target audience is.
When you connect with someone, you need to get a sense of their level of interest and what problems they're trying to solve. This is the easy part. You do this everyday as a salesperson. The trick is finding these people to connect with on social media.
What is social selling? And how does it work? If you cover these bases, you'll be successful at it.
Prospecting on Social Media
To find prospects on social media, you need to know the interests of your buyer persona.
What hashtags do people in your industry use? What groups are they in? What other social accounts do these people follow? And what related interests do they have?
By answering these questions, you'll have a better idea of where to find your target audience. But in addition to that, you need to build your own presence.
Connect with other credible people in your industry and engage with them. You want to build up your own reach and social presence. Share quality content on industry trends and challenges, share your insight, and get into conversations on industry topics. It takes time to build up your presence and reputation, but once you do, prospects will come to you on their own.
Social Selling Preparation
Before you reach out to prospects, you want to cover the basics.
What does your social media profile look like? Does it represent you the right way? Do you come off as credible and knowledgeable in your field?
Once you set up your profile, make sure you have the right connections and you're in the right groups. Follow influential people in your field, and know what hashtags are commonly used in conversations relevant to your industry. You want to make it easy to find conversations you can join.
Arm yourself with great content to share periodically on your feed giving people the opportunity to engage with you.
Successful Approach to Social Selling
What is social selling? Social selling is about engaging with people and building relationships with them.
So how can you approach someone you think is interested in what you have to offer? You can respond to a question they had in a comment, or reach out to them and ask them questions about problems they want to solve.
You could also message them with a direct statement and offer. Start with a greeting, let them know you saw they're interested in a specific topic in your industry, and let them know how you could solve it. Include a piece of informative content on how you can help, such as a video, or even a free trial. The trick is not to be too pushy.
How to Present Yourself on Social Media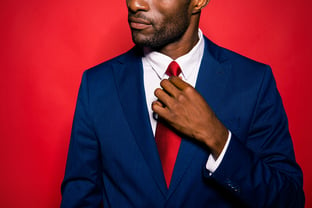 If you want to meet a lot of great people at a party or networking event, what would you do? Would you clean yourself up, dress nice, and have interesting talking points?
That sounds like a good start!
You also want to be warm and welcoming so people know they can talk to you.
Take this same approach to social media and social selling. Make sure your profile represents you the right way. You want people to know you're knowledgeable in your field without saying it yourself, and you're open to helping people solve their problems.
How do you do that? Sharing content helps, but make sure to reshare the insights of other people's posts, and engage with other people in conversation early and often. If you do this enough, people will know they can talk to you or ask you a question.
You also want to engage with people yourself. Find people who are interested in your field through other conversations in your industry circles on social media, whether it's groups or engagement influencers in your field receive.
Again, your engagements with other people should not be pushy. A small percentage of interactions should be a sales pitch or a hard ask.
Just make sure you're sincere, authentic, and you're not presenting yourself as just wanting to push your products and services. If you push what you're trying to sell too much, you'll push people away.
Handling Objections
Believe it or not, you won't close on 100% of your attempts. Objections happen and you'll need to be ready for it.
If you bring up your product as a solution to a problem, and the person you're speaking to isn't interested, you shouldn't be too pushy. You are allowed to bring up your product again, but do it the right way.
Continue helping this person solve their problems. Ask them more in depth questions about their specific situation and the challenges they face. Then let them know different options they have, but present your solution as one of those options. Lastly, you want to present more content on the topic if they need to do more research.
A good response could be along the lines of:
"These are the ways you can go about solving this problem. My solution can help you in this way, and I'd be happy to help you get set up. If you want to do your own research first, that's completely understandable. Here is a quick video with more information. Feel free to reach out if you have any more questions. Happy to help."
After that, you can follow-up from time-to-time but know it's not likely they'll convert.
Closing
When you want to close a social interaction by arranging a call or a demo, there are two great ways to go about it.
Create a sense of urgency or describe the advantages of choosing you as an option.
You can talk about what sets your offering apart, what features you offer that no one else does, or how your pricing package is a differentiator. You could also describe how easy it is to get up and running and trained on your solution.
Creating a sense of urgency is a great tactic too. A simple way to do this is by mentioning a limited time promotional offer. You could say something along the lines of, "I'd love to help you out with your problem and get you set up with this solution. We just so happen to have this offer going on where you get your first month of your subscription free, but you have to sign up in the next two weeks to take advantage of that."
You can get creative with your offer, but making it for a limited time creates the sense of urgency.
Follow-up
If someone expresses interest in your product or service, but doesn't set up time for a call or demo yet, you can follow-up with them.
Even if they say they're not interested at this time, it's still acceptable to follow-up with them, but it can't be as frequent, and you need to offer something with the follow-up. For example, you could reach out and ask if they've solved their problem yet, and offer a case study, video, or article that addresses the challenge they have.
Following-up is important because if you don't do it, your competition will. People are busy dealing with many different challenges, so after your conversation, you might not be top of mind with them. A follow-up reminds them that their problem still exists, you're still here to help, and you can solve their problem quickly.
Social Selling Across the Many Social Platforms
Social selling works on all social media platforms, but not in the exact same way.
Each platform requires a different approach, and some platforms are more appropriate than others depending on your target market. For example, if you're in B2B sales, Snapchat probably isn't the best platform for you, and LinkedIn makes much more sense.
There are also different tricks and methods you can use for each platform. For example, on Facebook and LinkedIn you can take advantage of Groups, but you can't do that on any other social media platform.
Let's get into how to tackle each one.
Social Selling on LinkedIn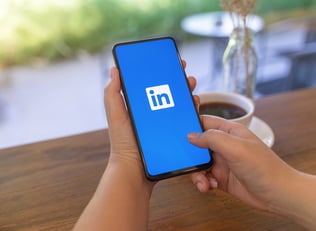 What is social selling? It's what a good social seller does on LinkedIn above all other social media platforms.
Social selling on LinkedIn is all about covering the basics, being consistent, and engaging with others. You can build a profile that represents you the right way, share quality content, find relevant people to connect with, and find people who are interested in what you have to offer.
With LinkedIn, you can find these people in relevant LinkedIn Groups, and looking at the feeds of relevant hashtags. People can also find you based on your hashtags, increase in your personal brand and reach, and seeing your posts in their feeds through the engagement of common connections.
You want to do all these things and engage with new people to build relationships. That is what social selling is all about, and that's how you get sales through social media.
When you find people who you think are your target market, you can comment on their posts, or you can send them direct messages. That way, you can have more serious and in-depth conversations about your products, services, and industry.
Social Selling on Facebook
Many people view Facebook as too personal of a social media platform to practice social selling on, but that's not true.
There are plenty of people and businesses that promote themselves on Facebook and see great success. Much like LinkedIn, you can connect with people through Facebook Groups. Hashtags also work on Facebook, but because they're not as commonly used, they don't work as well.
You can still direct message people, build your personal brand and build connections. You can share content and reel in people who are interested in what you're talking about.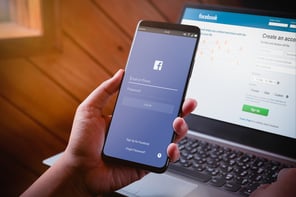 You can also leverage Facebook Stories and partnerships with other people on Facebook to promote yourself. This creates another way for people to find you. We'll dive deeper into Stories when we talk about Instagram.
Just like all other social media platforms, it takes time and commitment to be successful at social selling on Facebook.
Social Selling on Twitter
Twitter is another great place to connect with people and promote yourself because it's an open platform.
You can utilize hashtags and hashtag feeds to find people and help people find you. This works far better on Twitter than it does on LinkedIn or Facebook. Twitter also allows you to direct message people, so you can utilize that when needed.
Utilizing Twitter is very similar to how you might go about social selling on LinkedIn, but it's a little tougher to build out your profile. When people view your profile, they'll see your tweets and the rest of your feed more than they'll see your past credentials.
It's on you to utilize the options you have in building out your profile by maximizing your personal bio on Twitter, and consistently share quality tweets that add value so people know what you're all about.
Make sure you engage with the appropriate influencers in your industry, engage in conversations with them to build relationships, and that way their audience will start to notice you. You can also partner with these people to set up Q&A sessions and Twitter chats that a large audience of Twitter users will see.
Social Selling on Instagram
Instagram is very different from the other platforms we've discussed because your feed is just pictures and videos with captions. You cannot share links to content outside of dropping the link in your bio.
What you can do is post relevant images and videos on industry topics with a ton of relevant hashtags to each post so people will find your posts. Experiment with videos of yourself talking about specific industry trends and challenges with the best hashtags for that topic. If you consistently create quality videos with the right hashtags, people will find them and your presence will grow.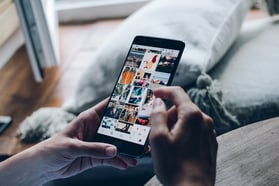 You should also utilize Instagram Stories. There are many ways you can do this. One way is simply giving people an opening into your life in order to be more genuine and authentic. This builds trust in your followers that you're a relatable person. You can also use it to talk about more timely topics on camera.
People seeing your face and answering their questions in comments builds more of a connection from you towards your followers. You need more of an established following for this to work well. It won't work when you're just starting out because you won't have an audience.
You can partner with other knowledgeable people in your industry (preferably people with large followings) to have Instagram Live chats together on industry topics. People will watch them to get insights from both of you, and that person's followers will learn who you are.
When you gain followers and engagement, you can message people about your products and services.
Social Selling Using GaggleAMP
What is social selling? As we've covered, it's all about engaging with the right people on social media and building connections and relationships.
This can be challenging because it can be time consuming, you might not know who to connect with, you might not know the best way to engage with them, and you might not know what to share or what caption to write when you do share something.
These are very common challenges with social selling and social media in general, but you can get around them with an employee advocacy program. Employee advocacy is all about enabling people in an organization to promote the brand while building their own personal brand.
An employee advocacy program enables your marketing department to help you save time on overcoming these challenges. They can curate content for you to share, suggest people to follow and engage with, and suggest other actions and activities for you to carry out such as sharing posts, resharing posts, liking posts and more.
What is social selling? It's about being a great employee advocate for your organization and its offerings. Be a thought leader in your industry and be active on social media. As a salesperson, this will make your life easier.
GaggleAMP is an employee advocacy platform that integrates with many of your existing tools, such as Google Chrome, Slack, Salesforce, and more. It has over 50 social media activities that marketers can suggest salespeople carry out, more than any other employee advocacy platform. It was also the first employee advocacy platform in the space.
Many organizations use GaggleAMP across their sales departments right now and are seeing a great amount of success in sales through social media.
At Colonial Life, salespeople who were active on GaggleAMP saw two-to-three times the company's average sales growth in the last year.
"Successful salespeople know that they need to be engaging on social media, and that's why they're on GaggleAMP," said Chris Winston, Director of Corporate Communications at Colonial Life. "It's helping them market themselves and our company. It's incredibly important."
Start Your Free Trial!
Curious about social selling, employee advocacy, and GaggleAMP? Start your free 30-day trial and try it out for yourself!