You put so much work into prospecting and developing relationships with potential customers, but it can often be a struggle to fill your pipeline with qualified prospects. Wouldn't it be great if there was an efficient way to build strong relationships with prospects and meet your sales quota for the month?
With a social selling strategy, you'll be able to identify, connect with, and convert more people than with traditional sales techniques alone. In fact, sales reps who engage in social selling are 51% more likely to reach quota than those who aren't social sellers.

Social selling is a term used to describe the process of using social media channels to reach potential customers. Developing a strong, trusting relationship with them can ultimately lead to more sales. This is done by posting on social media consistently, sharing valuable content, and starting meaningful conversations. When paired with employee advocacy, your social selling efforts will make an even greater impact.
Employee advocacy is a method of promotion in which employees amplify their company's messaging to boost brand awareness. Consistent posting on social media is key when you're social selling. With an employee advocacy program, you're able to quickly repost and share content with messaging that's been approved by your organization.
Ready to get started with social selling? Here are a few strategies to set you up for social selling success.
Examples of Social Selling Techniques to Improve Sales
1. Leverage Social Networks Like LinkedIn and Facebook
The goal of social selling is to make strong connections with people who are in your target market. In this digital age, there are plenty of social media platforms you can use to start your social selling efforts. LinkedIn is the top social media platform used by salespeople for social selling and it's a great place to get started.
It has powerful search tools that can help you find new sales opportunities. LinkedIn Sales Navigator is a paid tool that gives you advanced search functionality and customized lead recommendations.
On LinkedIn, you can join groups that are relevant to your target customer. Leave meaningful comments on posts that are shared and search through the members to find those who might be a good fit for your products, services, or solutions.
Follow hashtags that are related to your ideal customer and keep an eye on the content that's posted under that hashtag. Not only can you find new prospects this way, but you can also find inspiration for content to share.
Similar to LinkedIn, Facebook allows you to share content, post comments, and join groups that are relevant to your target audience. Many of the social selling techniques you use on LinkedIn can be applied to social selling on Facebook and other social media channels.
But before you begin engaging with and sending connection requests to potential customers, optimize your social media profile.
2. Develop Your Profile and Personal Branding
Your profile is a prospect's first introduction to you. When prospective customers click on your profile, what do you want them to see? What do you want to be known for? What topics do you intend to talk about? These questions will help you start to develop your personal brand on LinkedIn.
Keep these key elements in mind as you optimize your LinkedIn profile: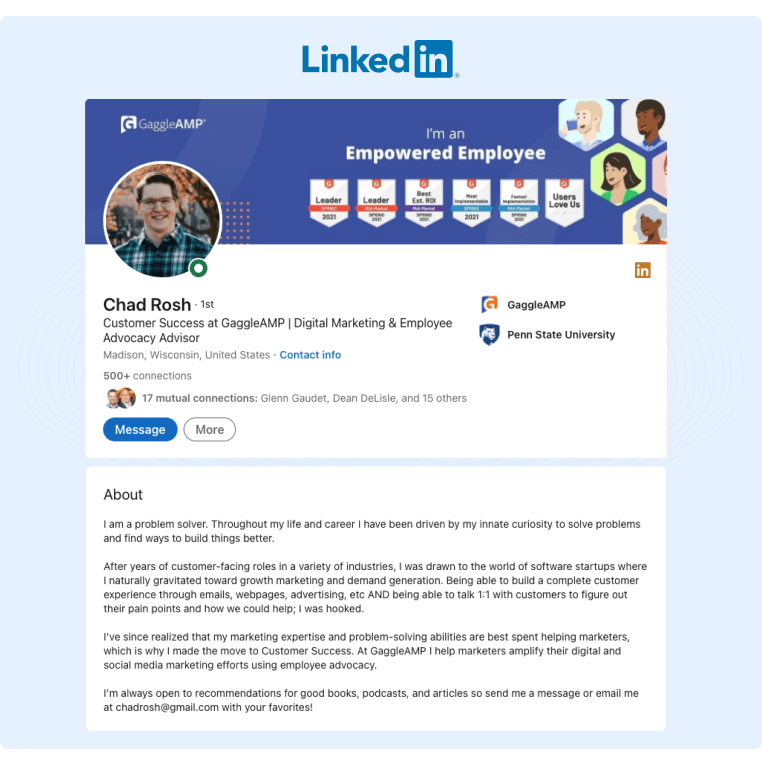 Include keywords and hashtags that are relevant to your customers in your profile and posts. This will help people find your profile when they do their own LinkedIn searches.
Highlight any content such as blog posts and videos that you've created. These can be good conversation starters and create the basis for a strong relationship with the individuals you connect with.
Update your profile any time you have a new accomplishment or piece of content to share. As you grow and adapt in your career, so should your social media profiles.
3. Share Content From Your Marketing Team
With an employee advocacy program, you can share content that's been approved by your company and will set you apart as a thought leader in your industry.
Types of content you might receive from your organization include:
Industry Research and News
If you want to be seen as a thought leader, it's important to stay on top of industry research and trends. When there's a new industry study, finding, or news story, go beyond simply reposting the piece of content. Was there a statistic that stood out to you? Do you have a strong opinion about the findings? You can customize the post to create a discussion in the comments.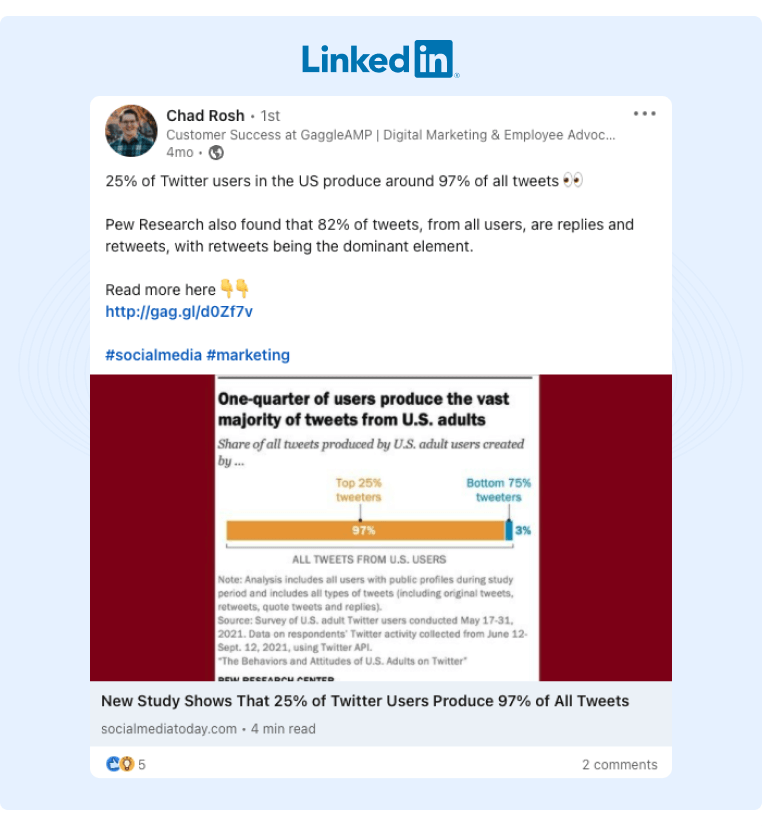 Customer Case Studies
While you won't always want to post company-specific content, case studies can be a great way to share more about the value you provide to customers and increase brand awareness. Prospects will be able to see your strong relationships with customers and how you've been able to help them.
User-Generated Content
User-generated content is any social media content posted by customers that's specific to your brand. Examples of user-generated content include images, videos, testimonials, reviews, and more. User-generated testimonials are great pieces of content to share. They provide social proof that people get value out of the products or services you provide.
4. Create Posts With Your Target Audience in Mind
Consistency is key with social selling. Post relevant content regularly so you have a better chance of reaching your target audience. LinkedIn allows you to create a variety of post types including text, photos, videos, events, and blog-style articles.
As you prepare your posts, ask yourself how this post will help or be of value to your audience. You'll establish yourself as a thought leader and a trustworthy source of helpful information.
Examples of Social Selling Posts on LinkedIn
If you're stuck on what types of relevant content to share, here are a few ideas.
Pose a question to your audience.
Write a thought leadership post that shares valuable insights.
Post a tutorial or how-to that addresses a pain point your prospects face.
Share an inspirational story that will resonate with your audience.
With each of these content types, the goal is to start a conversation and set yourself apart as a trusted source of valuable and relevant content.
Check out this example LinkedIn post from Graham Riley, a social selling thought leader. In his post, he presents his own original insights and poses a question to get the discussion going in the comment section.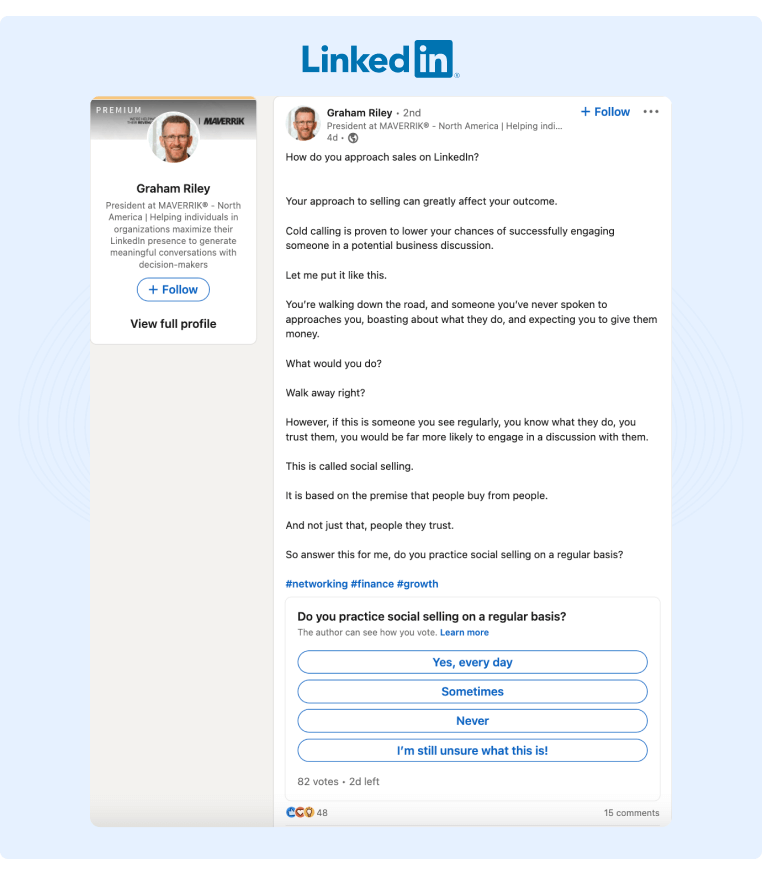 If people have additional questions about the content they can reach out to him directly for further clarification. This allows him to start a one-on-one conversation with a potential client.
You can also see that he has optimized his LinkedIn profile. He has a professional profile photo, an on-brand banner image, and his LinkedIn headline includes information about who he is and how he helps his target audience.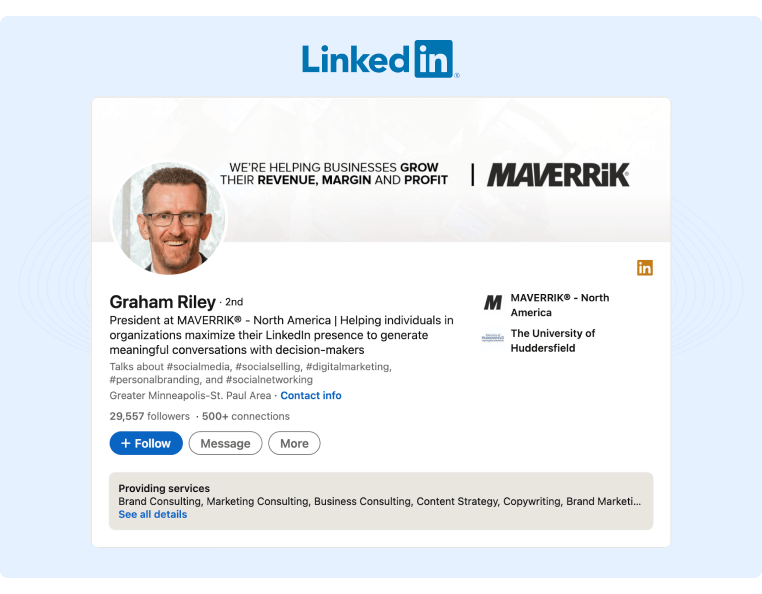 5. Develop Strong Connections Through Engaging Conversations
The purpose of a social selling strategy is to build trusting relationships with potential clients. Comment on posts, share and react to the content they share, and engage in discussions to start the relationship-building process.
This social selling tip from sales coach Marcus A. Chan is quick to implement and can help you stand out and develop stronger relationships with prospects.
Once you've searched for and identified the top accounts you'd like to work with, create a list of the main decision-makers at the organization.

Go to each of their LinkedIn profiles and click the bell icon to get notified every time they post on LinkedIn.

After they post, be one of the first people to engage and leave a thoughtful comment.
Not only will the decision-maker see your comment, but their followers will also see and engage with your comment. You'll be able to reach a wider audience and foster even more connections. This technique demonstrates the power of social networks and why social selling is a must for your sales process.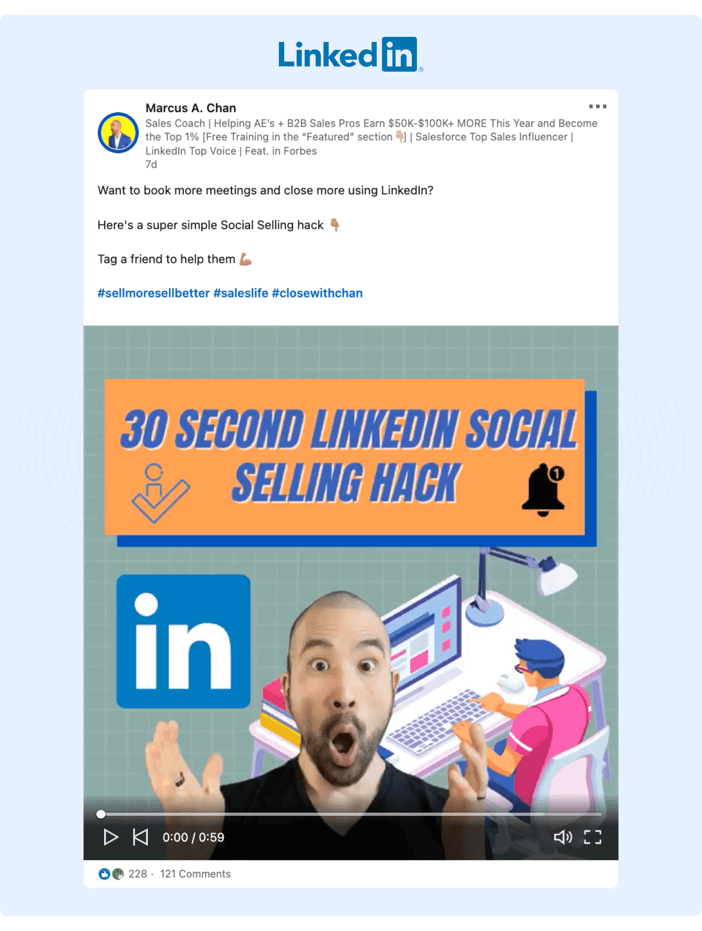 6. Measure Your Social Selling Success
You can keep track of your social selling by using LinkedIn's Social Selling Index (SSI). It measures how effective you are at:
Establishing your professional brand
Finding the right people
Engaging with insights
Building relationships
You're given a score between 1 and 100 and your score is updated daily, so you'll be able to keep an eye on your social selling success in real-time. Salespeople should aim for an SSI score of 75 or above. To view your Social Selling Index score, make sure you're logged into your LinkedIn account and access your score.
Your personal brand on LinkedIn should be approachable, yet professional. By sharing relevant content, you'll reach your target audience in an authentic way.
When social selling is added to your sales process, you'll develop stronger connections with prospects which will ultimately help you reach your sales goals. With a consistent social selling routine and employee advocacy program, you'll boost your sales in no time.