It's very easy to contribute to an employee advocacy program, however, your employees need a little guidance at the start.
Your
employee advocacy
program members are the employees in the program that promote your brand on social media. They are your brand advocates. But before they can share your messages, be a thought leader on social media, and promote your organization, they'll need some employee advocacy training.
How you go about training your employees will vary based on their proficiency with social media, what their individual roles and goals are, and what your program's goals are. In short, initial employee advocacy training is necessary, but no two programs are alike, so you'll need to train your employees appropriately.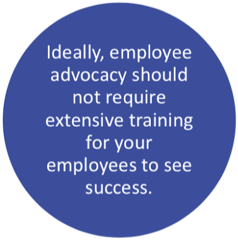 How to Train Your Employees
There are different methods you can use to train your employees.
Some organizations use a short welcome video that just covers the basics of what employee advocacy is, and how to use their employee advocacy platform of choice. Others go with hour-long webinars and go over different aspects of the program so employees have a good understanding of everything that goes into it.
Both strategies are proven to be effective, but there is one commonality that all program training sessions use, and that is covering the basics of how to be effective on social media. You want your employee advocacy training sessions to cover the basics of the program and what employees get out of it, but the basics of social media are important too.
Going into your employee advocacy training sessions, you need to know how social media savvy your employees are. Are they novice users, more casual, or pretty avid? The depth of your training sessions should be based on this scale.

What Employee Advocacy Training Should Cover
The first thing you'll need to get across is how employee advocacy benefits employees. What's in it for them? How does social media help them professionally? If they understand what they personally get out of it, they'll be more inclined to put in the effort.
Explain to your employees how building a social media presence will help them do their jobs, increase their reach, and lead to opportunities. You'll need to customize this for your audience, so if you're training the sales team, explain to them how social selling helps them build connections, draw in new leads, and nurture leads down the sales funnel. If you're talking to your human resources department, they'll need to understand how social media recruiting works, how employee advocacy can promote events, and how it leads to higher retention.
You'll also want to cover some basics of social media such as your profile page. Explain how to present yourself on LinkedIn and other social media platforms. Basics things like having a professional headshot, describing your jobs, having a good summary of who you are, and what you do, can go a long way.
A common LinkedIn mistake people make is not optimizing their profile for search by including keywords that their target audience is after. This small improvement to your profile can go a long way in building out your connections.
Another common mistake is not filling out your LinkedIn headline properly. A simple headline format to go by is "I do X for Y so they can Z." An example of this template in its final form could be, "I make great content for a software company so it can hit its goals."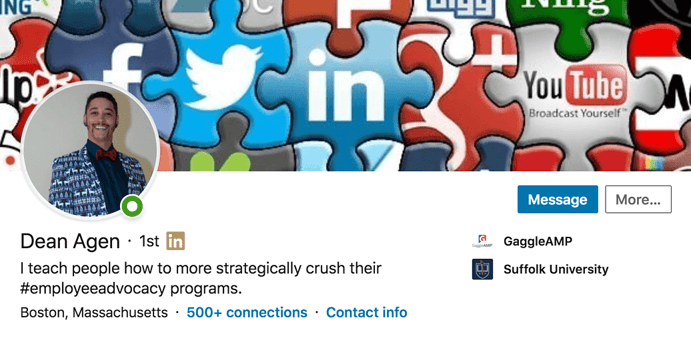 In terms of building out your social media presence, you should connect with and follow everyone you interact with professionally. This includes coworkers, people from other companies you work with such as clients, partners, vendors, and more. This helps build out your social media reach, and your employees need an audience in order for your employee advocacy program to be successful.
Small tips and tricks like these can go a long way in helping your employees be successful on social media. But you'll also want to cover the basics of employee advocacy, how it can help grow your social media presence with minimal effort, and how easy it is to be a member.
Employee Advocacy Growth Strategies
Once you have an employee advocacy program in place, and you have a core group of people you've trained, you can't just set it and forget it. It's time to grow the program by expanding it to people who didn't take you up on your initial invite.
1. Gain Executive Buy-In
There are easy ways to attract more people to your employee advocacy program. If you have executive buy-in and the support of managers in departments you're targeting, have them send out an email to their employees inviting them to join the program. You can even write the emails for them and just have them customize it for their voice and their groups before they send it out.
Any employee advocacy program has to be completely voluntary for it to work, but people tend to take invites from managers and executives a bit more seriously.
In addition to having executives and managers sending out invites, you want to use your best employee advocates to drive people in too. These are the champions of your program. Highlight them as such.
2. Praise Your Employee Advocates
Acknowledge them for the great job they're doing to people who are outside of the program. That will drive the curiosity of people who aren't members yet. Acknowledging your champions will also motivate people who are already members to stay active longer and be more committed.
3. Spread the Word Through Internal Comms
Your internal comms team is also a great resource for spreading the word about the program and its benefits for the employees. They can help you send out a company-wide memo through email, a company Slack channel, company intranet, or other channels. They can help you with some of the heavy lifting in this area.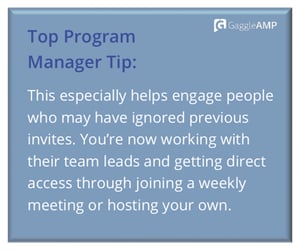 4. Piggyback on Internal Meetings
Another way to get the word out about your employee advocacy program is by joining department meetings across your organization. Get approval from the team leaders and let them know what you'd like to do, then take a few minutes out of their team meeting to demo the program.
5. Give Participants WIIFM
Be sure to let your audience know what's in it for them specifically. Highlight how it benefits that specific department you're talking to, how it aligns with the department's goals, and what the individual employees will get out of it.
6. Offer Social Media Refresher Courses
Lastly, a great way to grow your program is by offering a "social media refresher" across the organization. You could even present it as a LinkedIn/Social Media 101 session.
Let people know that you'll help them understand the value of social media for them professionally, how they can optimize their profiles, and what they should do on social media. Cover all these topics during the session, and then introduce employee advocacy to them.
Many employee advocacy program managers say that this is the most successful strategy they've seen to grow their program. But remember, you're not in this alone. GaggleAMP will help you run these training sessions and cover all these topics.
Growing your program will get easier once your employees get a handle of it and are successful with it. Once you have a strong program, it will become part of your company culture, and even part of your organization's onboarding process for new hires.