You might be struggling to find an effective strategy to increase brand awareness, but look no further – an employee advocacy platform is your ticket to success.
Increasing your brand awareness is difficult to do organically, but incredibly important. It brings attention to the launch of any of your products or services, it gets you in the conversation when prospects make a decision on what you offer, and it leads to returning customers. People gravitate towards products and services from brands they know over brands they've never heard of, which is why an increase in brand awareness will lead to an increase in revenue.
Right now, you might be trying to solve this problem through a few different methods including paid advertising. Or maybe you're researching ways to increase brand awareness without spending money on ads. After all, social media advertising is so much more expensive than it was just a few years ago because digital ad spending is on the rise.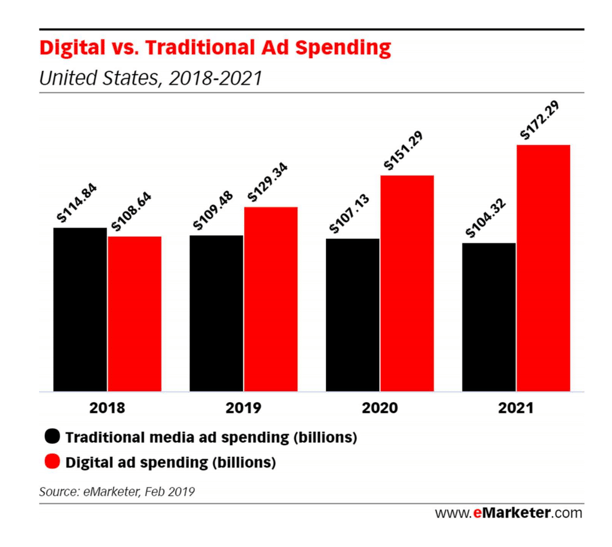 Furthermore, advertising only gets the attention of your target market for a short time, and they're skeptical of your messaging because they know it's an ad. What you want to do is increase brand awareness organically in a way that your messaging will be authentic, and the best way to do that is through an employee advocacy program.
What is an Employee Advocacy Program?
Employee advocacy is a method used to promote your brand and initiatives through people who work for your organization in an authentic and trusted way, typically on social media or other digital channels.
Entering coworkers voluntarily into an employee advocacy program is a huge benefit for your organization. You'll have a group of people in your office who you know are willing to promote your messaging and initiatives. You have people in your organization talking about work on social media right now, so it only makes sense to guide them in what you'd like them to promote.
The easiest way to guide your employees, and for them to respond to your requests, is through an employee advocacy platform like GaggleAMP. By giving employees suggested messages through software integrations of platforms they already use, you can have them participate in promoting your initiatives and messages without interrupting their workflow. They can respond to notifications and carry out actions in seconds without ever leaving the window of the tool their working in, whether it's the Chrome browser, Salesforce or Marketo CRMs, Slack, and more.
Making it easy for your coworkers to partake in the program is great because they'll be more likely to join your program and continue to contribute over a long period of time. But an employee advocacy platform also allows you, the manager of the program, to track and measure your success and progress. You'll be able to see how often people carry out each type of request, which social media platform they like talking about your brand on the most, and you'll be able to definitively track the ROI of your employee advocacy program.
When your employees get involved in your social media amplification efforts, it has a host of perks.
The Benefits of Employee Advocacy
Using an employee advocacy platform allows you to boost your social media reach to increase brand awareness.
The benefits of employee advocacy are boosting all your social media KPIs across the board, including clicks, engagement, website traffic, and leads. By guiding your employees to share your messages and promote your initiatives, you'll have more accounts on social media promoting your brand. Each one of these accounts will come off as more authentic
For example, The Predictive Index, a talent optimization provider, saw its social reach increase by 7x thanks to employee advocacy, resulting in its other social media KPIs seeing a big boost as well.
Using an employee advocacy platform makes it easy to get your employees involved so you can hit your goals. By simplifying this process and guiding your employees on what to promote, you can greatly increase your brand awareness.
How You Can Increase Brand Awareness
Now that you know that an employee advocacy platform can increase brand awareness, let's get into how you can do it.
There are several ways you can make use of employee advocacy expanding your reach whether you're promoting an event, trying to recruit more employees, trying to empower your sales team or get more attention from journalists.
Public Relations – Get The Attention of Reporters
If your organization doesn't have great brand recognition, it might not be easy for you to draw the attention of journalists – but employee advocacy can help.
With an employee advocacy platform, you can keep reporters coming back for more. For example, when your employees engage with reporters who cover your brand, cover one of your initiatives, or interview an expert from your organization, the reporter will notice the boost in engagement and traffic to their story.
They'll naturally be keen on the idea of covering your brand or interviewing your experts again because they know they'll get another boost in engagement.
This same premise works with industry analysts, reviewers, partners and more. And the best part about it is, increasing the reach of positive third-party content makes your brand look good when introducing it to new audiences.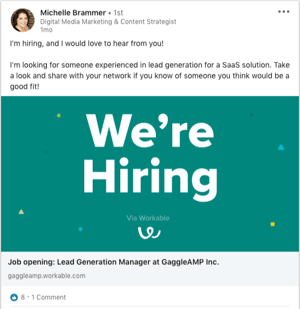 If you have a well-known brand name, your job postings will grab the attention of potential applicants more than openings at organizations they've never heard of.
By using an employee advocacy platform to increase brand awareness, you'll be more likely to draw people towards your job openings because they'll have more familiarity with your organization. Furthermore, when your employees share a job opening, their audience will receive it better than if it were your brand sharing the opening. It comes off as an endorsement from an actual person they know and trust rather than a brand they might not know very well promoting itself.
This is why people 44.5% of people are more likely to apply for a job a friend posted on social media than the same job on a job board, according to the Marketing Advisory Network.
Sales – Social Selling
A big part of Sales today is education. Your Sales representatives need to help prospective clients understand what your products and services can do to help them, and what sets it apart from your competition.
Some of the education process goes away when a potential buyer already has some familiarity with your brand. You can use an employee advocacy platform to increase brand awareness by building out the social media presence of your salespeople. This is where social selling comes in.
Social selling is a sales tactic where your sales reps connect with people on social media and develop stronger relationships with them as part of the sales process. This could be through education on the topic, industry, trends and challenges, and about your products and services. It involves identifying prospects, informing them, building your own credibility, and bringing them down the sales funnel.
Employee advocacy boosts social selling in a big way. Through your employee advocacy platform, you can let your salespeople know what actions to take on social media, what analysts and influencers in your industry to follow and engage with, what industry-related content to share, which content from your website to promote, and more.
By building out their social media presence, you increase brand awareness and connect with potential clients.
An employee advocacy platform can greatly increase your social media reach, leading to an increase in brand awareness, and there are many different areas where this is advantageous to your organization.