Every organization has stakeholders who want to see their organization thrive, and it only makes sense that these people want your marketing efforts to do the same.
Your stakeholders are not just in your marketing department. They're anyone within your organization that wants marketing to be successful, like your salespeople, your Human Resources department, and your Public Relations department among others.
Not all stakeholders have to be part of your company. In fact, many of your stakeholders aren't even employees. They're customers and channel partners who support what you do and want you to succeed.
Your stakeholders are your prime employee advocates and customer advocates, and they are the ones that can fuel your marketing efforts. By promoting your brand's initiatives, messaging, and results, they can amplify your reach.
Let's go through some of the many stakeholders of your marketing effort outside of your marketing department.
Salespeople: Selling to the Right Stakeholders Wins Opportunities
Your salespeople will always want your marketing team to do well. A strong marketing department makes life easier for any sales team.
Salespeople are usually the first group in your organization, outside of marketing, that are recruited to participate in the companies employee advocacy program. They're one of your most obvious stakeholders. They have every reason to be your most active employee advocates and spread your message, but they can also benefit greatly from your employee advocacy program.
By curating quality content for them to share on social media, giving them actions to carry out, such as engaging with relevant posts, connecting with relevant analysts and industry influencers, and more, they can grow their own personal brand and reach. This helps in their own social selling efforts.
Salespeople who practice social selling see 45% more opportunities than those who don't and are 51% more likely to hit their quota, according to LinkedIn.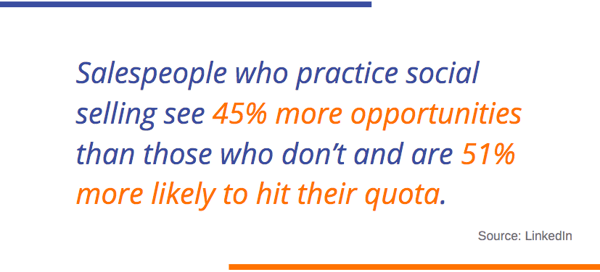 This is exactly why your salespeople are stakeholders for your brand. They should welcome employee advocacy to assist them in their social selling efforts and ultimately the company's marketing efforts.
Human Resources - Stakeholder Buy-in Elevates the Attractiveness of the Company for Recruiting and Retention
Human Resources isn't dealing with leads and closed deals, but their value as a stakeholder is just as strong.
HR wants your brand to be appealing and your initiatives to resonate not only with the buyers of your product or service, but also potential employees, investors, and business partners. Human Resources also wants people in your organization to be proud of the brand and for people to want to work at your company.
Employee advocacy helps organizations in all these areas by improving employee engagement through building a stronger connection between an employee and their contribution to the brand's overall mission. By giving employees a better understanding of how they fit in, and acknowledging them for their contributions, employees feel valued and connected to their job.
The result is they are less likely to leave their job for another opportunity if they like working at their current company. Furthermore, employee advocacy helps with the marketing efforts of an HR initiative. If there is an HR campaign, event, or a new position the department wants to promote, your stakeholders will promote these initiatives, gaining further reach in a more authentic way.
For example, if an employee posts an open position at their company on social media, their friends and followers will see it as an authentic promotion of the employee's company. This person works at this organization, enjoys working there, and is vouching for it by promoting the job opening. This small post goes a long way – much further than a brand posting the same message.
According to the Marketing Advisory Network, 44.5% of people say they are more likely to apply for a job they saw their friend post on social media than if they saw the same position on a job board.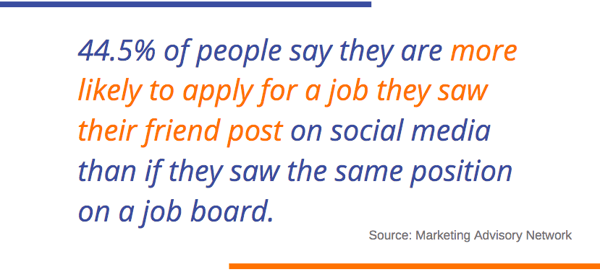 Your stakeholders help with retention and recruiting through promoting your brand, your company culture, it's messaging, and its mission. In return, HR gets the promotion of its initiatives, retention of employees, and more quality job applicants for open positions.
HR has every reason to be a big stakeholder of your brand.
Public Relations - Earned and Owned Placements Increase with Stakeholder Buy-in
Your PR team wants to put your brand in a positive light by promoting your brand and its employees. It's already their job to be great stakeholders of your brand.
Employee advocacy is a great tactic to promote their initiatives and amplify the content the public relations team wants to promote. For example, media relations initiatives can greatly utilize this tactic. If a journalist or publication posts a story on social media about your brand, your stakeholders can engage with the post. By spreading its reach, the reporter and publication will notice and be more inclined to include your brand in stories in the future.
The PR department at Carbon Black, a cybersecurity company, uses this tactic to promote news reports that involve its brand. Large media networks such as CNN interviewed Carbon Black executives from time to time about current events that involve cybersecurity. When the posts go live, the company has its stakeholders engage with the social post, catching the attention of the network and the journalists involved.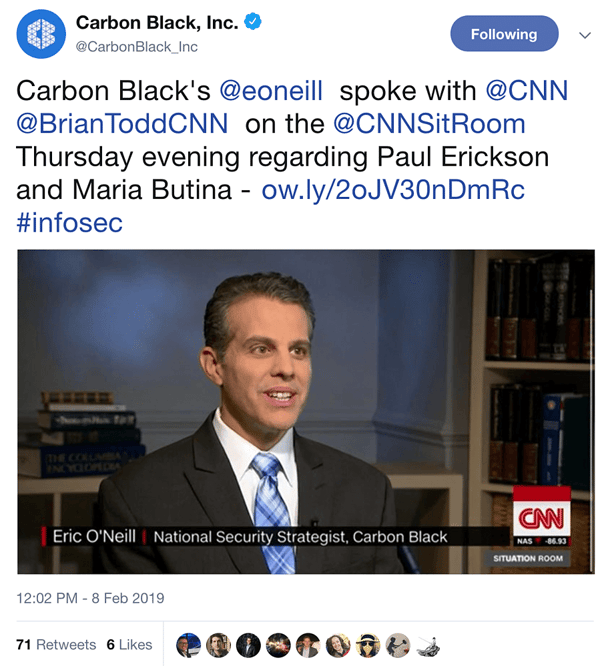 Journalists notice the uptick in social exposure and told the PR team at the security firm that they receive more engagement when they do stories involving their executives. Why does that matter? When CNN needs someone to speak about a cybersecurity threat, they'll lean into those that are qualified to speak on the subject (like Carbon Black) and those that boost their content further. There are other people in your organization who are great stakeholders for your brand, too. Your communications team, product development, IT, and the executive offices are all full of stakeholders, but not all stakeholders are your employees.
Channel Partners - Vested Interest in Your Companies Success
Your channel partners and agency partners want you to succeed because it's in the best interest of their business. They do well when you do well. Because of this, they have no issue promoting your brand, product, and services on your behalf.
A good partner program and good partner relationship can extend the reach of your brand to customers and prospective clients that you might not have been able to reach on your own. Informing these partners on who to reach out to, engage with, and what the latest is with your organization, helps them be stronger supporters of your marketing efforts.
Customers - A Stakeholder Who Needs You to Succeed so That They Succeed
Customer advocacy and employee advocacy should be treated a little bit differently from each other, but many of your customers are your biggest fans. They should be highlighted in the content and promotions you create.
When a customer vouches for your product and services, it can go a long way in swaying someone who is not familiar with your brand. This social validation is viewed as more of an authentic promotion than a paid ad. This is why review websites like G2 and Capterra are so popular when researching potential products and services to support business needs.
Quote your top customers in your content, have them speak at events on your behalf, and highlight them in videos, podcasts, and other promotions. Employee advocacy goes a long way, but it's great to have people outside of your organization be advocates for your brand as well.