Gone are the days of cold outreach being the only sales technique in your toolkit. Instead of cold calling or emailing, you can use social media to find prospective customers, build strong relationships with them, and offer solutions to the challenges they face.
With over 4.65 billion social media users worldwide, there's immense potential to connect with people in your target audience on social media. Social networks are a great resource to turn to for networking, prospecting, research, and referral building.
Social selling is a proven sales technique that will help you build your sales pipeline and reach more prospects who are a good fit for your products or services. Let's dive into what social selling is, why it's important, and how to sell on social media.
What Is Social Selling?
Social selling is a sales strategy that's based on building meaningful relationships with your target customer by sharing helpful content and resources, creating a connection, and starting a conversation on social media. Sales representatives, BDRs, and more can use this strategy to reach their target audience and make strong connections with people on social media who are a good fit for the offerings they're selling.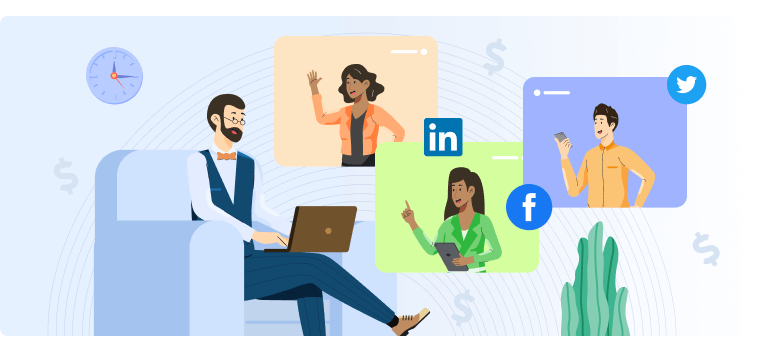 Relationship-building is the most important aspect of social selling. When you create a mutual feeling of trust between yourself and your prospect, the better the chances are they'll be interested in a sales conversation.
Best Social Media Channels for Selling
While there are a variety of social platforms to choose from, these are the primary social platforms salespeople use for social selling:
Benefits of Social Selling
While there are numerous benefits to a social selling strategy, here are the top three reasons why you should be selling on social media.
1. You'll find more opportunities to fill your pipeline.
With social selling, you have the chance to connect with thousands of people who might be a good fit for what you're selling. By sharing valuable content, answering their questions, and starting a conversation with them, you can form meaningful relationships.
Not only will you fill your pipeline with more prospects, but those prospects will also be engaged and interested in what you have to say because they trust you and the solutions you have to offer.
2. You'll build stronger relationships with clients.
Making connections is key to social selling. In a survey by CSO Insights and Seismic, 31% of B2B sales professionals said that social selling helped them build deeper relationships with their clients.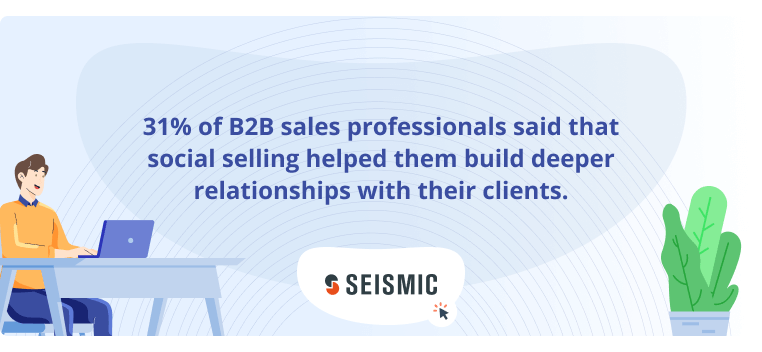 When selling on social media, the goal is to build trusting relationships with the people you connect with and which will hopefully turn them into happy customers.
3. You'll be more likely to hit your quota.
Social selling has been proven to help sales reps meet or exceed their quotas. Did you know that salespeople who use social selling are 51% more likely to reach quota than those who don't? In fact, 78% of social sellers outsell their colleagues who don't use social media.
How to Sell on Social Media
So, how do you start selling on social media? Follow the steps below and you'll be on your way to connecting with your target customer on social media.
1. Understand Your Target Customer
Before you begin your social selling strategy, get clear on who your target audience is. Take a look into your ideal buyer personas to determine whom you should focus on building relationships with:
What are their demographics (e.g., age, gender, location)?
What industry do they work in?
What challenges do they face?
What types of businesses do they buy from?
What are the social media channels they engage with most often?
All of these aspects will help you as you search for and connect with potential customers on social media.
2. Choose the Social Media Platform That's Most Relevant to Your Ideal Customer
After doing the necessary research into your target customer, it's time to determine which social media channel to focus your social selling efforts on. Meet your clients where they are. If they're active users of a specific social media platform, it's best to start with that social channel first.
For example, if you're in B2B sales, LinkedIn is one of the best social media platforms for you to find businesses, business owners, and decision-makers to connect with. If you're in B2C sales, a social platform like Facebook or Instagram might be a better option to help you connect directly with potential customers.
3. Learn the Features of the Social Media Platform
Set aside some time to learn the ins and outs of the social network you'll be focusing on.
Look into the tools that will be most beneficial to your social selling efforts.
Let's say LinkedIn is your social media platform of choice. Some of the main LinkedIn features to explore include:
Profile settings
Search functionality
LinkedIn messaging
LinkedIn posts and polls
LinkedIn groups
LinkedIn Sales Navigator
Take advantage of any social media training your organization might provide. When you know how social media networks work, you can make them work for you and your social selling strategy.
4. Optimize Your Social Media Profile for Social Selling
Social media is all about making connections. Once you have a clear idea of how the social platform works, it's time to customize your profile so it speaks to the people you'd like to reach. The best way to do this is by developing your personal brand identity.
Sales reps with a personal brand have a competitive edge that sets them apart from the crowd. Having a personal brand helps you create a recognizable persona and build trust with potential customers.
Here are a handful of simple ways to optimize your social media profile for social selling:
Use a professional headshot photo that accurately represents who you are.
Create a compelling summary or social media bio that explains who you are, what you do, and the value you provide.
Include links to valuable content (e.g., blog posts, videos, content offers, free tools) that your target audience can learn from.
5. Join Groups and Make Connections
If you're using LinkedIn or Facebook to help you sell on social media, take advantage of the groups that are available to you. Join industry-related groups or any other group that might be relevant to your target customer.
Once you're a member of the group, leave meaningful comments on other people's posts and share posts of your own. Plus, you can also take a look at the list of group members to see if there are any individuals who are in your target audience that you could connect with.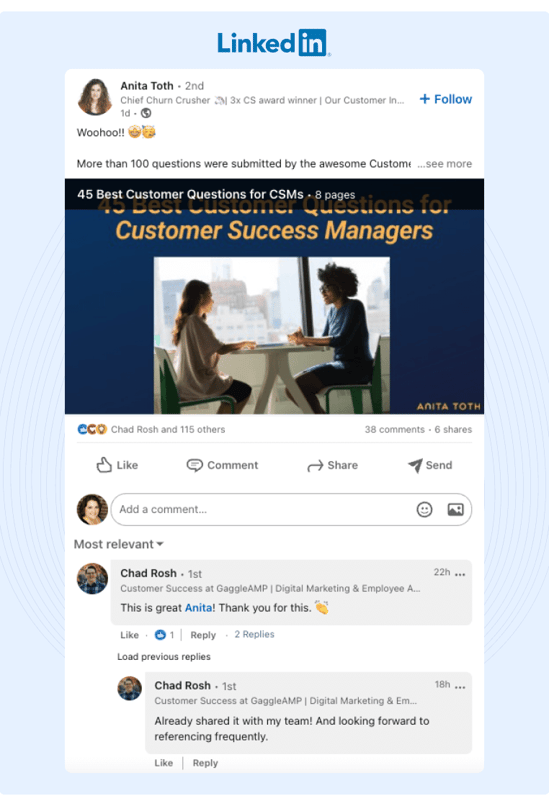 If you choose to send a connection request to someone, make sure your message is tailored to them, rather than sending a one-size-fits-all connection request. You can personalize your message by mentioning a mutual connection or referencing something on their social media profile. A personalized experience can go a long way when trying to build meaningful connections with prospects.
6. Share Valuable Content
Content is another important factor in your social media strategy. It's best to begin with a plan so you're ready to share quality content on a consistent basis. If you post on social media consistently, you'll be seen as a trusted resource that people can turn to for relevant, helpful content.
It can be overwhelming to know where to begin when sharing content on social media. An employee advocacy program can be incredibly beneficial for you and your sales team. With an employee advocacy program, you'll have a library of social media content to share, with messaging that's been approved by your organization.
Examples of content to share:
Written posts (ex. How-to blog posts, case studies, customer testimonials)
Polls and surveys
Video content (ex. Tutorials, informational videos)
Reshare content from people you admire in your industry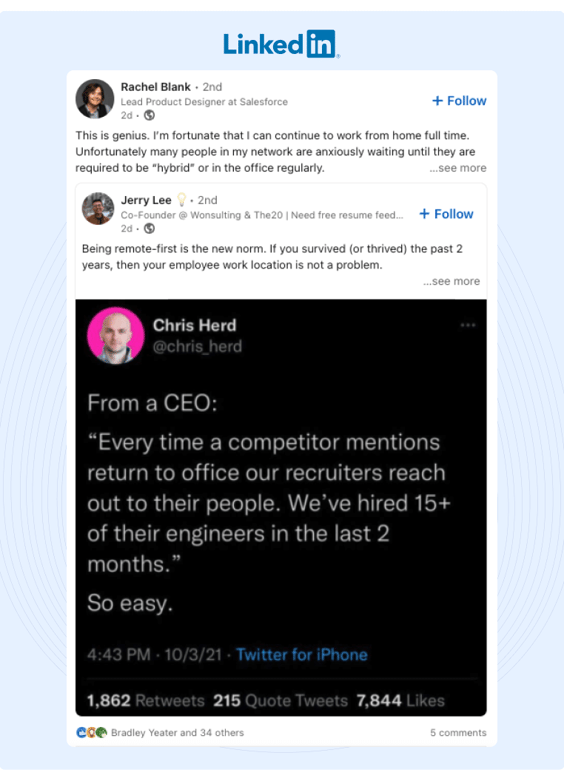 When you're ready to begin posting on social media, you can share content directly on your social media profile and in the groups you've joined. The goal should be to create opportunities for conversation and connection with people who could be ideal customers.
7. Engage With Your Audience
After you share a piece of content, you open up the possibility of having a conversation with the people who interact with it. For example, you can:
Engage with comments and start discussions in the comment section of a social post
Reply to direct messages in a timely manner
Provide answers to any questions
Offer additional resources and support
All of these engagement strategies will help you develop trusting relationships with the people you connect with on social media. When they feel they can trust you, the more likely you'll be able to bring the conversation offline and have a sales conversation.
8. Analyze Your Social Selling Efforts
Take a look at your social media marketing statistics regularly. Social platforms often provide a plethora of information that will help you gauge your success with social selling. Some even provide demographic data to help you see if you're connecting with your target audience.
Explore the types of content people are engaging with most (e.g., how-to, industry data/trends, customer testimonials). What were some of the outcomes you saw after engaging with a prospect on social media? Did it lead to a connection, sales call, or referral?
When you're informed with data, you'll have a clearer idea of the next steps to take on your social selling journey.
How to Sell on LinkedIn
There's a reason why sales reps turn to LinkedIn first for social selling. LinkedIn is a business and employment-oriented social media platform with over 750 million+ members, which makes it a great sales channel for B2B and B2C sales teams.
When social selling on LinkedIn, you'll enter your main search keyword and filter the results by location, industry, company size, and more. LinkedIn Sales Navigator provides advanced search features and additional functionality like CRM integration. This is where the research you did into your target audience will come in handy. Once you know the main identifiers to look for, you'll have an easier time filtering and searching for potential customers on LinkedIn.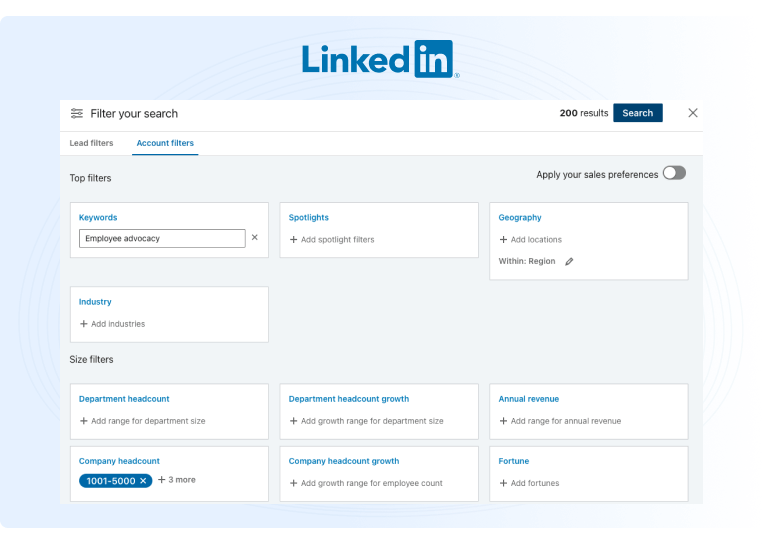 You can also search for hashtags and explore the content and LinkedIn groups that come up in the search results. Join a few LinkedIn groups that are related to your industry and ideal customer. Share content, engage in the comments section, and send personalized connection requests to people you think might be a good fit for a sales conversation once a relationship is built.
How to Sell on Twitter
You can reshare content on Twitter or post original tweets that can help you engage with your audience. By adding relevant hashtags related to your industry or ideal client, you can expand your reach even further so people can find you.
Follow leaders in your industry and engage with their tweets. Take a look at the Twitter threads and see if there are any other people who have engaged with the tweet that might be worth connecting with.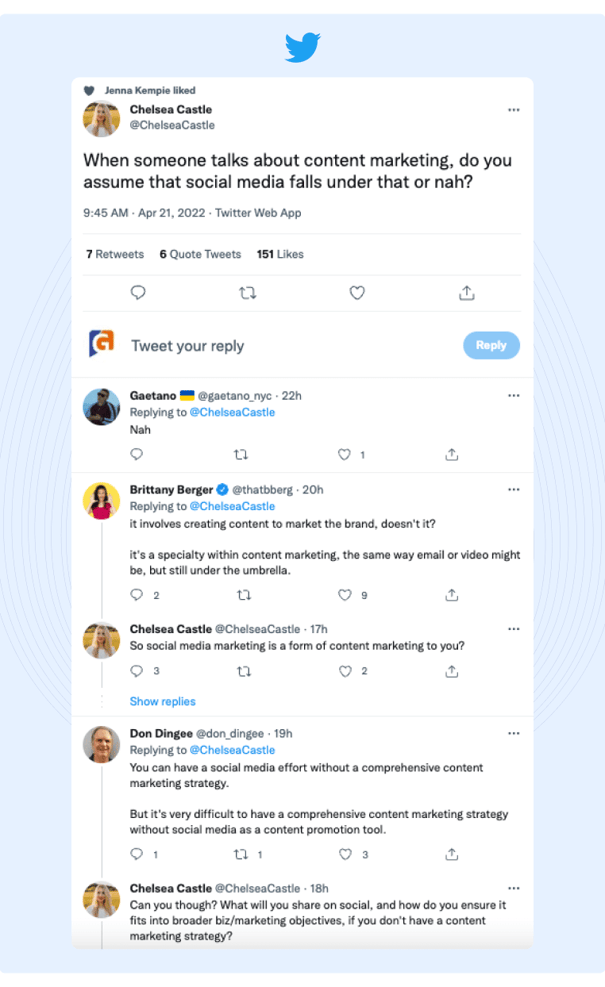 Use Twitter Lists to organize the accounts you follow by group, topic, or interest and customize the tweets you see in your timeline. This will help you stay on top of relevant conversations you can engage in.
While Twitter doesn't offer as many robust social selling features as LinkedIn, it does offer you the opportunity to get creative. For example, you could host a live Twitter Q&A with your audience. You could make these Q&A sessions a regularly scheduled event and do them weekly/monthly/quarterly so prospects can follow along and join in on the conversation.
How to Sell on Facebook
Similar to LinkedIn, you can connect with prospective clients through Facebook Groups. These groups are places where you can post content and make connections with people who share industries, similar interests, and more.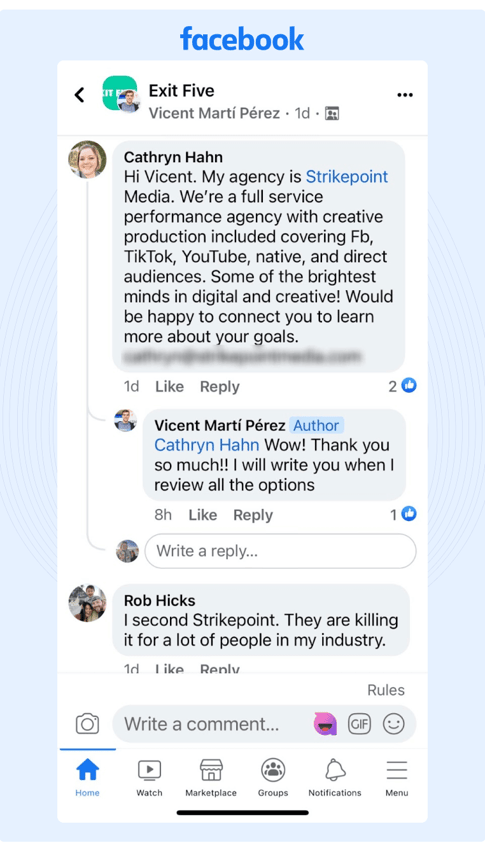 Begin by commenting on posts that other people have shared and linking to pieces of content that group members might find helpful. Check the About section of the group and read the rules. Many groups have specific guidelines about the types of links and posts that can be shared. If you plan to post any type of promotional content be sure to check the group rules to make sure it's allowed.
In addition to joining Facebook Groups, you can also share content from your organization's Facebook Business page to your own personal page. This will increase brand visibility and get the word out about the work you do and the value you provide.
How to Sell on Instagram
While Instagram isn't the top social media platform for social selling, it does provide features that can help you reach prospective customers in your industry. With Instagram, you're able to share photo and video content with the option to include a written caption.
Writing compelling captions is key and it's a good idea to include a call-to-action (CTA). CTAs like "Ask me anything", "Share your thoughts in the comments", and "Follow for more tips" invite people to interact with your post. The more people engage with your content, the more likely your Instagram post will be shown to even more people.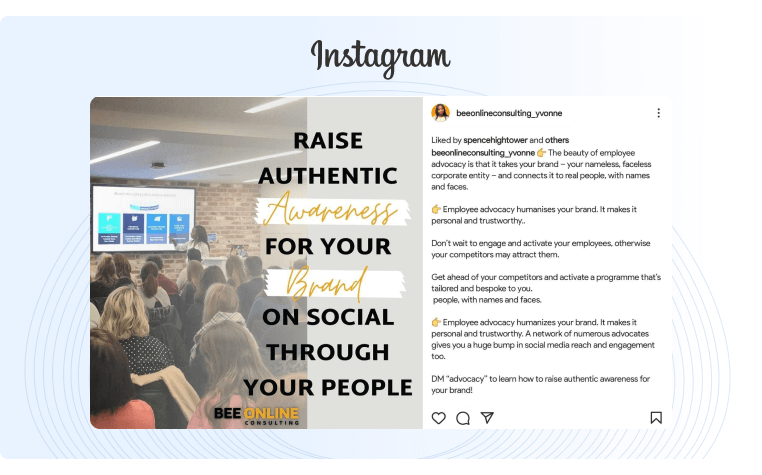 Instagram is also a place where you can experiment with different types of video content. You're able to share videos through:
Instagram Video
Instagram Reels
Instagram Stories
Instagram Live
Besides sharing photo and video content related to your industry, you can like and comment on Instagram posts by people in your target audience. And if you have a link to a specific website page or piece of content you'd like to share with your audience, make sure to include the link on your Instagram profile.
Selling on social media is all about making connections and building trust with the individuals you interact with. With a clear idea of who your target customer is and how to use your social media platforms, you will be well on your way to becoming a social selling pro.
Interested in learning more about social selling? Check out these social selling examples to help you get started with selling on social media.