You've already seen the statistics that show employee engagement is effective at:
Improving employee retention

Improving employee productivity

Minimizing employee complaints

Attracting top talent
However, most companies don't have defined employee engagement strategies that consistently produce the above-mentioned results.
For example, you might create a water cooler Slack channel or host a happy hour, but those activities aren't really strategies that create an engaged culture. Instead, these activities are merely mediums that a company can use to execute an employee engagement strategy.
Therefore, we'll show you how to execute employee engagement strategies that leverage different mediums to develop a highly engaged company culture.
Create an Active Company Channel
As more and more teams switch to a remote/hybrid work environment, creating an active company Slack or internal social media channel is one of the best ways to keep employees on the same page.
However, creating a channel and putting the onus on the employees to come up with topics to post about is a recipe for disengagement.
So if you currently have a Slack channel and find that nobody is communicating within it, here is a proven formula to encourage communication:
Make it time-bound

Incentivize employees to engage

Make the questions fun
Caitlin Anderson, the Senior Manager of Communications for Autodesk, has used this strategy with great success.
She says, "Every Thursday, I post a connection prompt on our general slack channel. It's time-bound (respond by next Tuesday, 10 AM Pacific), incentivized (you could win points), and a chance to really connect with others. Questions have ranged from fairly light (what are you reading?) to personal (what are you most proud of this year?)."
"The results have been outstanding with an 80% increase in active channel members and feedback that employees feel like they are part of something bigger – a real community. That's a win for everyone!"
If you don't want to use a Slack channel, you can also use an internal communication channel. Here at GaggleAMP, all of our employees enjoy our internal communication channels in the Gaggle platform. We separate them by topics — some work related; others not — but all in the spirit of sharing personal news and discussing work-related topics.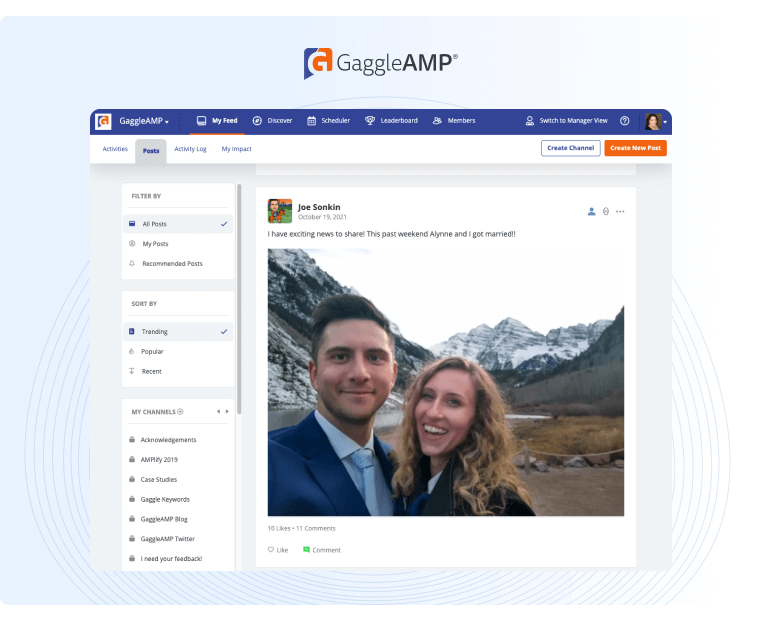 If you'd like to incorporate a similar internal communications channel in your company, sign up for a demo today.
Create a Social Events Calendar
Many companies have tried scheduling social events, but leaders often find it difficult to generate steady attendance and create an experience that leads to improved company engagement.
Therefore, here are a few ideas to make the experience an enjoyable endeavor that builds community.
First, create a set social events calendar so that people can make time in their schedule rather than having to cancel other activities at the last minute. For example, maybe you have a happy hour on the third Wednesday of each month.
Once you've created a set schedule, take the burden off the employees to make it an experience. For example, if it's a lunch get-together, don't make your employees order their own food. Instead, use a tool like PizzaTime and enable employees to select a pizza of their choice to show up at their doorstep at the intended time.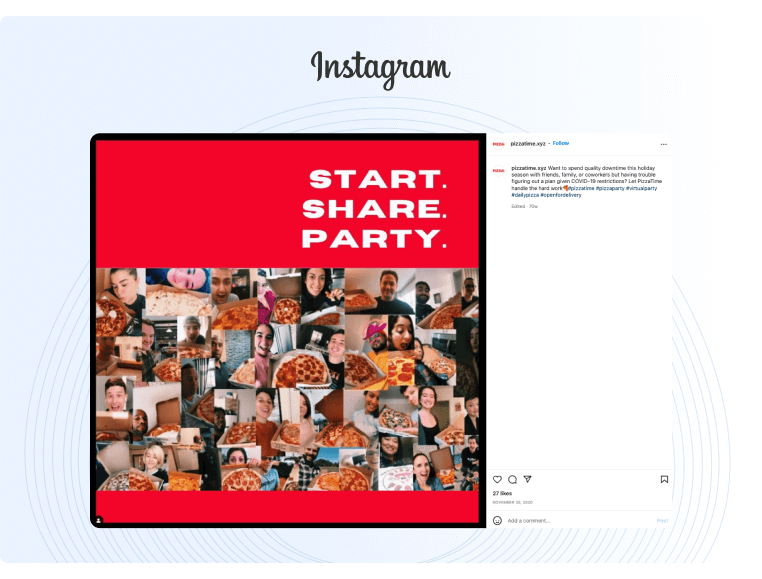 This is something that PizzaTime does, and it has been a huge success.
Even if it's just a Happy Hour, send your employees a charcuterie board and make it an experience.
Whatever you decide to schedule, make it more interactive than "just another Zoom meeting." Otherwise, it will defeat the purpose of improving job satisfaction and engagement.
Collect Feedback Regularly
As you experiment with different employee engagement activities, collecting feedback is essential to improving engagement success.
However, most companies don't have an effective process to collect quality feedback. To improve your process, Katharine Corona, the VP of Talent at Catch Talent, shared her process for collecting employee feedback: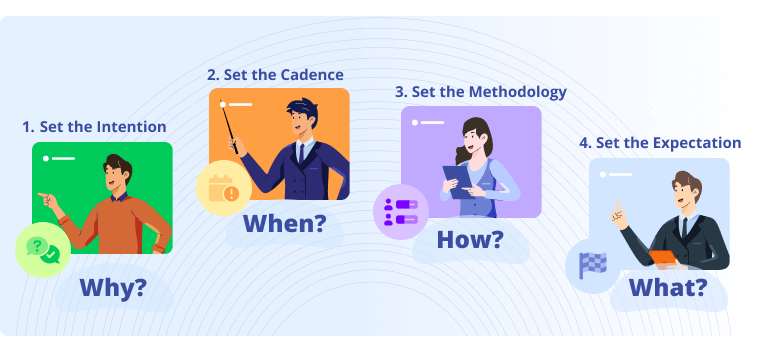 Step 1: Set the intention (WHY are you collecting this feedback)
Step 2: Set the cadence (WHEN are you collecting this feedback)
Step 3: Set the methodology (HOW are you collecting this feedback)
Step 4: Set the expectations (WHAT do you plan to do with this feedback)
She says, "It's important to make sure your team understands these reasons and feels safe sharing their feedback. Clarify if the feedback will be anonymous upfront."
In addition, make it easy for employees to share their feedback. For example, enable them to share feedback through an employee satisfaction survey, an in-person session, etc.
If you are a GaggleAMP user, you can push an employee survey using the 'vote' activity so that employees can provide feedback. Once they fill out the employee engagement survey, all feedback is sent back to the survey creator, improving your feedback organization.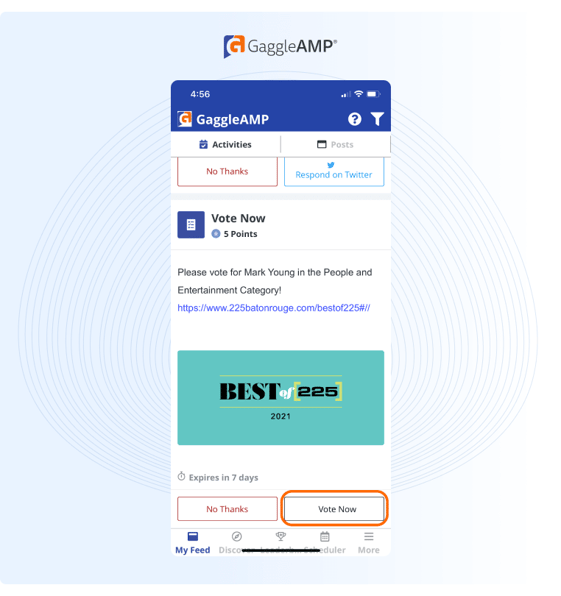 If you're not yet a GaggleAMP user, you can sign up for a demo today.
The easier it is for your employees to share feedback, the more likely they will provide thoughtful feedback.
You can also incentivize employees to provide feedback by taking action on what they say. While it isn't possible to do this with every piece of feedback, employees that see positive change in the organization are more likely to share feedback.
In addition, be sure to survey employees on more than just professional questions to ensure they are achieving work-life balance. If you want some additional ideas on key drivers to measure employee engagement and ask the right survey questions, this post has all the resources you need to identify your current engagement level.
Encourage Engagement in Your Core Values
If you don't have core values or they are all focused on material achievement (hitting the next revenue goal, closing more sales, etc.), your employees will become so wrapped up in their own work that they will likely become disengaged from the rest of the team and drift away from the company's vision.
To prevent employee disengagement, create core values that encourage teamwork. Here are just a few examples of core values that emphasize employee engagement: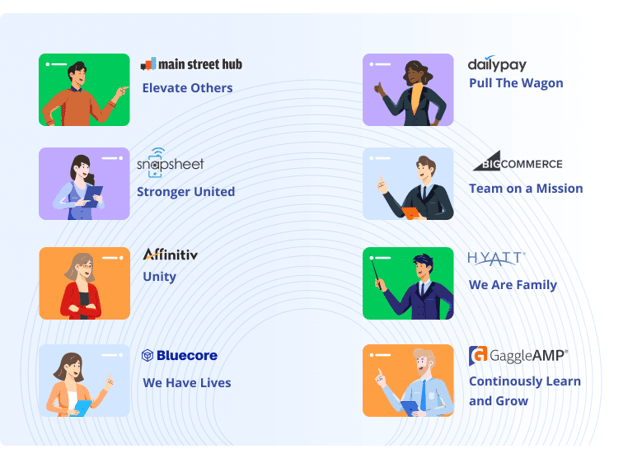 Elevate others (core value at Main Street Hub)

Stronger united (core value at Snapsheet)

Pull The Wagon (core value at DailyPay)

Unity (core value at Affinitiv)

We Are Family (core value at Hyatt)

Team on a Mission (core value at BigCommerce)

We have lives (core value at Bluecore)

Continuously learn and grow (core value at GaggleAMP)
By fostering a company culture that values employee engagement, any activities you host will be more successful as the entire company has agreed that these activities are meaningful.
Schedule Company Retreats
In 2017, only about 20% of companies hosted off-site retreats. Today, more and more senior leaders realize that these retreats aren't just nice-to-haves. Instead, company retreats are an excellent way for employees to get to know each other on a deeper level, which improves teamwork and communication.
So how can you host a great company retreat for both in-person and remote employees?
SnackNation, which is known for cultivating an excellent culture, has done many company retreats, and here are just a few of their best tips:
Clarify the objective (is it blowing off steam or brainstorming a very specific project?)

Choose a venue that supports your goals (are there places to eat, perform bonding activities, etc.?)

Get buy-in from "influencers" (there are usually a few people in the company that a lot of people look up to – if you can get them on board, it's easy to get most people on board)

Arrange transportation ahead of time
Finally, you'll probably still have a few people who would rather just have the day off or continue working. Many of these people don't see the point of off-site retreats, so Alexis Norman, the Vibe Manager of SnackNation recommends making the retreat purpose-driven.
For example, SnackNation put together two different teams, asked them to select a charity of their choice, and then they competed to win a donation for their charity.
If some employees still aren't happy about the off-site retreat, refer them back to your core values that prioritize engagement.
However, most employees appreciate companies that value mental health and are more than happy to participate in the retreat.
Recognize Outstanding Employee Engagement
Everyone likes to feel significant, so leverage this to improve employee engagement.
For example, an employee that continuously takes the initiative to contribute to your Slack channel/internal communication channels will likely soon give up if they realize that nobody else is engaging and they don't receive any benefit from the effort.
As we mentioned above, Caitlin tracks employee engagement and awards points to the most engaged employees at the end of the week, month, or quarter.
If you don't have a great tracking system in place, consider using GaggleAMP for your employee advocacy efforts. Participating in employee advocacy helps employees learn what is going on at your company while advocating for your brand on social media. Plus, the Gaggle automatically tracks every time an employee completes an activity, making it easy to instantly identify the winners on our leaderboard for that week, month, or quarter.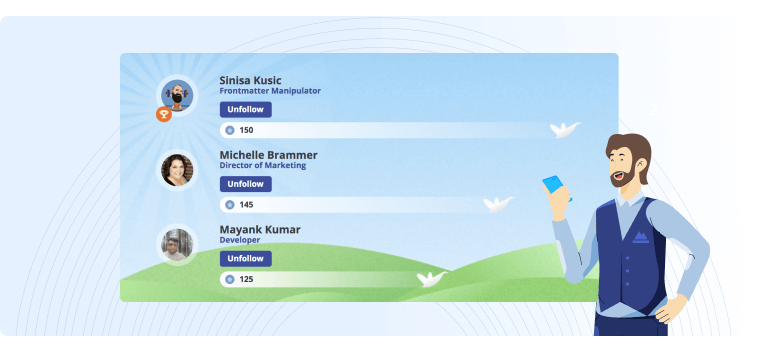 >If you find that employees are engaging with the posts, but the conversation is still relatively dry, you can also award prizes based on the quality of responses.
You can even ask employees to vote on the best responses, which encourages everyone to read their colleagues' responses and will lead to more organic conversation.
Create a Peer-to-Peer Engagement Evaluation Strategy
If you're the only person constantly nagging employees to engage in the Slack channel or attend company events, it won't be long before people groan when they see a message from you.
So instead of driving the engagement strategy yourself, give the responsibility to each person in the company. The best way to do this is by creating peer-to-peer evaluations.
For example, match up two peers every couple of weeks or months and ask them to evaluate the other's engagement. They can grade each other on the following criteria:
How many events did they attend?

How many posts did they engage with?

How high was the quality of each engagement?

What were some things they could have done to elevate their engagement?
While this may seem like a very structured and tactical way of thinking about engagement, tracking and evaluating progress is the best way to improve any skill.
Then, when new hires enter the company and see how thoughtful long-time employees are about peer-to-peer engagement, it will create positive peer pressure to adopt similar habits.
Train Your Employees How to Engage
You may be hosting happy hours, asking people to comment on the internal communication posts, and providing other opportunities for engagement.
However, you might notice that a lot of the conversation is relatively dry. This is why it's important to teach your employees how to engage. Specifically, content people love interacting with is often based on stories and personal experiences.
Therefore, consider writing a guide or creating a training module on how to engage during team functions effectively.

If you're wondering what great engagement looks like, think about great conversations you've recently had in your personal and professional life. Chances are, they included some elements of storytelling and personal experiences.
Typically, these kinds of interactions come from real experiences. Therefore, encourage team members to share real experiences from their personal life (being more vulnerable) and professional experiences.
Sharing Experiences From Your Personal Life
Sharing vulnerable experiences typically helps the team see each person as a real person rather than just another figure on Slack.
For example, David Henzel, the CEO, and founder of upcoach, shared that one team member revealed a very personal story about his upbringing in a recent all-hands meeting. As other team members watched him open up on a more personal level, it sparked others to be more vulnerable as well.
David said that the team felt much closer and more connected after the meeting than ever before.
While it's important to make employees feel safe and never push them to share more than they are comfortable with, encourage them to share more personal stories and anything else that gives a deeper insight into who they are as a person.
To encourage employees to be more open and vulnerable, set the stage by ensuring it's a safe environment (e.g., nothing said leaves that Zoom meeting, it won't be recorded, etc.). When relevant, you can also lead by example and provide personal stories of your own life.
Sharing Experiences From Your Professional Life
If you think of a blog post that impacted your life, chances are that it included lessons learned from the author's personal experience.
Therefore, whether you're in a Zoom meeting or a Slack conversation, encourage employees to share stories about their professional experiences.
Teaching employees how to better communicate and engage with their coworkers will help them become more productive in the workplace, and employees will look forward to participating in engagement activities.
Help Your Employees Achieve Their Rich Life
Happy employees are much more likely to be engaged in their work, communicate with others, and share elements of their personal lives.
Therefore, encourage employees to share elements of their Rich Life.
This could be as simple as hosting a discussion on an internal communications channel and asking employees to post:
One thing they are learning

One place they traveled to/are traveling to

One thing they are excited to do over the weekend

One thing they love spending money on
People love to talk about things they enjoy doing or are looking forward to, and it is a great way for others to connect on a more personal level.
If you don't have an internal communications channel, you can adopt GaggleAMP to create channels for various topics in addition to running an employee advocacy for your employees. We use these for both business and personal topics.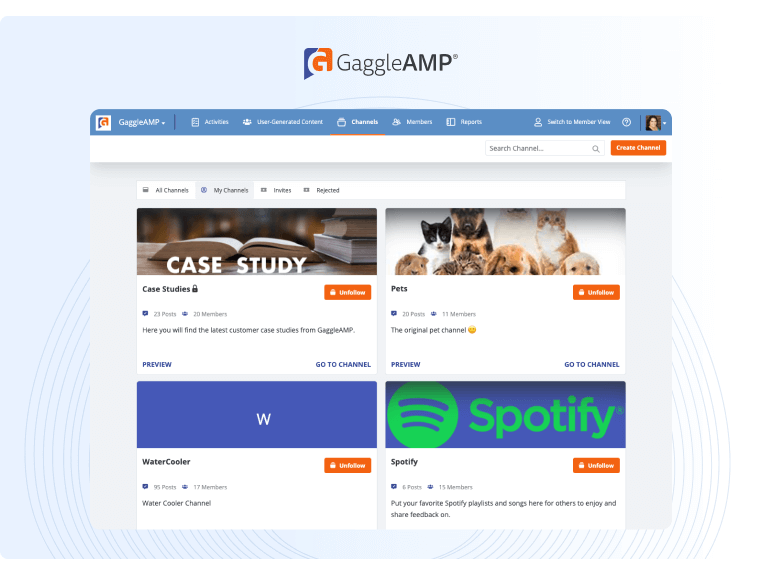 If you want to take this to the next level, you can also schedule one-on-one meetings with employees and talk about their professional goals.
Hire The Right People And Set Them Up For Success
When SnackNation was revisiting its core values, one of the values that they ultimately removed was "Do the right thing."
This may seem strange because what is more important than doing the right thing?
However, they ultimately decided to remove it, saying, "If we have to tell people something as rudimentary as "do the right thing," is our culture really that strong?"
In short, hiring people that are team players and willing to engage will solve a lot of these problems. If you hire the wrong people, you could implement all of the strategies above, and it won't make a difference.
Similarly, one bad apple can ruin the rest of the culture you have worked so hard to foster. In short, if you hire people that employees enjoy hanging out with, it won't be difficult to encourage employee engagement.
Here are a few screening questions you can use to weed out people that aren't team players:
Given the opportunity to work on a solo project or a team project, which do you prefer?

How do you feel about mandatory team retreats?

What elements did you like about your previous company's culture? What would you change?

How do you typically collaborate with team members?

What do you enjoy talking about with other team members? Work-related or personal.
While there isn't necessarily a right or wrong answer for any of these questions, it will give you insight into how engaged this employee will probably be in the workplace.
Once you have hired a team of excellent people, the next step is to onboard them in a way that sets them up for success and makes them feel comfortable engaging with the team.
Andrea Trent of EveryBusiness HR has helped several businesses develop employee onboarding processes, and here's the proven formula she uses:
"We gave them [employees] information about the company and their department pre-hire, planned for an extensive meeting with their hiring manager on day one to go over the job description and goals, and set up luncheons to get to know their colleagues. Check-ins and follow-ups were scheduled at intervals to ensure new hires had what they needed to integrate into the department and the company."
By swiping this exact process, you'll be able to create a more engaging culture.
Set The Example
Above all else, creating a culture of engaged employees starts by setting an example as an engaged employee. Apply all of the above tactics to yourself (have a peer review you, share personal experiences, be active in the company's communication channels, etc.) and learn how to be a person that people want to engage with.
It's also important to identify the key drivers of employee engagement, listen to feedback and take action to elevate engagement in the workplace.
Final Thoughts
Using the strategies above, you'll soon find that you have processes that consistently encourage employee engagement.
This way, you don't have to constantly brainstorm new employee engagement activities each week as it is all scheduled in the company calendar. Instead, all you'll have to do is continue optimizing the existing processes for maximum engagement.
If you need a tool to execute effective employee engagement strategies and measure results, consider using GaggleAMP. We use the tool internally here at GaggleAMP, and it has helped us achieve over 1.3B in organic message reach with 92% of employees regularly active in our Gaggle. To see for yourself how it can assist your team, sign up for a demo or jump into a free trial today.