Elevating employee satisfaction is key to improving retention, generating more word-of-mouth recruiting, and improving employee productivity.
Though if you've ever tried to launch an employee engagement initiative, it's usually harder than it seems.
Many leaders find that employees are often so caught up in their work that these engagement activities often produce hit or miss results.
However, well-executed employee engagement activities can improve employee retention, morale, and internal communication.
Below is a list of employee engagement activities that in-person, hybrid, and remote employees actually enjoy and therefore elevate company culture.
Lunch/Dinner/Happy Hour Activities
Here are a few lunch, dinner, and happy hour ideas that remote and in-person companies can use to improve employee loyalty and engagement. (These are also the kinds of experiences employees will brag about to their A player friends!)
Virtual Pizza Parties
Hosting a virtual pizza party is a great employee engagement idea, yet it can also be a logistical nightmare for organizers. Therefore, use a service like PizzaTime or something similar to have pizza automatically delivered directly to your employee's doorstep at the requested time.
If possible, include healthier options for employees that are health conscious or for those that have other dietary restrictions.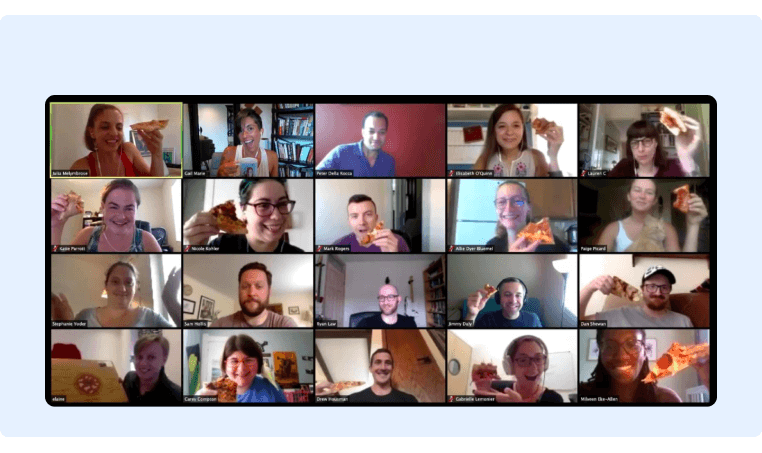 Source
Hire an Entertainer
If you want to go above and beyond for your employees, hire an entertainer to perform during your dinner or happy hour.
For example, PizzaTime also allows you to book a standup comedian, a DJ, live trivia, and other entertainers. If you're doing an in-person happy hour, lunch, or dinner, consider booking a local entertainer to come to the office.
Potluck Dinners
If you're an in-person team, consider hosting a potluck dinner. To get employees engaged and excited, you can have a contest for employees to vote on the best dish. To help you organize the event and ensure you have a variety of dishes, you can use a tool like Meal Train.
By having employees put skin in the game, they will be more invested in the experience and appreciate other employees' work.
Virtual Wine Tasting
Virtual wine tasting became incredibly popular during the pandemic, and it's a great way for employees to relax and unwind. It's also great for in-person teams that want to do a wine tasting event but are worried about drinking and driving. Voluptuary Wine offers a remote corporate wine tasting service, though there are plenty of other services as well.
Employee Talent Show
Another fun idea is to have an employee talent show. This works well for both remote and virtual teams, and it helps employees see their co-workers as humans rather than just their job title.
Retreat Activities
Retreats are becoming increasingly popular as leaders realize that teams with deep bonds and effective communication are more productive. To make the most out of the retreat, here are a few different activities that enhance the experience and reinforce company values.
Escape Rooms
Escape rooms are fun activities that teach employees to depend on each other and work together to achieve a common goal. Even if only part of your team attends the retreat, everyone can participate in virtual escape rooms. Here's a list of escape rooms to check out.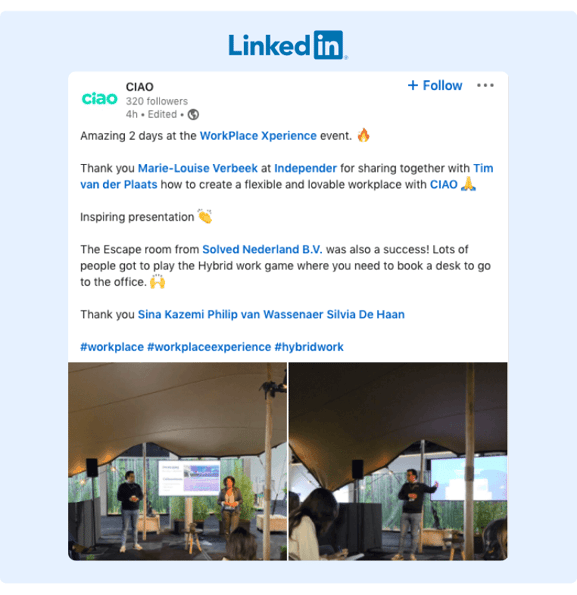 Take a Hike
Hiking is another great team-building activity that is fun, simple, and relaxing. The hike can be a silent meditative experience, or you can turn it into a scavenger hunt that the team has to work together to solve.
Create "Chill Zones"
If you're organizing a corporate retreat, realize that it can be overwhelming for introverts. Therefore, be sure to create safe spaces or "chill zones" so they can recharge and come back to the activities energized.
Incorporate VR
Some team-building services now offer VR games where employees have to share a single headset to achieve the goal. Therefore, it's an excellent activity that teaches the team to work together while having fun.
Employee Led Workshops
Another fun way to get to know co-workers is by allowing employees to host their own workshops. For example, you could have one employee that enjoys knitting host a knitting workshop. This helps employees get to know one another on a more personal level and build solid relationships.
Professional Growth Activities
"A players" value growth, so sponsoring activities that help your employees achieve their desired end result will reduce employee turnover rate and improve engagement. It's also a major bonus that can make your company more attractive to A players than other companies that offer higher salaries. In your hiring process, you can even ask people what kinds of professional growth activities are attractive, which will further improve your company culture by weeding out those that don't align with your company's core values.
Attend a Conference or Mastermind
Allowing employees to attend conferences and masterminds gives them a unique opportunity to learn from industry experts, which will make them more productive within your own organization. So set aside a budget for conferences and allow employees to select the conference or mastermind they want to attend.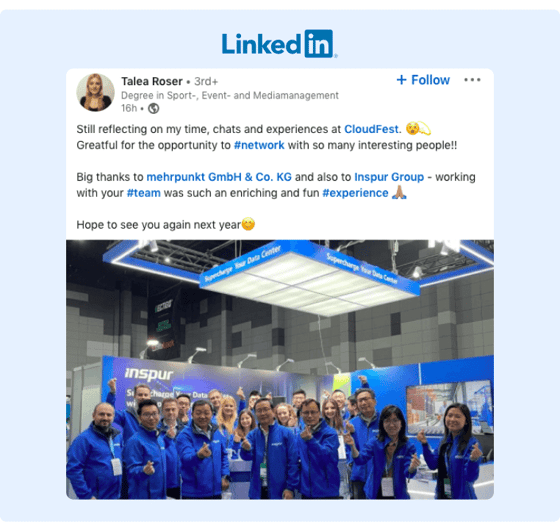 Pay For a Course
Courses are also great for employees to grow professionally and bring new ideas and strategies to your organization. To ensure the investment is worthwhile and the employee completes the course, ask them to come back with specific action steps from the course.
Pay For a Coach/Mentor
While courses are excellent ways to consume new content, a coach or mentor will offer your employee more personalized advice that can be directly applied to your company. Again, you can ask the employee to bring specific action steps to the team to ensure actionable results come from the mentorship.
One-on-One Professional Development Meetings
Sometimes the best mentors are within the company. Therefore, ask the employee if there is someone that they would like to be mentored by and schedule one-on-one meetings dedicated to that person's professional development.
Opportunities to Publish Thought Leadership Content
For some professionals, building a personal brand is important. Therefore, allow them to publish thought leadership content on the blog or even host company webinars. By helping them along their career path, you'll find that employees are naturally more engaged as they receive more than just monetary compensation.
Daily Communication Activities
One of the biggest benefits of employee engagement is that it improves company communication, which in turn leads to a more efficient team and stronger bonds between co-workers.
However, constant Slack messages with to-dos aren't the most effective way to foster positive relationships and elevate the employee experience. To solve this problem, here are a few virtual communication activities that you can use to improve employee engagement and elevate team relationships.
Create a Points Reward System
If you've ever tried to start a casual Slack thread or internal social media post (say, what is one fun thing you'll do this weekend?), you'll soon realize that generating engagement is a lot harder than you thought. Most people are busy and want to get their real work done. So instead of hoping people chime in, use a points system and reward users that contribute the most to your channel. At the end of the week, give a prize to those that contributed the most.
Vote For Best Insights of The Week
If you find that some people are just contributing to the thread because they have to, consider having people vote for the best insight of the week. This way, others will have to read the various posts to vote, and hopefully, it inspires them to write something more thoughtful.
Employee Shout-Outs
Employee shout-outs (especially from team leaders) are a great way to foster positivity and encourage engagement daily. You can encourage employees to give their co-workers shout-outs for both personal and professional things they did well that work. For example, you can give someone a shout-out for a particularly funny post they made in the water cooler Slack channel or a milestone they helped the company hit. This helps employees feel heard and fosters better relationships between employees.
Company Newsletter
As companies grow, it's easy for employees to lose sight of the bigger picture, and most teams don't know what other teams are working on. To combat this and improve company-wide engagement, have each team leader create a small snippet of key things they are working on and then compile those updates into a company newsletter. This can spark communication between teams and improve engagement and alignment.
Words of Wisdom
Another fun activity to encourage employee engagement is to send a weekly word of wisdom newsletter. You can curate the content for the newsletter from different employees or a quick note from the founder/CEO.
This kind of content creation is a fun, effective way to engage employees, and it requires minimal effort from the team.
Internal Social Media Channel Activities
Think of all the people you're connected with on social media that you've never spoken to. You probably feel you know many of them better than colleagues you speak with often.
Therefore, a great way to break down barriers and help employees connect on a personal level is by creating internal social media channels.
Rather than having one generic social media channel that people feel awkward posting on, create themed channels and ask specific questions.
If you don't have an internal social media channel, you can use a tool like GaggleAMP and create one.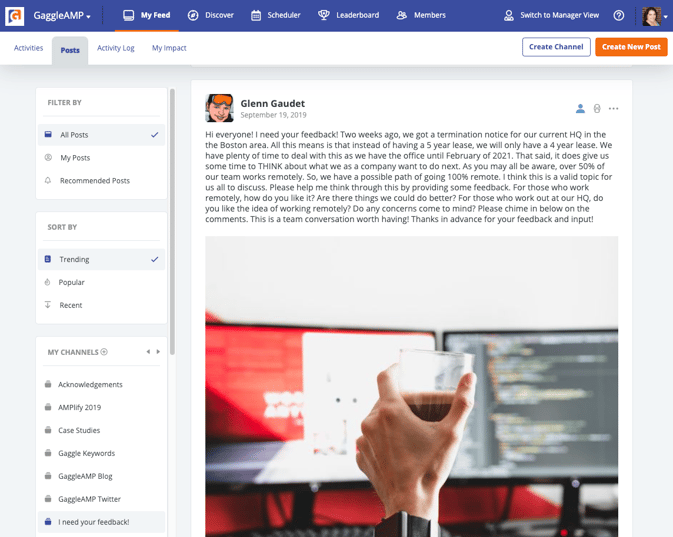 A post from our 'I need your feedback!' channel when we transitioned to fully remote.
Rich Life Goals Channel
Rather than creating a generic "social channel" and putting the onus on the employees to think of a topic, ask them to post about their Rich Life. Essentially, this is the channel where they share what they love spending money on. For example, they can post about a particular trip they are planning, a pair of shoes they bought, or a wine tasting experience.
The idea is that it gives the entire company insight into what their co-workers truly love. You'll probably find that the answers here are much deeper than answering shallow questions like "what are you doing this weekend."
Pets Channels
If there is one thing that two strangers can instantly connect on, it's pets. While not everyone will have a pet, plenty of them probably do, so take advantage of it. You can post weekly prompts on the social media channel like:
Create a meme of your pet
If there's one word to describe your pet, what would it be?
What animal was your pet in his/her past life?
We have a pets channel here at Gaggle and it has been excellent at driving employee engagement: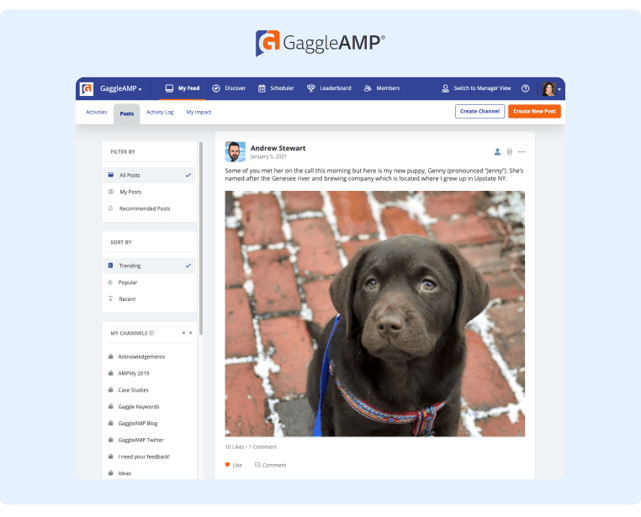 I Can't Believe I Just Did That Channel
Humor is a great way to break down barriers and make people feel more human. So creating an "I Can't Believe I Just Did That" channel is a great way to help employees relate to one another. For example, a post in the "I Can't Believe I Just Did That" channel might be, "I spent the last hour looking for my phone only to realize it was sitting on the charger the whole time."
This is particularly fun if executives chime in as they don't always seem human in bigger companies.
Travel Channel
A lot of remote companies attract talent that enjoys traveling. Therefore, creating a travel channel is a great way for employees to connect and even meet up across the globe. You can also run contests for the coolest locations visited and the best photography to increase engagement through gamification.
Accomplishment of The Week Channel
Taking a slightly more corporate tone, you can also create an Accomplishment of The Week channel. In this channel, employees can say one thing they accomplished that week and everyone can vote on the biggest wins. For employees that don't like to share their personal lives, it's a great way to get them to engage more in casual conversation. It is also a great way to motivate and inspire the rest of the team.
Problem Solving Activities
Sometimes the best way to improve employee engagement within the company is to give employees the opportunity to discuss their biggest challenges. This is a great gateway to engage employees that prefer to keep their head down and work rather than interacting with others during water cooler discussions.
It also helps keep the team aligned as everyone will have a glimpse into their team members' work.
Eat The Frog
A lightweight problem-solving activity is for everyone to select a single task they have been putting off and complete it first. For example, you could have all team members post the frog by 7pm (their time) the day before and then report how it went at 10am (their time) the next morning. Ideally, the frog should be something that only takes an hour to complete yet will help the employee feel like they got in a win.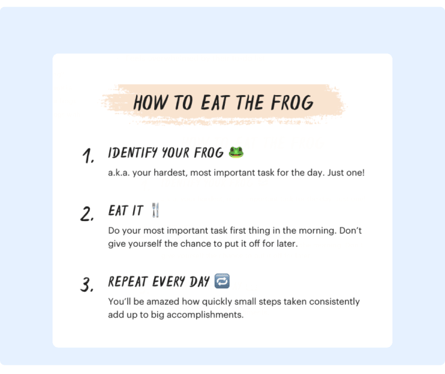 Source: Eat the Frog
Group Brainstorming
Another problem-solving employee engagement activity that team leaders can use is group brainstorming. For example, if the goal for the end of the month is to generate an additional 30 signups, the brainstorming session can be around what the team will do that week to accomplish that goal? From there, the group can vote on a solution.
Task Breakdown
One issue that leads to disengaged employees is feeling overwhelmed or defeated by a certain task. To help employees feel supported, conduct weekly task breakdown sessions conducted by team members or other employees.
Essentially, each employee brings one task they are struggling with and the group brainstorms how to better approach the problem. The team can even do mid-week check-ins to ensure everyone is on the right track.
Sunday Scaries Channel
If you haven't heard of the Sunday scaries, it's a feeling of apprehension that builds leading into the upcoming week. To counteract this and help employees feel more relaxed, consider starting a Sunday Scaries channel where employees can state any anxieties they feel. Sometimes, just stating them is enough to help the person feel in control, though if not, they can chat with others that feel the same thing.
Office Hours
Setting aside time for weekly office hours is another great way to help employees feel heard and supported. During these office hours, employees can talk about anything from career goals to technical challenges they are facing on a particular project.
Daily Surprise Activities
One of the best ways to improve employee sentiment is by surprising them with something nice. These surprises build loyalty and make employees feel appreciated in the workplace, which leads to better engagement and retention. So here are a few ideas to surprise your employees.
Send a Special Treat
Sending a gift basket or treat to an employee's doorstep is a welcomed surprise, especially if you're operating remotely. Companies like Edible Arrangements and Crumbl are both excellent for these kinds of surprises. If you want to be more health-conscious, you can also send healthy snacks with a company like SmartBox.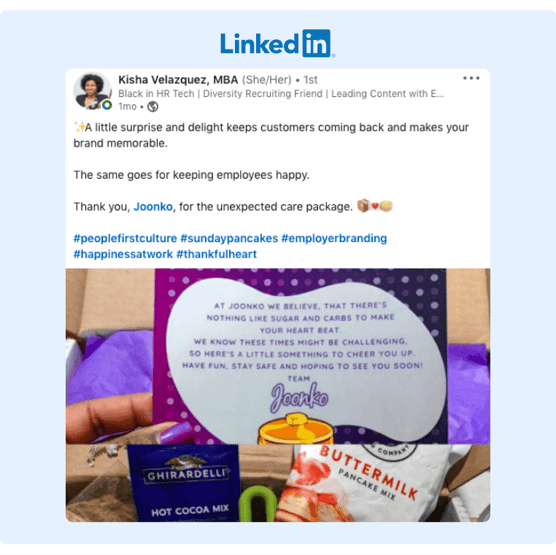 Send a Treat to Employee Pets
Sending treats for your employees' pets is a genius way to make employees feel that you know and care about them as an individual rather than being just another number on the employee roster. To discover who has pets, consider using the pets channel tip above and send a surprise to anyone that posts in that channel.
Surprise Shoutout on Social Media
Surprising employees doesn't have to cost money. Giving a shout-out on social media is a great way to make your employees feel appreciated and encourages them to continue working hard. It also makes them look good in front of their peers, which they will certainly appreciate.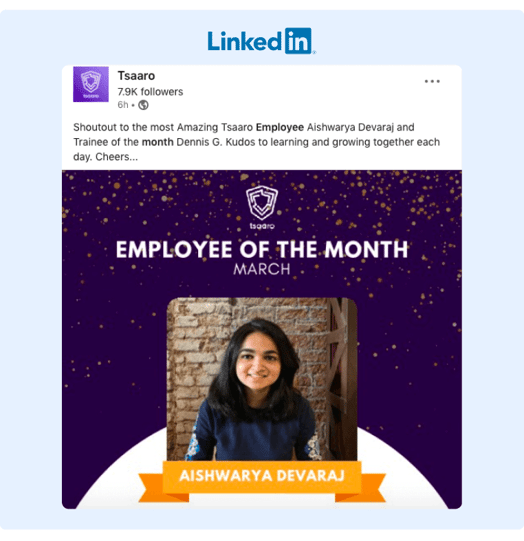 Donate to a Charity of Their Choice
Studies show that giving feels even better than receiving, so select an employee that has worked exceptionally hard and give to a charity of their choice. Even if it's just $100, it will make them feel recognized, and they'll feel great helping a cause they believe in.
Surprise Bonuses/Extra Vacation Days
Finally, you can recognize employees by giving them extra vacation days or bonuses. These are more traditional treats, though they are common because they consistently drive employee retention and loyalty.
Mental Wellness Activities
Employees that are mentally well are happier, easier to retain, and more productive, leading to higher quality work. So here are a few mental wellness activities you can do to improve employee engagement and increase job satisfaction.
Meditation
Plenty of studies show that meditation helps people manage stress and produce higher quality work, so it's an excellent activity to incorporate into your company. You can choose to do group meditation led by a professional or ask one of your employees to lead the meditation session. You could also gift your employees a subscription to a meditation app like Headspace and have Slack go down across the company for 20, 30, or 45 minutes once per day or week.
Journaling
Another great practice to encourage across your team is journaling. Again, there are plenty of different journaling apps that you can gift employees, or you can send them a physical journal. Make a habit of turning off Slack at a certain time each day, or if you're a worldwide team, allow employees to select a time each day to turn off Slack and focus on journaling.
Group Yoga Class
Group yoga is a great way to get employees to physically and mentally gear up for the day. This activity can also be employee-led and hosted in the office or over Zoom. You can also break employees up into groups depending on skill level so that nobody feels out of place.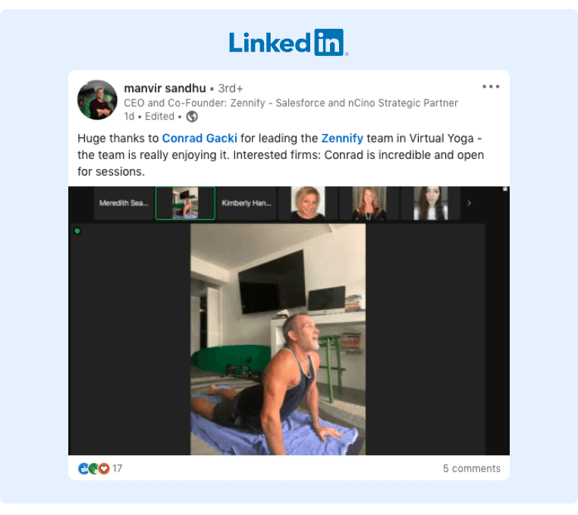 Stress Reduction Workshop
As more and more research proves that stress is detrimental to productivity, companies realize that training employees to manage it is critical. Therefore, consider hiring a professional to give a remote or live stress reduction workshop. To ensure employees get the maximum benefit out of the workshop, consider having them write down one action task for the next week and follow up to see how it went.
Breathing Exercises
Similar to the stress reduction workshop, you can also hire a breathing specialist to give a workshop. If you don't want to do a full breathing workshop, you can also incorporate employee-led breathing exercises into important meetings. There are even plenty of YouTube videos that can walk you through breathing exercises.
Advocacy Services
Review (or revise) your medical benefits to include advocacy services. Often times its a highly underutilized benefit that can be helpful for employees that need to plan for medical care for loved ones and beneficiaries. Using your company's free advocacy services to do the legwork can help keep your employees engaged throughout the day.

Meeting Engagement Activities
Meetings are often one of the most draining activities for your employees, so improving the meeting experience is a great way to improve employee satisfaction and engagement. Here are a few activities to enhance engagement during meetings.
Ask For Employee Feedback
Improving the meeting experience is a process, so continuously send out employee surveys to understand how they feel and what they do and don't like about meetings. Here are a few different questions you can ask employees as you're collecting feedback:
Could this meeting have been shorter?

Was this meeting helpful?

Could this meeting have been completed through a Slack conversation?

How do you feel about the meeting cadence (if it's a recurring meeting)?

On a scale of 1-10, how much did this meeting drain you?
While employee engagement surveys will give you an idea of how to improve your daily processes, you can also survey employees on non-work-related get-togethers such as team dinners or happy hours.
To quickly collect feedback, Zoom now offers a post-meeting survey that you can use to easily surface actionable insights.
Vote For The Best Contributors
Voting on the best contributor titles at the end of each meeting is a fun way to incorporate positive peer pressure to improve engagement.
Toastmasters International, an organization designed to help anyone become a better public speaker, always votes on the best speakers at the end of each meeting, and it's been a great way to encourage participation.
Try incorporating similar titles into your meetings. For example, you can vote on the person with the most inspirational point, the most helpful resources, the best attitude, etc.
Start With Gratitude
Plenty of studies have proven that gratitude makes people feel happier. So taking a minute before meetings for each person to express something they are grateful for helps the team get started on a positive note. In addition, employees will get to know each other a little better and connect on a deeper level.
End With a Joke or Riddle
Another great way to elevate morale and end meetings on a positive note is to end with a joke or riddle. Studies have shown that employees that regularly practice conversational humor with co-workers experience higher job satisfaction.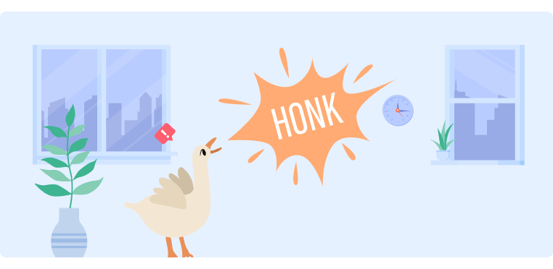 What does a goose do when she's late to work due to traffic? She honks!
Even if you aren't a humorous kind of person, you can Google "best office jokes" and have a list on hand for each meeting.
Rotate Meeting Hosts
If you always lead team meetings, consider asking someone else to lead for the day. By choosing a different employee to host each meeting, they won't be as monotonous and will result in more engaged employees.
Final Thoughts
If leveling up employee engagement is a top priority, pick a few of these employee engagement strategies and test them out. At the end of the week or month, measure current employee engagement and see if it has improved. Then, double down on the activities that worked and consider adding a few other ones into the mix.
Similar to any kind of marketing campaign, you can always continue to optimize and improve employee engagement. If you want a tool that can help you improve and measure employee engagement, consider signing up for GaggleAMP's free trial.