Let's set the scene. You wear multiple hats and managing social media is just one more thing to manage. Your company page was getting solid engagement for years…until it no longer was working. Researching how to get your organic reach up, you learn about employee advocacy tools and how strong organic reach would be when working with your employees to share content.
Doh, why hadn't you thought of that before? Surely your employees will help out — wouldn't they? You dive deep into employee advocacy and are sure this is the answer to your organic reach needs but need to get social media buy-in from your executive team. Simple enough, right?
Wrong.
They contend that employees do not want another platform to log in and out of.
They argue that it will take too much time away from your coworker's day jobs.
They say employees will have no interest in participating in employee advocacy.
Well, "they" are wrong. Consider these excuses as no longer a problem. We're happy to finally introduce you to our latest integration — Microsoft Teams. Following our hugely successful integration with Slack, this adds another way to quickly serve employee advocacy activities in a solution they are already in daily.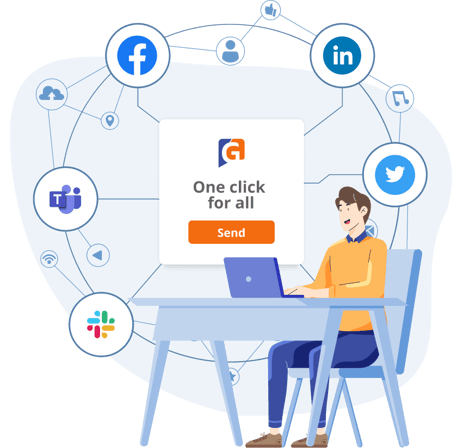 Why Introduce Microsoft Teams?
Our choice to introduce Microsoft Teams is far from a random one. Microsoft officials say the Teams collaboration platform has hit 250 million monthly active users, a milestone that was only 75 million one year prior. Fueled by changes in the typical work environment, we recognize that communication tools like Microsoft Teams and Slack are not going away and are here to stay.
This was only part of the discussion. At GaggleAMP, we've heard you — many of you have become Microsoft Teams users, too, and you wanted the ability to connect GaggleAMP to more than just Slack. So, we listened and violà…our new integration was born!
What Can the Microsoft Teams Integration Do?
Our Microsoft Teams integration joins GaggleAMP to Microsoft Teams and allows your Members to perform employee advocacy activities from right within Teams.
✔️ Consolidate your platforms: Working remotely, hybrid, or in-office, employees now have a new set of challenges, including a gluttony of platforms. The average business worker now users 9.4 different applications for daily work. This expends valuable mental energy and time switching between different platforms to complete work tasks.

With the Microsoft Teams integration, many activities can be performed from right inside the Microsoft Teams workspace. For example, a Gaggle Manager may post on LinkedIn that your company is hiring and ask Members of the Gaggle to 'like' the post on LinkedIn. That activity can be done seamlessly from your Teams account, which keeps your employees from having to log in and out of another platform to complete activities.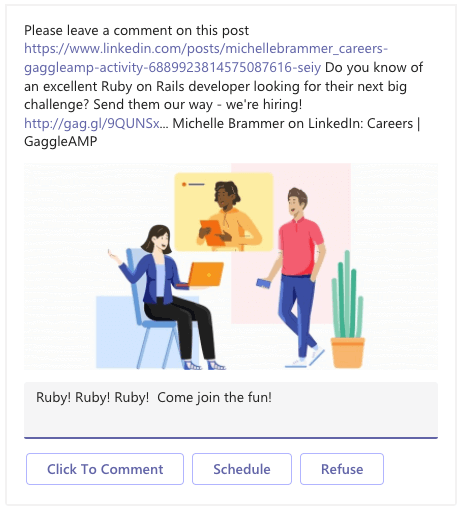 ✔️ Complete activities in under 3 minutes: The average GaggleAMP Members spends less than 3 minutes per week participating in an employee advocacy program. And with activities being made available right in their Microsoft Teams account, most activities can be engaged within just one click. This helps keep your employees engaged in their day-to-day roles but still active in an employee advocacy program.
✔️ Give Activities for your teams to complete: A common misconception is that your employees will have no interest in participating in an employee advocacy program. The truth is your employees are already talking about you online and if they're not, many do want to participate, they just don't know what to say that would be okay.
98% of employees use at least one social media site for personal use, of which 50% are already posting about their company. And if that wasn't enough, employees of socially engaged companies are more likely to stay at their company, feel optimistic about their company's future, and believe their company is more competitive.
Through the integration with Microsoft Teams, these activities are delivered right to a channel in Teams making participation with your Members simple and seamless.
How to Get Started
The Microsoft Teams integration is free for all GaggleAMP paid users. We've created this knowledge base to walk you through connecting your GaggleAMP account to Microsoft Teams. Once you've read through the set-up, say hello to the GaggleBot 👋.

Just so you know, you will need to have a paid GaggleAMP subscription or be involved in a trial to get the proper experience. You will need to occupy a Member seat in GaggleAMP to allow for the Microsoft Teams integration to connect. Otherwise, our customer success team is happy to help get you all set up.
Otherwise, happy Gaggling!