At GaggleAMP, we're constantly stressing the importance of effective employee engagement strategies.

From extending your social reach to boosting your marketing efforts, an engaged employee is one who has the ability to increase the effectiveness of your brand's social media strategy. But where did it all begin? What or who is responsible for the evolution of employee engagement? Understanding the roots of what has evolved into employee engagement and how that now has adapted employees into becoming an integral part of marketing is a great way for your company to get a firm grasp on what it means to truly foster an employee engagement program.

Long before the term 'employee engagement' made its way into journals around the early 1990's, it was all about HR (or personnel) emphasis on employee satisfaction. This disconnected view alienated the employee's support for the brand, severing the connection that a potentially engaged employee could have with the company. The relationship was muted, and while an employee could still leave at the end of the day with pride for his or her job, that support was never translated into an actionable means within the company setting.


Then, William A. Kahn wrote an article in a 1990 Academy of Management Journal describing employee engagement and disengagement and how individual and contextual sources of meaningfulness, safety, and availability had a significant impact on engagement. It was the first step towards connecting the commitment and support of the employee to the company, and the evolution of employee engagement was now underway.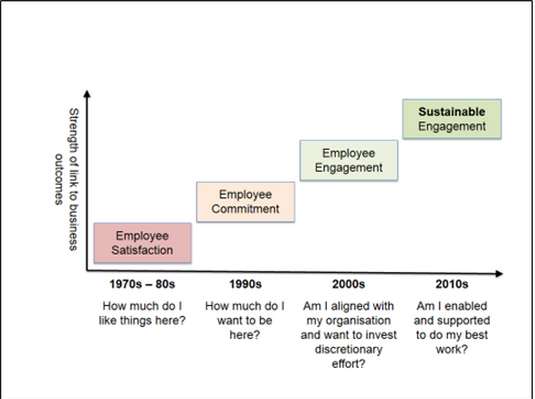 Fast forward to the 2000's when brands started to more closely analyze the relationships they have as a brand with their employees and how that affects the efforts of the brand in their marketing tactics. Forced by an increase in competitiveness from other brands, companies were pushed to analyze what makes their company successful in the long-run. With the increase in turnover rates as people started to follow their happiness rather than simply a steady job with money (regardless of whether or not they actually enjoyed that job), companies needed to understand what fostered a better, happier relationship with their staff.
Soon thereafter, two Prime Ministers from the UK showed their supporting and encouraging employee engagement work through the development of the Engage for Success movement.
At the end of 2012, the Engage for Success group released a report nailing the business case evidence on employee engagement with the business benefits of performance, safety, profits, retention, wellbeing, etc.
The evolution of employee engagement, from creating happy employees to including engaged employees in marketing efforts, was a logical one. As tools were developed to measure employee engagement, we soon realized the connection between an engaged employee and one who was already participating in marketing efforts, albeit unconsciously. The engaged employee tends to have pride in their company and supports their business, and many of these folks then already promote their occupation and brand. It was simply a matter of harnessing these engaged employees as internal marketers.
Now, there are tools available (and many through GaggleAMP), that help you identify the best engaged employees to utilize for your marketing efforts.