Most business owners think that customers are their most important audience. But, a company's employees can be an equally valuable resource if you can turn them into brand ambassadors.
Employees are the face of your company. They value open communication and they want to be recognized.
If you already have employees who are crazy about your company and embrace its culture, values, as well as everything it stands for, it means your organization has managed to turn employees into ambassadors or advocates of your brand.
But, for those companies that are yet to achieve this, this article is written to help you understand what a brand ambassador is and how you can turn your employees into eager and effective advocates for your business.
What is a Brand Ambassador?
In the traditional sense, a brand ambassador is someone who is hired by a company to promote it to consumers in a positive light, thereby increasing brand awareness with the ultimate goal of boosting profits.
Those people use marketing and networking to influence others both online and offline, across multiple media platforms, including social media, blogs, forums, magazines, etc.
In this context, however, companies can imitate the strategy in their own organizations to encourage employees to get the message out that the company is a great one to work for.
Whether this type of program is incentivized or if it happens organically, it can yield phenomenal results for your campaigns.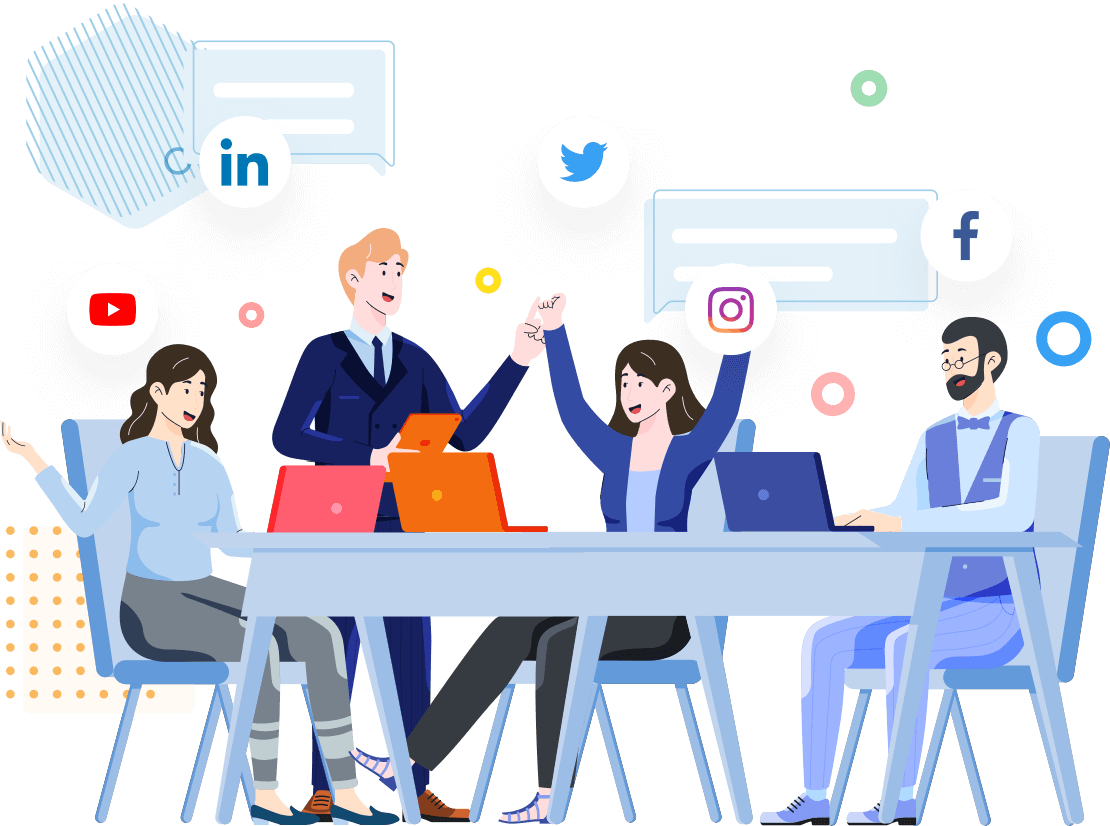 Benefits of Turning Employees into Brand Ambassadors
Your employees are the embodiment of your brand. They are its living, breathing heart that brings life to everything your company represents.
In essence, your employees are your brand.
Your employees can be your company's biggest and best asset, and as such, you want them out there:
Building brand awareness
Distributing content on various channels
Leaving glowing company reviews on job sites
Championing your brand on personal networks
Shaping the public's perception of your brand
Referring stellar new talent to join your team
Driving a

stronger company culture
… and much more.
In short, engaging with employees and turning them into brand advocates goes way beyond good HR. It's also great for marketing and PR, too.
And if your employees are evangelists for your brand, it means you get to receive the best kind of marketing possible, from trusted messengers - all for free!
Employees Benefit Too.
When you allow employees to serve as brand evangelists, it can help in building their personal brand and establishing their leadership potential.
In a lot of cases, it's possible to develop a better leader and meet your talent acquisition goals by simply mapping an employee's upward mobility within the organization with their ability to be an effective ambassador for the company.
How to Turn Your Employees into Advocates
When it comes to transforming your employees into brand advocates, it's crucial to note that brand image and reputation cannot be bought or faked.
For this to work, authenticity is required, as well as diligence from your front-line workers.
Keep this in mind as you implement the strategies outlined below for turning your employees into brand ambassadors.
Without further ado, here are the 7 ways you can create passionate brand ambassadors who will represent your organization with pride.
1. Exemplify Communication and Leadership Skills
As a leader in your company, you must lead by example to get your team aligned around a common purpose and shared values.
In all your planning, strategizing, and decision-making, you must continually pivot to your organization's "why" so you can build a brand experience your employees will be proud to tout.
In other words, you should build toward the future together with your company's biggest asset: your employees. But, it's you who has to set an example for your employees that goes beyond maintaining profitability in the company.
This also means:
Communicating openly
Encouraging employee engagement; and
Displaying bold transparency.
Whenever a company's employees have a clear picture of who their leader is and how they respond to adversity and conflict, they will naturally be inclined to match this example.
That's why it's a good idea to show leadership skills in a live environment by using webinar software to speak to your company all in real-time.
When employees are guided by the direction the company is heading, this, in turn, makes it more likely that they will provide excellent service, inspire deep trust in customers, and build productive, authentic connections - all of which translates to a brighter future for the organization.
Besides that, offering work-life balance programs for your employees would be additionally helpful to increase your company's productivity.

According to a recent study, nearly 85% of companies that maintain the work-life balance of their employees report an increase in productivity.
2. Establish a Reward Program to Incentivize Employees
For the most part, people recognize what is rewarded. So, when a company only incentivizes sales, it means that they are missing out on huge opportunities to develop well-rounded brand ambassadors.
Formalizing and incentivizing ambassadorship is a different process for every business. However, the underlying principle is the same everywhere and involves engaging your staff in building for both the short- and long-term.
As with any behavior, it's important to encourage, incentivize and simplify if you want to see consistent results.
Establish a reward program that will not only reassure employees that they are doing an amazing job, but also show them how much you appreciate all their hard work.
For example, you can gamify your brand ambassadorship to motivate your employees long-term to advocate for your organization.
And this doesn't have to be a huge bonus, either. If you are on a tight budget, you can use small, yet significant gestures, such as:
Praise
Company branded merchandise
Gift cards
PTO days, etc.
Things like these can go a long way toward making an employee feel acknowledged and appreciated and can be used as powerful incentives to get employees to become brand ambassadors.
3. Provides Guidelines for Social Media Advocacy
Social sharing is on the rise. Your customers are plugged into social media, and a recent study shows that brand posts on social media shared by employees reach up to 561% more people than the same posts shared via company pages.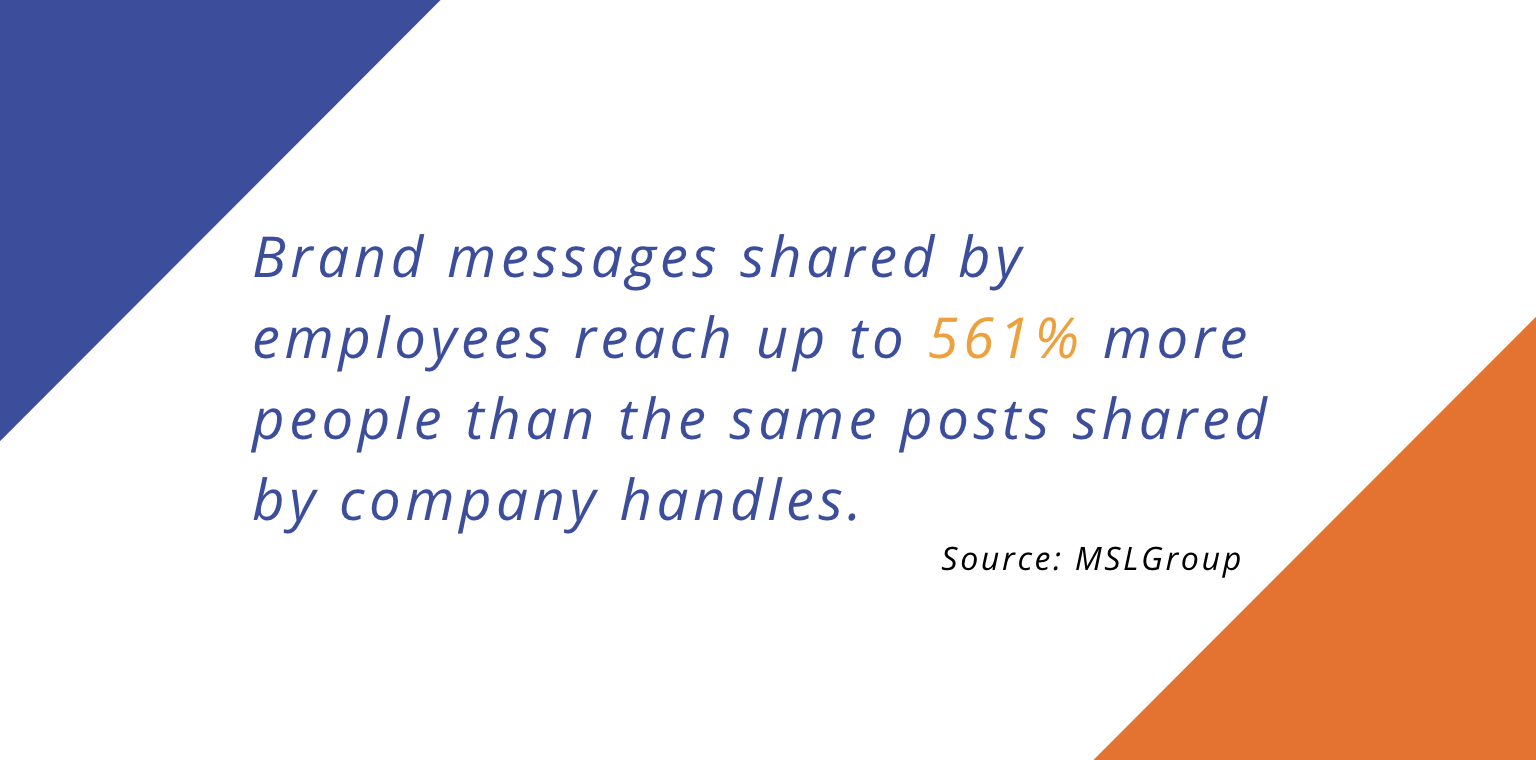 This obviously has massive implications for brands and makes it even more worthwhile to take time to empower employees to practice social media advocacy. Your employees can be brand ambassadors on Instagram, Facebook, Twitter, LinkedIn, and other sites.
But, a single brand-related slip-up can prove to be devastating not only for the employee but for your company, as well.
That's why, if you want to help your employees become the best brand ambassadors they can be, it's important to provide them with the proper guidelines for sharing content on social media.
You may already have a section in your company guidebook with details of your social media policy to help employees avoid oversharing, breaking regulations, etc. However, to leverage your employee advocates even more online, implement the following tips:
Clearly spell out (using bullet points whenever possible) all the dos and don'ts of your company's social media policy.
Make these guidelines as succinct as possible so employees can easily reference them whenever necessary.
Provide employees with the right tools, such as

GaggleAMP

, an employee advocacy platform that makes sharing on social media easier and supplies employees with marketing-approved captions on posts.
Your employees should feel that they have the tools required to make informed decisions and simplify things whenever they share information about their professional lives within their networks.
4. Make Your Employees Part of Your Company Vision
A few internally motivated brand advocates will always be more valuable than a larger team of paid spokespeople.
One reason for this is that your employees are more genuine and authentic, which goes a long way toward connecting with your target market and building trust with the people who want to do business with you.
When you communicate your company's "why's" to your employee advocates, you get them on board early and foster an environment of transparency which is essential to making all future content both shareable and realistic.
Over time, you'll have truly passionate employees who understand and care about the vision of your brand.
It's also possible to recruit new team members who will be a great fit and lead to lower turnover (and a generally happier and more productive workforce), particularly when the recruiting efforts come from a current employee.
You can bring new and old staff together on a regular basis to align the members of your team and share in the company vision.
What's more, these individuals are more likely to still advocate for your brand even if they end up changing jobs, which is a big win for you.
5. Solicit Employees' Ideas, Feedback, and Suggestions
Soliciting ideas, feedback, and suggestions from employees is yet another best practice for empowering your workers to become strong brand ambassadors.
Leaders often believe that their way is the best or only way. But, when working on turning employees into effective brand advocates, it's important to ask for their point of view.
This serves two purposes. First, it helps you gather valuable feedback, and secondly, it makes your employees feel valued.
You can conduct surveys and interviews, use email software to automate feedback loops or hold regular meetings to receive the feedback you're looking for. This way, you'll also enjoy the additional benefits that come with collecting feedback and ideas from employees, such as:
Improving your company
Increasing employee retention
Recruiting new talent by fostering collaboration in the workplace
Committing to learning and growth
This is such an important strategy because each of your employees brings different experiences, perspectives, and expertise to the table.
If you make collaboration between leadership and employees a common practice in your work environment, it will help to introduce a continual flow of fresh ideas, innovations, and insights into your business strategy.
6. Make It Easy for Employees to Be Advocates
When employees have to work very hard to promote your brand, it makes it less likely that they will do it on a consistent basis.
So, to solve this problem, you need to make it as easy as possible for them to become advocates for your brand.
One way to do this is by creating shareable content which your employees can then easily access and share on their respective social media profiles.
Of course, some of your employees may be budding social media stars with tons to share about their professional lives, but not every employee will be able to effortlessly create content, and creating online initiatives for them to share makes things a whole lot simpler.
You can curate content specifically for employees to share on various other social media platforms.
7. Brand All Aspects of the Work Experience
For your employees to really understand the brand, you have to envelop them with it.
Brand every aspect of the work experience with the core values of your company, as well as the objectives, culture, and brand statements.
This will give your employees a variety of brand elements that they can easily work with, including imagery, logos, etc.
You can take this a step further by including physical brand symbols, such as:
T-shirts
Hats
Magnets
Water bottles
Powerful external chargers
Handy flash drives
...and various other types of merchandise.
Basically, if it's well designed and useful, and you can slap your brand name and colors on it, even if you decide to use PLR courses in your training, your employees will be glad to use or wear it, and it will work well as a walking advertisement to help them promote your brand.
Implement these strategies in your business to start seeing the many benefits that come from having engaged and passionate employees advocating for your brand.