Larger companies tend to have large followings on social media because of brand recognition, and they know how to reach their audience. Without a company showing a sincere side of their business, they won't attract loyal fans to their social media pages.

To make the most of your online presence, you need to amplify your content using social media. A strong social media strategy gets even better with a social media advocacy program powered by your employees. It allows for better brand awareness, employees play a part in 'something bigger,' all while empowering your employees as your strongest influencers.

Here are six reasons to help you figure out why you should start implementing your social media advocacy program right away.

1. Content That Your Employees Share Will Be More Personal

Social media advocacy programs get your employees more involved with your company's online activities. Employees that participate in an advocacy program tend to be very passionate about their role in an organization and often desire to do more than simply collect a paycheck. These employees share company stories that they feel are more relevant to their network and highlight dreams and aspirations of their working environment, giving your brand a more personal feel.

Content that is transparent generates strong emotion from the perspective of the followers. This can play an important role in making sure that your clients and followers feel a closer connection to your brand, thereby strengthening relationships.

2. Social Media Advocacy Can Help Build Trust

Who do you usually trust more: a friend or acquaintance, or a brand? Someone you know, right? That's why brand messages have a 561% better reach when they are shared by employees versus that same message when shared by company-branded social media channels.

People like to support their network, but there's a stigma with supporting a brand. As an employee, no one wants to become a blind beacon of company jargon and marketing messages. But with a social media advocacy program, it gives your employees the keys to promoting content that resonates with them and their personal brand. As a result, your brand builds awareness, attracting a broader network you may not have had access to before. This creates a layer of trust that cannot simply be replicated without the support of your staff.

Elisa Abbot is a writer at Pick Writers who points out that this is a good way to establish trust as you expand into new regions. She says, "If you've hired locals, they can become amazing advocates for your brand. Not only can they share your message, but they are also in a better position to gain the trust of local audiences. Finally, you can know that the messages they broadcast on your behalf are relevant, and culturally appropriate."
3. Employee Posts are Less Promotional
Highlighting your company through the stories your employees share are less promotional, even if they show your product or mention your brand. Why? People trust other people.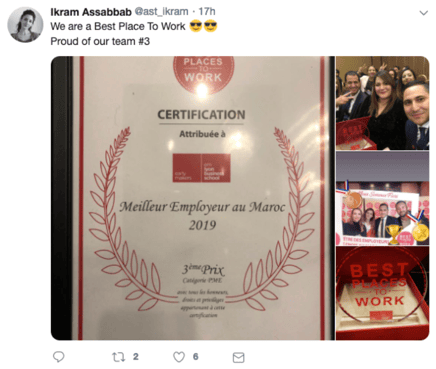 Take for example a 'best place to work' award. As a brand or entity sharing this sentiment, it can be perceived to be a bit more of a humble brag, whereas an employee posting the same message provides higher social validation that the employee has a really awesome employer. Not only will this help employees bond more with their employer, but it's also less promotional and more genuine.
4. Creates Brand Awareness Without Much Effort
Starting a social media employee advocacy program will help you keep a more consistent online presence while reaching a broader network. Employees share content where they are most comfortable, so your brand message may appear in channels you previously hadn't given much thought.
With employees promoting content where it makes sense for them, brand exposure will increase thus increasing your brand awareness. To maximize your social sharing, you will need to carefully structure your posts not only for the platform in which they are presented but in a language and dialect that would resonate with the end reader.
To do this effectively, you really need to understand your bigger network and what clicks with them. In some instances, a professional writing service can help you use the right words to captivate your audience through the stories of your employees. In other instances, employees are the best beacon for your brand, crafting stories in-house that resonate with their networks. With either method, both are echoing your brand sentiment in a more organic way.
5. Increasing Your Employees Online Exposure
Often times, employees want to promote their company on social media, they just simply don't know what to say or do. In fact, 63% of new employees are reluctant to share messages socially, but they want to. This hesitation of saying or doing something wrong makes some wary of jumping into social, but an employer-managed social media advocacy program can help with that.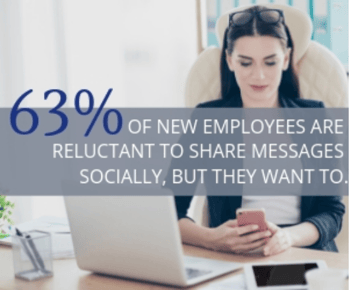 People like to be seen as an authority within their network. It gives them a creative outlet to express the benefits of their contributions to their work and community in a very public way. From an employer perspective, it aids in recruiting and identifying influencers in a vertical or space.
The right messaging tends to strike a chord with the audience, resulting in stronger lead generation efforts all while elevating your employees to thought-leader status.
6. Your Followers Are Bound to Bond with Certain People
Relationships are formed through social media advocacy as people can connect with other people on a purely emotional level that is not easily achieved on a brand level. These bonds can be achieved from employee advocacy, micro-influencers, or even excellent partnerships.
For instance, children's hospital A.I. Dupont in Wilmington, Delaware does a radiothon yearly to raise awareness for illnesses affecting children. As part of their fundraising efforts, they partnered with a local radio station, WSTW, to tell the story of the families impacted through A.I. Dupont. Little did either party know that WSTW's own radio host, Nancy Johnson, would become one of those families telling her story.
Her story of her daughter Charlotte thankfully had a happy ending, but you can surely believe the Delaware Valley area bonded with Nancy Johnson and her story. Today, that relationship has flourished even further into Charlotte's Cuts and Colors, in which a portion of the proceeds further helps to raise awareness and funds for the A.I. Dupont brand.While this is an A.I. Dupont event, the bond was formed with a family telling their story. They opened up about something deeply personal to them, resonating deeply with the audience. Does this impact A.I. Dupont and their fundraising efforts? Absolutely.
Allowing Your Brand to Grow with the Help of Your Employees
If your employees are willing to opt-in to a social media advocacy program, everyone stands to benefit. Not only will your brand become more visible but your content will have deep roots and exposure that can't be achieved by only the brand. Employees benefit from online exposure, gain a creative perspective on how to use social media to their benefit, all while feeling like they are part of a bigger plan with their company.
Editor's Note: This is a guest post by freelance writer Kristin Savage. Her opinions are her own.