Interpersonal communication refers to an exchange of information, ideas, and emotional experiences between individuals.
It's also an increasingly popular area of research that aims to understand how we use verbal and nonverbal cues as a way to accomplish different personal and relational goals.
This is a potent and crucial force that you can use to further your business objectives.
However, interpersonal skills are often easier to develop when communicating in person. For instance, maintaining eye contact is something most people know to do when engaged in conversation with others.
This lets the other person know that we're listening intently to what they're saying, which not only makes the person feel valued but also helps us get a better understanding of their message.
On social media, this isn't as easy to achieve since there's usually no way to use non-verbal communication such as eye contact, facial expressions, tone of voice, body posture, gestures, etc.
Studies show that body language and tone of voice account for 93% of the message we convey to others, whereas words are a mere 7% of the overall message.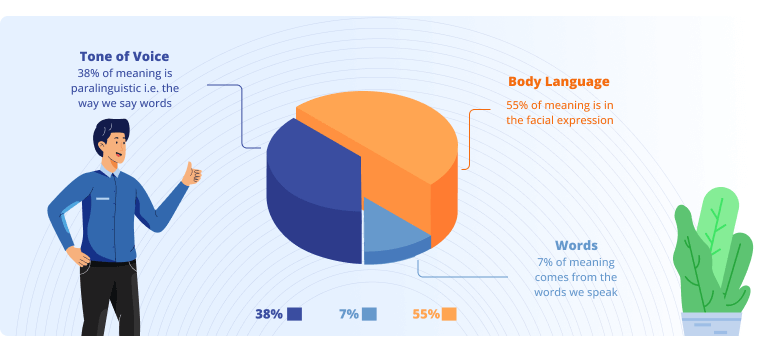 Without face-to-face interactions, you need to employ certain tactics to help you take advantage of interpersonal communication to develop rich communication with your audience on social media.
You can create diverse content designed to help your business leverage interpersonal communication with your employees and which will help your employee advocates embrace interpersonal communication when sharing business content on their social media profiles.
If you're ready to communicate with your employees on a higher level, read on to discover 5 ways businesses and employee advocates can embrace interpersonal communication on social media.
1. Create Short Videos
Businesses use social media for promoting, advertising, and marketing their products and services. All social platforms, no matter how different, offer the opportunity to get your message across in the quickest and easiest way.
Whether your main objective is to raise awareness, increase sales, educate customers, leverage user-generated content, or maintain relationships with your audience, social media can help you spread your message in the most effective way.
However, instead of using just text content, you need to create short videos for your social media channels.
When B2B social media marketing teams that use video were surveyed, 86% said that video has helped increase website traffic, 84% say video has helped them generate leads, and 78% say that video has helped them directly increase sales.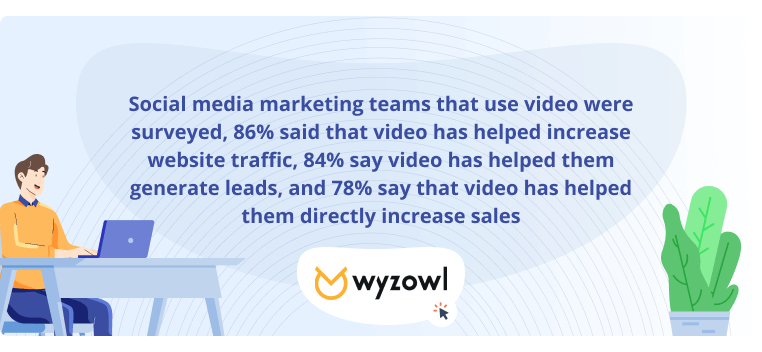 These videos can range from customer testimonials to interviews and animations, as the purpose of these videos is to engage your viewers and increase the likelihood that they will buy your product or use your services.
Thalita Ferraz, social media influencer and owner of HerBones.com explains, "Over the last year I've noticed that when I create video content on my Instagram, Youtube and TikTok, the reach is significantly more than any other post-types I can create. It seems that we're in the midst of a shift on social media to focus mostly on short-form video."
In the absence of non-verbal communication, your message may be misinterpreted by your audience. Or, the meaning may be hard for some readers to clarify. Either way, this would ultimately make your marketing strategies a lot less effective.
But, with short, engaging videos, you can tell your story and share your brand's vision while maintaining high levels of engagement from your employees. And keep in mind that people are very busy, their time is valuable, and their attention spans are short.
You'll be able to make use of your audience's brief attention spans to get your message across with short videos. These short videos should be informative and engaging enough to captivate your audience. You can make these videos yourself or hire a video production company or a professional to do the work.
2. Be More Personal in Text and Video Content
Another way to put your interpersonal skills to practice is to get more personal in text and video content.
If you are going to leverage interpersonal communication on social media, then you need to understand the different ways in which interpersonal psychology can help you exert influence on your client relationships.
Here's what I mean:
For the most part, people's interactions and social media are typically weak ties. This means they don't feel a personal connection to the people at the other end of their communications as they do in their face-to-face interactions.
For example, social media users can gain a large number of followers and friends with a single click of the mouse while sitting behind their computer screen without ever meeting other users face-to-face.
This disregards basic social and emotional skills which are otherwise required when forming such friendships.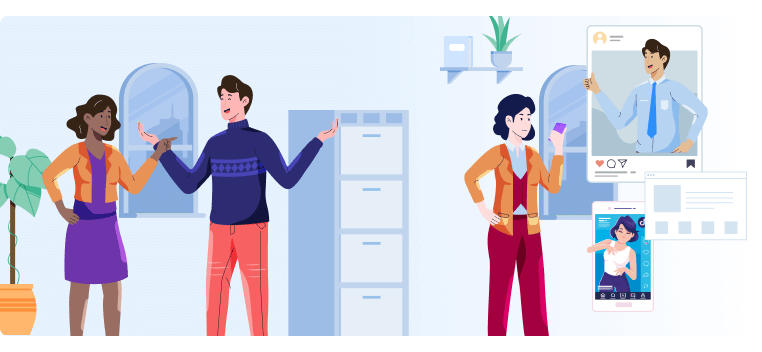 Also, social media users have the ability to create whatever profile they desire, which means they can be whoever they wish and never have to expose their real identity online.
This is yet another disregard for developing substantial interpersonal relationships.
In other words, social media means people are communicating more, but they're not necessarily building strong relationships.
You can mitigate this effect in your business by being more personal in your text and video content.
When you can show a human side that people can relate to, you'll be able to use social media as an effective way to connect your business with your employees and other people of like interests, regardless of geographic proximity.
However, keep in mind that you still have to work at maintaining that interest, but the more personal and relatable you are in your text and video content, the easier it will be for you to build a loyal following on social media.
3. Use Memes to Increase Engagement
Social platforms have changed the way humans communicate with each other. However, although many of those changes have been positive, a lot of people think that using social media has had an adverse effect on interaction and communication, for both businesses and individuals alike.
These people also believe that while we created social media platforms for the sake of improved interpersonal communications, we've actually ended up sacrificing interpersonal connections to make room for social media.
But, this doesn't have to hold true in your business. You can use social media as an effective way to boost employee engagement in a variety of ways, including:
Sending out employee surveys
Providing content
Encouraging employees to post content
Running contests
Sharing recognition/awards
…and so on.
Among the most effective ways to maintain engagement among your workforce is to use memes on your social channels.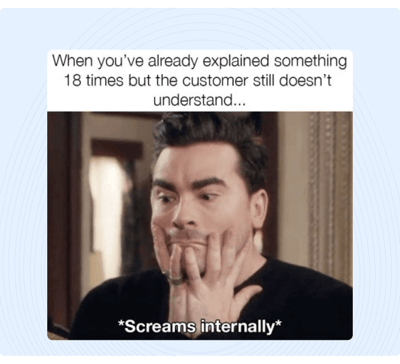 Even in one-to-one conversations, it has become difficult to hold people's attention for long without having them glance at or interact with their phones. However, by using memes as part of your social media content strategy, you make it more likely that your employees will engage with your content.
Another great benefit of memes is that they don't have to be limited to social media. In fact, I just used a meme in this article. It's a lot more engaging than a boring old stock image isn't it?
And that's the beauty of memes:
You can start a blog and use them to create more engaging content for your readers.
Throw a couple of memes in an email newsletter with a link embedded to your latest blog article and just watch as your email click-through rate skyrocket.
And of course, there's social media where a good meme could be the difference between a conversion and a potential lead scrolling past another block of text on Facebook or Twitter.
4. Let Leads Schedule Meetings From Social Media
An interpersonal relationship is defined as a strong, close, or deep association between two or more people that is based on a social commitment of some kind, such as love, solidarity, or regular business interactions.
Although these types of relationships are significant in personal relationships, they also hold a lot of importance in the field of business.
You can take advantage of this type of online interaction by sharing content that enables users to easily schedule appointments.
One of the easiest ways to do this is to integrate a calendar scheduling app into your website using a website builder. Then share it across social media. There are many ways to do this:
Create a specialized page for this integration and share it across all of your social media channels
Feature the link in a linktr.ee that you're already displaying in your social media bios
Promote the page as a pinned post so it's always visible and scheduling is forever a breeze for all of your leads, fans, followers, and brand ambassadors
A great advantage of using this type of tactic on social media is that it allows people to get out of the boundaries placed by location - whether they are on- or off-site, which makes it a lot easier to maintain relationships that might otherwise be at a disadvantage because of such factors.
5. Reply to Comments on Employee-Shared Business Content
Humans have a deep thirst for interaction, and when you can satisfy that need to communicate, you'll have an easier time building stronger relationships with your employees and creating more advocates for your brand.
In addition to the tips outlined above, another great way to embrace interpersonal communication on social media is by replying to comments on content shared by employees.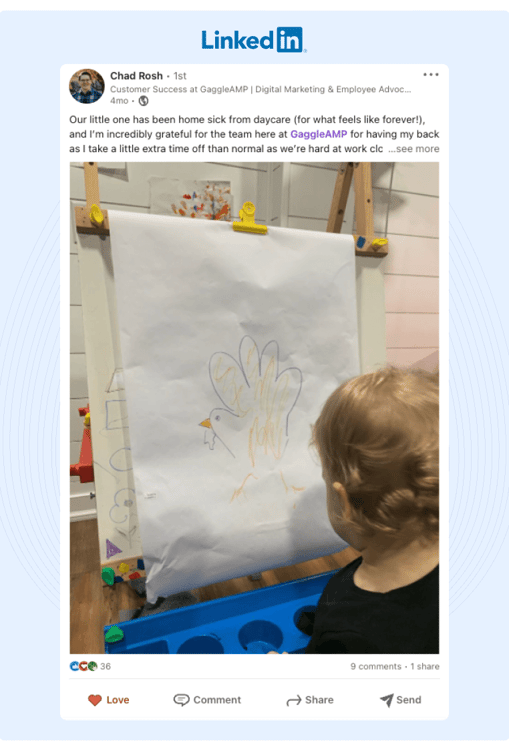 This will not only encourage employees to share more content but also show them that you are listening and value their opinions. Just remember to never force participation.
It should happen naturally, but there are some tactics you can use to encourage more sharing: amplifying the experience,
Promoting engaging content,
Giving employees access to fun, educational, or entertaining brand content that they can easily share with their networks
Conclusion
There's no denying that interpersonal communications have changed dramatically since the advent of advanced technology, primarily social media.
Although only a decade old (which is quite young in this industry), this communication technology has already greatly impacted the way businesses communicate with their customers, which is why it's crucial for you to keep up if you want to develop stronger connections and increase engagement with your employees.
Your turn. Which of the tips outlined here do you find most appealing? Share your thoughts on your favorite social network with a link to this article!