Internal communication tools are vital for every business across any industry, especially with so many employees working remotely. Having efficient communication is the difference between providing an exceptional customer experience or a mediocre one. So how do the best companies address their internal communication strategy? They utilize a combination of strategy, employee adoption, and of course, an internal communication tool to house all the discussion.
With the amount of options available in 2021, you can find a range of employee communication tools that work with your day-to-day operations.
This article will cover:
Discover how the various communication tools can help you utilize an internal communication flow of information both to and from employees.
Efficient Communication is Paramount in 2021
Your organization is comprised of individuals who communicate differently. This is more apparent as the age range of your employees widens. However, no matter how diversified your employees are, you must have an internal communication platform that allows for the best flow of information between departments and employees.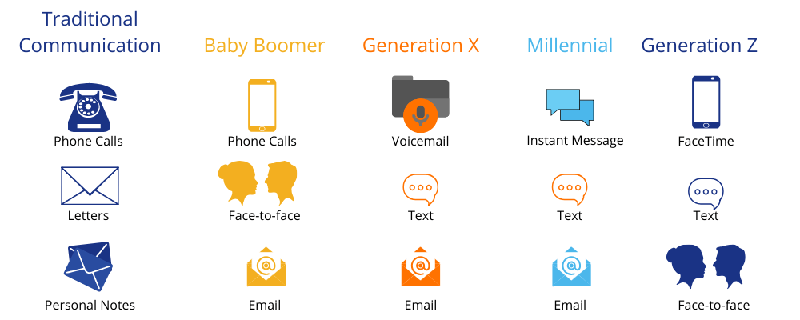 For example, say your company is experiencing a sudden product recall and you need to notify your staff of details quickly and swiftly. A text message tree could be helpful, but leaves out a segment of your staff. Likewise, a company-wide phone call hits the mark with some, but isn't best for others. A solid internal communications tool should be able to hit the mark in channels where your employees are most comfortable.
Without efficient communication, your business will suffer. Poor communication leads to a poor customer experience, and nobody wants that. From missed orders to unsent invoices, your customers will not receive the quality customer service and high-performing products/services they deserve.
Furthermore, your employees will inevitably become frustrated with poor process management, so you may lose some of your best employees. With unhappy customers and employees, your organizations' financial and growth goals will be unattainable.
To achieve efficient communication in 2021, you will need: collaboration, transparent feedback, process changes, and weekly, monthly, quarterly goal setting.
Collaboration
Employee collaboration is key in any organization. If employees are unwilling - or unable - to work with each other and other departments, any efforts will be futile. This is especially important in 2021 since so many employees work remotely. In fact, telecommuting has grown 115 percent in the past decade. Online and in-person collaboration is vital to any company's success - hence the success of video conferencing software and collaboration tools like Slack among remote teams.
An internal communication tool can help bridge the gap between departments and locations, but it can also act to close a gap in external communications. Inbound marketing agency, SmartBug Media, recognized a need to encourage employee collaboration on its social media advocacy initiatives. The company's goal was to extend its brand and message reach through its employees' social media channels, but it needed a way to deliver these messages to its employees.
By leveraging their employee advocacy platform, GaggleAMP, the company experienced a 31 percent month-over-month growth in leads and increased website traffic from social media by 28 percent.
Transparent Feedback
While some organizations still operate under top-down management, companies that want to achieve their goals understand transparent feedback to management is key in 2021. Employees need to have an avenue in which they can provide ideas and comments to their managers and/or directors that have the potential to improve employee morale, internal processes, and customer/supplier relations.
Take Ricoh Canada for example. While the company did have members of its sales team active on social media, not everyone was tapping into their networks to increase social selling potential.
Through transparent feedback from already active sales representatives, the company created an employee advocacy program that achieved incredible success in its first six months.

Overall, the company's social media followers grew to over 2.6 million with the use of their employee advocacy platform. Through the delivery of thought leadership and company related content on an internal communication channel, sales reps were able to increase the effectiveness of their social selling efforts with little to no heavy lifts. That's a win-win for both the sales rep and the company.
Process Changes
When internal or external changes impact your customers or supplier, you do not hesitate to communicate these changes to the appropriate parties. The same should be applied to your employees and departments.
Process changes can impact the day-to-day operations of your company, frustrate employees, and unwillingly cause angst. Without properly informing employees of changes, you cannot expect them to perform at their highest abilities. It puts you at risk for lower employee morale because you do not express their importance and recognize their vital input with day-to-day tasks.
Remembering the brand value of the management consulting firm is directly connected to thought leadership, Domenic Colasante, the CMO of WGroup, shifted his company processes in 2015. Recognizing his organizations consultants are thought leaders among their industry peers, he was faced with the challenge of getting employees to better promote themselves, and their company content.
WGroup shifted its strategy by hiring a third-party Marketing as a Service company to highlight consultant insight, which led to a content stream supplying their integration with GaggleAMP. With buy-in from their consultants, and a clearly communicated change plan, WGroup managed to build and grow a $2 million sales pipeline.
Weekly, Monthly, Quarterly Goal Setting
Companies do not become successful overnight. Action plans with clear, defined, attainable goals help a company achieve their next milestone. These goals do not simply come into fruition because a company wishes it, and won't be met if not communicated to everyone.
When goals are set and explained to employees, your organization is more likely to complete the action plans by their specified deadlines. Why? Many times external initiatives are tied to some of your internal goals.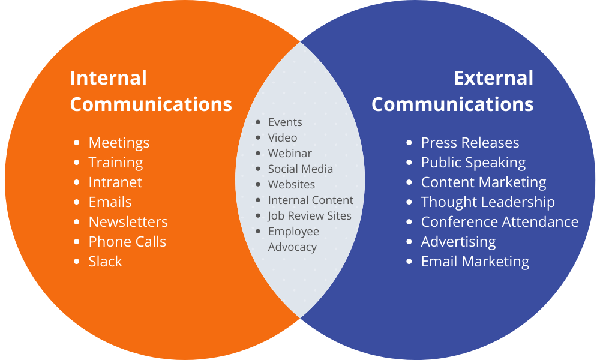 Looking to increase your talent pool development and hire in 2021? Increase career postings on your social media networks.
Have a need to increase your companies reach? Informatica fully utilized GaggleAMP and hit an impressive one million impressions with their employee amplification program.
Corporate set a goal for their holiday sale to increase units sold by 10%? Leverage advertising and new releases to coincide with bumping your unit sales during the big sale.
Having efficient communication and clear goals in place helps to increase internal communication strategy, helping all departments achieve the common goal.
What Are Examples of Internal Communication?
When it comes to internal communication policies in 2021, companies have a plethora of tools available at their fingertips. Some of the types of internal communication tools companies can utilize include:
Newsletters
Video
Conferencing
Chat / Forums
Surveys
Podcasts
Social Media
Recognition and Rewards
And So Much More!
Here at GaggleAMP, we use our own employee advocacy platform for our internal communications. It houses our chatter about our favorite TV shows and our pets, serves as an acknowledgement channel for employees, and even a sound board for new ideas or product development thoughts.
For example, Dean Agen, a Client Executive here at GaggleAMP, used our internal communication channels in our employee advocacy tools to notify the team of his upcoming webinar, Boost Social Media Engagement and Sales With Employee Advocacy - 7 Steps to Amplify Your Brand (here's the recording if you're curious).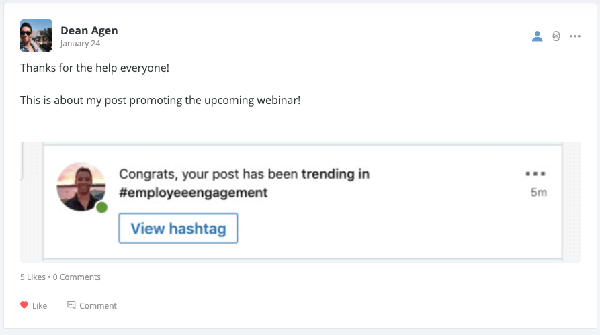 Here you can see the clear correlation between communicating the initiative internally and the external output. More people in our company shared Dean's post about his webinar, which led to it trending for the associated hashtag. It also increased the registrations to the webinar. The internal communication of the goal, amplified externally, helped reinforce the goal of achieving more exposure to the webinar.
How Do You Promote Internal Communications in 2021
Every organization is unique, so the employee engagement strategies each one employs will be unique. In order to have your employees utilize your internal communication tools, it's important to:
Encourage dialogue
Relay goals and objectives
Establish processes
Survey employees
Listen to your teams
It doesn't matter which effective employee communication tools you purchase if no one is using them. Your employees are more than subordinates - they are part of your team. They want to feel appreciated and important. If you aren't listening to their concerns and encouraging two-way communication, your internal communication strategy and employer branding strategy will fall flat.
You must remember to share information, create vertical & horizontal comfort, encourage employee buy-in, have transparent goal setting, utilize digital workflows, promote mobile usage, and promote feedback in 2021.
Sharing Information in 2021
Reinforcement matters: internal communication tools for employees at your organization must be brought up, and used, in team meetings. This shows executive buy-in, adoption awareness, and increases the chances your employees will use communication tools in the workplace. Remember, these tools need to be accessible for both remote and internal teams, as well as in different regions if you have a global team.
And, don't forget your policies may need to be addressed to encourage the sharing of information in these channels. Usually these policies can be found in your employee handbook.
Vertical & Horizontal Comfort in 2021
Gone are the days where all information is communicated from top to bottom. Today, communication comes in a variety of forms, across a number of channels, and freely flows from the bottom up, and the top down.
When communication freely flows, teams are more engaged. In fact, according to Gallup, highly engaged teams are 21% more productive than their disengaged counterparts. When employees feel more engaged and productive, their voice is heard, boosting employee satisfaction.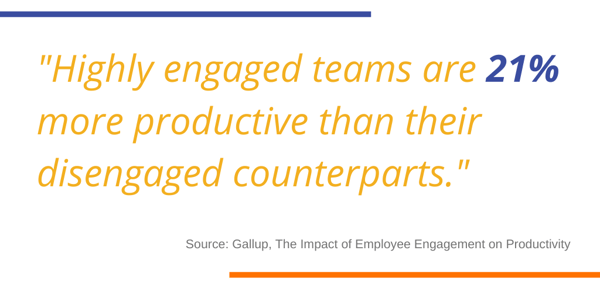 Today's workforce looks for an open door policy with a digital twist. Using a digital platform for internal communication facilitates a faster cycle of communication between employees, fosters collaboration, and increases trust in the process. Simply put, ideas are communicated faster and it fosters collaboration from all areas of the organization.
Employee Buy-in in 2021
If employees aren't willing to utilize your organization's employee communication tools, it might be time to figure out why.
Sometimes employees get their information from another communication channel because employees aren't checking the internal communications tools. Other times, they view these channels as noise and not pertinent to their role in the company. And, from time to time, the employee may not have a good technology fit.
To get buy-in, you must show buy-in. Executives, department leaders, and influential team members in your company should communicate on internal communication tools to get buy-in elsewhere.
Listen to employee ideas and concerns before you make process changes. Don't forget to review current communication methods and if additional training will be required when leveraging an internal communication platform. No one wants to be on a learning curve at work, so make sure you understand the types of internal communication tools your employees will be comfortable with before you make the switch.
Transparent Goal Setting in 2021
Your company goals should not be a secret to anyone at your company, no matter their title. In order to encourage communication between employees, managers, directors, and executives, goals for the company's performance must be transparent. Transparent goals help all departments work towards the same common initiatives.
For instance, if your company has a goal of increasing blue widget sales by 10% this year, marketing will create messaging around the blue widget and promote it on the company website. Customer success may talk about using the blue widget in addition to other widgets for customers. But if sales is only pushing the red widget, you're working against each other.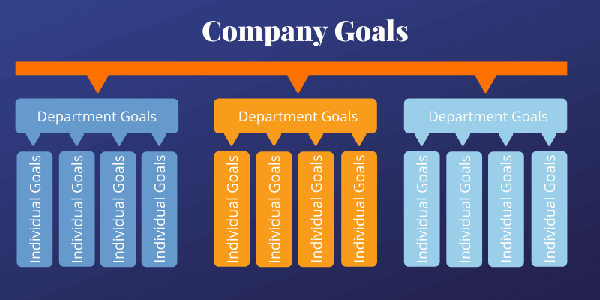 This doesn't mean that you have to give up individual goals either. It means your goals may work in concert with a larger company goal.
So, if your company has an overall goal to increase leads by 10%, your marketing team may be responsible as a department for overseeing the SEO strategy and thereby website traffic and onsite leads. And, the individual contributions may be responsible for optimizing their conversion rates on landing pages, creating specific pieces of content, or even making tactical adjustments to the website to increase lead flow.
The more transparent you are with your entire team, the more they will accept and utilize the communication tools you employ for your organization.
Digital Workflows in 2021
When you have a strong company internal communication tool, workflows become a modern company's best ally. Even without a remote team, digital workflows help organize the flow tasks and projects that can often act as a replacement for meetings.
Think about it - digital workflows create sequences, processes, and assign tasks automatically. It takes redundant discussions and automates them while allowing the company to keep watch over activities, deadlines, and where our teams are getting stuck.
It also allows an organization to truly surface important meetings over those that create noise - we all have seen and been a part of a meeting that could have easily been an email.
When employees have a better recap of meetings that directly impact their day-to-day activities, they will perform better. It also gives them a lookback period to see how activities and tasks progress overtime - something that is often lost once a task is crossed off the proverbial to-do list.
Mobile Usage in 2021
As our world in 2021 becomes ever more dependent on mobile devices, so do companies and their employees. Mobile integrations are vital for internal communications because they create information that is easy to view on the go.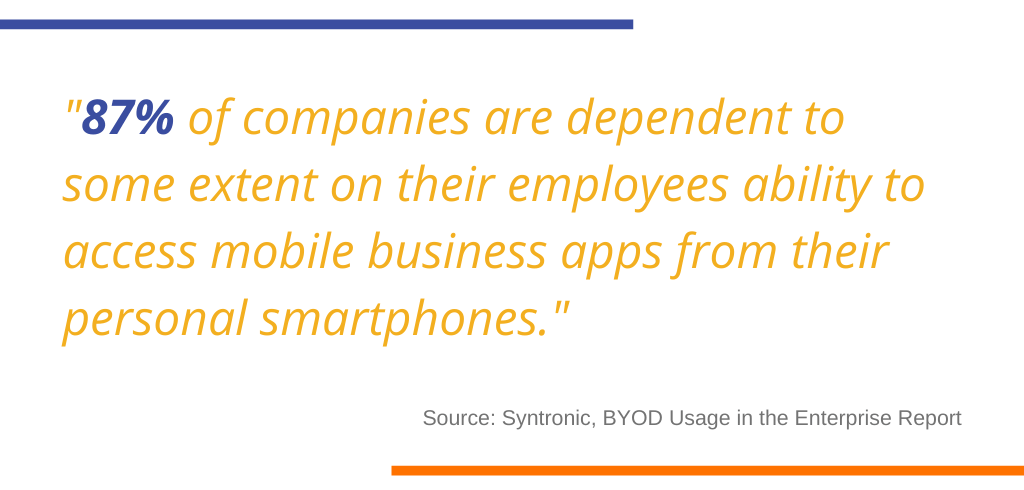 Simply put, we're in a mobile on-the-go culture and having access to everything we need in the palm of our hands is a necessity, not a request.
According to Syntonic, 87% of companies are dependent to some extent on their employees ability to access mobile business apps from their personal smartphones. This gives employees instantaneous access to company records when on the go, and in a means of communication many employees are familiar with.
Feedback in 2021
You have a concern. Are you able to voice it? More importantly, do you feel like you can voice it?
Those that answer yes to both of these questions are likely happier and more engaged in their company because they feel their feedback is warranted. If you feel like you can't voice your concern, you may feel a bit more stifled and uneasy. And sometimes, your employees may just plainly be uncomfortable voicing concerns.
Internal communication tools help employees voice concerns. Employee surveys are a fantastic way to garner new information about how day-to-day operations can be improved along with current employee satisfaction.
Surveys can remain anonymous, which gives your employees peace of mind that they can truly voice their opinions and be heard. You may not always enjoy what they have to say, but you will facilitate two-way communication that keeps your best staff on payroll for years to come.
The Internal Communication Tools in 2021 You'll Need to Do That
GaggleAMP can help your organization share company related content both internally and externally to make social media engagement a breeze. We help you leverage over 50 different actions across social media networks. It allows you to surface internal content to the right teams, and creates a walled-garden to share content to aid in employer branding. Plus, we serve it all in a way that is frictionless to the employee, allowing them to share on social media quickly and easily.
Regardless of their location, companies can easily and comfortably access the information they need to make informed decisions and participate in collaborations. With mobile applications and desktop versions of GaggleAMP available, all users can efficiently participate in communication with anyone in your organization.
Better still, our platform is easy to use and easy to learn, so onboarding and training time is minimal. This means your employees can quickly get started, which will improve your internal communication tactics and strategies. Plus, we make administrative support easy. Rather than a giant content library, admins can group and tag employees. This allows managers and directors to control which employees see specific information. This aids in decreasing information overload and increasing productivity.
The Best Internal Communication Tools Solve ALL of These
GaggleAMP is the platform trusted by companies across the globe to facilitate internal communications strategies between employees and departments. However, GaggleAMP isn't just a solution for employee communication. This is the only platform to provide all-in-one solutions such as:
We've assisted businesses in all industries with employee communication, internal messaging strategies, KPI achievement, social media growth, and more. Check out our latest case studies to learn more!
Request a Live Demo!
Employee internal communication is vital to any company's success. In order to encourage it, you need the right tools on your side. We want to help your organization succeed and retain its best employees, which is why we offer a FREE, no obligation live demo! Contact us today to get started.