Instagram is a great content marketing platform -- for the right brands. Keep your goals in mind, and align them with the market on Instagram to reap the most benefits.
Social media is essential nowadays when it comes to content marketing, and most big companies already have their foot in the door with several programs like Facebook and Twitter. Instagram is one of the newer social media outlets that can leave old-school marketers scratching their heads. Click here to read about how to generate social media content. Nevertheless, companies continue to take the plunge on this picture-sharing application. Unfortunately, many of these businesses begin their Instagram journey only to find out that it was not the social media boon that they had hoped for. Like all marketing avenues, your business will first want to decide if Instagram is appropriate for your brand. Is Instagram right for your business?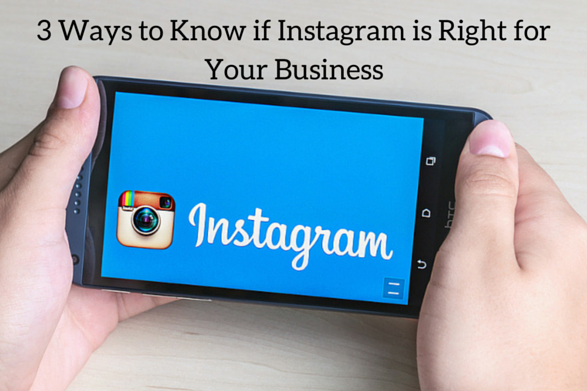 Instagram is a highly visual marketing platform where users share images with text captions to convey their messages. With over 400,000,000 users and counting, Instagram is a platform that simply cannot be ignored in the world of content marketing. As with any marketing avenue, there are pros and cons that could make it suitable or inappropriate for your business to utilize. Check out some of these statistics:
There are 400 million active users of Instagram,

77.6 million

of them right here in America

Users spend 90% of their time on Instagram using the mobile app, making it the most mobile of any social media platform

42% of the marketers surveyed said they had plans to increase their use of Instagram in the future
When you look at these statistics, you may already be connecting the dots between the user database statistics and your company's goals. What's your product? What characteristics do most of your customers share? Who is your ideal customer? All of these basic marketing questions paired with the correlating Instagram statistic can help you to sort out whether or not an Instagram account for your brand is worth the investment.
When considering Instagram for content marketing, you'll want to consider answers to the following points:
Do you sell visual products?

With Instagram capitalizing on pictures as the main source of its user connections, it's important to note that all of your company's ongoings on this platform will need to be rooted in engaging visual content. The good part about this is that if you sell a typically

unsexy

product, you can use Instagram to bolster your product's image -- as well as your company's perception. Use Instagram to get more creative. You can use Instagram to build reputation by following your employees community efforts and such and then sharing those images on Instagram instead of product images.
Is your marketing mobile?

One of the most important statistics from Instagram is that users will spend a majority of their time on the platform via their mobile device. This means that your company MUST be mobile-friendly if it's to truly reap the benefits of this social media platform.
What's your goal?

Your business can only include a clickable link in its bio -- not on the posts themselves. This means that you're likely to see very little in the way of clickthroughs via Instagram. Instead, you're utilizing this platform for

reputation management

and customer relations. Don't rely solely on Instagram to do the bulk of your content marketing.
Instagram is a great content marketing platform -- for the right brands. Keep your goals in mind, and align them with the market on Instagram to reap the most benefits.