Studies show that engaged employees are not only happier but also deliver better customer service.
It's no wonder, then, that more and more companies are looking for ways to create an engaged
company culture
to maintain an environment of satisfaction among their workers.
In this article, we're going to look at ten ideas that will help you increase engagement among your employees (both internally and externally), and strategies to encourage more of them to become ambassadors for your brand.
1. Hire Based on Culture Fit
According to a study conducted by Glassdoor, 77% of adults in the US, United Kingdom, and France state that company culture is more important than salary in regard to job satisfaction.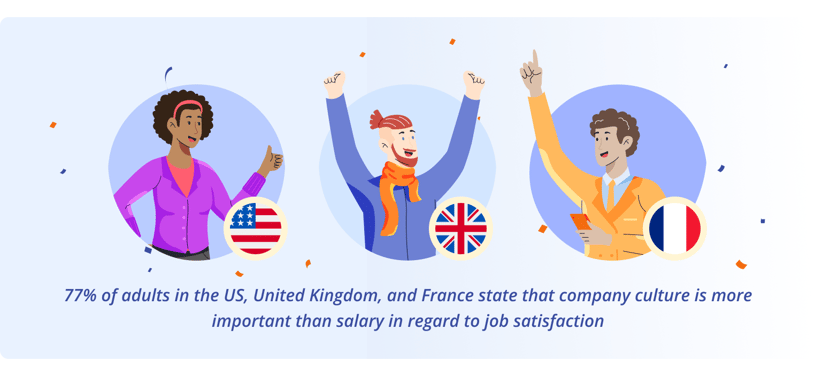 Companies that have a strong culture and hire based on culture fit experience improved employee performance and retention.
They also have a better recruitment process overall, and a person hired according to culture fit is a lot more likely to become a valuable resource for the company - even if the original position doesn't exist anymore.
A strong organizational culture helps employees work together to better adapt to business changes.
Here are a few tips to help you hire for culture fit the right way:
Make culture part of your employee attraction, selection, and retention processes
Create a set of values and clearly explain how they translate to the employee's new role
Include a page on your website about your company values
Use

web design tools

to ensure your whole website reflects your brand culture
Reference company values when advertising for the role
Discuss company values and culture during the initial interview
Ask potential hires questions that are directly related to your values
Include cultural induction in your induction process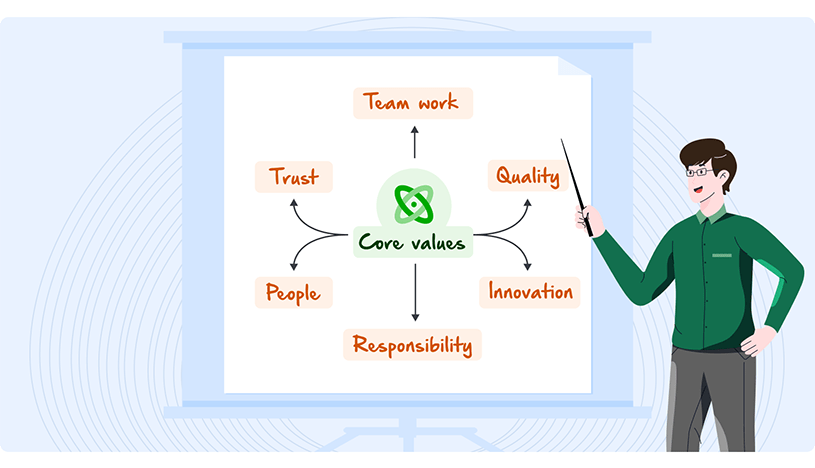 2. Create a Culture of Respect in the Workplace
Companies are always looking for ways to create a culture of respect in the workplace, and one way to help you build a strong culture is to make sure your employees are just as passionate about your brand as you are.
This means communicating with them about your company's goals and values. Use those shared ideas as a way to create a sense of teamwork, unity, and respect to make it easier for employees to represent your brand online.
Think about what they find enjoyable and incorporate those things into your work routine as part of your efforts to show them how they are valued and respected.
Here are a few tips to help you create and maintain a culture of respect in the workplace:
Find ways to bake it into your company values
Define the culture and update supporting procedures and policies
Focus on diversity and inclusion as a key factor in your decisions and processes
Lead by example and show employees that you care
Involve your employees in the development of company culture
Be supportive and encourage everyone to be themselves
3. Follow Through on Promises from Leadership
As a leader, a lack of follow-through will cost you your credibility. You should never make promises you can't keep, but once you've made a commitment, it's important to show up on time and follow through on it.
As a leader, when you fail to meet your obligations, your teams or employees are left feeling unimportant and disrespected. They may lose trust in management and believe little of what is said thereafter.
This can greatly affect employee morale and engagement.
Luckily, there are things you can do to protect the perception of your leadership and maintain engagement among your employees.
These include the following:
Identify your company's top priorities and communicate them often
Use scheduling tools and software to prevent overlapping commitments and avoid over-committing yourself
Repeat commitments in your wrapup and write them down immediately in your calendar, together with the completion date
4. Listening Activities and Actions to Follow
Another step to help boost employee engagement is to implement listening activities and actions to follow in your company.
Listening is key to employee engagement. If you aren't listening to your staff, you likely won't find insights that will help you improve management policies.
The good news is that the process of listening doesn't have to be complex.
For instance, you can use employee engagement surveys to gather feedback from workers. Just remember to keep the surveys anonymous to maintain employee privacy.
Asking for feedback in this way shows employees that you care and that you're willing to listen. But, the most important part is that you take action on the insights you've gained. This will help you build a more engaged workforce without spending big.
5. Implement Effective Communication Strategies
Happy and engaged employees will be more loyal to your brand. But, before you can ensure their happiness and satisfaction in the workplace, you must first open the lines of communication so you know exactly how to improve your workplace culture.
Here are a few tips to help you manage internal communication and improve employee engagement.
Use the right

team communication tools

to facilitate effective communications
Create an open environment so your employees aren't afraid to speak up
Use suitable

expense management software

to enable seamless collaborations between your Finance teams and employees while also preventing fraud
Provide opportunities for feedback (both formal and informal)
Be very specific with instructions and tasks
Celebrate milestones and achievements on individual and team levels
Neal Taparia, a serial entrepreneur who runs a gaming company, I'm a Puzzle, suggests that an email is an effective tool.
"I sent a weekly email to our entire team about our progress and the major accomplishments of the week. It aligns our team to our mission, creates transparency, and keeps everyone motivated," he said.
6. Regular Check-Ins from Leadership to Employees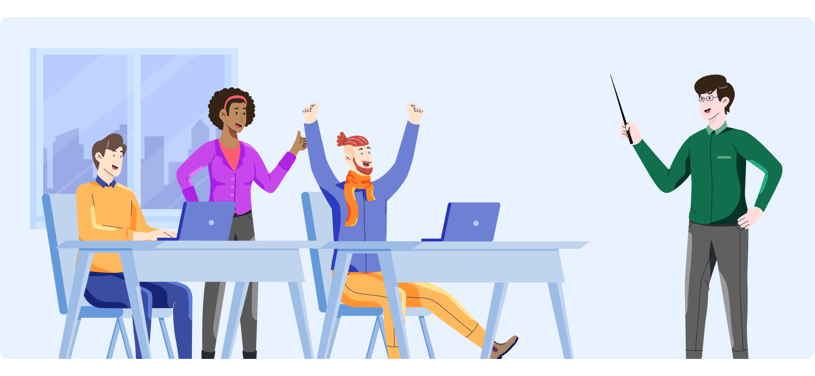 Regular check-ins are another important way to increase employee engagement and build a stronger strategy that will help you create more brand ambassadors.
During regular check-ins, leaders must ask for feedback. Keep in mind that your way isn't always the only way - or even the right way, for that matter (although it can be hard for a leader to think this way).
Use regular check-ins to ask your employees for their points of view. This will help you gather feedback and also make your employees feel valued.
In addition to holding regular meetings, you can also use surveys and interviews to receive actionable feedback from your workers.
7. Communicate What's Being Done in Their Interest
In order to build a strong culture of happiness and satisfaction in the workplace, you must put your employees first. Part of this involves communicating to them what is being done in their interest.
Keep open communication so your employees can understand that what they do matters to the overall success of the company.
This will motivate employees, make them feel more empowered, and result in a boost in productivity and engagement.
8. Develop a Strong Social Media Policy
Social media can be a powerful tool in helping you build a stronger company culture. It will help you boost engagement among employees and you can use it as a major part of your strategy to encourage more brand advocates.
Employees don't like to feel as if they are constantly being monitored by their boss, particularly when they are on social media during work hours.
So, if you want your workers to feel comfortable when they post brand content or interact with potential customers on social media, you must have a policy in place to encourage employee engagement on various social media platforms.
Your policy mustn't be designed in a way that discourages employees from posting anything, so don't include a huge list of "don'ts".
Instead, your policy should be based on transparency, common sense, and trust.
Just make sure it clearly specifies what employees can and cannot share on social media so no one accidentally posts classified company information.
9. Provide Basic Training
Many of the tips in this article are focused on boosting employee engagement. This one is all about what you can do to encourage more employees to become brand ambassadors.
One way to do that is to provide basic training.
Not every employee is social media-ready. By providing training sessions, you can help boost their marketing skills and make them better suited for brand advocacy. This is especially important if their work does not directly relate to marketing in any way.
So, for instance, you might hold a social media workshop every month where you highlight communities and social media networks where your customers hang out.
Encourage employees to participate and share content such as interesting snippets from their workday or resources others might find useful.
Zappos is an example of a brand that does this well.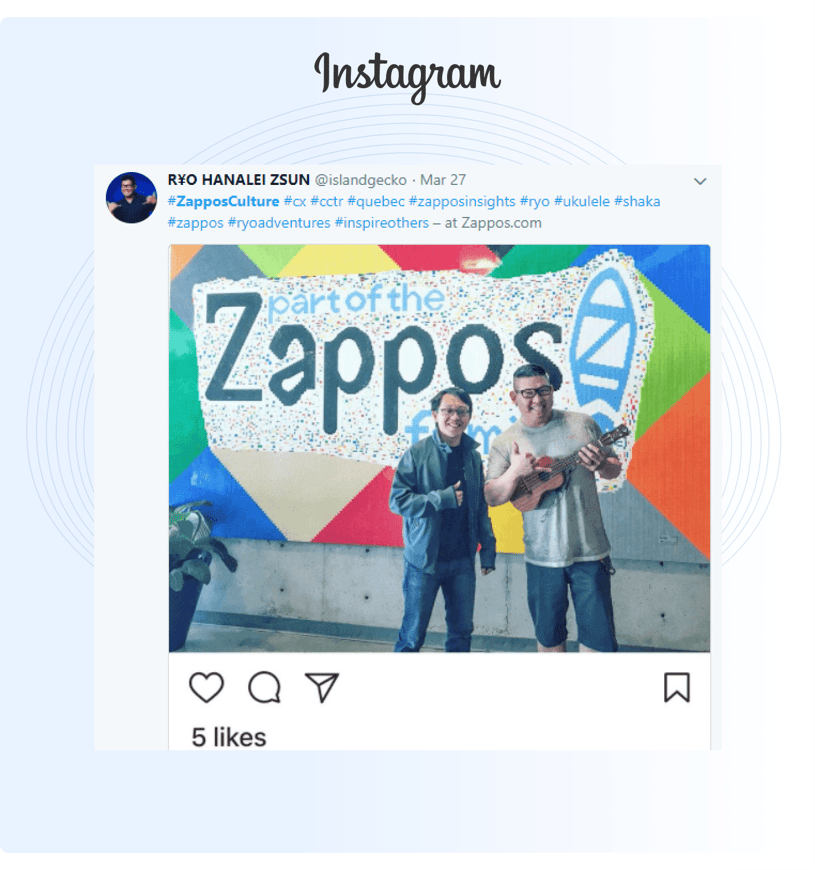 The company trains all new employees to use Twitter and encourages them to post interesting experiences on social media so customers and potential hires can get a glimpse into their company culture.
Another method that will reduce variable costs, in the long run, is creating online courses that don't have to be updated often.
Unfortunately, some employees will move on from a company for something else. While these strategies will hopefully keep them engaged as brand ambassadors long after they've left the company, you will have to train new employees to be brand ambassadors as well.
By building online courses, you can have a suite of easily accessible educational tools you can make a part of onboarding or just have whenever an employee might need to learn something new.
Online courses are a great tool because you can do so much with them:
Teach about the different aspects of being a brand ambassador
Using different social media platforms or other digital marketing tools to promote the brand
Understanding the brand and its culture
Highlighting key features of products or services sold by the company
I personally love using online courses to help my employees become brand ambassadors. Not only are they fun to create, employees really do enjoy them.
However, creating all these courses can take some time. Fortunately, there are many PLR courses you can purchase to help build brand ambassadors. This does involve an initial investment, but it's definitely worth it.
Pro Tip: You can use a free video editor to create training videos for your employees at a very low cost.
10. Make It Fun
A great way to boost employee engagement and create brand ambassadors is to make the entire process fun.
For instance, if you have an upcoming product launch or other big news from your organization, you might create a competition for your employees in order to make it more fun for them to help you build buzz around your events.
The contest will provide additional encouragement for employees to share content, and you can reward the post that gets the most shares, comments, or likes.
You can also involve the team in activities that require critical thinking skills or physical strength.
When employees enjoy what they do, you will only get the word out about your company or product, but you'll also boost employee engagement without adding extra expenses to your marketing budget.
Contrary to what many business owners think, customers aren't your most important audience - your employees are.
They are the face of your organization and it's important to maintain engagement among employees if you want to transform them into eager brand advocates.