If you want to recruit top talent or find a new job, TikTok might be your biggest untapped resource in social media recruitment.
TikTok is, by the far, one of the fastest-growing social media platforms to date. More than 383 million people downloaded the app in the first half of 2021, making it the most downloaded non-game app during that time, according to CNET. However, you might not equate this social media giant to being a revolutionary way of getting hired or recruiting top talent, right?
Well, it's true!
B2B companies look to TikTok to find the right talent. With TikTok's user base growing, it's the perfect opportunity for such companies to use it in their recruitment endeavors.
In this article, we'll explain why TikTok is an effective job recruitment tool, and how you can use it for your next recruitment campaign.
TikTok's Winning Format
Social media recruitment works.
If you're looking for a new job, you're likely going to update your social media profiles. If you're a recruiter, you spend quite a bit of time on LinkedIn. But if you know there is a giant network out there that has people on it who are looking for applicants and people looking for jobs, then it might not be a good idea to ignore it. Drawing in more opportunities is about casting a wider net.
"TikTok is effective for social recruitments these days, due to its ability to attract viewers," says Harold Cambridge, a business journalist at Britstudent and Australia2write. "Its winning formula lies within its video-sharing format. With TikTok videos being typically short and bite-sized for viewers... people can get to the point quicker than going onto a long monologue. This logic is ideal for marketing since people want brands to be to the point. Therefore, it's no wonder that businesses are taking advantage of this form of strategy when recruiting new employees."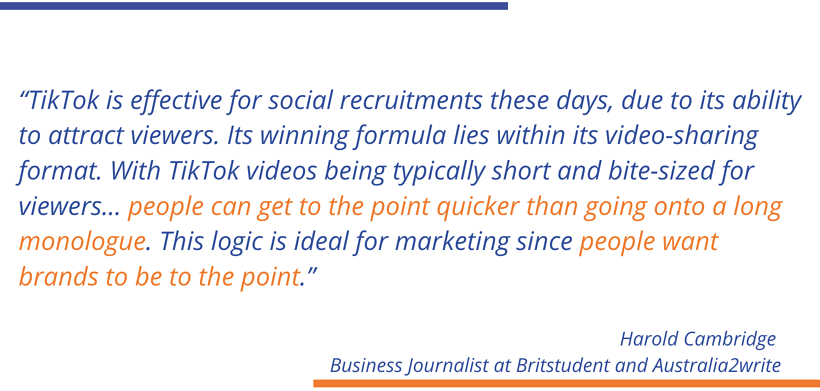 Rather than reading a long, buzzword-filled, job posting to learn about a position, job seekers can hear from someone at the company briefly describe the job and the organization.
TikTok Usage For B2B Companies
Although TikTok won't promise overnight success, B2B companies realize it's a good investment for the future. Such companies wonder more about the future – 5 to 10 years from now – than instant gratification.
TikTok personalities have to make an impression with very little time allotted to them (from 15 seconds to 3 minutes long). This means B2B companies that master the art of making engaging short-form videos will attract many people and see more success in their recruitment efforts.
With that in mind, let's look at the major benefits of using TikTok in job recruitment efforts:
Benefit #1: The Ability To Share Information
TikTok allows people to be themselves online. any B2B companies look for authenticity. If employers like what they see, then they'll reach out to the candidate.
TikTok is making a big push to attract job seekers and said that the hashtag #CareerAdvice drew in over 80 million views per day in February.
Benefit #2: The Ability To Showcase A Business
Employers use TikTok to their advantage by giving people a guided tour of their business. Showcasing your B2B company allows you to be upfront about what's going on in your business, how employees work, and what your company culture is like. Express your company values, show off highlights of company events, and show testimonials of employees explaining why they love their jobs. The goal r is to be authentic, upfront, and fun.
Benefit #3: The Ability To Reach Out To Top Talent
There are many people on every social media platform, and you might already get a large number of resumes for your open positions.
The difference with TikTok is you can get a sense of who someone is, what they value in a new opportunity, and what their story is, all through a simple and short video.
"Great talent can come from many walks of life," says Gary Lars, a recruiter at Originwritings. "TikTok serves as a bastion of many walks of life...Rather than rely on a regular job board, companies can look at TikTok and find the best of the best in their industry, no matter their past experiences or educational level."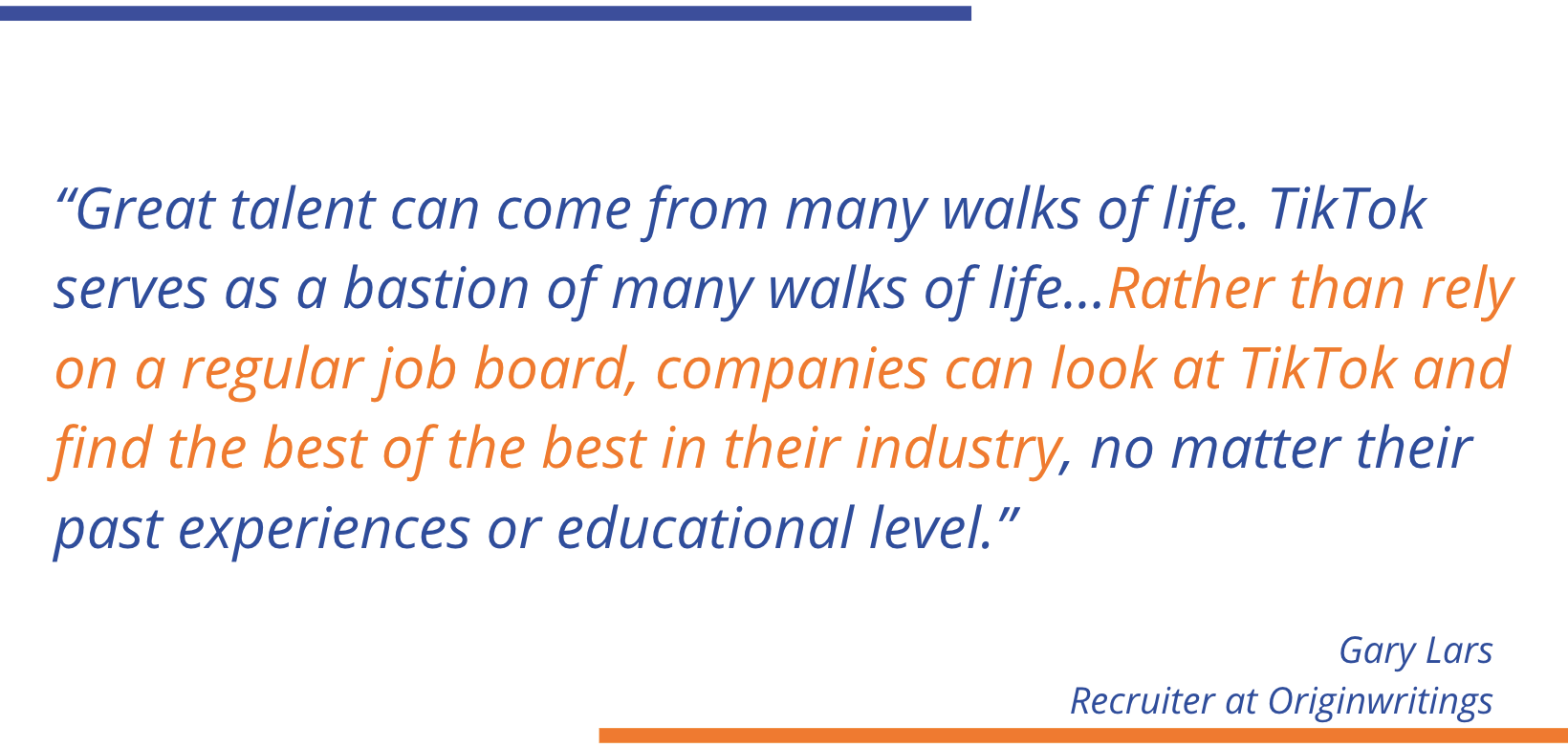 How To Use TikTok For Job Recruitment
So, now that you know the great and practical benefits of using TikTok for job recruitment, let's look at some of the ways you can get the social media giant to work for you and your B2B company.
Educate your audience on what your business is about. Show them what's expected of the position, as well as the benefits and perks of joining your team.
Show how excellent an employer you are. Let your current employees give their testimonies of how you and the business have changed their lives for the better by working for you.
Allow employees to get involved with your job recruitment initiative. You can have them share great things about your company on social media, including TikTok, provided that they stay professional and safe about it.
TikTok can be a gold mine of opportunities, especially when it comes to finding great talent for your B2B organization. The key to success on TikTok is knowing how to represent yourself and your brand the right way. Social media recruitment on any platform but you need to know how to spread your message in a way that makes sense to that specific social network. Once you do, you can find top talent or find an opportunity that makes sense for you.

George J. Newton is a writer for Academic Brits and PhD Kingdom. He is also a contributing
writer for Custom Coursework. As a content writer, he writes articles about employment,
education, and coding.