Plenty of brands can generate leads on social media with paid ads, though there's also a massive opportunity to generate qualified leads organically on social media.
The traditional social media marketing advice is to post high-quality content consistently.
While this strategy works remarkably well for driving leads through search engines, people on social media aren't necessarily online to learn more – rather, they're online to interact with other people.
So the key to getting more organic social media leads is making your content strategy humanistic by involving your team and interacting with potential prospects.
Incorporate Employee Advocacy
We already established that people get on social media to interact with other people.
So our go-to organic social media strategy is boosting employees' social networks and then leveraging them to promote key company initiatives.
In addition, social media algorithms tend to give more organic reach to social media posts published to personal accounts than branded accounts.
So we recommend you identify your highest converting lead magnets and then ask your employees to share them with their social networks.
Here's a great example of how you can leverage employees to promote key lead magnets:
The poster above then took employee advocacy to the next level by encouraging a few other fellow Microsoft employees to post the initial comments: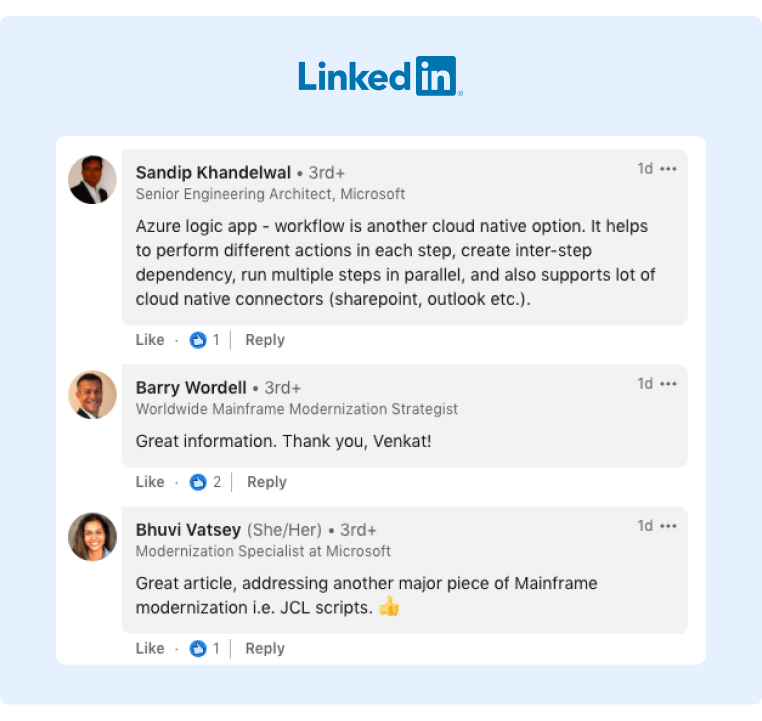 After gaining some initial traction thanks to those employee comments, people from other companies also began engaging with the content.
So if employee advocacy is so useful, why doesn't everyone do it?
It can be tricky to manage an employee advocacy program.
You might send some emails or Slack messages to employees, but over time, they usually become ignored. Given that manually tracking employee participation (especially in larger companies) is virtually impossible, employees never receive recognition for their efforts. In addition, employees might not know what content they should engage with or what they're allowed to say.
Over time, most managers give up because the lack of employee engagement makes it a negative ROI activity.
To solve this problem, we built GaggleAMP, which makes it easy for you to assign personalized activities to each employee at scale and track engagement rates. It also makes it super easy for employees to complete the engagement assignments from a single dashboard (and schedule them to publish later!).
Here's a brief overview of how it works:
Step 1: Create Engagement Activities and Assign Them to Employees
To get started, select one of GaggleAMP's many engagement cards for the social media platform of your choice (Facebook, LinkedIn, Twitter, Instagram, Pinterest, etc.). Then, you can choose the engagement action (like, share, comment, etc.).
You can also customize the engagement card with specific engagement instructions like a link to a post, pre-written text, and more.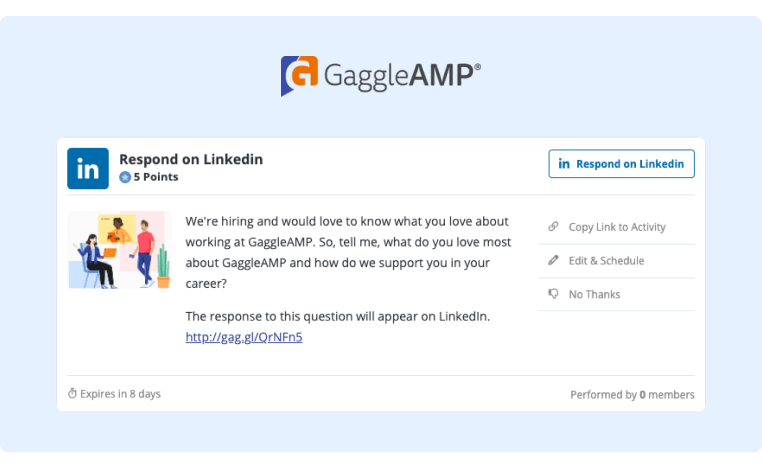 A key reason employees quit engaging is they don't know how to engage or what's appropriate to say. By providing specific instructions in the engagement card, you can significantly increase employee participation.
Once the card is completed, you can assign it to either individual employees or a group of employees (e.g., executives, the sales team, etc.).
Step 2: Employees Complete the Engagement Activities Inside the Gaggle
Once you finish assigning the engagement activities, employees are notified (via email or Slack) that they have an activity waiting in their Gaggle.
When they open the Gaggle, they'll see a list of specific engagement activities you've assigned and can complete them inside the platform. To make engaging even more convenient for employees, they can schedule each activity to publish at a future date/or time.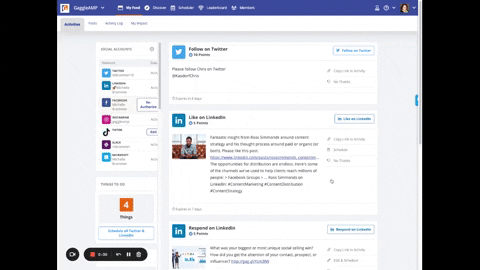 This way, they only have to block out a few minutes once per week to participate in the employee advocacy program rather than being constantly interrupted throughout the week to jump on social media.
Another unique benefit of GaggleAMP's structure is that each engagement activity has an expiration date. This means that once that date passes, the engagement activity disappears from the employee's Gaggle. We've found this can improve participation because employees are never overwhelmed with a long list of incomplete activities when they log into the Gaggle.
Step 3: Track Employee Engagement and Other KPIs
Finally, GaggleAMP makes it easy to track employee engagement with a detailed analytics dashboard. Specifically, you can measure metrics like:
GaggleAMP also offers a public leaderboard that ranks employees by engagement. This serves two purposes:
Ranking employees by engagement helps ignite friendly competition and makes it more fun for employees to participate.

Managers can finally track the most engaged employees and reward them for their efforts.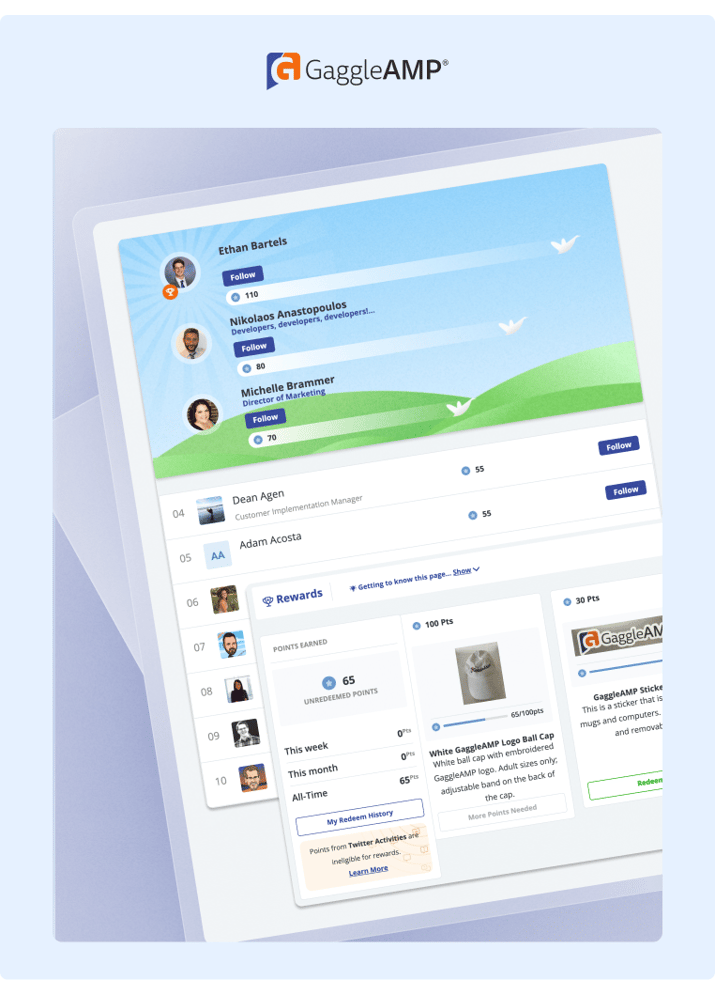 To see for yourself if GaggleAMP is the right tool to supercharge your social media lead generation, schedule a demo or try it out for free today!
Invest in Influencer/Brand Collaborations
A great way to get in front of your ideal audience is to partner with someone that already has a loyal following in your niche.
This could be an individual influencer or another brand with a parallel audience.
For example, if you're an SEO agency, you might collaborate with influencers in the SEO space or brands that offer SEO tools. The collaboration could be a webinar, data study, whitepaper, or podcast interview. Following the collaboration, create a social media campaign promoting it and track your conversion rate with a discount code.
Here's an excellent example of a collaboration between Orbit Media's CMO, Andy Crestodina, and Siteimprove's CMO, Kevin Bobowski.
To find the best influencers in your space, here are a few hacks:
Survey your audience and directly ask them which influencers they follow

Look at influencers you already know, and then look at

their

network. Who do they collaborate with?

Go to Twitter and type in the title of an ideal influencer for your company. Then reach out to those with more than 5,000 or 10,000 followers (depending on your size).

Look through your own social media connections and see who might be interested in collaborating
While the suggestions above are designed to generate B2B leads, plenty of ecommerce stores and other B2C/D2C sellers also use influencer marketing with great success. In fact, it's often much easier to collaborate with influencers on consumer products as you can use a tool like Upfluence to find influencers and manage the collaboration process for you.
Promote Customer Results
Another great way to generate leads on social media is to feature case studies of customer results and then ask employees to share the stories with their networks.
This can work well because case studies prove the value of your products/services, and the customer might also share it with their network.
The key to making case study posts successful is to leverage excellent copywriting. For example, rather than just saying, "We helped company X generate Y additional leads last month," tell a story about how you helped them achieve that success.
Here's a great example of how you can use storytelling to promote customer results: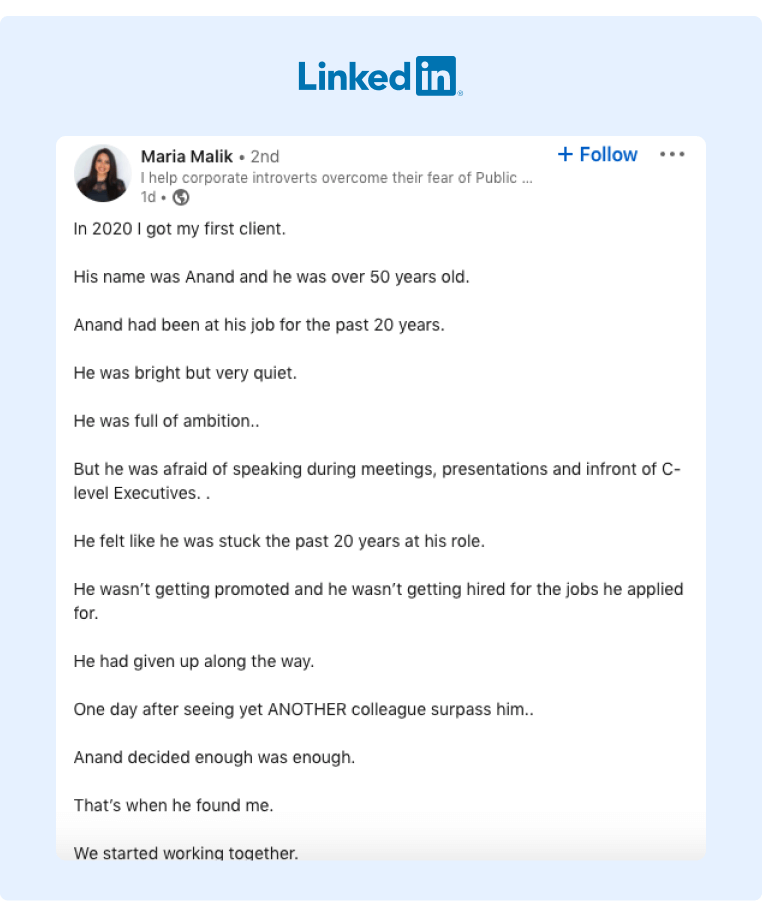 At the time of this writing, the above post generated over 1,600 likes and 160 comments. So if you're currently promoting any case studies, think of how you can rewrite them with a storytelling narrative. Even if you're promoting software, you can talk to customers using the software and discuss how it has helped them solve key problems in their daily work.
Create Chat Funnels
While chatbots aren't as popular as they used to be, there are some clever ways you can use them to generate high-quality leads on social media.
For example, you can program a bot to automatically drop commenters a link to a lead magnet. Codie Sanchez, the founder of Contrarian Thinking, has a few excellent examples of this tactic in action. Rather than begging people to sign up for a list, she teases a lead magnet and then has an automated chatbot that sends it to them:
Once you reply to the thread, the chatbot sends you a link to the landing page for the lead magnet, where she captures your email address. It's also worth noting that she requests people retweet her initial post. This tactic seems to have worked out quite well, as she currently has over 400 retweets.
Obviously, this method is much more effective if you already have a significant following, but if not, you can leverage employee advocacy with a tool like GaggleAMP to achieve the same results.
Run Referral Campaigns
One of the best ways to supercharge your lead generation efforts through social media is to run a referral campaign.
When you launch your referral campaign, get the word out on social media with a post like this one:
In the comments, people can access a referral link and send it to their friends and family.
However, the referral campaign itself should be your customers promoting the brand for you. Here's a creative example of a user promoting the popular email marketing tool, ConvertKit, by discussing his favorite features.
For companies selling a higher ticket item, consider emailing customers individually and personally asking them for referrals.
If you're also interested in generating more brand awareness, you can run a contest or sweepstakes competition where customers use hashtags to participate.
For example, the popular business podcast, My First Million, ran several contests where people chopped up their podcast clips and posted them on social media with the hashtag "mfmclips."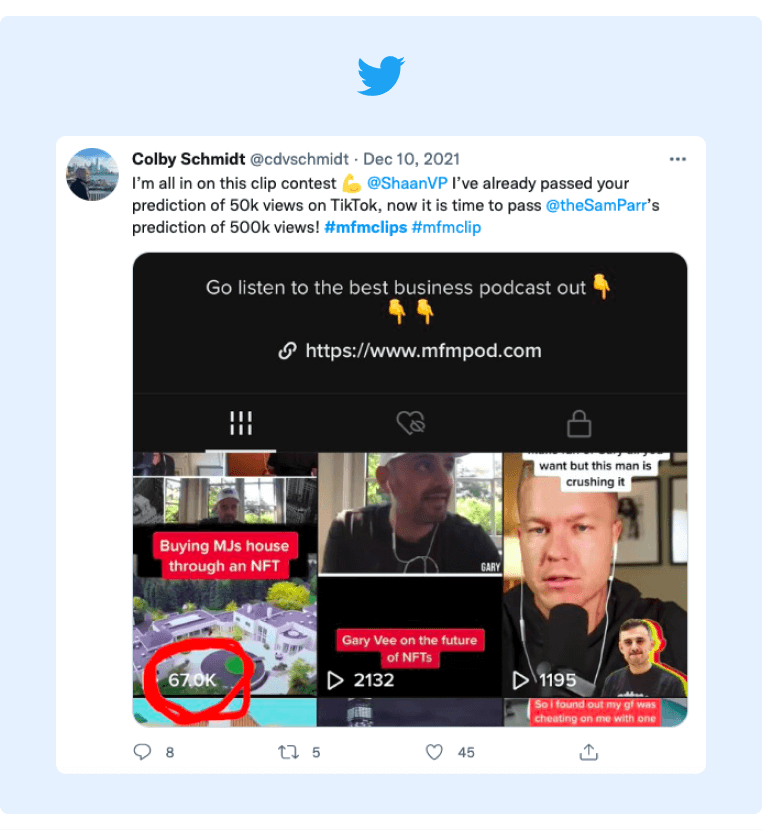 Those who generated the most engagement won a cash prize and received a shoutout on the podcast.
Leverage Social Listening
Social media is a unique marketing channel because you can see what your customers are talking about and track their pain points.
While finding a list of customers and tracking every single social media post they publish isn't really feasible, you can use a tool like Mention or Awario to do this for you. These social listening tools allow you to track relevant keywords and then alert you when they are mentioned on social platforms.
Here are just a few keywords we recommend using:
Competitor brands

Core keywords (e.g., "employee advocacy tool," "employee advocacy software," etc.)

Pain point keywords (e.g., "employee engagement")
When you see a relevant conversation, jump in and add value. You can comment using either brand's page or ask an executive to do so for you.
For example, if you have an SEO software company, this is a perfect post for an executive to jump in and provide a valuable response: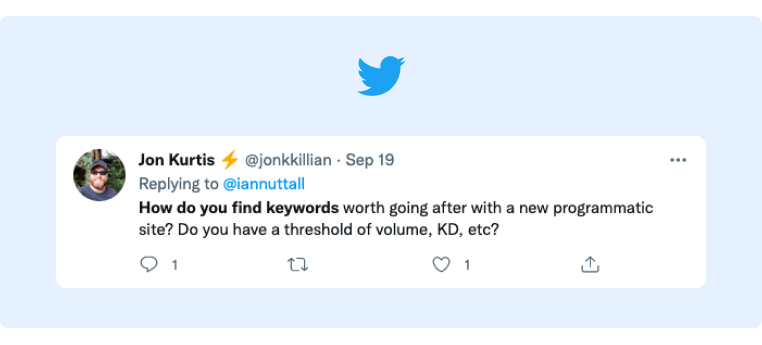 Ideally, you provide a valuable response and naturally work the product into the solution.
Below is an example of how payroll solution Rippling tracked the competitor keyword "Quickbooks alternative" and then jumped into the conversation.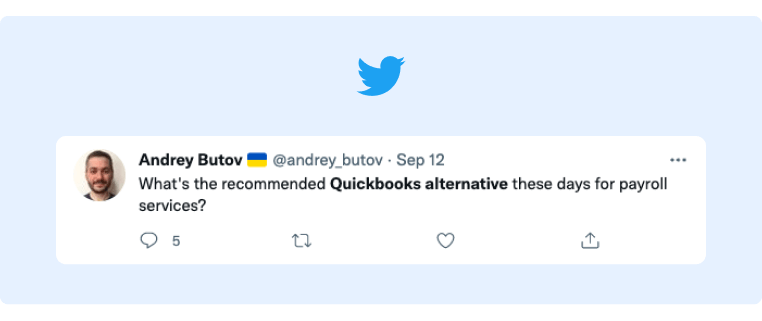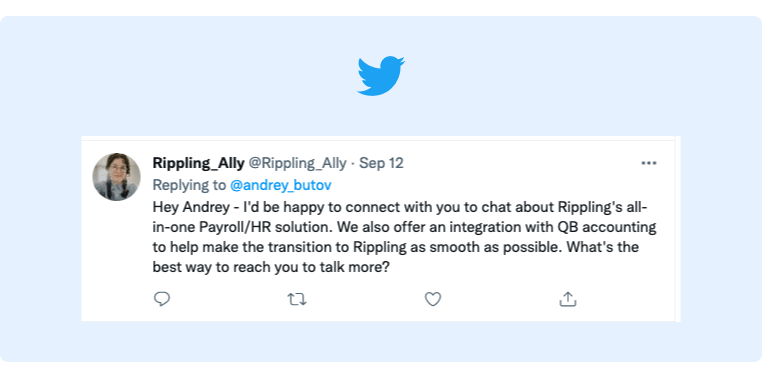 Run Paid Ads
All the tips above are methods to organically attract leads on social media, though paid ads will be even more effective once you've earned a loyal social media following.
To get started, look at your top-performing social media posts and run ads to those exact posts or variations of those posts.
You can also analyze your competitors' ads and swipe aspects of the ad itself and the offer/sales funnel.
Here are the various ad libraries for different social media channels:
Here's an example of what the Facebook ads library can show you: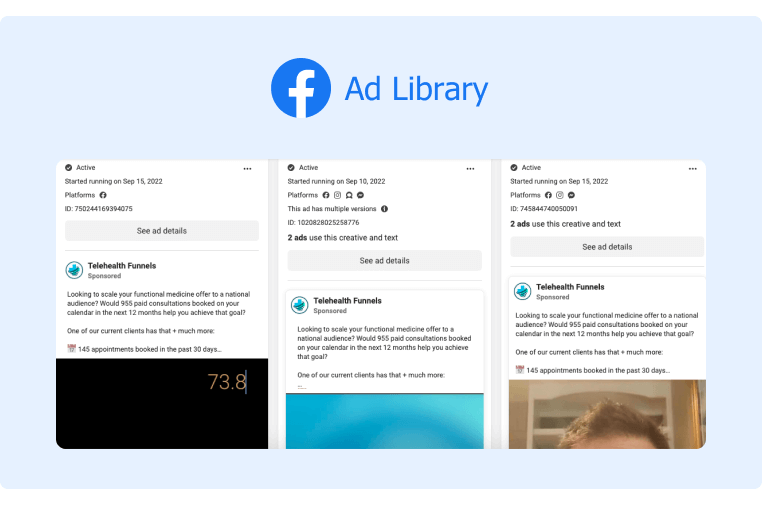 Unfortunately, Twitter, Snapchat, and Pinterest do not have an ad library at this time, though you can use a tool like Big Spy to view any of your competitor's ads.
Social media advertising is an entire subject in itself, though once you've launched your first few lead generation ads, here are a few things to consider testing and optimizing:
The title and call-to-action

The creative (video, image, text, etc.)

The copywriting (whether it appeals to emotions, logic, etc.)

The format (e.g., where the call to action button is placed, how the copy is presented, etc.)

The offer itself (an ebook, mini-course, etc. The topic can also be different)
In addition to testing the ads, you should also test the landing page you're sending them to and the lead gen form you're using. While you want to ensure it's a qualified lead and collect basic information like email and phone number, asking for too much information up front will reduce your conversion rate.
Beyond the form itself, ensure that the landing page offers valuable and relevant content in return for their contact information. A great filter to test whether or not the content is valuable enough is to see if people would pay for the lead magnet. If the answer is yes, it's probably a decent lead magnet.
Finally, you can also try running retargeting campaigns, which is a great way to lower your cost per click and generate more qualified social leads as they are already familiar with your brand and have shown interest in it.
Start Generating Leads on Social Media Today
Most people know about running social media ads, though organic social media marketing is an underrated lead generation tool that both B2C and B2B marketers can leverage to significantly increase their sales pipeline.
Given that social media channels are designed to facilitate interactions between humans, we believe that employee advocacy is arguably one of the most powerful lead generation strategies for social media.
By implementing an employee advocacy program, you're essentially leveraging an army of micro-influencers who wholeheartedly believe in your mission.
While running an employee advocacy campaign can be a logistical nightmare, we built GaggleAMP to solve these problems. To see how GaggleAMP can help you supercharge your social media marketing strategy, schedule a demo or try it out free today!