A rapidly growing number of websites use AMP pages, allowing them to work incredibly fast on mobile devices.
Having a fast website has a number of benefits for your company. The issue is that using the AMP framework can lead to tracking issues when you post these pages on LinkedIn, or when they're shared by content aggregators.
As you know, marketing is all about measuring. But if you don't trust your numbers, then what's the point? AMP pages are great for improving your website performance and page speed, but your social media analytics might look off.
Marketers often use custom URLs to track the performance of web pages. But LinkedIn and content aggregators, such as Google News, perform their own caching of URLs for AMP pages, which alters the link. By doing this, these pages get taken out of your tracking process.
If your social media analytics show that your LinkedIn traffic went down in the last year, this could be why.
What Are AMP Pages?
Accelerated mobile pages (AMP), is a framework created by Google that allows web pages to load incredibly fast on mobile devices.
Many major websites use AMP today, and it will continue to grow in popularity. It's free to use and leads to many benefits around user experience, search ranking, and more. Over 31 million domains and five billion web pages use AMP, according to the organization.

AMP integrated with LinkedIn in early 2019 and a number of content aggregators, including Google News in 2016. LinkedIn is the only social media platform that integrates with AMP, but more social networks could do the same.
How Does AMP Work?
The whole purpose of AMP is to make your web pages load as fast as possible on mobile devices.
AMP loads each element of a page all at once, rather than in a specified order. There is also less back-and-forth communication required between the page and the browser to identify what the layout of the page will be before it loads.
A key aspect of AMP is that it prioritizes what elements of a web page it needs to load the most according to what the user will see on the screen. This means that a web page doesn't load from top to bottom. Instead, AMP prioritizes loading the page above the fold.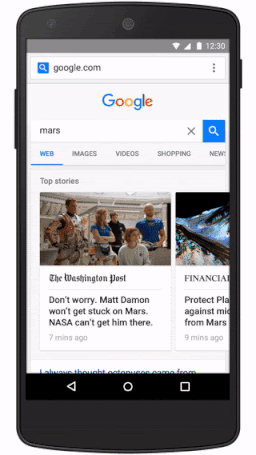 Source: Search Engine Land
For example, images and ads that are above the fold of an AMP page load before images and ads that are below the fold. By loading the elements above the fold of a page first, and all at once, they load much faster than a web page that's loading every element from top to bottom one by one.
The result is everything a user sees on an AMP page loads almost immediately, and the elements below the fold show up by the time a user scrolls down.
What Are The Benefits of AMP?
In short, the benefit of AMP is it makes your web page load faster on mobile devices.
This is a big deal. People are more likely to visit your website on a mobile device than on a desktop computer, according to Perficient Digital. If you have a faster website or app, people are likely to stay longer and visit more frequently. And it's a better user experience for the reader of your content.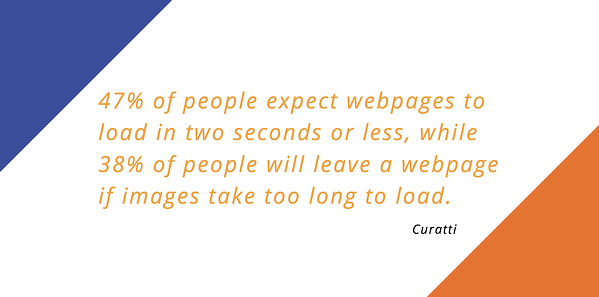 In fact, 47% of people expect web pages to load in two seconds or less, while 38% of people will leave a web page if images take too long to load, according to Curatti. Fixing these issues leads to lower bounce rates, more site visits, and will ultimately help your web pages rank higher in searches.
Not only will frequent visitors of your site recognize that your page is very fast, but people who see your pages on LinkedIn and content aggregation websites will notice the small AMP logo on your content.
Just take a look at the image below. I did a search on Google News for NBA player Jayson Tatum, and this is what came up: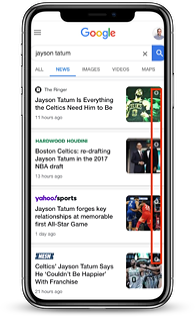 Do you see all the lightning bolt logos? Each of them signifies a piece of content that's an AMP page. Not only will Google be able to tell that you have a page that uses AMP, but it relays that to its visitors, and they'll recognize you have a fast page. Using AMP will help your content rank higher in Google searches, increasing your organic traffic.
AMP Pages Throw Off Social Media Analytics
There are some great benefits to AMP, but there are some drawbacks too.
For instance, you cannot post an email popup CTA on an AMP page. You can have other types of CTAs or ads on your page, but email popups will not work. This means you'd have to weigh the drawback of not having this capability with the benefit of a faster page.
AMP also makes it difficult to measure your website traffic and social media analytics. AMP pages can be difficult to track clicks and visits from content aggregators and LinkedIn. Both perform their own caching of these pages to signal that they are in fact using the AMP framework.
By caching URLs themselves rather than the owners of these pages, LinkedIn and content aggregators own the tracking of the page visits through their custom links.
Examples of Caching
Let's take a look at an example of what we're talking about.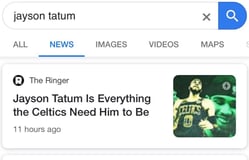 Going back to the Google News search of Jayson Tatum, you'll see an article from The Ringer at the top of the search. Again, we know this article is an AMP page from the lightning bolt logo at the top right of the preview.
When we click on the preview, we see the URL for the article, which I pasted below:
https://www.google.com/amp/s/www.theringer.com/platform/amp/nba/2020/2/18/21142101/jayson-tatum-boston-celtics
The bold and highlighted areas of the link were altered by Google News caches. Below is the link to the article that can be found by visiting the site directly and not through a content aggregator:
https://www.theringer.com/nba/2020/2/18/21142101/jayson-tatum-boston-celtics
See the difference? With content aggregators altering your URLs, it makes it harder to measure the traffic through unique links. This makes it harder to keep track of your content analytics and it's something to keep in mind if you want to trust your content or website KPIs.
Let's take a look at another example but this time of an article from CNBC posted on LinkedIn: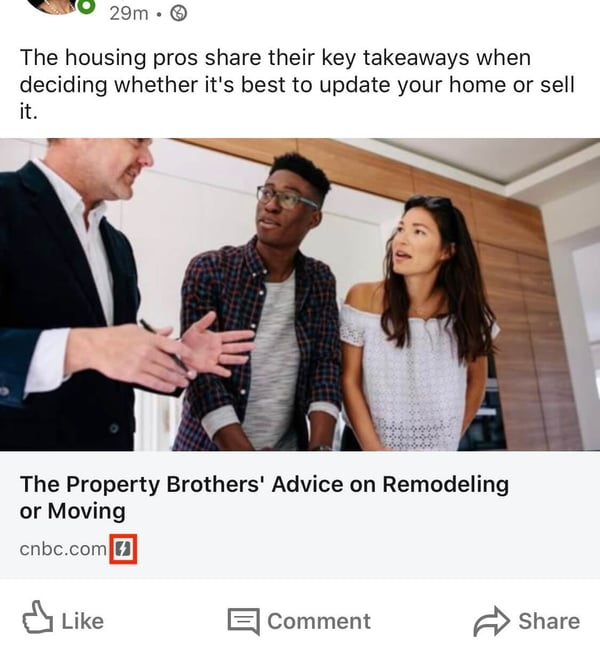 As you can see in the image above, the small lightning bolt logo is still apparent on the post to let you know it's an AMP page, just like it was on the Google News posts in the previous example.
Now, let's click on the post and take a look at the URL. Below is the link that appears, and the alterations to the URL by LinkedIn are highlighted and in bold:
https://www-cnbc-com.cdn.ampproject.org/c/s/www.cnbc.com/amp/2020/01/03/when-to-renovate-your-home-and-when-to-move-according-to-the-property-brothers.html
Below, is the URL of the same article when visiting the site directly without the AMP alteration:
https://www.cnbc.com/2020/01/03/when-to-renovate-your-home-and-when-to-move-according-to-the-property-brothers.html
See the difference?
Since LinkedIn alters the URL with the AMP tag, it's difficult for the owner of the page to track visitors. This is the same issue with AMP pages on content aggregation sites. It's extremely important to keep this in mind as AMP continues to gain popularity and will likely gain more integrations.
At the moment, LinkedIn is the only social media platform to integrate with AMP, but other social media platforms could pick up AMP eventually.
So What Can You Do?
Just to be clear, AMP does improve your visitors' website experience. It doesn't hurt your website traffic, but it can make it harder to measure traffic coming from content aggregators and LinkedIn.
You cannot use your custom short URLs to track how AMP pages perform on the LinkedIn mobile app. In order to view how traffic performs, you need to view the raw numbers on LinkedIn itself.
When LinkedIn alters your URL, it takes ownership of the tracking capabilities from you, and your custom short URLs will not track traffic from LinkedIn mobile app users. This is why you need to go to the LinkedIn Manager view to check your social media analytics for LinkedIn.
This may not be ideal for having this information on a single dashboard with all your other social media metrics, so you'll want to find a way to pull this data from LinkedIn so you don't miss out on important clicks.
If you'd like to learn more about how to optimize your social media strategy, click on the link below.