When you are thinking about your content strategy, what is one of the first thoughts that comes to mind? It might be how to get your product or service in front of a few key clients, so you write blogs to show up for those searching for your product or service.
Then, you might realize your product or service might be attractive to different audiences for different reasons, so you might write content to target that audience differently. That's the foundation of content segmentation, but what might that look like?
Say you are a mobile pet groomer and, to get the word out about your services, you write some posts for your blog about the fact you do mobile grooming and other grooming tips. In time, you might come to find you have three clearly defined content segments - dogs with humans, cats with humans, and dogs and cats with humans. If you are segmenting your content, you will only deliver dog grooming tips to those with dogs, right?
This is the basis of market segmentation and your content strategy depends on what your target audience is interested in and what channels you use to promote your content. This same strategy can be applied when running an employee advocacy program and asking your employees to promote your content. If you want employees across your organization to share your content, you need to keep their goals and motivations in mind.
This is where content segmentation comes into play. To understand how segmenting your content strategy works, you must first understand how to segment your employee population. You can split your workforce up into different groups based on how proficient they are at promoting messages on social media, but you want to take it a step further. What are their goals? What are their interests?
Someone from your sales team is not as likely to share a post about employee retention as someone from HR is. And someone from HR is not as likely to share a post about a software update as your developers are.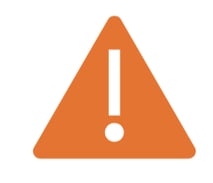 You need to align your content strategy with the goals of your employees. Segment your content the same way you'd segment your employee population. If your sales and marketing teams are going after a specific audience, you need to supply them with content that speaks to that audience. If your HR team is trying to promote a specific initiative, you need to give them content that talks about whatever that initiative is.
Who and What To Segment

You want to segment your content, your employee population, the audiences you're targeting, and your reporting of these separate campaigns.
When it comes to your employee advocacy program, you can segment your workforce by departments, and you can segment them by region if you're an international organization. For example, if you have an office in Germany, you'll need to supply them with content in German. If you have an office in London, you can still curate content from the U.S., but you should also mix in content from outlets in the U.K.
On top of segmenting your content strategy by department and region, you should also segment your audiences. The way you speak with partners is different from how you talk to customers, which is different from how you talk to prospective clients. Your messaging and tone may be different for each, so your content needs to reflect that.
What Goes Into Your Content Strategy Segmentation
A challenge a lot of companies face regarding employee advocacy is content curation and supplying the right content to your employees. The right content is that which is aligned with the goals of that employee and is of interest to their target audience.
There are four different categories in your content strategy:
Brand content
Internal content
Third-party/external content
Paid social content
Brand Content
This is your organization's content. It could be on industry trends and challenges, your products and services, and granular issues your target audience faces.
You want your employees to share this content organically. Supply them with content that's aligned with their goals, and give them a suggested caption for each piece of content so they can post it as if it came from them. You want these captions written in their voice.
The people who follow and are connected with your employees are more likely to engage with the content they share than if the same content and caption were shared by your brand account. Not only does this increase engagement and traffic towards your website, but it also presents your employees as thought leaders by providing valued insights to your target audience through the content they share.
Internal Content
This is content that you are not sharing outside of your organization right away. It's shared around the workplace to inform each other and is suggested content to share externally if the Manager of the employee advocacy program decides to use it.
This can also be user generated content, which is not only helpful for you in terms of your content curation efforts, but it's a huge boost to your content strategy. It comes off as more authentic and helps promote your employees as thought leaders.
You should identify and develop social media champions in your workplace, and collaborate with them to come up with high-quality social content. You can write content and captions for them, or give them guidelines on what to come up with. This content should always link back to a branded asset and should target a specific goal. Once your program champions post this content on social media, have everyone else in your program engage with it to give it a boost in reach off the bat.
Sharing content is important and of course, helps your content strategy, but employee advocacy is about engagement and connections. Suggest people for your program members to follow and engage with such as:
Employees
Executives
Influencers
Industry thought-leaders
It's also important to keep your members informed. Make sure they know when your brand posts new content, and send them third-party content and industry news. That way they are always in the loop on the latest updates.
Third-Party/External Content
No one likes people who only talk about themselves all the time. The same is true about your brand and your employees. They'll have a harder time building an audience if they only promote themselves and the brand they work for.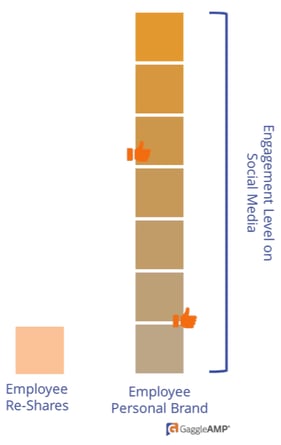 That's why it's so important to mix in third-party content that gives information and news that doesn't have to do with them or the brand. It could be about the industry you work in, but it shouldn't always be about you.
Furthermore, your employees don't want to share and retweet stuff about your brand all the time anyways. One of the biggest hesitations about employee advocacy is people worry about becoming a company robot on social media. If you only have them promote your brand, that's exactly what they'll become.
To have a strong program with real results, you need to build up your employees as thought leaders and help them with their own personal brand.
You should identify outlets and thought leaders who consistently provide valuable content that resonates with your employees and their target audiences. Follow these people on social media, and periodically check their feeds. Visit the websites of these outlets and subscribe to their newsletters. It's a great way to find content, build out your content strategy, and keep yourself and your colleagues informed.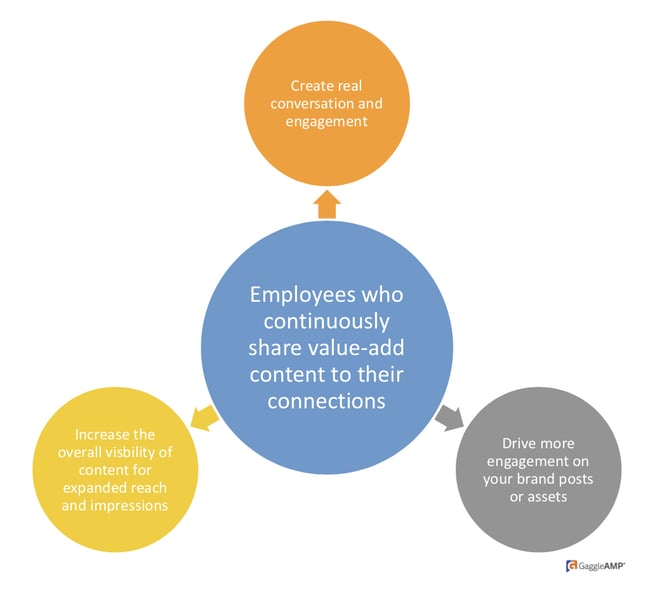 Paid Social Content
Employee advocacy is great for boosting your organic reach and organic traffic, but it can also lend a hand with your paid efforts as well.
Have your employees engage with your paid social posts to give it that little extra push to extend its reach. This will boost the impressions of the paid post because your employees' followers and connections will see it, but it will also lower your cost per click.

By using these best practices for your content strategy segmentation efforts, you will see great success. By putting these steps into action, you will improve the engagement of your content on social media, see more activity from your employees, and help them build out their own personal brands to improve their social presence.