The 'AMP Up Your Digital Marketing' Podcast Presents:
Finding Social Media Key Influencers with Todd Van Hoosear
Todd Van Hoosear is the VP, Public Relations & Stakeholder Engagement at the HB Agency (Hart-Boillot). Todd serves as a Vice President in HB's PR group, focusing on enabling better stakeholder engagement for HB's clients. Todd also teaches the New Media and Public Relations class at Boston University, which explores the effects of new media on the fundamental theories, models, and practices of public relations.
Todd recently joined AMP Up Your Social Media's host Glenn Gaudet to discuss how PR has changed in the past two decades and how important it is to find key influencers.
"You really have to spend a lot more time analyzing who your influencers really are and if they even come out of the journalism world. It might be a twitter handle of someone that works at a targeted organization or a kid in the basement with 100,000 followers."
To find your key influencers, Todd suggests asking yourself these questions:
What are your business objectives and goals?
Specifically, what are you marketing/PR goals?
Where are your customers and what are their interests?
What will it take to rise above the noise and standout amongst your competitors?
Based on the goals and objectives of your campaign and who your audience is, who are your top influencers?
Listen to Todd's podcast here.
Todd would love to hear from you! Chat with him on Twitter @vanhoosear or email him at vanhoosear@hbagency.com.
Subscribe and get the AMP Up Your Social Media podcast on iTunes or listen below. Tweet about the show using #AUYSM or Tweet at us @AMPUpSocial. AMP Up Your Social Media is a proud member of the FIR Podcast Network.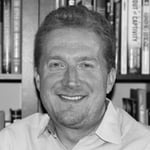 About Todd Van Hoosear
Todd's love of technology started as a child, when his dad would bring home chips and switches from his work in the electronics industry that would feed his imagination for years. Combining a stint as an IT guy with his education in PR and communication, Todd has helped clients in the engineering, mobile, cloud, networking, consumer technology and consulting spaces bring new ideas – and new takes on old ideas – to the market.
Todd believes in creating social organizations: in helping businesses use new and old media to create relationships that inform and empower their employees, customers, partners and supporters. His love of social media led to his role as the founder of the Social Media Club's Boston chapter, his subsequent involvement in the boards of the Publicity Club of New England and the Find Your Missing Child foundation, as well as his position as an adjunct professor at Boston University.
Todd loves walking, hiking, climbing, biking and, when he can get it in, swimming. While work and play have taken him overseas, his true passions lie in his own city, neighborhood and backyard.
Todd holds Bachelor's and Master's degrees in Communication from Michigan State University.
AMP UP Your Social Media is sponsored by:
GaggleAMP – Empower your employees, partners and resellers to amplify your social media.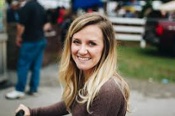 Stephanie Hacker
Stephanie Hacker is the former Content Writer at GaggleAMP.
Thinking About Starting an Employee Advocacy Program?