The 'AMP Up Your Digital Marketing' Podcast Presents:
Practical Techniques to get the Most out of Your Social Strategy
Simone Douglas is a Social Media Specialist trainer, presenter, and coach as well as founding partner of Social Media AOK, a social media agency in Australia. With 17 years of specialty experience in corporate management roles, she is considered an expert in her field of social media, risk management, and marketing strategy. Simone recently joined AMP UP Your Social Media's host Glenn Gaudet to discuss practical training techniques on how to get the most out of your social media strategies.
"Get into the habit of using LinkedIn daily...Send [those who have viewed your profile] a connection message!"
Simone discusses tips for getting the most out of your social media:
Don't forget the basics of business. Have a social networking marketing plan that keeps the human connection at the forefront. The way we do business hasn't changed in terms of human context, and many overlook this when attempting to connect with clients on social media - and that oversight could be costly.
Find your contact strategy. There's no right or wrong way to do this, but here's what I do: If someone sends you a connection request, you could potentially do business with them or ignore it - open yourself to connecting with them without a sale in mind. Grow your network with the idea that you're establishing peer connections.
Twitter is great for small talk. Use Twitter to reconnect and reunite with users! It's quicker than email, and you can tag those users to grow your relationships.
Remember the purpose. Investing the time, effort, and energy really boils down to more than simply connecting with a community. You're looking for sales, at the end of the day! Build relationships that can gain you customers and that are congruent with clients you're interested in, and foster their growth.
Face-to-Face scenarios are beneficial. Connecting via social media is a great way for extending your reach and growing your network, but fostering relationships by setting up face-to-face contact where possible can help to strengthen those ties.
Listen to Simone's podcast here.
Simone would love to hear from you! Chat with her on Twitter or connect with her on LinkedIn.
Subscribe and get the AMP UP Your Social Media podcast on iTunes or listen below. Tweet about the show using #AUYSM or Tweet at us @AMPUPSocial. AMP UP Your Social Media is a proud member of the FIR Podcast Network
.
About Simone Douglas
Simone is a Telstra Business Awards 2014 Finalist and prides herself on being creative and forward-thinking in life. She's also a member of Family Business Australia, a peak body committed to contributing to Australia's future through a dynamic and sustainable family business community. She values animal welfare as well as civil rights and human rights!
AMP UP Your Social Media is sponsored by:
GaggleAMP – Empower your employees, partners and resellers to amplify your social media.
SafeLinks – Know when your links on social media messages fail before you lose out on the people clicking on them.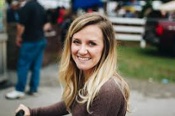 Stephanie Hacker
Stephanie Hacker is the former Content Writer at GaggleAMP.
Thinking About Starting an Employee Advocacy Program?