The 'AMP Up Your Digital Marketing' Podcast Presents:
How to Personalize Your Social Media Channels with Jason Mollica
Jason Mollica is the president of JRMComm, a public relations and marketing consultancy. He got his start in the business in radio and television when he helped launch Fox News Radio. He recently joined AMP UP Your Social Media's host Glenn Gaudet to discuss how JRMComm guides clients to engage in their social media efforts.
"Conversation on social media should be a two-way street. Make your audience feel like they are part of your brand or part of your product."
Jason shares tips on how to personalize your social media channels:
Start at your website. Make sure that you have identified who you are trying to reach and your website is appealing to that audience. Make sure your photos are crisp, you content is clean, and your design is fresh. All of your social links back to your website, so in a sense, it's the hub of your social.
Mix up your social content. Make sure you are posting conversational value add content that is not salesy.
When posting content about your brand, make people believe in what you're doing. Don't talk just about your company and your services or products, create a discussion around company culture. Maybe an employee spends her time helping on her lunch break at a food pantry, or maybe she volunteers at a cancer clinic because cancer has played a large role in her home life. Show your brand's personalities.
Listen to Jason's podcast here.
To connect with Jason find him on Twitter at @JasMollica or on LinkedIn.
Subscribe and get the AMP Up Your Social Media podcast on iTunes or listen below. Tweet about the show using #AUYSM or Tweet at us @AMPUpSocial. AMP Up Your Social Media is a proud member of the FIR Podcast Network.
About Jason Mollica:
Jason Mollica is the president of JRMComm, a public relations and social media marketing consultancy, located outside Buffalo, NY. He combines knowledge of the broadcast news industry, traditional public relations expertise, and today's new and innovative social media tools to assist clients in maximizing their full potential.
AMP UP Your Social Media is sponsored by:
GaggleAMP – Empower your employees, partners and resellers to amplify your social media.
SafeLinks – Know when your links on social media messages fail before you lose out on the people clicking on them.
Need help creating content?
Try these to tips to engage your employees to create content!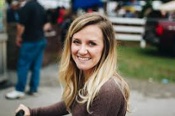 Stephanie Hacker
Stephanie Hacker is the former Content Writer at GaggleAMP.
Thinking About Starting an Employee Advocacy Program?