The 'AMP Up Your Digital Marketing' Podcast Presents:
Turning Social Media Relationships Into Business with Tony Zayas
Tony Zayas is the Marketing Manager for Proforma, a leading supplier of print and promotional products and graphic communication solutions in North America with over 750 locations and franchises nationwide. Tony recently joined AMP UP Your Social Media's host Glenn Gaudet to discuss how social media can help small business owners and entrepreneurs develop relationships that turn into business.
"Utilize social to grow web presence and to sell; not to sell directly on social, but to develop those relationships that lead to business"
Tony reveals his strategies on how to develop relationships on social media and how those relationships can lead to business:
Keep your content relevant to the end user. Think about your audience, and put together content that talks to them - not necessarily just about what you sell and your services.You should consider your content as a service; a very important service.
Utilize the resources of social media to find and interact with potential business leads. You need to find people to connect with, interact with them, and then, once you have a relationship, casually begin the business conversation.
LinkedIn has a lot of potential and is often underutilized. Make sure that after you connect, you follow up. Not a sales pitch, but a thank you or personalized message. Keep it friendly, encourage them to look at your profile, offer to introduce them to your connections; this interaction is what leads to a business relationship.
Watch this short video to see the results of Proforma's Social Media Sales Challenge participants, after they went through a 5-week training with Tony Zayas using GaggleAMP. A total of $271,000 in new business was reported by the participants in the 5 weeks that it ran (and since then, the number is well over $500,000!).
Tony would love to hear from you! To connect with him find him on LinkedIn or Tweet at him @TonyZayas.
Listen to Tony's podcast here.
Subscribe and get the AMP Up Your Social Media podcast on iTunes or listen below. Tweet about the show using #AUYSM or Tweet at us @AMPUpSocial. AMP Up Your Social Media is a proud member of the FIR Podcast Network.
About Tony Zayas
Tony Zayas is an award-winning digital marketer and strategist. As Interactive Media Manager, Tony coaches Proforma Owners in understanding and leveraging the tremendous potential that the digital frontier offers, as well as developing strategy and managing the execution and implementation of Proforma's new media initiatives, including social media, mobile, blog, web, and email marketing. A graduate of the University of Iowa, Tony joined Proforma in 2011 and brings over 10 years of experience in digital marketing. In 2013 Zayas was named as an inaugural winner of Smart Business Magazine's 2013 SoMe Impact Awards for the Large Companies category. The award recognizes marketing executives that took that leap of faith into the unknown world of social media and in doing so, drove substantial value for their companies.
AMP UP Your Social Media is sponsored by:
GaggleAMP – Empower your employees, partners, and resellers to amplify your social media.
SafeLinks – Know when your links on social media messages fail before you lose out on the people clicking on them.
Like the show? Join the AMP Up Your Social Media Gaggle and spread the word: http://gaggleamp.com/rmswime
GaggleAMP is a great tool to manage social media relationships!
Register for your free trial today!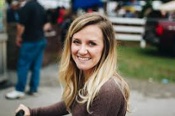 Stephanie Hacker
Stephanie Hacker is the former Content Writer at GaggleAMP.
Thinking About Starting an Employee Advocacy Program?