There are many benefits to having an employee advocacy program in your organization, from boosting your social media marketing KPIs, to helping your HR department with recruiting.
But how many of your competitors have an employee advocacy program or plan to start one? What is the best type of content to promote? And how can you get employees motivated to join your program? We've compiled a list of some great employee advocacy stats to answer these and other questions.
In a recent employee advocacy survey we conducted with Social Media Today, we got answers from 394 social media professionals, roughly 54% of whom work for a B2B brand, about their views and experience with employee advocacy.
Below, we present and analyze five of the employee advocacy statistics from the survey, but you can see all ten of the employee advocacy stats in our research report.
1. Nearly 30% of Respondents Plan To Start an Employee Advocacy Program.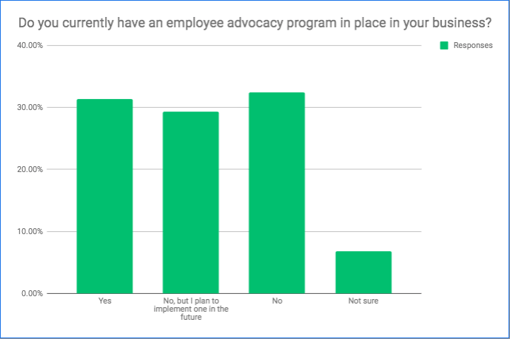 Employee advocacy is still a growing market, meaning more and more organizations are implementing an employee advocacy program for the first time.
Roughly 31% of respondents already have an employee advocacy program, another 29% plan to start one in the future, and 32% don't have a program and don't plan to start one.
What Do These Numbers Tell Us?
You might notice that the majority of respondents said they don't have a program, but the important employee advocacy stat here is that almost a third of respondents already have a program and another third plan to get one in the future. This is coming from hundreds of respondents who work in social media, mostly in the B2B space.
What Does This Mean to You?
If 31% of your competitors already have an employee advocacy program, and you're in the 61% of companies that don't have a program, then you're at a disadvantage.
Furthermore, if you're not in the 29% of organizations that plan to start a program, then you'll soon fall further behind your competition. Assuming everyone who plans to start a program does so in the next year, roughly 60% of your competition will have an employee advocacy program, putting you behind more competitors.
2. Nearly 40% of Respondents Say Recognition is The Most Effective Incentive To Get Employees Active In a Program.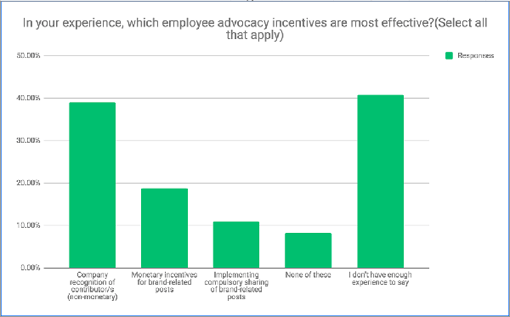 Let's talk about gamification!
In order to keep employees motivated over the long haul, and offer further incentive to employees who might not join the program otherwise, many organizations implement a gamification strategy.
Gamification incorporates competition, acknowledgment, awards, and more, in order to motivate employees to be active. Some organizations get quite creative with the prizes they offer by awarding more PTO, a better parking spot, or even lunch with the CEO. Others stick to more traditional awards such as company-branded merchandise, such as backpacks, mugs, shirts, and more.
But of all the things companies offer members in their employee advocacy programs, acknowledgment is the biggest motivator according to 40% of respondents. This might be one of the more surprising employee advocacy stats, but you have to consider that every award is a form of acknowledgment.
When people win prizes for being active in their program, you can announce who won an award, what they won, and what they did to earn the award. Additionally, you can acknowledge employees without giving an actual award. You can simply share a leaderboard of which employees are the most active by assigning points to each activity you request employees carry out.
By acknowledging your employees who participate in your employee advocacy program, it keeps them active long-term, and it draws in employees who are not yet part of the program.
3. About 62% of respondents said one of the key reasons people don't share branded content is because they don't want to spam their followers.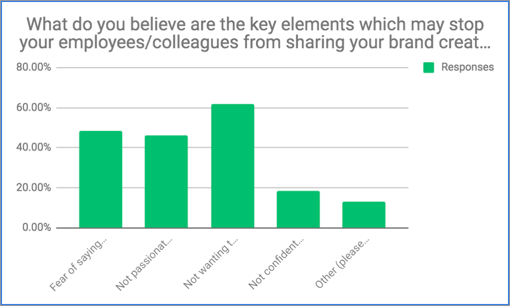 According to our survey, there are concerns from employees around sharing company content with their network. In fact:
Employees don't want to spam their followers, which can be one of the biggest obstacles of employee advocacy.
Employees are concerned they would say something on social media that their company would disprove of.
Some employees are simply not passionate about the subject matter.
These are all legitimate reasons for someone to not share your content, but there are things you can do to put them more at ease with these concerns.
To avoid spamming followers, you want to mix up your content strategy. Don't just ask employees to only share your company's content. Add some third-party content in your requests, too. Include content that's relevant to the market as a whole and not just specific to your brand. That will make the content they share more engaging and makes them more credible so they'll be able to grow their social presence in your industry.
In order to put them at ease over saying something wrong on social media, you want to include suggested captions in the posts you ask them to share. By giving suggested captions with posts, they know that the post you're asking them to share is marketing-approved.
Let them know in your social media training sessions that they can edit these captions, and they have the freedom to share and write things that they'd like on social media. Give clearcut examples of what the limits are and what is okay to ease their concerns.
It's also understandable if employees aren't passionate about the subject matter of content you want them to share. Not everyone in your organization works in marketing – most of them don't. This is another reason why mixing up the subject matter of content you ask them to share is so important.
What you can also do is send out a survey to people in the company asking them what kinds of topics they'd like to post on social media. By asking employees what type of content they like and how they're willing to be active on social media (e.g. liking, resharing, or organically sharing posts), you're more likely to have employee buy-in.
By doing some of these things, you'll mitigate the biggest concerns your employees might have about being active in your employee advocacy program, and that'll help you in a big way.
4. Over 27% of respondents said content shared by employees that's related to thought leadership produced the best results.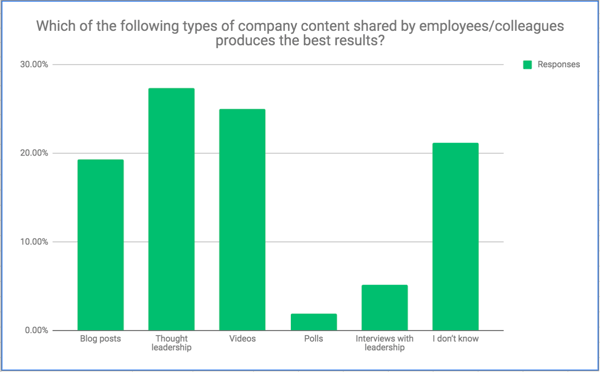 Thought leadership content, or content that portrays someone's knowledge of a topic, is considered the most effective form of content that employees share, according to 27.36% of respondents.
When employees share content and information about the trends and challenges of their industry, it makes them look more credible to their followers, and it draws in more followers in their industry. That's the goal for you as a brand running an employee advocacy program.
You want to build out content that makes your employees more engaging to your target audience in your industry. If you have a bunch of employees on social media who are thought leaders and influencers in your industry, it makes your brand – that organization that's employing them – look more credible.
The second most effective type of content is video. Video is the most engaging type of content and easiest to consume. Compared to blog posts, articles, and podcasts, video performs a lot better in terms of engagement.
A great way to combine thought leadership and content is by interviewing your employees on camera about topics they're experts in. You could also push them to be interviewed on third-party publications and promote their video of the interviews.
The third most effective type of content employee share are blog posts. Most organizations that have any type of content strategy have a blog, so it's easy to ask employees to promote their blog posts on social media.
You could also have employees contribute to the blog by writing their own posts, or interview employees for your blog. This promotes thought leadership and creates more engaging content that your employees are more likely to share.
5. Over 73% of People Find Posts From Personal Accounts More Persuasive Than Posts From Brand Accounts.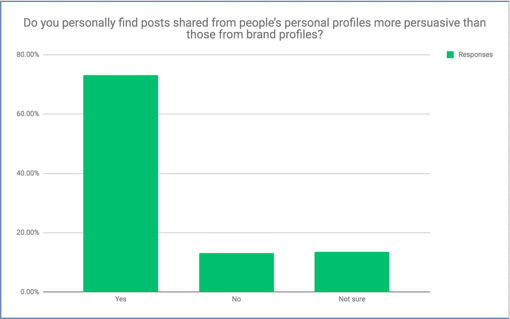 People trust people more than they trust brands, and that holds true with 73% of respondents agreeing they're more persuaded by messages from personal accounts more than messages from brand accounts.
This might be the least surprising employee advocacy statistic on our list, but it also might be the most important.
The purpose of employee advocacy is to get your employees to vouch for your brand's messaging, and this works because people trust other people more than your brand. The reason employee advocacy programs increase social media reach and engagement of your brand's messaging all goes back to this one employee advocacy stat.
As you can see from the differing responses, employee advocacy is not a one size fits all solution. There are different ways to tackle employee advocacy and different strategies you can use that may work better for your organization. It requires testing and measuring to do it just right for you.