A common critique of social media advocacy is, "people don't want to talk about work on social media, so this won't work."
But that simply isn't true. Usually, people don't want to
only
talk about their organization's initiatives, but they'll definitely talk about work, their industry, trends, and challenges they're seeing, and other interests outside of work. That's how it should be.
People who work for your organization are already talking about their jobs and your brand on social media. If you guide your colleagues towards becoming better social media advocates by suggesting initiatives you'd like them to promote and how they can do it, many of them will help you.
According to the Marketing Advisory Network, 81% of Millennials talk about work on social media. This is a huge number, especially when you take into account that Millennials make up a majority of today's workforce. Additionally, 72% of Gen Xers and 47% of Baby Boomers post about their jobs on social media as well.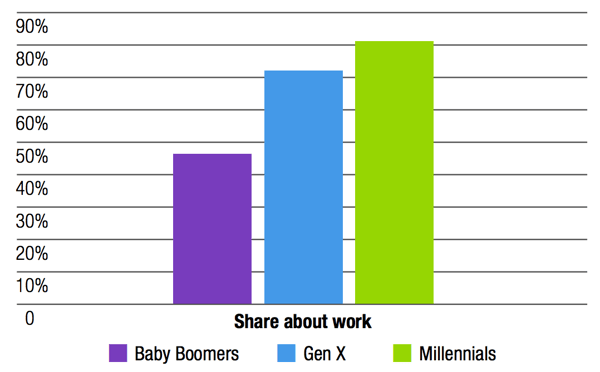 Marketing Advisory Network: 2017 Employee Advocacy Impact Study
Some people might find it concerning that their employees talk about their brand online, especially people in regulated organizations, but this is a positive thing. People aren't on social media trying to blast their employers. Your job makes up a large portion of your life, so when sharing about your day-to-day life and interests on social media, your work will be one of the things you want to talk about.
What you can do is give people in your organization suggestions about what to promote in your industry, your brand's initiatives and more. This can be sharing your content, sharing third-party content, following influencers, analysts, and each other, and more. Your colleagues won't carry out all of your requests and that's to be expected, but they will help with many of them, and that collectively gives your social media marketing efforts a huge boost.
Work With Your Employees Towards Social Media Advocacy
Rather than worrying about what your employees say about your brand on social media, you should help them promote it.
Let them know what initiatives you'd like them to promote, how you'd like them to promote it, and what messaging to use. These are suggested actions because your colleagues don't have to do anything they don't want to do. If you make it clear that each action is something that you'd like them to do, but is completely voluntary, they'll be open to participating and carrying out many of your requests.
You'll want to mix up your requests so it's not all about promoting the company's brand. Your requests can entail anything from watching a Youtube video, sharing third-party content, following specific people, retweeting specific posts, writing reviews on websites such as Indeed or Glassdoor, or even participating in online polls.
People who are already talking about your company on social media are the most likely to become social media advocates of your company, so these are the people you should focus on when starting out your social media advocacy program.
The Benefits of Social Media Advocacy Across Your Organization
Social media advocacy has a plethora of benefits including helping you surpass your social media marketing KPI goals, but it also has benefits for departments other than marketing.
Guiding your employees to help promote your brand on social media will lead to more people talking about your initiatives in a more authentic and trustworthy way. This results in further reach, and more engagement.
Messages shared by employees get 561% more reach than the same messages shared by brand accounts, according to the MSL Group.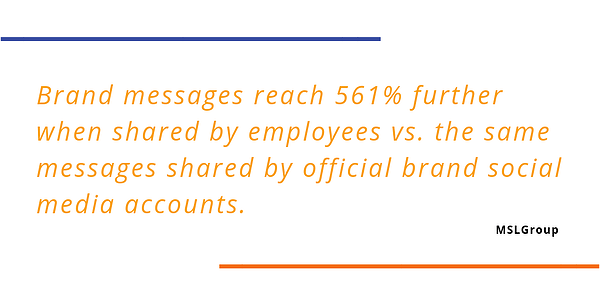 This benefits your marketing department in promoting its messaging and campaigns, but it benefits your other departments as well. For example, social media advocacy can help your Sales department reach its goals through a social selling strategy, and it will improve the recruiting efforts of your Human Resources department.
People trust other people more than they trust a brand the same way they trust other people more than they trust an ad. According to the Marketing Advisory Network, 44.5% of people are more likely to apply for a job a friend posted on social media than the same job on a job board.
Help Your Employees Become Social Media Advocates
The best way to guide your employees towards becoming social media advocates is by focusing on the ones who already promote your brand on social media.
All you need to do here is let them know what initiatives you'd like them to promote, how to promote it and on which platform you'd prefer. Giving them suggested activities will help them better understand the company's mission, priorities, and messaging.
They'll be happy to take part in your social media advocacy program because they are already playing a role in promoting your brand on social media on their own. Once they start contributing, colleagues who aren't in the program will be intrigued to join as well when they see the incentives they're missing out on and the contributions people in the program make.
Social media advocacy is a great way to give your company's reach a boost and hit your goals. Any size organization in any industry can benefit from this. You already have people promoting your brand on social media, so why not make the most of it by helping them promote initiatives you want?