With the cancellation of events worldwide and the sudden increase in remote work, businesses everywhere are pivoting their marketing efforts and reshaping search and social media. In many ways, the ability to navigate this shift in marketing priorities will make or break a company's success in the coming months.
So if you're one of the millions of business owners quickly shifting your business offerings or marketing efforts, where do you start? The needs are different for brick-and-mortar businesses, B2B organizations, and B2C ventures, and this crisis is reshaping search and social media in big ways.
Brick-and-Mortar Pivots Their Businesses
Suffice to say, in-store visits are down and US store visit conversions dropped 90% month-over-month. Small businesses reliant on foot traffic are pivoting fast to survive. With trends nationwide to support the backbone of most communities - the local business - many are taking to social media for eyes on the business.
Get Your Small Business Online
Unfortunately, no one knows how long businesses will remain closed due to COVID-19. And, while many small businesses already have a website presence, now is a good time to make some adjustments.
Make Sure You Have a Website
If you are without a website, now is a good time to create one. In many instances, you can create a basic, simple website in under a day that is very budget-friendly (and in some instances, free) and aesthetically pleasing to your clients. Some of the best website builders for small business include:
Use Google My Business to Communicate With Customers
For the limited businesses that are still open, your open and close times may change by the day. Connect your business to Google My Business, which will allow you to manage your business profile, updating your availability and business offerings, including any specials or deals you are running to drum up business.
Take It to Social Media
On average, almost 45% of people are devoting more time to social media now than they did pre-COVID-19. Of course, some folks may take straight to your website for updates on your business, but many turn to social media, and apps like Nextdoor, to learn even something as simple as "are you open?" Social media allows you to update people on promotions and hours without them actively looking for it.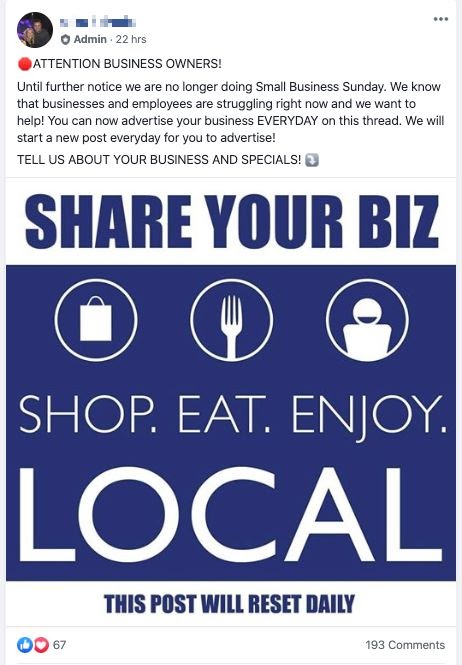 Team Up With Tech to Take it Mobile
Restaurants are getting hit hard during this pandemic, and it's safe to say everyone is trying to support their local businesses and restaurants.
Teaming up with the Webflow, the masters in web design tools, CMS, and hosting, they're offering a free, cloneable template that's making it easy for cities/counties to compile a list of restaurants offering delivery or takeout.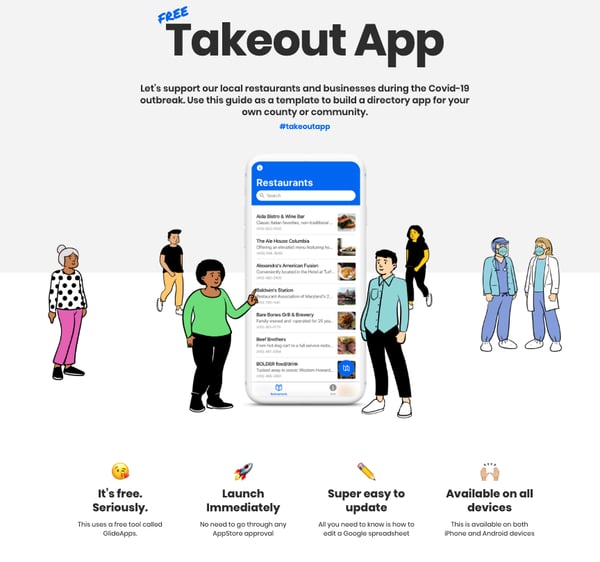 How B2B Companies are Being Proactive With Social Media
Monitor Campaigns by Location or Target Market
It's important to understand not only who makes up your target audience but also the impact COVID-19 has on them. For instance, global brands need to review performance on a country-by-country basis. Search Engine Land reports that some B2B brands that work within APAC did not see performance declines in February in part because they had higher spend in countries where COVID-19 cases remained low at that point.
This also may mean a strategy shift is necessary. Facebook has reported a 50% increase in messaging use and group calls in hard-hit Italy and a traffic increase across their suite of products. But, even with the increased usage, Facebook's ads business is weakening due to the coronavirus.
Shifting to Employee Advocacy for Organic Reach
Employee advocacy programs are a natural fit for brands wanting to reach a larger audience with a relevant message for two key reasons:
Employees of a company often have 10x the number of social followers than that of the company-branded social media handles says Fast Company.
Only 3% of employees share company-related content, but they are responsible for driving a 30% increase in the content's total engagement, says a LinkedIn report.
Your employees often have reach and access to people that may not be aware of your brand and are not following your branded content. Plus, your employees tend to have audiences that are like-minded and possibly your target audience. By activating your workforce to share content in their voice, it can help reach untapped audiences and grow your potential opportunities.
Related: As a valued thought leader in their space, WGroup challenged employees to use their voice to promote company content, resulting in over $2 million in new sales opportunities. Read the case study for details.
Provide an Opportunity for Education
Many adults have been suddenly thrust into the remote work environment, which comes with its own set of battles, including how to navigate social media during a crisis.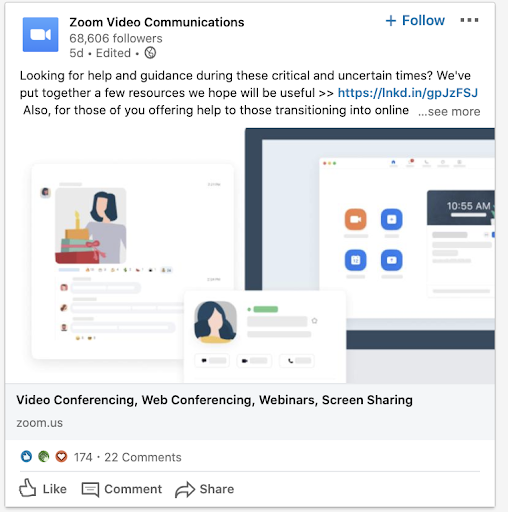 Remote conferencing software, Zoom Video Communications helps to bridge the knowledge gap with their guidance around video chat and screen sharing. Premium courses with Moz, a leading SEO software provider, are offered for free on their Moz Academy, so you can better leverage SEO to garner traffic to your websites.
How B2C Brands are Tackling Their Communications
Support the Bigger Message with Strong Branding
Hospitality has undoubtedly been one of the hardest-hit industries, and it would certainly be understandable if they reined in their media spend a bit. But in areas where some are trimming back, hotel booking website Hotels.com is very intentional with its message - just stay home.
For a retailer that is dependent on consumers booking hotels, this is a bold statement. But, they also recognize the more that people stay home, the more likely they are to flatten the curve, pulling back some of the impacts on the hotel industry.
Looking for Ways to Help
Global apparel manufacturers like Hanesbrands Inc. and Ford Motor are swapping their production of apparel and motor vehicles to facemasks, ventilators, and respirators to support the increased demand.
This simple statement of unity to support the greater cause had a very positive impact on the Hanes brand, releasing one simple statement on their social media channels, centered around their commitment to helping healthcare workers to stay safe.
Shifting to Curbside Pickup or Delivery
In the spirit of social distancing, many businesses are now planning for curbside pickup. Total Wine and More does this well with the 'Pick up today' on each of its sponsored posts for a product it has available in stores.

Likewise, traditional brick-and-mortar retailers are joining forces with national courier services to ensure their products can be delivered direct-to-door. Retailer Walgreens partnered with Postmates to provide on-demand grocery delivery for customers looking for over-the-counter medications, health, and wellness products.
How Will This Impact Search and Social Media Long-term
It's not known for certain what the long-term impact of this crisis will be, but it will change how businesses go to market forever. To survive and rise beyond the crisis, we will all need to:
Go above and beyond to help our customers, community, and world.
Rethink technology to stay ahead of challenges.
Be quick to pivot marketing and advertising spend.
The immediate challenge will be for companies to build a relationship beyond what they are selling and focus on helping, not selling. Empathy is an important tone and one that will not easily be forgotten.