Douglas Spencer, President of Spencer Brenneman, is a branding and marketing expert who is passionate about developing strategies that ensure that a client's brand and marketing strategy is fueling their business and exciting their customers in meaningful ways.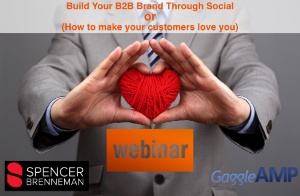 Building a B2B brand is no small feat. Attracting customers and getting them to love that brand is even more of a challenge. In this webinar, join Spencer as he details the role of brand strategy and it's attributes. Learn what it takes for your customers to love you on social and how your employees can help that process.
Join us Tue, Mar 31, 2015 1:30 PM - 2:30 PM EDT to learn how to Build Your B2B Brand Through Social or (How to make your customers love you).