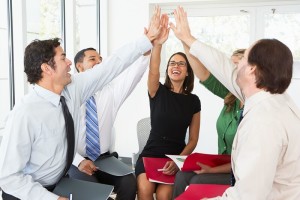 Employee engagement - the foundation for employee advocacy on social media - is they key to unlocking a host of benefits for your employees, your customers, and your company as a whole. But many see employee engagement as a natural response to an effective social media marketing strategy, and while this is in part true, the fact of the matter is that ensuring that your employees are engaged should be a priority in and of itself, as it can impact more than just your marketing campaign. Here are three reasons why your company needs employee engagement strategies and real-time tracking.
Happy, Engaged Employees are Less Likely to Leave: Employees who have 'more skin in the game' tend to feel a higher sense of loyalty and involvement with their company. When employees are engaged and creating and fostering relationships, they're solidifying their role as part of the company. The result is an employee who is more likely to stick around for the long haul who tend to feel a bigger sense of pride in their work and happiness with their company. Thus, employee engagement should be a critical component to your employee retention plan, as it can play a huge role on keeping employees involved and engaged with the company itself. The people in your company are what drives success, and the company should be designed to support those people. There are three key drivers to employee engagement that all have to do with these interpersonal relationships: The relationship with Direct Manager, Belief in the Senior Leadership, and Pride in Working for the Company. With 75% of employees leaving their bosses (rather than the company), fostering engagement is actually an exercise in fostering relationships within the company and, thus, fostering employee retention.
Engaged Employees Tend to Be More Productive: The sense of more responsibility naturally leads employees to being more productive as well. In fact, companies with engaged employees outperform their counterparts by 202%. That's more than 2 times the annual net income! Engagement correlates with company success, and fostering that employee engagement is a profitable endeavour. Explore all avenues to reap the most benefits.
Engaged Employees Tend to Be 'Big Spenders' in Your Company: Engaged employees tend to be employees who are prime choices for employee advocates. These brand advocates have been found to be twice the 'spend value' of a regular customer, as they are typically 'big spenders'. Your employees are likely to invest in products from your brand over others, as they are a kind of stakeholder to your company and actually want to see it succeed! At the same time, their influence can cause customers to take the plunge in investing in your company, and they may even consider spending more themselves when they see an employee who also invests in the company.
Add GaggleAMP to your internal communications plan in order to get your employees more involved by keeping them engaged with your company marketing. When you neglect employee engagement and instead focus on press mentions and other aspects, you're missing out on a huge asset.