Leveraging thought leadership in content is nothing new, but there are different ways to do it that not everyone masters.

Typically, people leverage thought leadership in the form of industry influencers. This is could be people with a large following that garnered a great amount of credibility in their field. But it's important to make sure their credibility is legitimate, and many of your coworkers have credibility for what they do every day.

In this Q&A, we spoke with Greg Mooney, Marketing Manager at Progress Software based in Bedford, Massachusetts. Greg creates all different types of content, from podcasts to blog posts and more, for his target audience in the tech industry. He leverages thought leadership in content by using influencers both in and out of his organization. We spoke with him about utilizing thought leadership in content and how he combines this with employee advocacy.

Greg will host a session at AMPlify 2019 in Boston titled, Partnering with Thought Leaders to Amplify Your Content.

Q: What does partnering with thought leaders on content entail?

Greg: This ties into walking the walk and talking the talk. The idea is that you want to bring in people who are mouthpieces in the tech space, whether it's a developer, SaaS admin, or somebody who's well-known, and get them to work on content with you. It gives you a little more credibility, especially doing blogs where it's not just a bunch of marketers writing about stuff.
You also got a mix of people who are doing that day in and day out, whether it's IT, development, or software testing for example, and make them show the solutions to the problems that they had to solve on a day-to-day basis. That's content that drives traffic. It may not be product-related, but it's still going to drive traffic, and they are your prospective audience. Just getting those thought leaders to hang out with you amplifies your content that much more on social.
Q: Can thought leaders be your own coworkers or employees at your company? Are there other ways you can leverage people in your company in your content?
Greg: Yes, definitely. I'd be willing to bet that everybody who is a content marketer in the tech space has a thought leader at their company, whether they know it or not.
If you're selling a CMS, for instance, there's somebody on your web team who can talk to the ins and outs of working with a CMS. So, there's always going to be somebody within your company that can speak to your audience.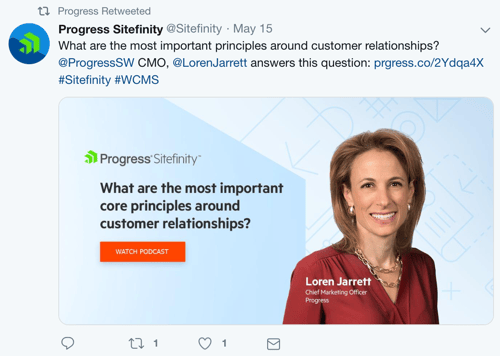 I like to use a mix of them because you have thought leaders outside the company that can give you more exposure. But the thought leaders within your company are a little more in tune with your actual customer base, so they're better-suited for thought leadership content that's more focused on what you're actually doing as opposed to casting a wide net.
Q: And you can do this with any type of content, whether it's a blog post, podcast, video, or something else, right?
Greg: Yes. I'm going to talk a lot about this at AMPlify. I work in the tech space where there are developers and IT people that can be a little introverted. A lot of them don't want the exposure, or maybe they don't want to be on video, but they're willing to talk about it on a podcast. Or maybe they don't feel like writing, but you could quote them in a post. So there are all these different ways you can put them on a soapbox without scaring them away. I'll definitely go into how to approach every person's comfort level.
Q: Are there any other ways employee advocacy helps you?
Greg: With GaggleAMP, the biggest thing is that you can contribute with just a click of a button. A lot of the developers and IT people aren't on Twitter, but maybe they have a few followers on LinkedIn or something else. If I create a post for them and they can share it with a click of a button, that's hugely beneficial because they're not going to write that post themselves. They just get an email notification, and it's very simple for them.
That's definitely been a huge part of our amplification piece. Getting them to engage on social media in the easiest way possible, and GaggleAMP is just a huge part of doing that.
Q: Aside from your session at AMPlify, what are you looking forward to the most at the upcoming conference?
Greg: First and foremost, I'm super excited to be able to speak there and share what I've learned over the years. But my big thing is I haven't been to a social media or content marketing conference for a couple of years now, so I think it's going to be really great to engage and interact with other fellow social media managers and content marketers, and see how they're doing things.
I'm definitely excited to learn, gain knowledge as to what other content marketers are doing, and see how they're leveraging thought leaders or amplifying their content.