Before social media became a fixture in everyday life, employee advocacy was limited to two forms: people talking positively about their employers in regular conversation — though most often at networking events — or certain employees being selected to participate in promotional campaigns. With the former being limited (how often are you going to be talking to an interesting prospect?) and the latter lacking impact (forced advocacy feels empty), it wasn't all that useful.
Thankfully, things have changed massively since then, and many companies today take advantage of the digital world to turn employee advocacy into a formidable branding and recruitment tactic. In this post, we look at six brands doing just that and consider what employee advocacy lessons the average business can learn.
Starbucks grew to the world's most well-known coffee house through a variety of smart business moves, and given that its incredibly high number of shops ensures that it needs to consistently source new recruits, it's no surprise that it has a similarly-smart approach to hiring — even describing employees as "partners."
Is that somewhat silly? Yes, but if it works, then that really doesn't matter… and it certainly seems to work. What Starbucks does particularly well is regularly highlighting social media posts from its employees, which makes all employees feel valued and highlights their contribution to an organization's overall goal.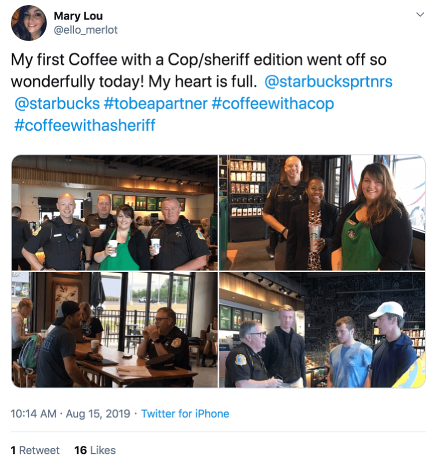 Shopify, an e-commerce store host, takes a different approach to employee advocacy. Instead of using posts or retweets, it tasks its employees with creating valuable content for one or more of its several blogs, giving full identity attribution in the process. That content can then be highlighted through social media.
This doesn't have the fundamental emotional impact of an informal statement with a smiling face, but it details some important truths: Shopify employees of all varieties are trusted to represent the company through their content, and the company believes in the skills of everyone it hires. For anyone looking for a new employer, those are great signals.
Zappos is a clothing manufacturer and seller with a much-vaunted commitment to maintaining a superlative company culture. It describes itself as a service business that happens to sell things, and instead of offering messages directly from employees, it documents behind-the-scenes social activities and company perks.
On its Zappos Culture Instagram page, the company highlights everything from a company mini-golf course to the chaotic and vibrant stylings of its call center, ensuring the many smiling faces are on full display. When everyone working at Zappos appears to be happy, it's a great endorsement of the brand.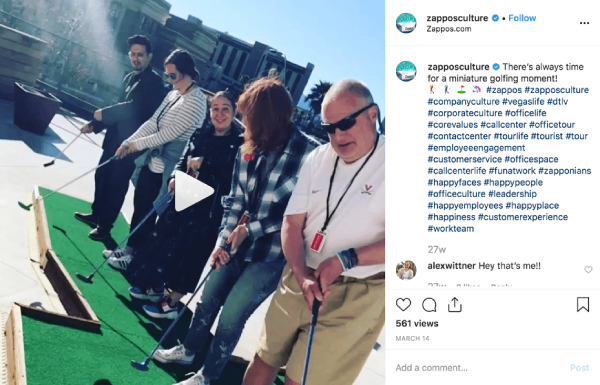 Humana is one of the leading health insurance companies in America, and it prides itself on its employee wellness initiatives for which it has been widely praised.
It's always a good idea to promote your company culture and happy employees, and that's exactly what Humana does by posting pictures of them at company events, doing volunteer work, and more. Prospective hires see these posts and want to work for an organization that cares about their well-being.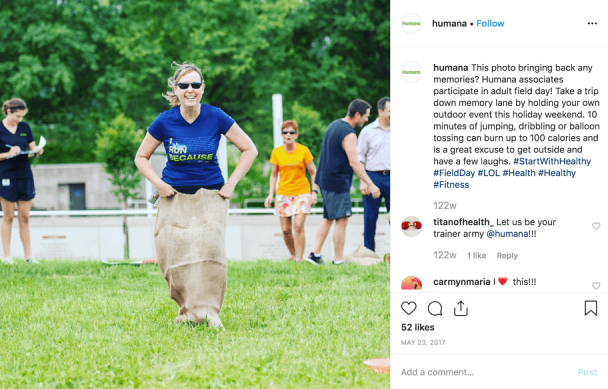 Adobe is one of the biggest hitters in the computer software world, with its Photoshop editor being an iconic piece of software that has dominated the graphic design market for many years. To maintain that position, it needs fresh recruits, and not just any recruits: it needs the best. So how does it earn them? Well, it has its workers talk about the Adobe experience.
The company runs a program called Social Shift that trains employees on all matters pertaining to social media, ensuring that they're capable of producing content in line with company guidelines. When they're trained, they're encouraged to blog on a site called Adobe Life, which is all about the employee perspective, showing what it's like to be a part of the team.
Sky is a British telecommunications company that provides everything from internet access to TV packages, and it does an excellent job of using its industry access to enhance its employee-focused media. Notice that the pinned tweet on the Work for Sky Twitter account is a promotional video with a snappy style and TV clips sprinkled in to liven things up.
Most recently, a huge part of Sky's social media strategy has involved talking up the inclusive and diverse nature of the company's workforce. Combine that with the glimpses into company perks, and a #LifeAtSky hashtag for workers, and you have an excellent standard of employee advocacy.
As we've seen, there are various ways to approach employee advocacy. You can heavily promote employee-generated content, talk about what your company does for its employees, or even encourage your staff members to speak directly to your target audience. However, you do it, first be absolutely sure that people are genuinely happy in your company — if you don't, then your advocacy efforts could backfire hugely.