Employee generated content is any piece of content made by someone who works for your company that puts their knowledge of their industry, organization or profession on display for others to see and learn from. Content employees create can include blogs, podcasts, videos and more.

The best way to present your business as a credible, authoritative resource in your area of expertise, is to present the people who work for you as exactly that through employee generated content.

Your employees are experts at what they do. That's why you hired them. While it may be difficult to loosen the reigns, your staff is a great resource of knowledge. Promote their abilities and encourage them to create their own content, whether it's videos, blogs, podcasts or something else, and promote it through your company and employees social handles.

There are several benefits to employee generated content that your brand simply can't ever reach. For example, your company's content will always be seen as marketing material. There's an agenda attached to it that draws a level of skepticism from the reader. That's unavoidable. Employee generated content doesn't work that way.

Implement Authentic User Generated Content

If your employees make content on their own personal channels, whether it's their own blog, YouTube channel or podcast, their audience will view their content as authentic and less promotional.

People are more likely to engage with other people than your brand, which is why their content is more likely to leave an impression. When an employee creates their own content, they're not trying to sell anything. Rather they are sharing something helpful or context around a narrative. Employees can talk about trends, challenges, and hot topics in areas of their expertise, and people will listen to what they say because they are credible and trustworthy on these specific topics.
Employee generated content allows people in your organization to present an in-depth view of topics they know very well. It's their profession and area of expertise. If one of your software engineers consistently posts blogs on trends in app development, or someone in your Human Resources department releases YouTube videos on trends in HR, then these people will develop a following that trusts them.
In the example below, Patrick Cadigan, Client Executive at GaggleAMP, wrote a blog detailing his thoughts on gamification. The post displays his knowledge of the topic, shows credibility in this area, and gives people a reason to engage with him and his post.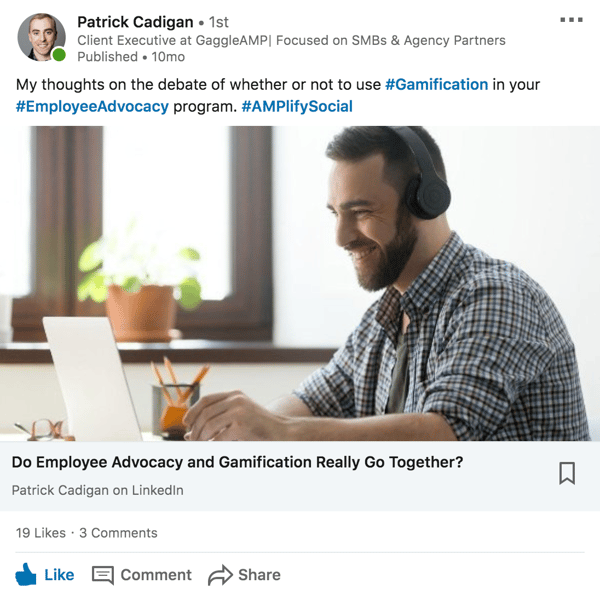 Anybody at any position in your organization can do something similar to this to present themselves as a knowledgeable person on a specific topic. For instance, your salespeople can create content about sales tactics. Your recruiters can do the same on best practices for recruiting or even thoughts on what recruiters like, and don't like, on resumes. Anyone in your organization can create content about what they're good at and people who are interested in those areas are more likely to engage with that content.
Develop a Personal Brand
This level of employee engagement leads to your employees attracting their own following by developing their own personal brand.
When someone is experienced in their industry, and they create content to share their best practices with others, they become a thought leader in their industry. This is part of developing an employees personal brand, which is separate from your company's brand.
Of course, it can be a little polarizing to think your employees are curating a brand in a niche related to your company, but this is actually a good thing. In time, they'll become a micro-influencer that people trust what they have to say and, as the influencer associated with your brand, the brand gets the residual benefits of being associated with such a powerful influence in their industry.
This is a big benefit for your employees and why they'll practice employee engagement. It's also a benefit to your organization. If you have employees who are micro-influencers promoting your brand to their following that trusts them, you'll get better levels of engagement than if your brand promotes an initiative, or if a hired influencer promotes your initiative.

This is because content shared by employees receives 8X more engagement than content shared by brand channels.
Promote Your Brand Through Employees
If you have employees creating content on their areas of expertise and developing their own personal brand, you can leverage that for the benefit of your brand.
This is where employee advocacy comes in.
By promoting your employees' content through your employee advocacy program, they'll get a wider reach and your followers will become more familiar with individual people at your organization.
Employees may also promote your brand's initiatives through their social channels, leveraging their personal brands, too. For example, an influencer may promote your brand in their own way and so can your employees. Give them the flexibility to promote your brand with their own caption or style. They could mention you in their content or promote your posts on social media. It's very simple, but it goes a long way.
Employee generated content helps grow the personal brand of your employees, which is an incentive for them and a benefit to the company. It offers an authentic way to deliver a message through your employees by way of their audience when they opt to promote your initiatives. Using employee generated content as an aspect of your employee advocacy program can have a long-lasting impact on both your company and your employees.