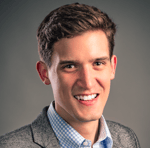 Joel Leeman is the social media manager for Thomson Reuters, managing the corporate social media channels with a combined following of more than one million professionals and chairing the global Social Media Task Force. He serves as an editor for the company blog (tr.com/answers) and has a hand in content marketing, corporate affairs, social selling, customer service and employee advocacy. He also provides training, consulting and support to executives, social media professionals and business resource groups across the enterprise and around the world to help them make better use of digital communications and social media.
Joel has been involved in the internal advocacy program at Thomson Reuters since the beginning. he helped develop the business case and laid the groundwork for the program. Day-to-day he manages the employee advocacy program from recruiting new members to content selection and expansion.
Come learn from Joel as he leads a panel conversation around employee advocacy.