Use Case
Increase Brand Reach & Awareness
Results
Attributed to 8% of the Company's Total Sales Pipeline
7.1M in Reach
Over 3,600 Social Interactions
4,600 New Connections
Magna5 Calls GaggleAMP "a Key Pillar" of Its Marketing Efforts
By empowering employees to be thought leaders on social media using GaggleAMP, Magna5 drove 8% of the company's total sales pipeline, organically increased reach by over 7.1 Million people, and grew the brand's LinkedIn followers by 42%. Employees gained over 4,600 connections while on GaggleAMP.
Early last year, Magna5 made it a priority to increase its social media presence to communicate its identity to customers, prospects, and partners.
Magna5 is a managed IT service provider that was involved in multiple M&A deals over the last five years. Following these new acquisitions and partnerships, the company needed to extend its brand reach and awareness to provide clarity as to what solutions and services it offers.
By enabling its employees to be thought leaders on social media, Magna5 was able to clearly articulate its brand mission to a much wider audience in a personable way.
"We picked up GaggleAMP as a key pillar of our marketing efforts. We then leveraged the GaggleAMP solution to amplify our message, helping our employees advocate for us and send that one singular consistent message to the market. I found it tremendously successful in going that."

Ryan Burns

VP of Sales Enablement at Magna5
The Benefits
Magna5 onboarded 25 people across the company in its Gaggle, including employees from Sales, Marketing, Customer Support, Engineering, and Billing. By the end of the year, these 25 employees garnered over 2,200 clicks to their website, over 3,600 social media interactions, and reached over 7.1 million people.

The managed IT service provider uses GaggleAMP's AutoAMP feature, which sends the brand's LinkedIn posts into the company Gaggle. When employees see these posts in their Gaggle, they can choose to share them, engage with them, or ignore them.
The boost in engagement increased the LinkedIn account's visibility so much that Magna5 grew its LinkedIn follower count by 42% during the year. Furthermore, Magna5 employees grew their networks by 4.6k connections while on GaggleAMP.

The company also uses GaggleAMP to power its lead generation efforts.
Magna5 runs a campaign where it offers free Dark Web Scans that allow organizations of any kind to see if their data has been exposed in a hack or breach. It mainly promotes this campaign on LinkedIn and drives attention to it with GaggleAMP.
The Gaggle-fueled campaign has so far resulted in 16% of all of the company's leads during the time of its promotion, and those leads have so far converted into 8% of the company's total sales pipeline during that stretch.

"It works!"
People trust and connect with other people more than they trust brands or ads, which leads to companies with employee advocacy programs greatly extending their social media reach.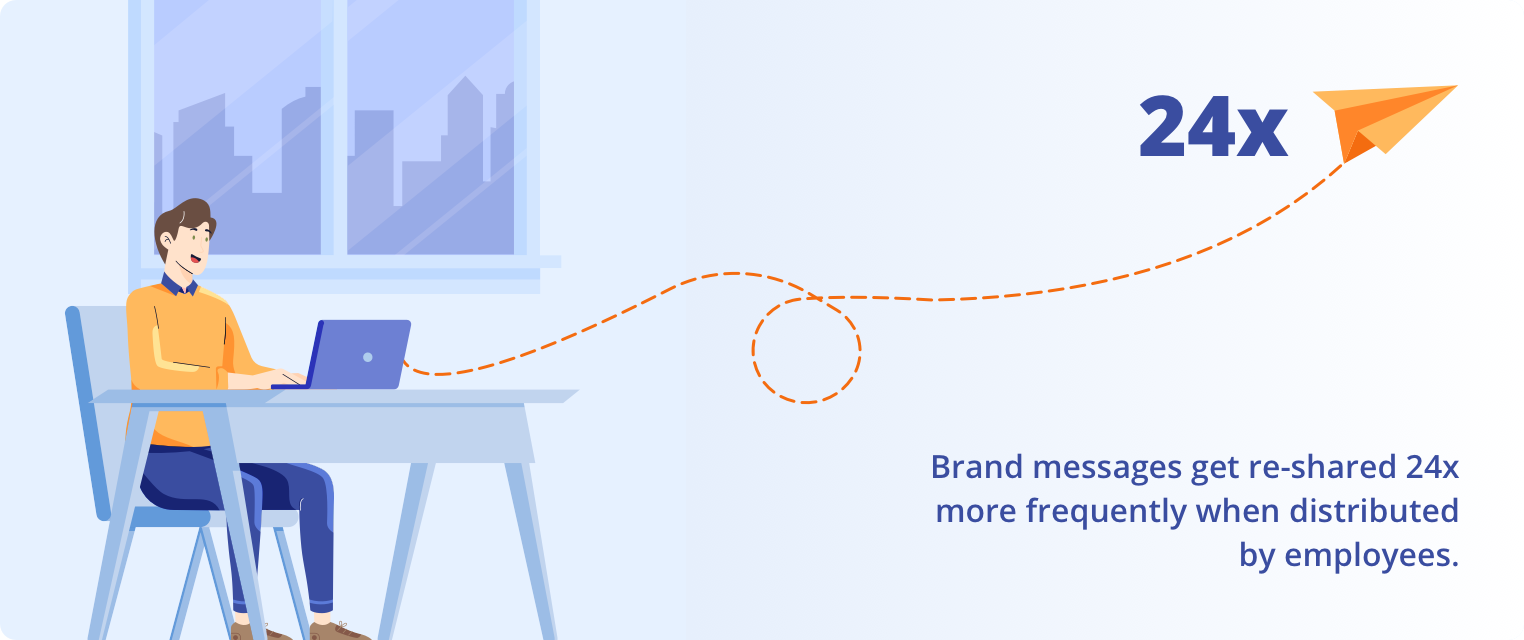 A message shared by employees reaches over 5x further than the same message shared by a brand account. This is because brand messages get re-shared 24x more frequently when distributed by employees, according to MSL Group.
By sharing insightful content through its Gaggle, Magna5 was not only able to extend its social media reach, bring in traffic to its website, and drive leads, but it's also able to prop up its employees as thought leaders, making its brand more personable, authentic, and credible.
"GaggleAMP helped us position our employees — not just our salespeople — as thought leaders with critical insight-based content. This is not just a sales tool. This is not just a social selling tool. It can be, clearly, but the real value is engaging and enabling your entire company."

Ryan Burns

VP of Sales Enablement at Magna5
Over 34% of marketers say thought leadership content produces the best results when shared by employees, according to Social Media Today.
Thought leadership highlights the expertise of employees, which presents them as credible and knowledgeable in their respective field. Since they are revealed as the faces behind your brand, presenting your employees as thought leaders makes your brand more credible and personable as well.
After just one year with GaggleAMP, Magna5 improved in three major areas: brand awareness, positioning employees as thought leaders, and website traffic.
Onboarding Employees
Before adopting GaggleAMP, Magna5 employees were not very active on social media. The brand accounts were active, but there was not a unified approach to having employees advocate for the brand and its mission.
That all quickly changed with GaggleAMP.
"This has been the easiest field-facing marketing tool I have ever implemented. It's literally an email saying, 'we're inviting you to join our Gaggle. Here's what that is. You'll get emails on a daily or weekly basis asking you to click the Share button, so just click the Share button."

Ryan Burns

VP of Sales Enablement at Magna5
Sometimes employees need clarity that none of their personal information will be shared with anyone, and they are not giving up control of their social media accounts. Once that is articulated to your employees, and they're aware that they can choose whether or not they want to carry out an activity, they'll be off and running.
Once employees are introduced to an employee advocacy program with GaggleAMP, they tend to like it because it allows them to be active on social media and increase their own social media presence without any extra work.
"This is the value add. The biggest hassle with social selling or social employee engagement is going out and finding your own content, writing your own captions, thinking about the hashtag to use, and staying on top of that. This solution completely takes that off the table. It completely takes the work out of their hands."

Ryan Burns

VP of Sales Enablement at Magna5
Your Gaggle Manager, typically someone on your marketing team, curates content and writes suggested captions for employees to share, and employees just have to click a button to share them. The Gaggle Manager also finds posts for employees to engage with and people to connect with.
The Manager can watch the Gaggle's progress grow with GaggleAMP's analytics dashboard. Managers can track clicks, reach, engagement, social interactions, shares, and more.
"It's very insightful and transparent. The data integrity and data insights that you get out of the platform are just so simple to digest."

Ryan Burns

VP of Sales Enablement at Magna5
Gamifying Your Program
GaggleAMP's gamification feature allows Gaggle Managers to assign points to each activity they want employees to carry out. If Managers want employees to perform a specific activity more than others, they can increase the points assigned to the activity.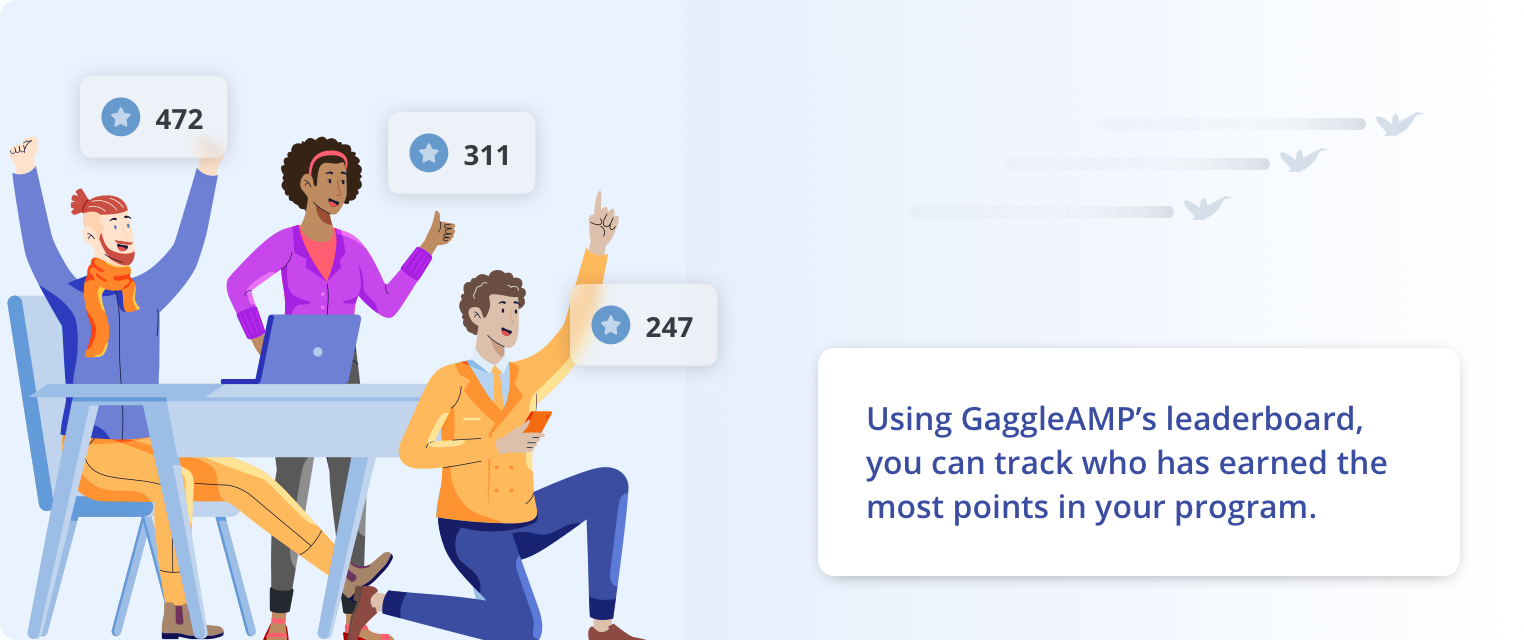 Using GaggleAMP's leaderboard, you can track who has earned the most points in your program and opt to give awards to these people, people who have earned the most points, or someone of your choosing in the top 10, for example.
Over 65% of experienced employee advocacy program managers say recognition is the best incentive to motivate employees, according to Social Media Today.
Magna5 awarded a $100 gift card to the top points earner each month to keep employees motivated to take part in the program over the long-haul. It builds some friendly competition between colleagues, and it allows the Gaggle Manager to acknowledge the employees for their efforts.
"That's easy and low hanging fruit. I spent $100 a month for the first year on these little gift cards. That is a steal when I think about the cost per lead that I do pay for through my other platforms. $100 to have them share our message thousands of times through their reach, it's worth every penny."

Ryan Burns

VP of Sales Enablement at Magna5
If you'd like to learn more about GaggleAMP, watch this quick demo video below.