The 'AMP Up Your Digital Marketing' Podcast Presents:
Community Engagement on Social Media
Bobbie Carlton is the founder of Innovation Nights, a free monthly product launch party and networking event that has grown into a local innovation economy mainstay. She mobilizes the local social media community to help support Boston-region entrepreneurs and innovators with grassroots-level visibility. They've helped to launch more than 600 local products in five years. In addition, Bobbie founded Carlton PR & Marketing, a boutique integrated marketing agency. With Innovation Nights expanding to at least 10 new geographical regions outside of the Boston market in the coming months, Bobbie joined AMP UP Your Social Media's host Glenn Gaudet to discuss how communities can work together to support their local startups and entrepreneurs.
"Your perfect customer might not be in the room, but there is probably someone that knows your perfect customer."
Bobbie offers tips to engage people via social media who may not be tied to a particular company, but tied to a particular community:
Identify the community that you are targeting
Understand the community's motivation
Define how your audience will benefit from your content
Identify how you can get your community working for you
Thank anyone who helps promote a company or community publicly or via a direct message to show your appreciation
Listen to Bobbie's podcast here.
Bobbie would love to hear from you! Chat with her on Twitter as @BobbieC or @MassInno.
Subscribe and get the AMP Up Your Social Media podcast on iTunes or listen below. Tweet about the show using #AUYSM or Tweet at us @AMPUpSocial. AMP Up Your Social Media is a proud member of the FIR Podcast Network.
About Bobbie Carlton
Bobbie Carlton is an award-winning marketing, PR, and social media professional who is the founder of Mass Innovation Nights, a free monthly product launch party and networking event powered entirely by social media. The events help companies as large as IBM and as small as a 1 or 2 man start-up get visibility for their new products in the social networking community. She currently heads marketing for RapidMiner, one of the leaders in the predictive analytics market.
She speaks and teaches classes regularly, consults with small businesses and individuals on social networking and social media marketing, and works with companies who are looking to access the Boston region's entrepreneurial and innovation community.
Previously, in addition to working with a number of Boston-area PR and marketing firms, she headed global public relations at Parametric Technology Corporation (PTC) and Cognos (now IBM), and overall marketing at companies as varied as the Beacon Street Girls, a social network and book series for preteen girls, and Accounting Management Solutions, a firm that provides part-time and interim placement of finance executives. In 2010 she was named one of the ten Bostonians who have done the most for the startup community, and in 2011 she was a recipient of a Mass High Tech All-star award. She is a popular speaker on a wide variety of topics. She has mentored at MassChallenge, a startup incubator and competition, is an advisory board member of Startup MA, part of Startup America, and advises a number of startups in the Boston area.
AMP UP Your Social Media is sponsored by:
GaggleAMP – Empower your employees, partners, and resellers to amplify your social media.
SafeLinks – Know when your links on social media messages fail before you lose out on the people clicking on them.
Innovation Nights Uses GaggleAMP!
"Sometimes people have difficulty understanding the effectiveness of having a whole bunch of people spreading a message, until the message is about them and they see how far the message reaches." –Bobbie Carlton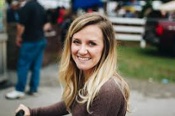 Stephanie Hacker
Stephanie Hacker is the former Content Writer at GaggleAMP.
Thinking About Starting an Employee Advocacy Program?