The 'AMP Up Your Digital Marketing' Podcast Presents:
The Significance of Content Marketing and Strategy
Brad Young is a global content strategy leader for Dun and Bradstreet, leading the creation, curation, and editorial coordination of world-class, modern content and content experiences for customers, sales teams, partners, alliances and influencers. He also has 17 years of content and marketing experience, making him a leader in content strategy marketing! Brad recently joined AMP UP Your Social Media's host Glenn Gaudet to discuss the significance of content marketing and strategy.
"Be absolutely relentless in asking yourself 'Who is this for?' and 'What's the value?"
Brad discusses tips for content marketing and strategy:
Become a powerful storyteller. When you have the mentality, metabolism, and mindset, you have an incredible opportunity to reach the most people in an engaging, revenue-driving way.
Use modern technology. Your story is only as good as who it reaches. Don't be afraid of utilizing modern technology and social media to get your content into the hands of the most people possible.
Use data to advance relationships. Your raw data can have stories built around them, and use this data to move your company forward.
Content marketing needs to be useful. Don't make it all about you! Your content should be designed around the lifestyle of your target audience, and you don't have to be promotional to sell your product.
Story first, media second. Mine your content for all it's worth, and create content calendars to drive your story forward. It may be appropriate in some instances to outsource your videos to other companies so you can focus on your story!
Listen to Brad's podcast here:
Brad would love to hear from you! Chat with him on Twitter or connect with him on LinkedIn.
Subscribe and get the AMP UP Your Social Media podcast on iTunes or listen below. Tweet about the show using #AUYSM or Tweet at us @AMPUPSocial. AMP UP Your Social Media is a proud member of the FIR Podcast Network.

About Brad Young
Brad is married to a wonderful wife and father of two daughters. He's a positive thinker and progressive leader with a degree in journalism from Penn State University. He currently calls New Jersey home and roots for the Phillies in baseball and, of course, Penn State in football!
AMP UP Your Social Media is sponsored by:
GaggleAMP – Empower your employees, partners, and resellers to amplify your social media.
SafeLinks – Know when your links on social media messages fail before you lose out on the people clicking on them.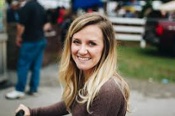 Stephanie Hacker
Stephanie Hacker is the former Content Writer at GaggleAMP.
Thinking About Starting an Employee Advocacy Program?