User generated content, or UGC, is an authentic message that has more credibility and influence than anything your brand account can share, content your marketing team could put together, or ad you could promote.
There's a great amount of influence that comes from people outside of your organization promoting your brand, and that's what makes user generated content so valuable.
People trust other people more than they trust brands, so when your users promote your brand through user generated content, you need to leverage that.
Many brands do a great job of leveraging people who advocate for them, both in and out of their organization, through user generated content campaigns. We've put together some great examples of user generated content campaigns that are both recognizable and well-liked by consumers while helping to boost brand recognition.
Starbucks #RedCupArt #WhiteCupContest
Starbucks did a couple of different user generated content campaigns where its customers got to be a little creative with their cups.
During the holidays in 2016, it used red cups for hot drinks its customers ordered across the United States and Canada. The company asked customers to come up with different designs to draw on their red cups, post the images of their cup designs on social media and include #RedCupArt in the caption. Starbucks shared their favorite red cup designs on its company accounts and tagged the artists.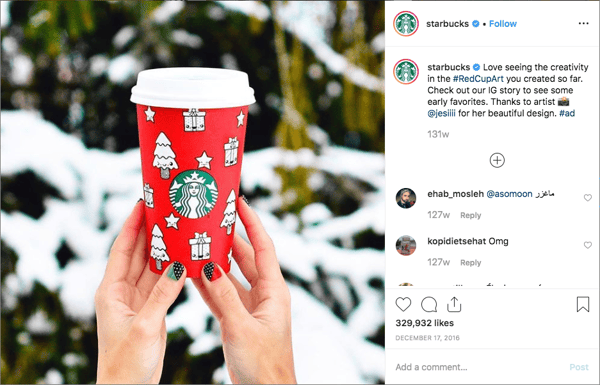 Similarly, Starbucks asked customers to draw designs on their signature white cups and post their designs on social media with #WhiteCupContest in the caption. The winner of the contest was announced on social media, and their cup design was used as a limited edition cup that Starbucks released in its stores. Almost 4,000 customers participated in the campaign over a three-week stretch, and people still post their white cup designs online despite the contest being long over.
Adobe #Adobe_Perspective
Adobe has a long-running user generated content campaign where it encourages users to show off their work on the company's creative suite.
Designers, photographers, imaging specialists, and other users post their work on Instagram with #Adobe_Perspective in the caption. Adobe picks the images it likes the best, shares them on its brand account and tags the creator of the post.
Of course, users like this because it allows them to share their work with other creative people who use Adobe products. Even if Adobe's account doesn't repost their work, people can see it by viewing the hashtag feed.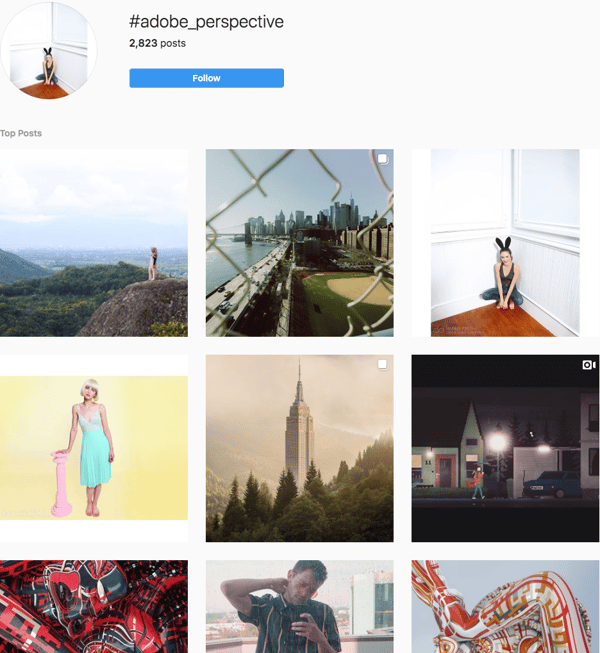 Another great part about this user generated content campaign is that it's not time-sensitive. It's not based on a holiday, theme, or specific time of year. People continuously use this hashtag all year long to show off their work, and in return, they gain followers and engagement from their target audience of other creative people. At the same time, Adobe has an endless campaign of users showing off what they can do with Adobe's tools.
CBC #CBCFuture40
The Canadian Broadcasting Corporation (CBC) launched a UGC campaign to highlight inspiring stories of young people in Saskatchewan who worked to make their community a better place.
People submitted their nomination through the campaign page by including the person's story, headshot, social media handles, and contact information. Nominees that were selected were announced and promoted on the campaign page and promoted on CBC social channels with the hashtag #CBCFuture40.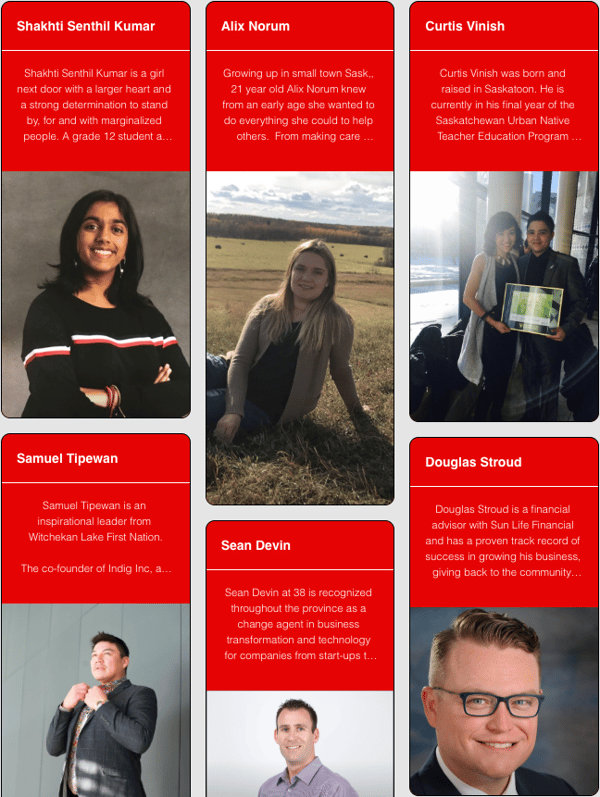 This campaign was a great way to highlight the CBC's audience, and get them involved in the company's initiative. People like to highlight those in their community who have inspiring stories in which they work towards making positive changes.
This user generated content campaign doesn't involve people posting their best image on Instagram or promoting a specific product. Instead, it gets an audience involved in writing and storytelling to create content to share and still promotes a brand.
Wayfair #WayfairAtHome
Boston-based online furniture and home goods retailer, Wayfair, has a very simple and continuous user generated content campaign.
Customers post images of furniture and other products they bought from Wayfair and include #WayfairAtHome in the caption, and the company picks the best ones to promote on its brand account. The images typically aren't of just single products, but full room views depicting how consumers set up their new furniture in a room.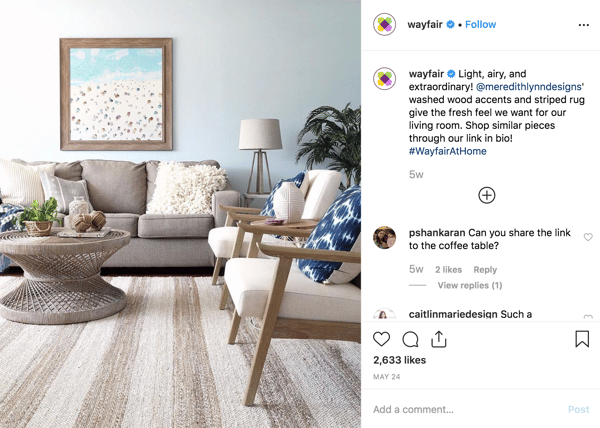 Customers, potential customers, designers, and more can view the hashtag's feed to get inspiration and ideas from what other people did to set up rooms in their homes. People like to take part in this campaign for the chance Wayfair reposts their images, but also to show off their new home setup.
As for the company, obviously, this is free advertising that you can't beat.
Apple #ShotOnIPhone
Apple's "Shot On iPhone" initiative is designed to be free advertising through user generated content and customer advocacy. By having iPhone users show off impressive pictures they've taken with their iPhone cameras, Apple gets great publicity highlighting the depth of the camera's image quality.
One of the knocks against older iPhone models was that the camera couldn't take quality pictures in bad lighting or from far distances. In order to combat the critics, Apple has its users do the talking. When an iPhone user posts an impressive picture on Instagram, they include #ShotOnIPhone in the caption, and Apple picks the best ones and reposts them on its account.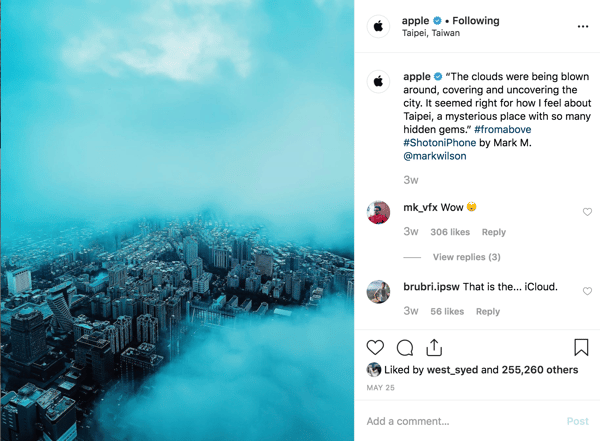 In some instances, Apple will take it a step further and turn users' pictures into massive billboards on the sides of buildings in major cities. People like this campaign because it allows them to show off their work, and is a way to get a great amount of engagement through Apple's social media presence.
Bonus Campaign: Employee Generated Content
We've covered a few different examples of user generated content campaigns and how they benefit each brand.
You can replicate some of these ideas in your own way, but you can encourage your employees to get involved as well. Sure, user generated content works great with customer advocacy, but it works with employee advocacy, too.
People trust your employees more than they trust your brand. When your employees write blog posts, appear on podcasts or simply post about your brand or industry on social media, they share your message in a more authentic way.
With employee generated content, your employees don't only post about your products and services. They'll post about their areas of expertise and garner influence and followers in their industry who will trust what they have to say.
In the example below, Sameena Kluck, VP of Business Development at Paladin, PBC, wrote a blog post on how chatbots are a growing trend in technology, and how they're helping people in the legal industry specifically. As a former lawyer, Sameena can talk in-depth about this topic.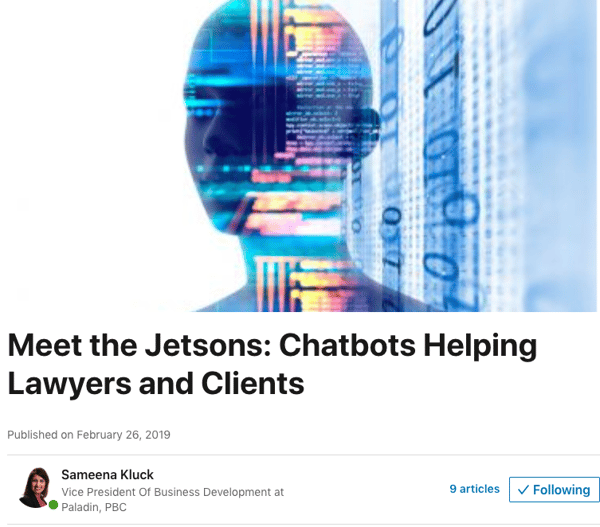 Sameena is very active on LinkedIn and writes many blog posts on topics relevant to her industry. She shares her expertise and experience on a wide range of topics in the legal industry, and people appreciate her input because they know it's credible and authentic.
Creating her own content and posting on social media about her industry and her organization has helped her develop her own personal brand and even gets offered speaking gigs. Sameena shares this experience in the video below.
When your employees grow their digital presence and personal brand through knowledge sharing, they gain a trusted following.
As you can see, there are many different types of user generated content campaigns you could launch. And they can promote different things from your product's look, the capabilities of your products and services, your customers' stories, and more. These campaigns get your users involved in promoting your brand resulting in expanded reach and awareness through free online advertising.