Buurst used the GaggleAMP platform to empower its employees to be industry thought leaders on LinkedIn. In return, the company saved over $20,000 on CPC spend in four months. With less than 20 employees in the program, Buurst garnered a potential reach of over 2.5 million people, over 700 clicks, and over 1,600 social interactions, for an estimated earned media value of almost $7,000. Furthermore, Buurst employees on GaggleAMP gained over 950 connections on their personal social media accounts.
Buurst saw a huge growth in both cost savings and social media engagement in its first four months with GaggleAMP.
To get more traction out of its social media efforts, the cloud storage and data performance solutions provider implemented an employee advocacy program with GaggleAMP in January 2021. Buurst wanted to extend its brand reach and increase its engagement on LinkedIn by getting employees active on social media and presenting them as industry thought leaders.

Buurst By The Numbers
With fewer than 20 employees and partners on GaggleAMP, Buurst garnered over 700 clicks, over 1,600 social interactions, and over 2.5 million reach in just its first four months with the program.

The industry average cost of a LinkedIn click is $5.26, and the average cost for a potential LinkedIn reach of 1,000 people is $6.51. By these numbers, Buurst saved over $20,000 on the average cost of paid ads with its social media output on GaggleAMP.
Before starting its employee advocacy program, Buurst spent more than the industry average for fewer results. The company spent about $50,000 over a six-month period on LinkedIn and Google ads, which did not get near the results it currently gets with GaggleAMP, Stephen said.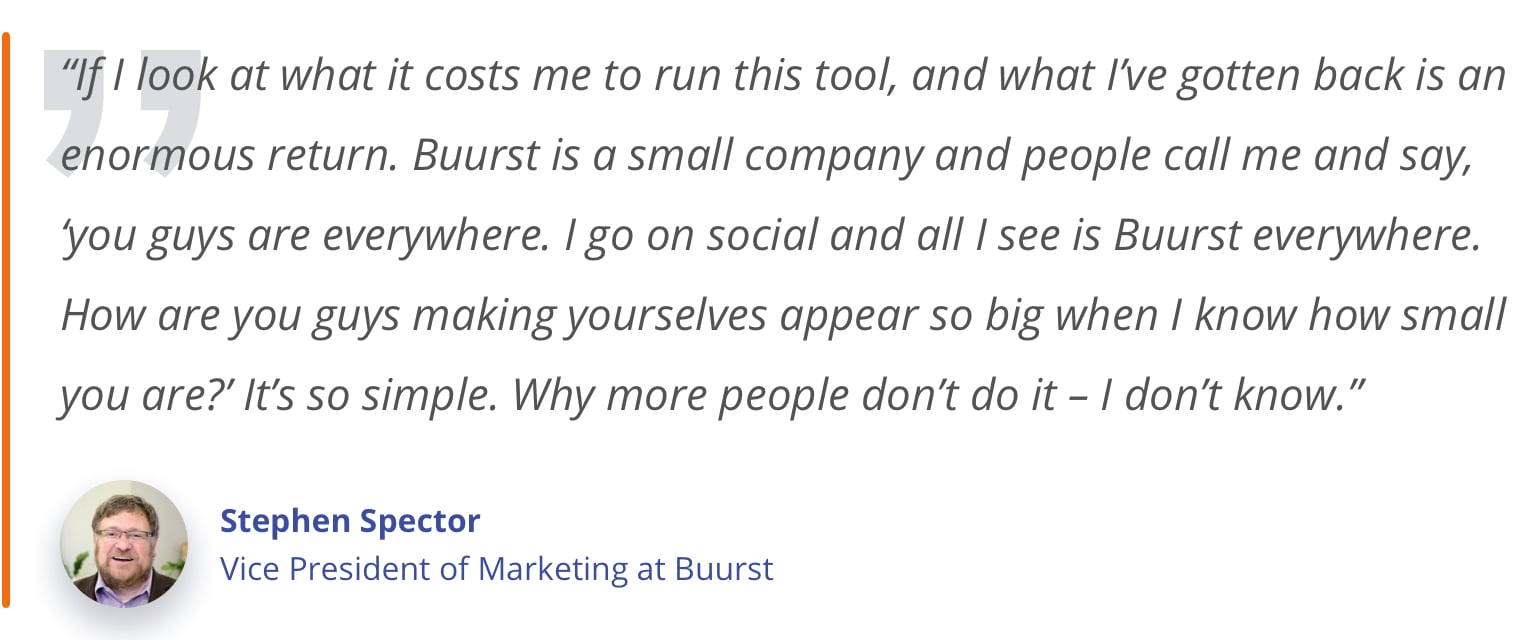 Buurst's results with GaggleAMP equate to an estimated earned media value (EEMV) of almost $7,000 in Q1, which is based on the average industry cost of a social media interaction. The annualized EEMV of its program is almost $24,000, far exceeding the $300 a month the company spends on its 25 member plan with GaggleAMP.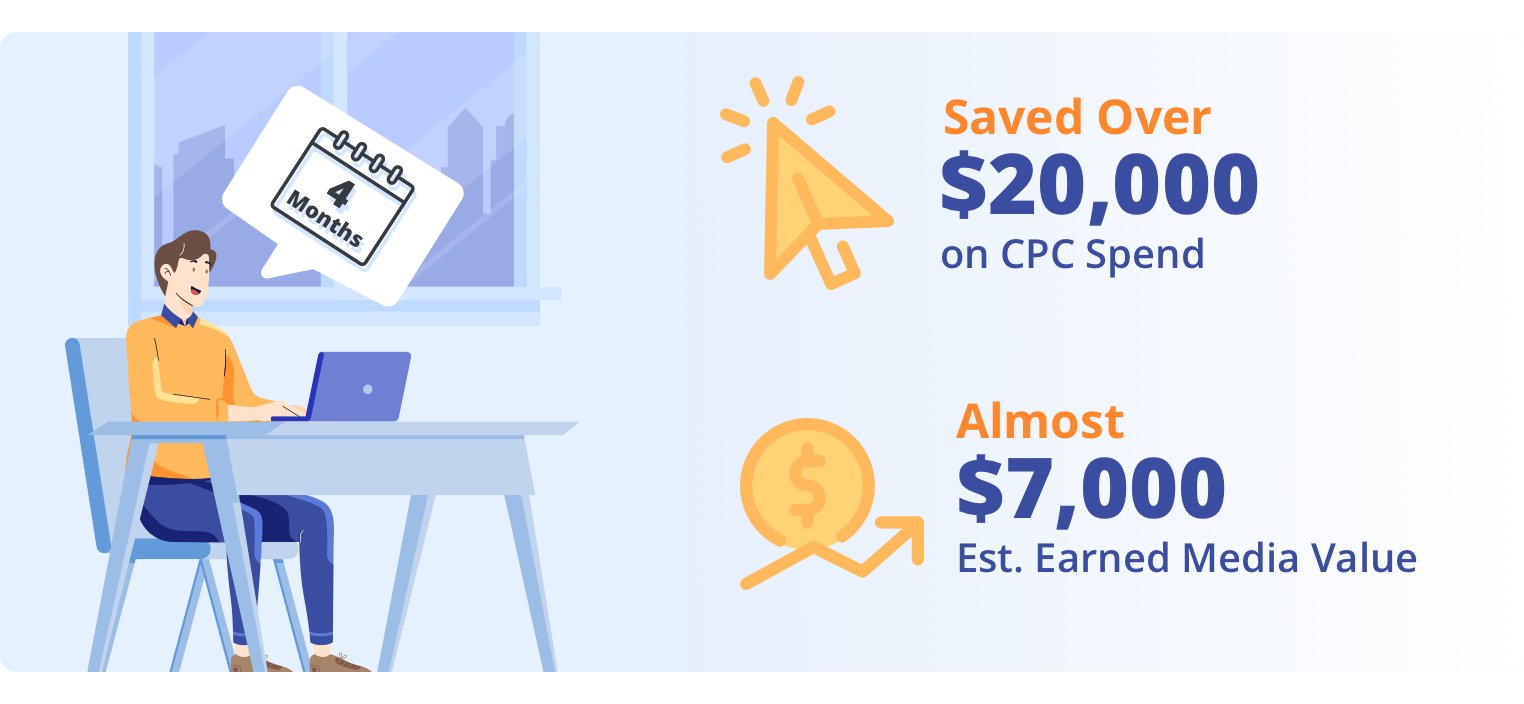 Buurst's Social Turnaround
Before starting with GaggleAMP this year, Buurst did not have a strong social media presence, and very few employees were active on LinkedIn.
Many people worry that they'll unintentionally say something their company wouldn't approve of if they post on social media. That was a common concern among employees at Buurst as well.
This all changed with GaggleAMP.
Employees who are part of an employee advocacy program receive marketing-approved content and suggested captions. This way, employees get the messaging the brand wants to promote, and they'll have full confidence that what they are about to promote won't ruffle any feathers.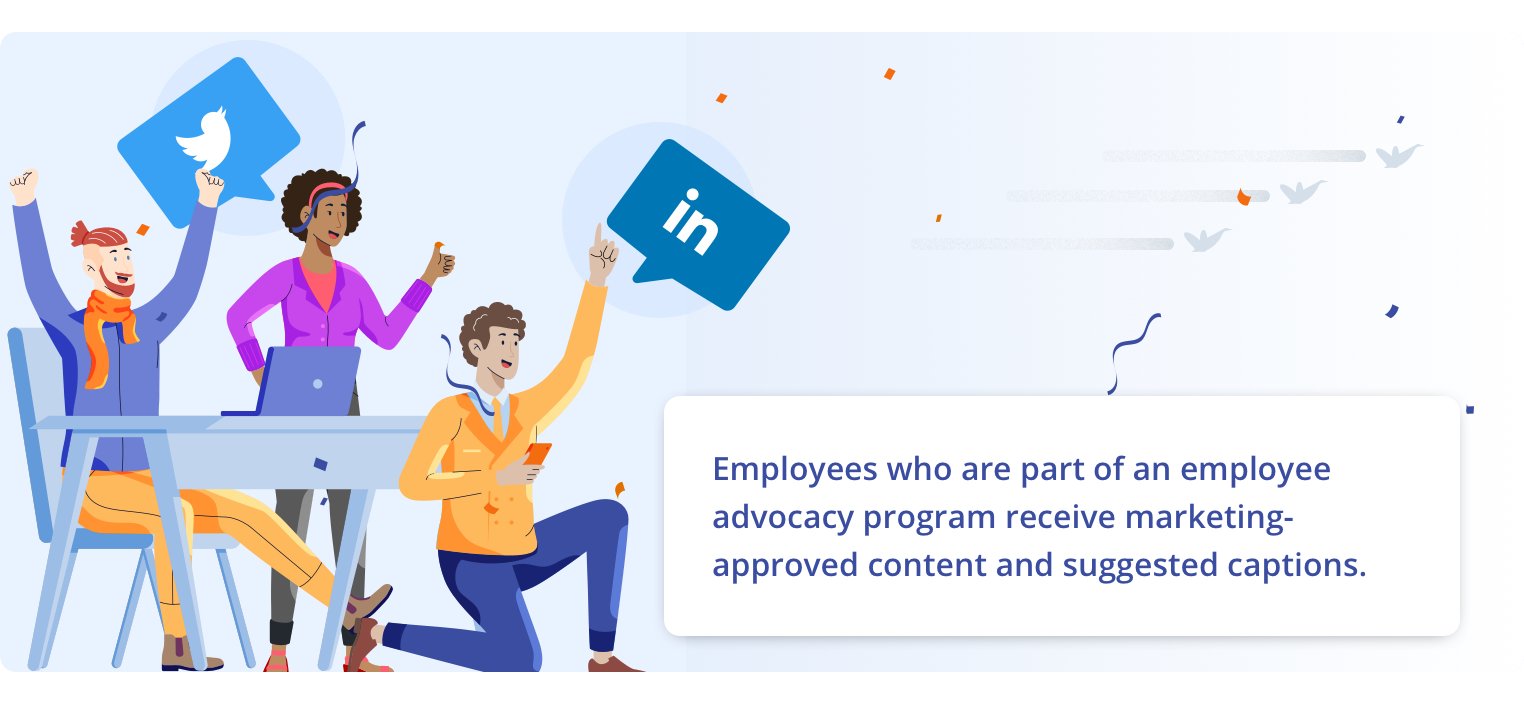 Organizations invest in employee advocacy programs because it makes their messaging more authentic and personable by having their employees share it rather than a brand handle.
People are more likely to listen to someone they know rather than a brand or ad, and that's why employee advocacy works so well. This leads to more people sharing posts, greater engagement, and further reach.

Buurst used GaggleAMP to send employees suggested activities to carry out such as sharing industry-specific content on LinkedIn. This type of activity presents employees as industry thought leaders and attracts the company's target audience.
This has been a more successful strategy for Buurst than its previous paid ad campaigns, and it gets employees more comfortable on social media to the point where some of them started posting and engaging on their own.
In just four months, Buurst employees added over 950 social media connections while on GaggleAMP.

Measuring Progress
To be successful with any marketing initiative, you need to measure your progress, and employee advocacy is no different.
With GaggleAMP's analytics dashboard, managers can easily measure clicks, social interactions, shares, reach, and more. The customizable analytics view organizes all the numbers by social network, time of activity, and even geographic region.

The analytics view also allows Managers to easily track their estimated cost per click savings. They can report these numbers with the company, including Gaggle Members to keep them motivated, and executives to let them know what they're getting out of the program.
"In social media, nothing is as important as getting great graphs that explain what's happening, and getting it to the execs so they understand it. If you can't get it to the high-level bosses, then the whole thing doesn't have value...I can show them the return and the impact, which is substantial."
Onboarding Made Easy
Stephen used GaggleAMP at a previous company and saw a great amount of success in increasing the brand's reach.
Naturally, he pitched employee advocacy at Buurst as well.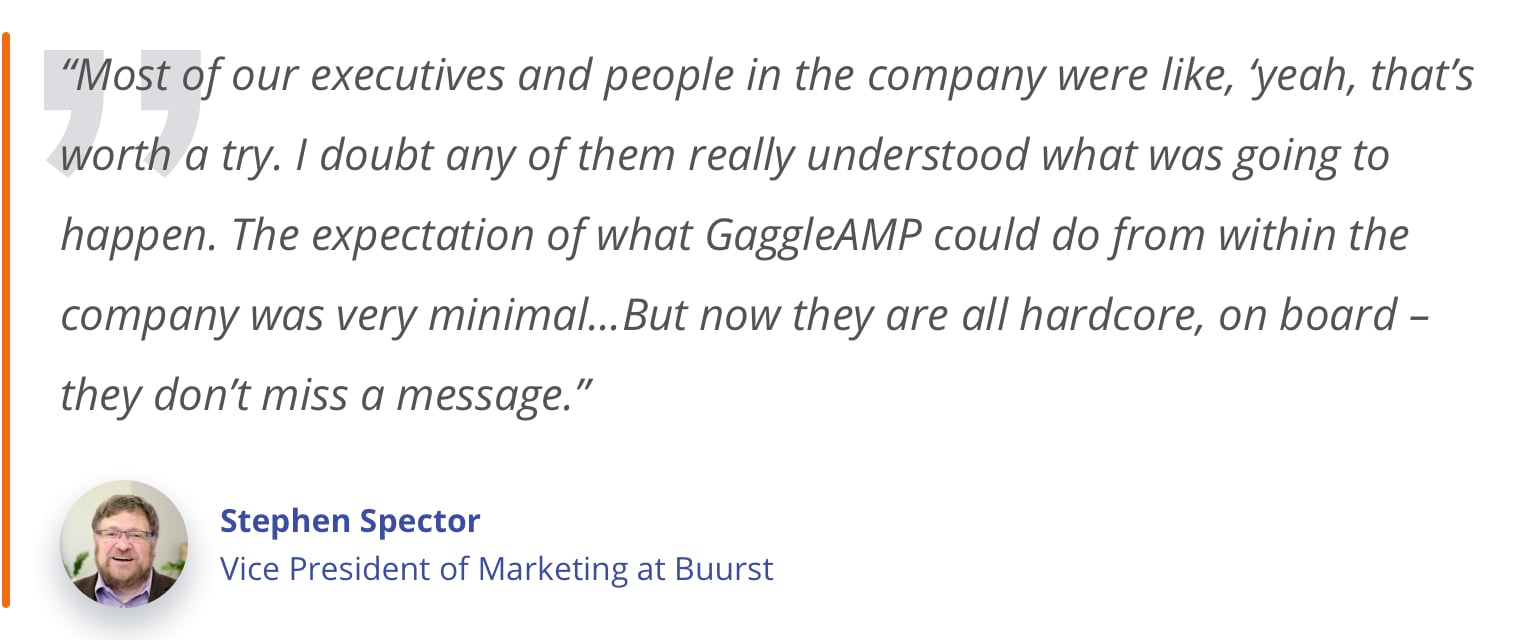 Stephen worked with Joe Quigley, Customer Success Manager at GaggleAMP, to train and onboard employees to be part of the Gaggle. They selected 11 salespeople to be the initial Gaggle Members and later added six employees of partner companies.
Quigley hosted a meeting where he took the new Gaggle Members step-by-step on how to use the platform, the purpose of the program, and what's in it for them. He recorded an introduction meeting for Buurst to reuse on new Gaggle Members and a more advanced training session for those who need it.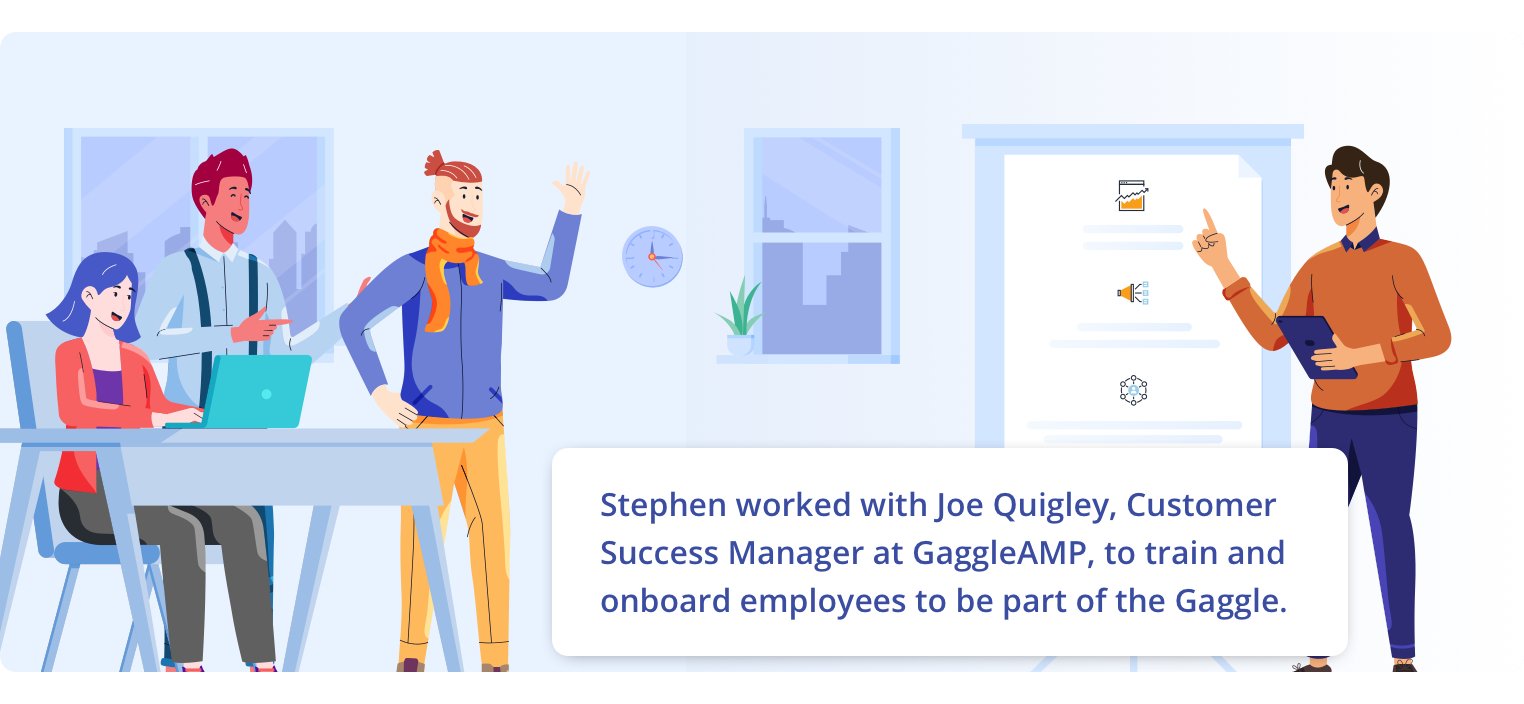 About 40% of Buurst employees are part of the company Gaggle, but the company has aspirations for further growth.
To learn more about GaggleAMP, please watch the video below.