Use Case
Event Amplification and Talent Pool Development
Results
Paid for the annual program in Earned Media Value reach in under 60 days
Over 3.9M in reach, 5x the standard benchmark program
2x the average monthly interactions
Recruiting Firm Recruiterboom Boosts Engagement With GaggleAMP
recruiterboom uses GaggleAMP to promote upcoming events and open positions they are looking to fill. A small but mighty team, recruiterboom has 13 members in their Gaggle and has garnered a reach of over 3.9M in just their first 60-days. Further, they have crushed similar-sized Gaggle benchmarks, with their reach of more than 5x the average benchmark and interactions nearly 2x the average. Ramping up, the annual earned media value of their program has already covered the cost of the annual contract with GaggleAMP, and then some.
recruiterboom, a recruiting and staffing firm with Boston roots, wanted a big splash upon their return to in-person events post-pandemic. Aiming to create synergy between their corporate social media strategy and their personal branding opportunities for the staff, they turned to GaggleAMP to help them tackle both.
The recruiterboom team is small but mighty, with just under 20 full-time employees and a suite of interns across locations in Boston, New York City, and San Diego. As a full-service boutique staffing firm, it was important to not only get the recruiterboom name well established in their local market, but also build authority and the network of their employees.
Merrimac Moran, the Employee Brand Manager for recruiterboom, joined the team in June of 2022 and quickly recognized a need to close the gap between brand-created content and personal branding opportunities.
"What good is it if we're posting content and our employees won't engage with it? Or worse, they're not even aware of it" says Moran.
In an effort to help bridge the company network and employee personal networks, Moran chose GaggleAMP to help distribute opportunities to elevate the recruiterboom brand but also their own personal brands and networks.
Putting Their GaggleAMP Strategy Into Action at an Event
Jumping with two feet first, recruiterboom aimed for a slam dunk at their first in-person event in nearly two and a half years.
Boston TechJam is a yearly event that blends a carnival-like atmosphere with early-stage companies, entrepreneurs, venture capitalists, students, and job seekers. It's a popular outlet for both recruiterboom to build their brand profile and to find qualified candidates for staffing placements.
Recognizing they needed to promote this event throughout their company profile and the employees to ensure success, Moran concocted their LinkedIn campaign strategy.
"We're a staffing agency and we do promote open positions on LinkedIn" explains Moran.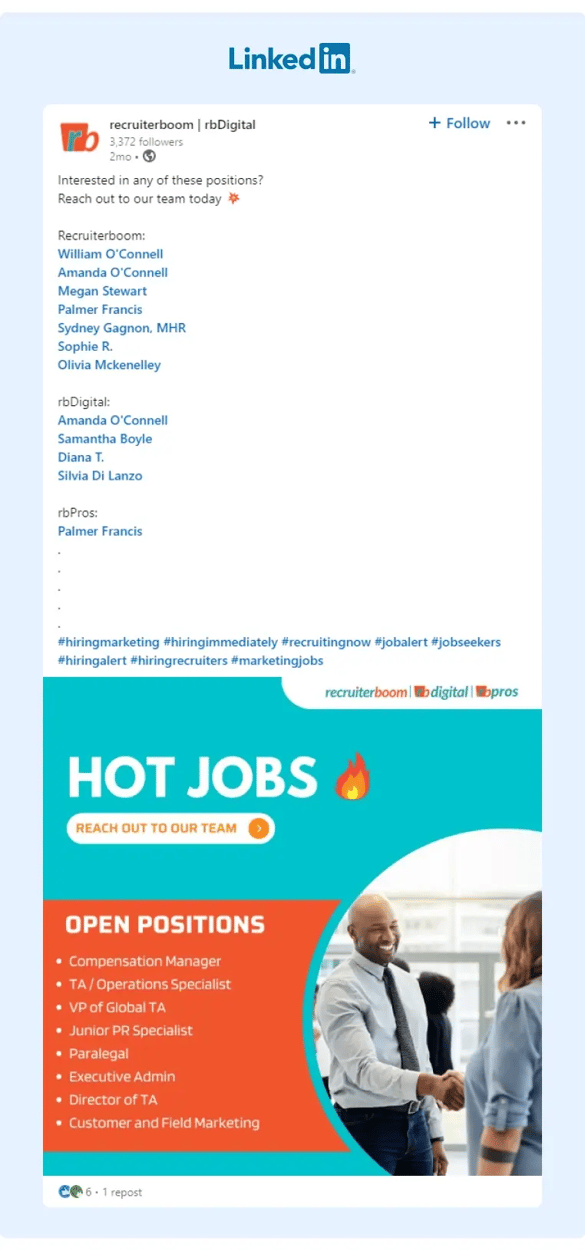 By promoting both open positions and their involvement at Boston TechJam, recruiterboom solidified their participation at the event with positions they could also help place.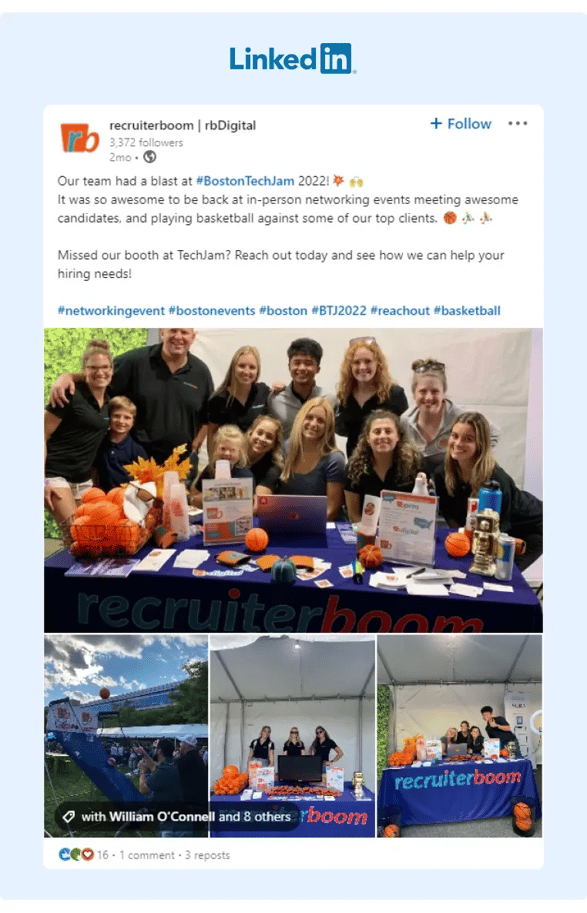 The strategy worked. With only 11 participating members of the recruiterboom team at that time, they experienced a reach of over 88,600 and 50 social interactions as a result of just two posts promoting the event.

What's more, is what this has done for the personal networks of their employees.
"We had a new employee start with us just two days before the event but she adopted GaggleAMP on day one" shared Moran. "She had posted about our participation at Boston TechJam. On the day of the event, someone visited our booth and asked for her by name. They explained that they had seen her LinkedIn post and wanted to stop by and check out what they were doing."
Recruiterboom had the brand awareness at the event to compete with larger, well-known companies. Attracting the attention of BostInno, a local business journal, they pushed their brand name beyond just attendees at Boston TechJam.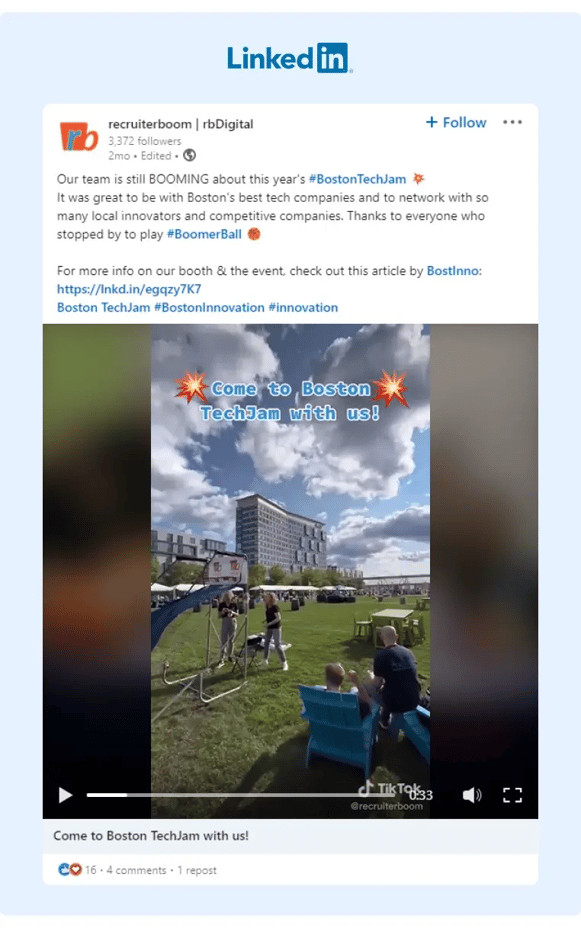 Their post-event round-up added another 40K in reach, nearly 70 clicks to their media coverage, and a bevy of interactions.
Getting Employees Excited to Participate
Like with any new platform, you're going to get a degree of hesitation or apprehension from some members of the team.
"Some of our senior-level employees weren't on GaggleAMP initially," explained Moran, "but they would see what others were sharing and would reshare it from LinkedIn. Once they realized it was as simple as just one click in GaggleAMP, employees that didn't initially participate, did."
Moran understands that you can have a small program with big results. recruiterboom has just 13 members — but that didn't stop them from seeing results typically seen in 25 or 50-member teams.
"One of our culture pillars is to promote honesty and transparency," says Moran. "We've been transparent about our results with GaggleAMP since day one. I think that's why our employees are okay with telling me what they are willing to share, and what they're not. And it's also attracted the attention of other employees that were more hesitant to participate with their personal networks, wanting to reap similar benefits engaged employees were already seeing."
Today recruiterboom is growing its membership and building on the momentum it established during the Boston TechJam event. And the recruiterboom team is seeing more of their employees create content that helps creatively promote upcoming positions and events, lending itself to additional material that can be shared and engaged with via the Gaggle.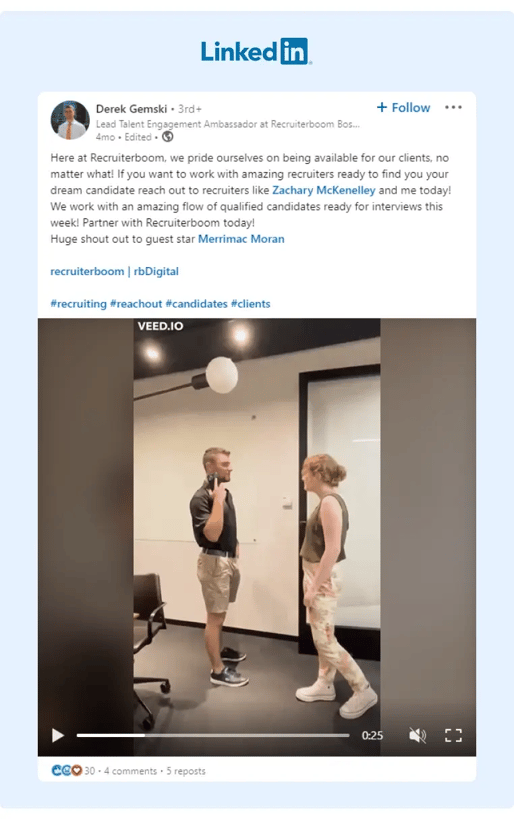 Benchmarking the Performance
Recruiterboom, within the first 60 days of their program with GaggleAMP, has been blown away not only by the results they've achieved but the support they've received.
"Our Customer Implementation Manager, Dean Agen, has been really helpful in getting us up and running with the Gaggle and helping us determine how and where to scale" states Moran.
Currently, they are only leveraging LinkedIn but do want to explore adding Facebook as part of their event strategy as well.
"From what we've seen with our monthly Gaggle performance thus far, we're far exceeding similar-sized program benchmarks and the program is already paying for itself" states Moran.
The recruiterboom earned media value in the first 60 days already has reached over $3400 — this pays for the entire yearly program and then some.
Additionally, the reach is more than 5x of the standard benchmark for a similar-sized program and 2x the average monthly number of social interactions.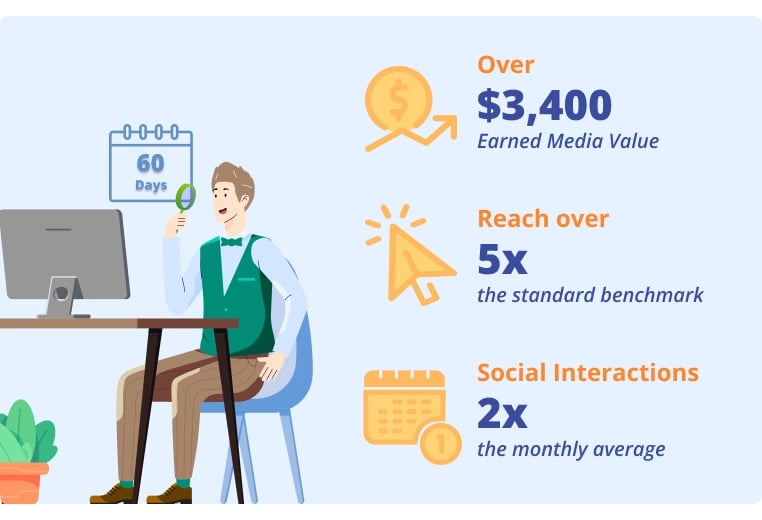 And of course, we'd be remiss if we didn't mention the growth of their company network via employee advocacy with GaggleAMP. To date, recruiterboom has seen 93 new followers (69 from the event promotion) on their company page due to their LinkedIn company posts, too.
Today, recruiterboom continues to promote upcoming events and initiatives while leveraging its immense reach through its Gaggle participants. Employees feel empowered to organically post on social, or simply engage with the recruiterboom branded content.
If you'd like to learn more about recruiterboom and how they can help you with your hiring efforts, visit their website. For more information on how GaggleAMP can help you with your social activation, watch this video below or schedule a demo.