Industry
Software Development - AI
Use Case
Webinar Registrations and Partnership Awareness
Stats
2X+ more webinar registrations
15X reshared partnership announcements
1.5M in total reach and nearly 250 additional social interactions
Leoforce Adopts GaggleAMP to Drive Social Amplification for Lead Gen
Using webinars and partnerships as both education and lead generation efforts, Leoforce adopted GaggleAMP to help drive webinar sign-ups and partnership awareness. The result? More than doubling the total signup on their webinars (with the majority of signups coming from social media, a channel that previously brought very little to the table), and having their best-performing partnership posts to date.
Vidya Tanikella, Senior Manager for Events and Social Media at Leoforce, had a problem. Her visibility on social media channels was waning and it was getting harder to organically drive registrations for webinar opportunities and partnership announcements. She knew they needed to do something different to keep these two channels as lead generators for Leoforce.
Their new CRO Wade Pierson had an opinion and shared it with Vidya.
"I had used GaggleAMP at another organization and it was really helpful for social media amplification, putting the brand message in front of the right people at the right time" stated Wade.
Wade recommended Vidya take a look at GaggleAMP to help Leoforce, the company behind Arya AI recruiting technology, make a bigger splash with social media and lead generation efforts via the company's social channels.
Leveraging GaggleAMP for Webinar Registrations
Before GaggleAMP, when Leoforce had a webinar to promote, they would post on their company Leoforce LinkedIn page. While it did get views and engagements, signups were lacking.
"Before using GaggleAMP, our average webinar registrations were around 100-120, with only a small amount of those registrations coming from social media," says Vidya.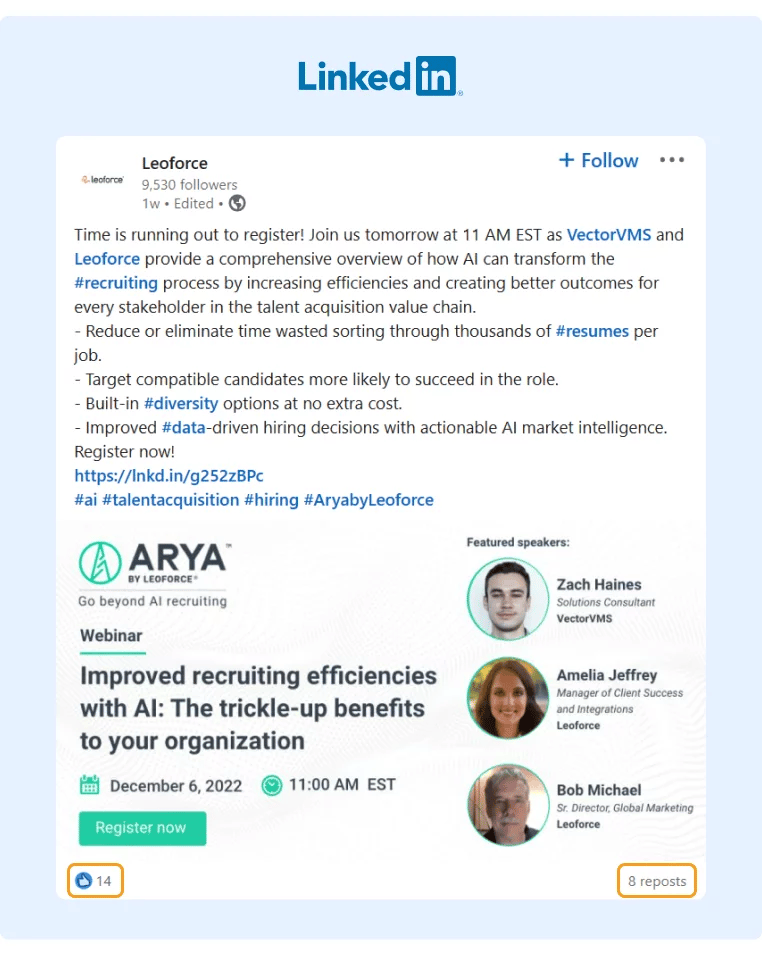 Upon adopting GaggleAMP, Vidya introduced a new strategy. First, she created a LinkedIn Event page, something she never felt justified to do, to host the webinar. Then she invited her 25-member Gaggle team to reshare the event, engage with posts about the event, and ultimately promote the event to their network.
The results were staggering.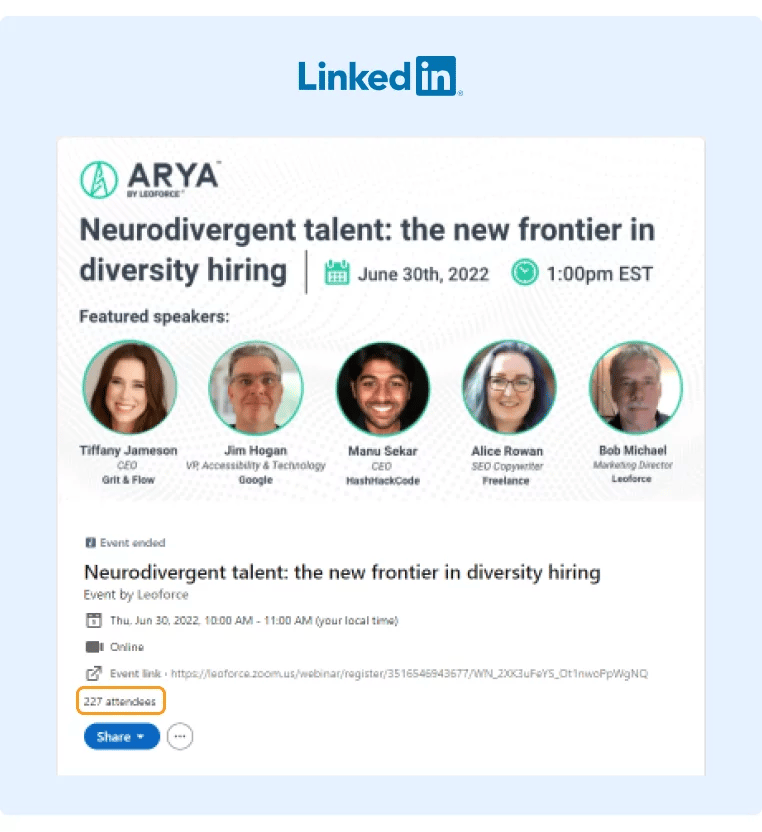 Featuring the event on LinkedIn, Vidya generated 227 registrations from their LinkedIn events page alone. This is all due to a sharing strategy Vidya implemented.
"I decided to implement a 'reshare post' activity in GaggleAMP to our members for two reasons: 1) it needs to be really easy to do or people won't adopt it and 2) I wanted to make our employees' networks aware of the event but drive their attention to our company page for increased brand awareness" stated Vidya. "I firmly believe you need to have that visibility and awareness rock solid and in place, then the lead generation piece comes from that."
This strategy led to multiple benefits.
Leoforce saw more than 2X the number of webinar registrations with the largest driver now social media, specifically LinkedIn

Activities like this drove 1.5M in reach via LinkedIn

Executive activation, and their rich targeted audience, hit an all-time high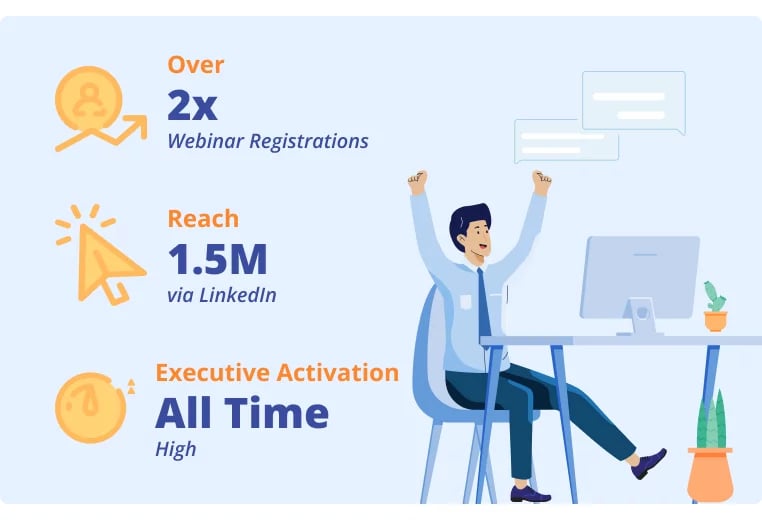 Vidya says the benefits seen through GaggleAMP for the webinar registration were only a portion of the added benefits they saw by using GaggleAMP. They also saw more engagement on their partnership announcements, too.
Creating Brand Awareness for New Partnerships
Recognizing the same strategy Vidya deployed with webinars would work with partnerships, she made sure to leverage GaggleAMP to place the Leoforce social media posts right in front of her team.
"Most of the work is on me as the Gaggle Manager. For everyone else, participation is only a click away. These one-click activities like resharing a post from the Leoforce account have made it easy for employees to remember to participate. It's building their confidence in social media so that we can start layering in posts on their accounts and engagement activities where they can comment on posts ad hoc" mentions Vidya.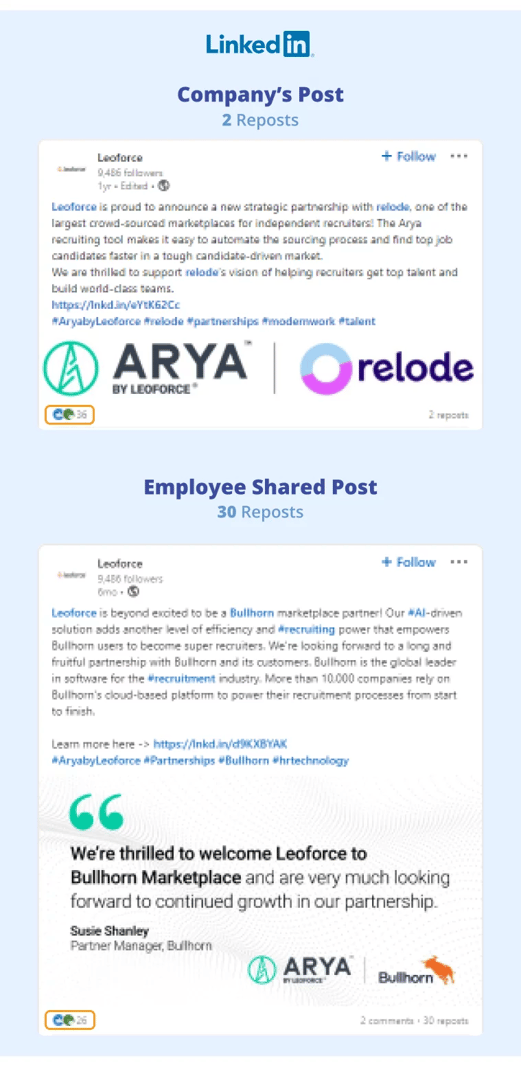 Before GaggleAMP, Vidya noticed a typical partnership announcement generated little excitement from her team. Only a few employees proactively reshared the announcement.
After GaggleAMP, Vidya was able to direct participating employees to the social media message and encourage their social sharing, resulting in additional reposts to employee audiences.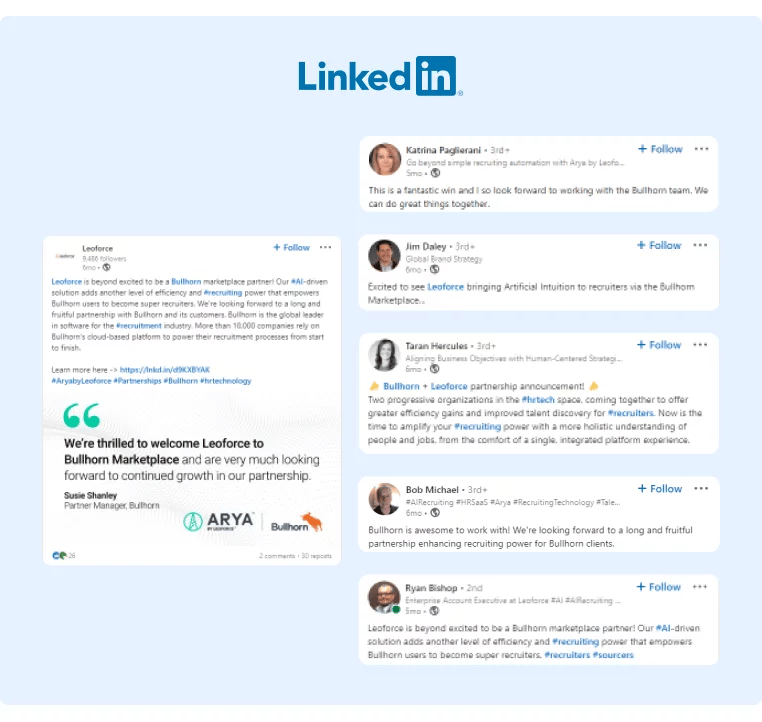 "This is pretty easy. There is no distraction to any of the employees. If you bring in a tool that is very difficult to understand it has a huge learning curve and not many people want to do it. If you make something like that mandatory, you never know how the reactions would be. GaggleAMP makes sharing simple" Vidya says.
Growing Your Employee Advocacy Efforts
"It's not lost on me that most of our Gaggle participation has been resharing the company posts" joked Vidya. "This was strategic. It's helping to build the employee sharing muscle while increasing brand awareness."
While Vidya has focused her efforts on sharing company posts, they are starting to evolve.
"We're still focusing on LinkedIn because that's where our audience lives" stated Vidya.
Leoforce has already started to expand their activities on GaggleAMP. Alongside engagement activities (likes and reshares), the company is promoting people to follow, original posts to share, and posts for subject matter experts or key contributors to comment on.
"I'm excited to continue growing our program with GaggleAMP. Our employees are thrilled with how easy it is to share and contribute to our company campaigns, and I'm happy to see social media pulling in higher webinar registrations and more awareness of our partnerships" Vidya says.
To learn more about GaggleAMP, please watch the video below or schedule a demo.